Merchants may use Shopify to create and personalize an online store and sell in various areas, mobile, including web, physical, and brick-and-mortar places. In pop-up shops, as well as there, are several avenues, ranging from social media to internet markets.
You may set up social media profiles for your company to help grow your brand, enhance your SEO, and drive more visitors to your website. Your online store's product pages and blog posts should offer buttons for you and your customers to share material on social media; it will enable you to interact with your customers. In this article, you will learn about Shopify app inventory management, how to log in to Shopify and the best subscription app for Shopify.
Subscriber applications for Shopify are software solutions that enable e-commerce firms to build recurring subscription packages within Shopify. Subscription applications on Shopify will collect money and bill the consumer regularly. When a client is invoiced, an order is automatically produced in Shopify without the need for the eCommerce business to interfere actively. Many subscription programs allow you to personalize product selections, order frequency, and customer subscription administration.
Top Tips for Organizing Inventory After You Login to Shopify
You can set up inventory tracking, view your inventory, and change your inventory levels in Shopify's Inventory area. Also, monitor the history of inventory modifications for items and variations using Shopify inventory tracking.
Some firms do a full count once a year. Others conduct spot checks on their best-selling products on a monthly, weekly, or even daily basis. Many people practise all the aforementioned.
An untrustworthy supplier might disrupt your inventories. It's time to take action if your supplier frequently makes deliveries late or under-delivers.
Five Best Social Login Shopify Apps – Complete List
1. Oxi Social Login by Oxi Apps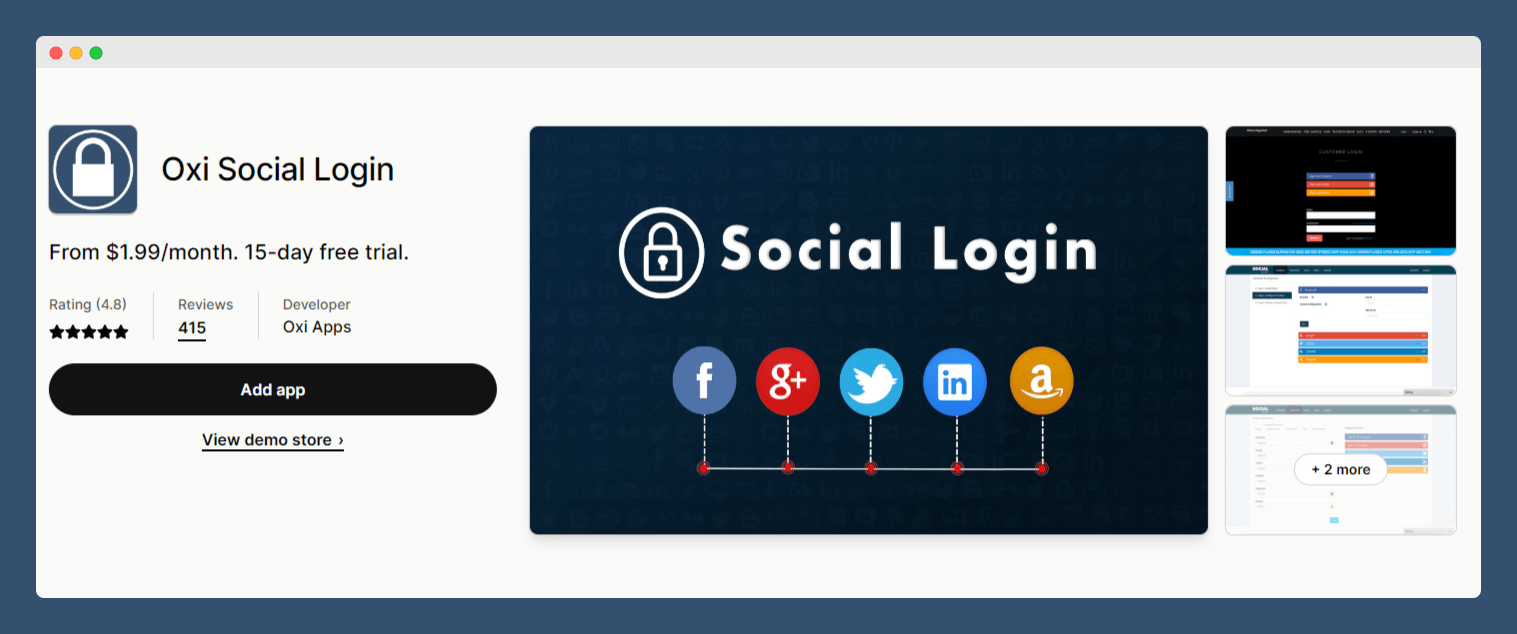 Designing the Oxi social login is Oxi Apps. You can use the Shopify Platform's Social Login function with the aid of this app. This is one of the best subscription apps for Shopify, assisting online store owners in increasing logins while decreasing cart abandonment. You can easily install this software in minutes and discover how it helps enhance your store sales. Login on Oxi social login is easy and time-consuming, as you don't have to create a new account. You can easily log in with your Facebook, LinkedIn, Twitter, Google, Instagram, or Amazon. This prevents consumers from existing during the registration or login process, boosting client retention and conversion rate possibilities. You can experience seamless Shopify app inventory management here.
Features
You can effortlessly log in to the Shopify app with some famous social platforms like Facebook, LinkedIn, Twitter, Google, Instagram, or Amazon.
It accordingly tags users.
A faster login method can capture more leads and enhance the client experience.
Increase the number of customers that sign up for your conversion funnel.
Once you register with this, it automatically keeps the record.
Charges: You will get a 15-day free trial, $1.49/month.
Rating: 4.8 / 5
2. Open SignIn ‑ Social Login by Okas Concepts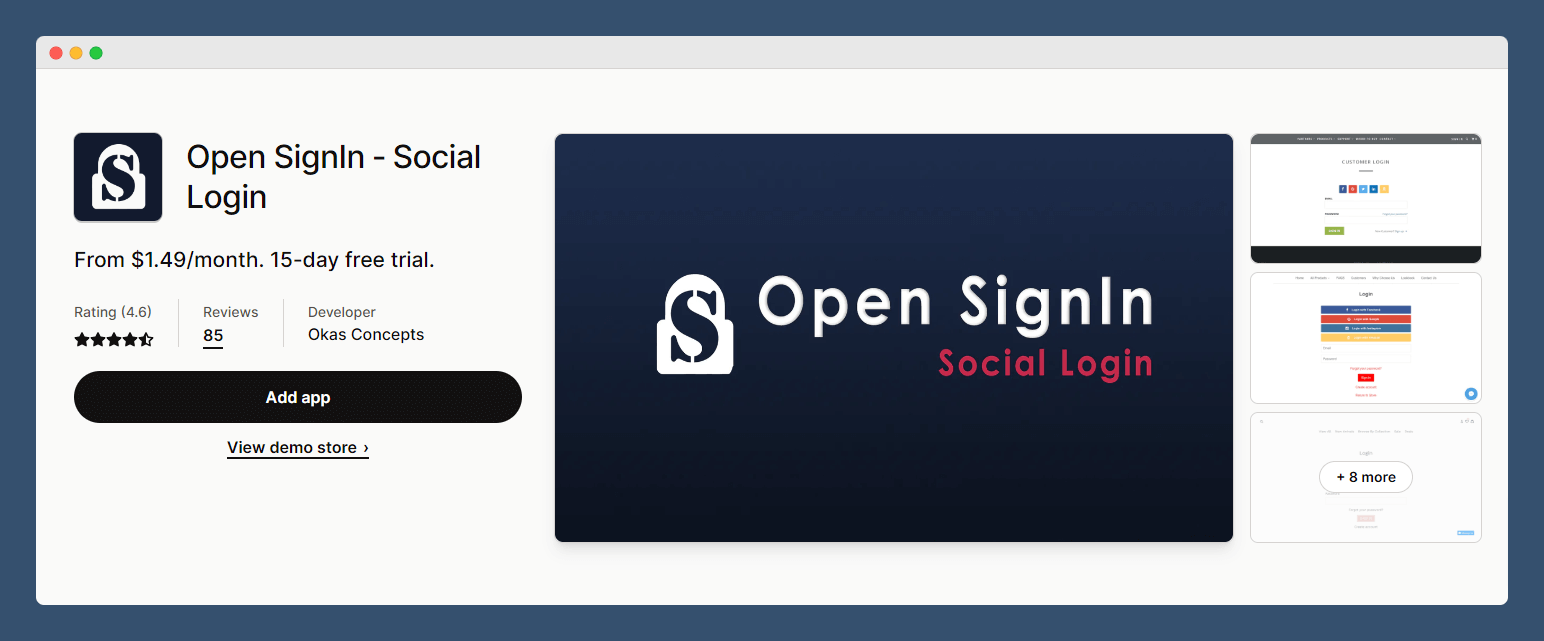 If you are seeking an app that will help you streamline the registration procedure to get more consumers and increase shop sales, Open SignIn Social Login is the right choice for you. This app gives you access to a variety of social networking networks and is Shopify's fastest third-party authentication service provider. With these, customers can log in to your store, reducing the time they spend logging in and automatically increasing the time they spend viewing your products. You will get quick Shopify app subscription access also. If your customer feels they are saving their time during login, they will put their efforts into shopping and its increased rate of conversion, controlling the potential loss of sales.
Also Read: Top-6 Shopify subscription app of 2022 for smooth recurring revenue generation
Features
Boost the number of registered clients by simplifying the login procedure.
The look and feel are very adjustable.
It helps to recover your lost orders faster and retain consumers.
It's connected with many social platforms.
Install Shopify and set it up with a single click.
Charges: 30-day free trial, $5.45/month.
Rating: 4.5 / 5
3. Social Login by Nexus
Social Login will be operational in a matter of minutes. Customers may return to your business without remembering more than one PIN. Collect additional data from customers and decrease shopping cart abandonment. You may leverage the power of social networking with clients to help your business grow. Client addresses are synchronized to email addresses in Mailchimp and other services. This allows you to get emails from clients and promotions more rapidly.
Features
It is easy to use and does not take much time to update.
Social Login Boosts traffic & increases sales.
Email service integration.
You don't need coding skills to use this app.
Backups of your original templates are made automatically.
Charges: 7-day free trial, $5/month
Ratings: 4.5/5
4. One Click Social Login by Dev Cloud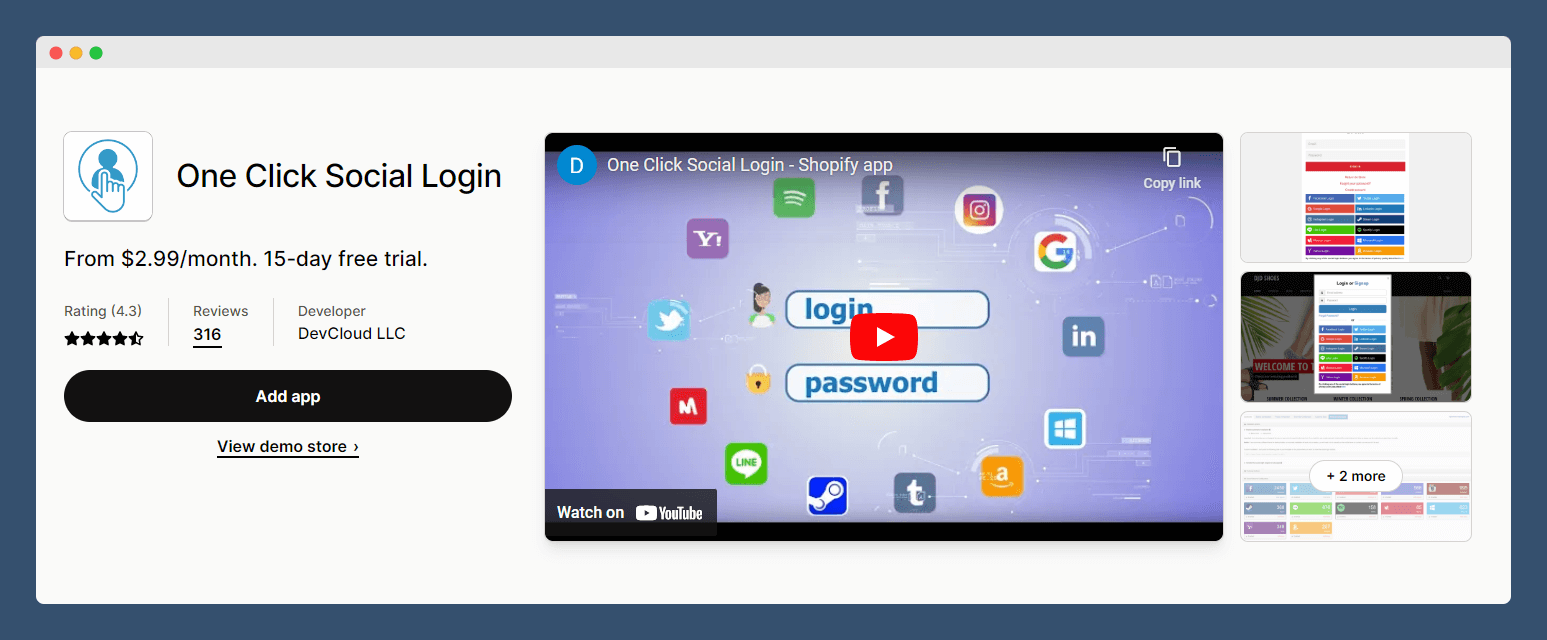 If you are concerned that your visitors may abandon your business during the arduous registration and sign-up procedure, the One Click Social Login is designed for you. One Click Social Login is one of the best subscription apps for Shopify. It was created by Dev Cloud and is a great way for e-commerce site owners to get more registered consumers with quick signup. All you need to do is enable automatic installation or manually paste a simple code in your templates in the location where you want the social login buttons to appear – very simple to use – no design skills are required.
Features
With the help of this app, you can easily sign in and sign up.
Increase the number of registered users by simplifying consumer signup.
Configure the app to provide a tailored experience for clients.
With the Pro plan, you may customize the social login prompt.
Charges: 15-day free trial, $4.99/month.
Ratings: 4.3 / 5
5. Smart Social Login by WebDesk Solution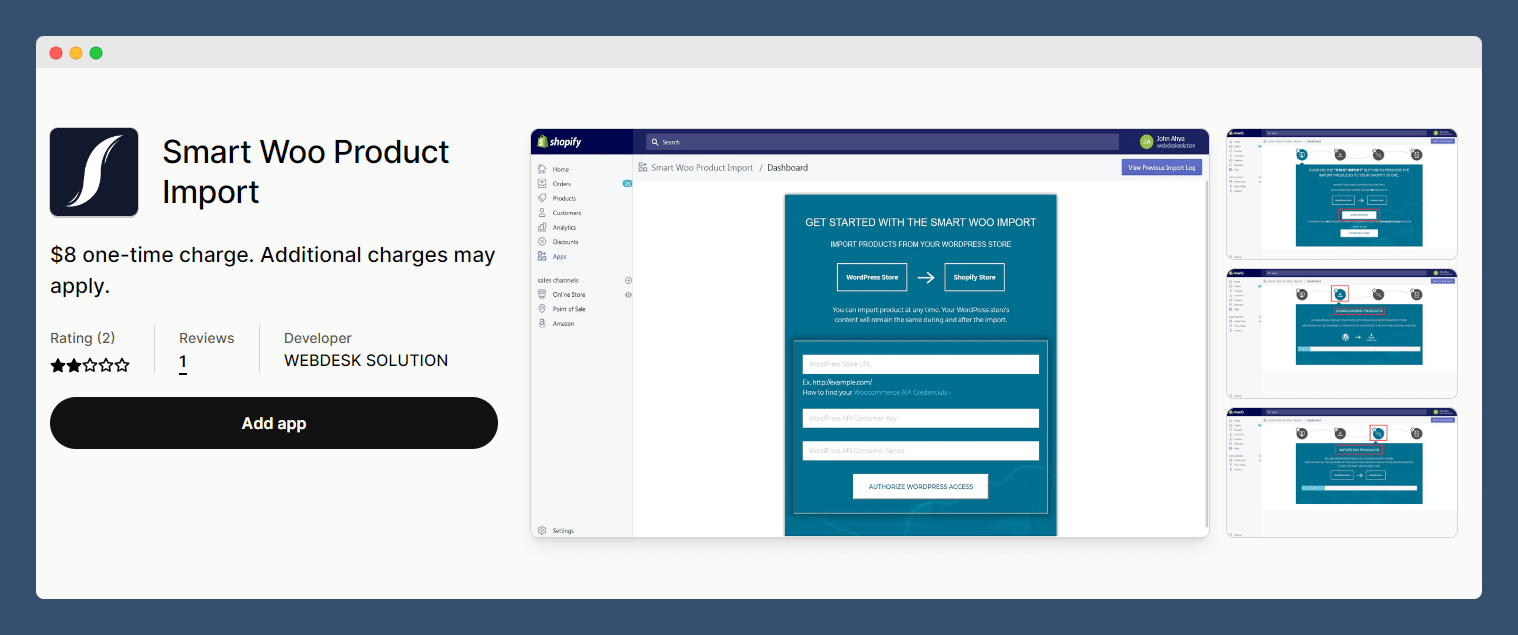 It is a WebDesk Solution program designed to assist e-commerce businesses in solving the problem of lost revenue due to time-consuming registration and signup processes. This software connects to four significant social media networks: Facebook, Google Plus, Twitter, and Linked In, allowing customers to effortlessly log in to your business and continue their buying activities, enhancing customer retention and boosting conversion. You may also obtain timely customer help if you have any technical issues. So, what are you holding out for? Install this app immediately and enjoy its great features for free for the rest of your life.
Features
· Increase the number of enrolled consumers by making signup faster and easier.
· Connect to popular social networks with ease.
· Installing this app is as simple as a few mouse clicks.
· Increase the number of visits and client retention.
Charges: Free
Ratings: 3.2 / 5
Conclusion
Some of the free (or very low) choices are well worth a look for tiny eCommerce businesses that process a limited number of consumers. Before purchasing a subscription, you can also check for free trial applications. Simply log in to Shopify and have an amazing selling experience with these apps. Shopify app inventory management also becomes possible here. You can go according to your business needs.