Learn how to make a configurable QR code with a WhatsApp QR code generator. Using a single scanning option, you can now include contacts quickly, begin an interaction with whomever and assist customers to communicate with your company flawlessly.
WhatsApp is simply a messenger application for connecting with family and acquaintances all over the world. It was difficult to strike up a discussion with anybody now. The messaging application requires you to include newer contacts to the phone's contact list, which is an extra level when you need to text any person quickly.
Globally WhatsApp has approximately 2 billion users. The possibility for enterprises and marketers of all sorts and sectors to instantaneously communicate with their clients is enormous. Not only users are impressed with the functionality of WhatsApp along with knowing the Amazing Advantages of WhatsApp Bot in your business
The recent WhatsApp QR code option which is found for iOS and Android users, allows you to rapidly add contacts and begin a discussion with anybody and enable entrepreneurs and companies to communicate with their clients using a single configuration in less time frame.
WhatsApp business QR codes make it simple for clients to find and contact Your organization. Current and emerging customers could transmit your texts to his whats business app by doing a scan of the QR code for your enterprise account.
QR codes can keep a huge amount of information. They are tiny in size when compared to barcodes and they seem simple and easy for reading.
The advantage of QR codes is that they can function well, though it gets damaged. These QR codes are very painful in inventory management. Thus entrepreneurs could easily utilize these new WhatsApp QR codes in reaching customers and attain immense progress in business growth through the WhatsApp business app or WhatsApp business API.
Also Read: How does Desku help your company's WhatsApp marketing efforts?
How does the WhatsApp QR code Function?
By simply scanning a QR code, you can store a contact, begin a chat or contact, begin a chat, or can add a person to a WhatsApp group. Anybody could pass you to his WhatsApp tact points by simply scanning a QR code.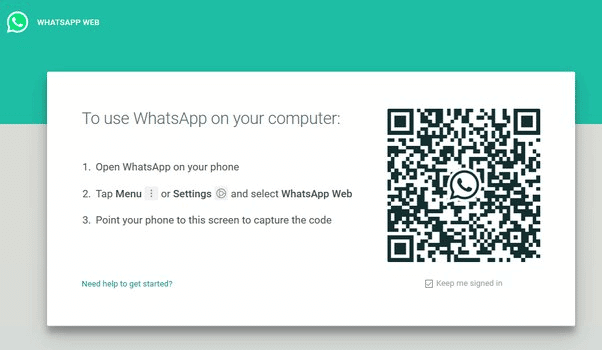 This saves the contact faster than the earlier ways of adding the contact names and phone numbers. It also assists the marketing companies and persons to vastly begin an interaction without engaging a lengthy pathway.
All Time Useful Ways to Scan Whatsapp QR code
In Individual, scan the WhatsApp QR code
● Go to WhatsApp settings and click the QR code icon beside your name. Scan the code>ok.
● To scan, place your smartphone on the QR code and then add.
● Choose to Append the contact.
Using WhatsApp camera for scanning QR code
● First, access WhatsApp >open camera.
● For scanning, place the smartphone on a QR code.
Remember:- In iPhone 6s and later models, click and retain the WhatsApp icon on the home screen to access the quicker option menu.
Next for scanning the WhatsApp QR code, breach the WhatsApp camera by talking to the camera icon.
Scan Whatsapp QR code from your photos
Navigate to Whatsapp> settings, and click the QR code icon that is beside your name. Do searching code, whereupon tsp the photos icon at the bottom of your screen.
● Choose a WhatsApp QR code from the photos section.
● Select add to contact information.
Scan QR code Out From New phone number screen for WhatsApp
● Open up whatsapp>click new chat room, select new contacts. WR side addition
● Next, you could scan the QR code with your smartphone or click the photos icon below your display and pick the Whatsapp QR code from the photos.
● Tap the add the contacts button
Inside chat, WhatsApp QR code.
● Open up WhatsApp and navigaté to individual or group chat.
● Select the camera icon
● Presently at the bottom of your screen, click the photos Icon.
● Choose a Whatsapp QR code from photos
● Select now including contacts.
The Undeniable Reasons to Use WhatsApp QR Code
● Give a person the option to immediately store your contact information.
● Expand your audience, expand your network and establish additional contact.
● Ensure your business cards are competent and appealing.
● Send a variety of content, such as photos and social media links.
● Promote your social media accounts.
● Modify data instantly by not needing to print another QR Code.
FAQs
How will you make a WhatsApp code for free?
Create your WhatsApp link.
Make a WhatsApp link with your mobile phone number
Create a WhatsApp link for your enterprise account/ business account.
Choose the URL from the menu, and later insert your WhatsApp link.
Select the generate your QR code option
Get the QR code for WhatsApp here.
How do I obtain a QR code for Whatsapp?
First scanning the QR code from WhatsApp
Click more option>settings to open up WhatsApp
Click the QR code that appears beside your name. Scan code should be selected
For scanning, place the gadget on the QR code and nest select add.
Is it possible to create a QR code free of cost?
QR code monkey is a prevalent free online QR code generator with vast numbers of QR code priority made. It is one of the great free QR code generators online for promotional and publishing uses due to the increased pixel density of QR codes and the effective design choices.
Also Read: 5 Best WhatsApp Marketing Software of 2022
Could I access the WhatsApp web with no QR code scanner?
The mobile application and desktop application both function identically. You must scan the QR code to utilise WhatsApp on PCs or laptops, also you must repeat the process to access WhatsApp web after logging out of the desktop application.
For what reason is sharing a WhatsApp QR code preferable to a WhatsApp number?
It takes time to interact on WhatsApp using a number. To deluge you the WhatsApp message, the user must explicitly store the contact details. Such a procedure is vulnerable to errors because the user could store the incorrect numbers. Such issues are overcome by the Whatsapp QR code, which enables users to communicate with you on WhatsApp with just one scanning
Which type of WhatsApp QR code should I make?
Making a dynamic WhatsApp QR side is advised because you could monitor the scans and obtain thorough insights. The dynamic QR code is an ideal option because you could change I by not having to print a new one.
What distinguishes the WhatsApp QR code generator from the Whatsapp web QR code generator?
When you have enabled WhatsApp in your gadget, a WhatsApp web QR code generator and a WhatsApp QR code generator both function identically. But a WhatsApp web QR code would link you to a website requesting you to register to WhatsApp web or download the application when WhatsApp is not already configured on your smartphone.
How can I view the message from a WhatsApp scan endlessly by not scanning a QR code each moment?
Remain logged in before scanning the QR code with a smartphone
After you have done it, you would be capable of seeing WhatsApp messages on your desktop though if you shut and open the browser.
To view WhatsApp on PC without any stoppage, ensure that both phone and desktop have good internet access.