Chatbots have been introduced to make our life more convenient and operate our businesses easier. Therefore, presently many companies are adopting them gradually. That is why you will be able to find chatbots for social media platforms as well.
Chatbots are specific programs, designed to engage with received messages automatically. Chatbots can be set to answer back the same way each time, to react differently to messages including some specific keywords, and even to use machine learning to accommodate their reactions to match the problem.
Various chat mediums like SMS text, website chat windows, and social messaging services get influenced by chatbots to obtain and give replies to messages. You may find chatbots in different types of forms. Some chatbots are funny and some are goofy.
In this post, we are going to discuss in detail how you can use chatbots for social media platforms to provide better service to customers so that you can make a great impact.
Why are chatbots important for social media platforms?
The importance of chatbots for social media is just next to impossible to describe in words. There are a lot of benefits to using chatbots all across different social media platforms. We have given some points to help you understand why chatbots are so important for social media platforms.
Social Media Chatbot for better Conversational Marketing
When you try to find some particular piece of information, your customers might get frustrated, particularly if they are paying a visit to your website for the first time. In such a scenario, they could go elsewhere for their products or services, and you will miss out on a sale.
In such a case, chatbots can easily solve this issue. Through a series of leading questions, a chatbot can quickly shift through all the information on your website and find the exact content that the user may require. Chatbot performs this service seamlessly 24 hours a day, 7 days a week, without even claiming any additional charges. This helps you to curtail your expenses while enhancing your customer satisfaction rate.
Also Read: Importance of Customer Service in DTC Brands for Quality Customer Service
Know Your Social Media Channels Customers Better
When you are going to introduce new products, you need to research your customers' interests long before the product is fully available. Disney did the same with their Zootopia-themed Facebook chatbot, which made the dealings both personal and fun.
You can integrate this type of information to develop a chatbot with a successful personality that produces interest in your latest products, services, or venues. If you can do it successfully, you will be able to captivate the attention of new customers to broaden your base at the same time.
An Excellent Cross-Platform Experience with Social Media Bots
Presently, social media marketing is vital for every business. Besides, customers prefer to get engaged with various businesses across various social media platforms. Here, chatbots help potential customers to interact with business holders. However, you can't move from app to app as it is time-consuming. To solve this issue chatbots work within the app and make a lot of things done by providing an excellent cross-platform experience. 
Streamline the Marketing Process with Social Media Chatbots
Chatbots are the most convenient way to simplify the purchasing process. You can utilize it in various stages from researching the market to data collection. It lets you perform research and marketing surveys by guiding people through a personalized and short poll. This process is enough benevolent. Besides, you can deploy an in-app bot.
Types of Social media Chatbots for your social media channels
There are mainly three types of chatbots. The three types are distinguished by their technical complexity. These three types include;
Simple chatbots for automation
Simple chatbots have some restricted capabilities, and they are generally known as rule-based bots. These task-specific chatbots are just like IVRS on chat. Here the bot asks questions considering the predetermined options and the customer can select from the options until they get answers. The chatbot will not make any assumptions and they are completely perfect for straightforward dialogues. They are very easy to create and train.
Smart chatbots for social media strategy
These AI-enabled smart chatbots are developed to imitate near-human interactions with consumers. They may have free-flowing conversations and comprehend purpose, dialect, and emotion. These particular chatbots need programming to understand the context of interactions. They are very difficult to implement and enforce and require a huge amount of data to learn.
Hybrid chatbots for your social media accounts
These are a combination of smart and simple chatbots. Hybrid chatbots meet that middle ground. It has some rule-based tasks, and they can comprehend intent and context. Therefore these chatbots are proportional tools for businesses to interact with customers.
Also Read: 11 Unique Ways Chatbot Builders will Escalate Your Business Success
Top 4 Chatbot platforms for marketing strategy in 2023
Deskubots: Live Chat integrated Chatbot
Deskubots is a no-code drag-and-drop chatbot builder and can easily connect your social platforms with Deskubots. Not only this, but with the help of Deskubots, it becomes much easier for the marketing teams to carry sales and marketing with conversational AI. Advanced Social Media chat tool helps to integrate the smooth handoff process of website visitors having deeper queries or needing human agent support with the live chat tools in-built into it. Customer service teams do not need to be always present for customers.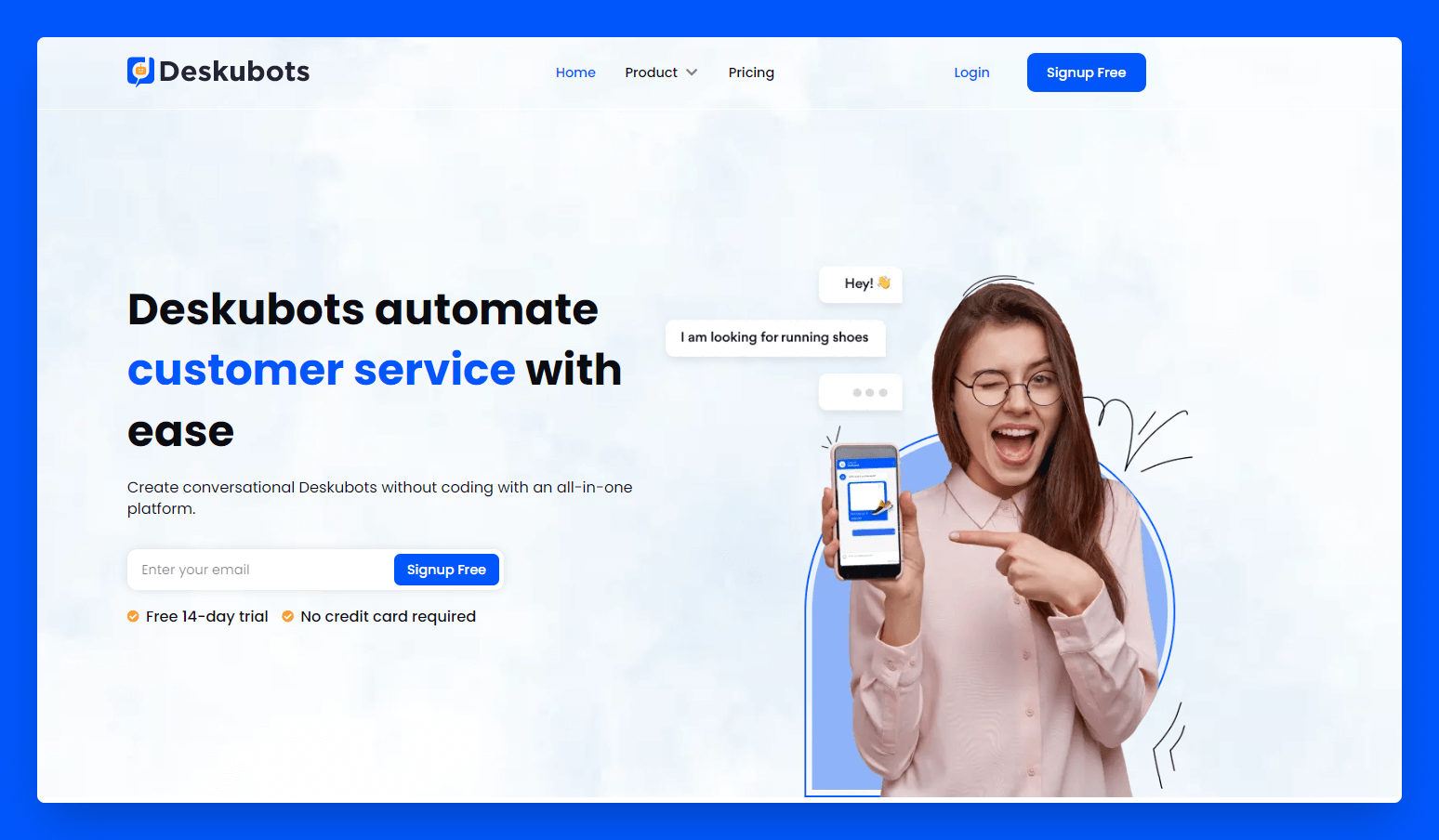 Not only this but with the drag-and-drop interface create the marketing campaign on your communication channels to make the conversational marketing platform. Provide an extravagant experience for your customers and a relief to your sales and marketing teams. Connect your social channels like Facebook to use Facebook Messenger Chatbot, Whatsapp for Whatsapp bot, and more. Carry the successful social media management marketing tool to manage the conversion rates and social media presence. Create the best online experience using the live chat feature whenever your customer needs the support of a Human Agent. Some of the features that your should know to build a chatbot in Deskubots are:
-Create a welcome message for website visitors or any customers that interact on platforms like Facebook Chatbots or other platforms that offer the use of chatbots.
-Solve frequently asked questions instantly
-Create the best chatbot for sales and marketing automation
-Easy human handoff by integrating live chat software
-Chatbots can be programmed with the marketing channel for a better chatbot experience
-Make custom chatbots based on your customers.
Pricing Plant Starts from $29/month
Chat Fuel: Use Chatbots to get social media accounts in line
Chat Fuel is one of the most popular no-code chatbot platforms for Facebook, Instagram, and Messenger. You can build bots for a lot of cases like increasing sales, personalizing marketing, and providing customer support on Facebook. You can help Natural Language Processing (NLP) to detect user purposes and expressions to predefined answers. This helps to build a new chatbot for customer service on social media. Some Chatfuel features are free.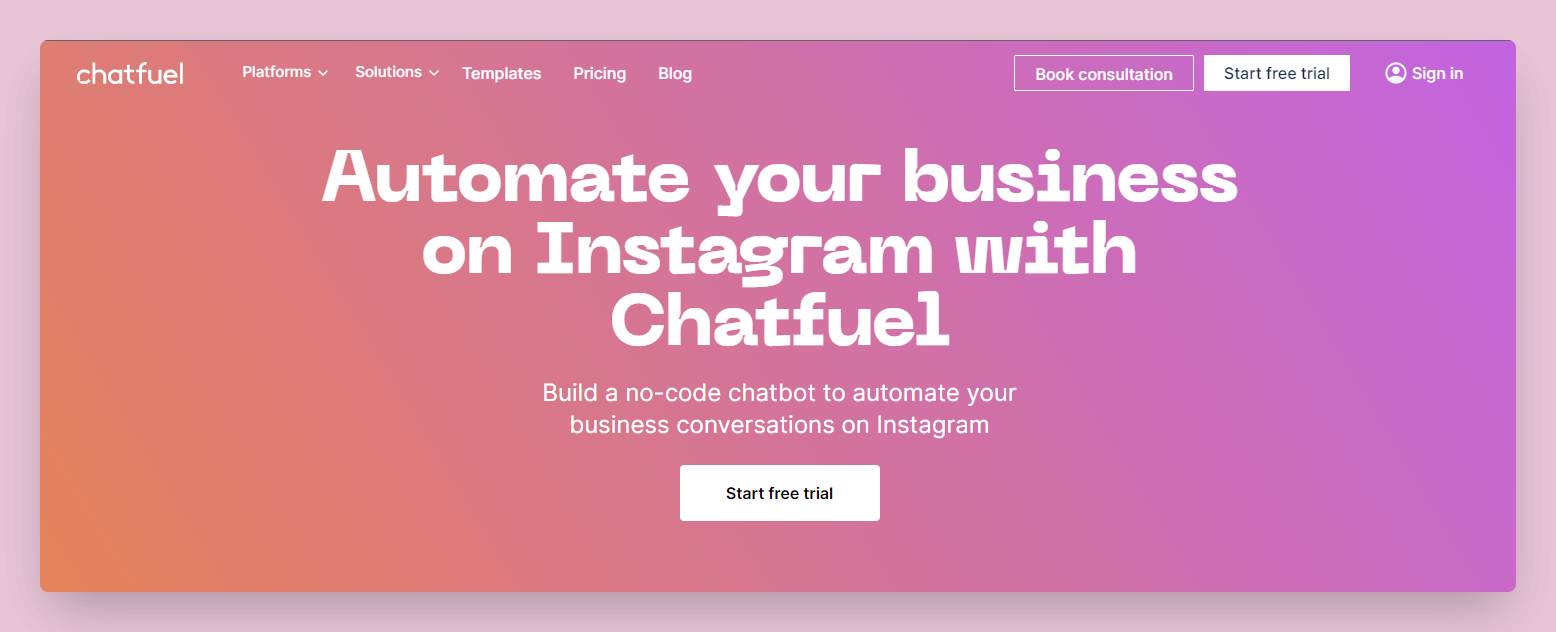 However, the premium plan starts from $11.99/ month.
Many Chat: Get started with Chatbots
Many Chat is a largely accepted chatbot platform that automates & incorporates Facebook Messenger Bot and SMS to develop your business. It is an outstanding platform to create your chatbot in just a few minutes and includes Messenger for increasing sales, marketing, and customer service. You can sign up for this platform for free and upgrade your package according to the number of your subscribers.

Many Chat is the perfect chatbot for marketing if you are focused on running any marketing campaign.
The Pricing Plan starts from $15 per month
Chatimize
Chatimize is the chatbot builder platform that helps to optimise and curate the chatbot according to our business. Not only does it let you build the chatbot but it even helps you to compare some of the best chatbots that are running and gives the reference accordingly. It has the proper guidance on how to build the right chatbot for marketing the business. Never go clueless, it has all the documentation intact with it.
How does a chatbot help in social media marketing?
Every social media network is different as they have different user base demographics, behaviour, and purpose. Therefore, your social media strategy and content must be personalized to meet the requirements of every channel.
However, you can modify your content faster and easier with chatbots. Chatbots for social media help to change your character count, and image size and add different hashtags. It helps to increase the visibility of your post on each platform and enhance your reach and engagement levels.
By using a chatbot on your social media platform, you will be able to provide a distinct way for consumers to engage and connect with you on these platforms. It makes customer relationships strong by enabling them to get instant help and information through the channels that are most useful for them.
Conclusion: Provide better customer experience through social media marketing
If you are going to use a chatbot for the first time and you find social media integration a highly daunting task, you may go through this article to learn how to use chatbots for social media. You may use some pre-existing social media messenger services that use chatbot technology. You may also create a chatbot yourself to combine with social media as well as other user interfaces.