We've all learned how to handle customer services that are far more flexible and always ready to prosper in the business in no time during the past two difficult years of the pandemic. Customers can contact businesses or brands through a variety of channels, and all we need to know is how we can get out to them quickly. A good business is defined by its confidence in reaching out to customers.
However, it has become critical to nurture the brand by providing one-on-one client service. One of the most significant things that come through the business owners and support agents is the certainty in improving customer service.
In our daily lives, we use a variety of messaging apps that make it much easier to contact people and then consider customer services, such as Whatsapp Messages, Facebook Messenger, and others. The consumer will first look for ways to communicate with the Support Agent, which will almost always be through messaging. As previously stated, messaging services will minimise the number of calls made, allowing support employees to respond to requests more quickly.
Customer Satisfaction and Business
Customer happiness is one of the most important factors to consider while running a successful company. While running a business, several things must be taken care of. When it comes to the delay in getting back to customers, it certainly affects revenue generation, reputation, and much more in the business. It is understandable that it is not always possible to be there for customers, so to avoid such chaos, there is a highly efficient developed Helpdesk for such business agents to look out for their customers.
Getting in touch with them right away via messaging is one of the best ways to get in touch with them. There are three key reasons to anticipate instant messaging to your phone.
The Easy Convience For The Support Agents and Customers
Isn't the invention of smartphones one of our finest achievements? When it comes to getting in touch quickly, you're only a text away from anyone, whether it's a support agent or a brand; all you need is one text and you're ready to go for further communication.
Customers will find it easier to contact your firm if you provide an immediate means of communication, such as messaging apps. Having a live chat option can take customer service to new heights, from just getting in touch with clients to quickly resolve their problems. This can lead to the development of a strong customer strategy. It is not only convenient to contact customers, but it also has the added benefit of allowing customers to initiate messages.
Also Read: How to Build Customer Loyalty and Trust?


Instant Approach and Better Interactions
It is directly linked to the customer's satisfaction when it comes to improved interaction. When the company's support representative responds and addresses the customer appropriately, the consumer is satisfied. It can even be put into effect using texting services!


Self-Service
While clients are asking questions, provide an automated article search. Customers can help themselves because the solutions are already in front of them, and support agents can advocate the use of self-service portals.
Personalisation
When it comes to establishing dialogues with consumers and support agents over messages and texts, it allows for more personalization. The personal touch that the company provides is always appreciated by customers. It demonstrates how clients are cared for and considered. This will have the effect of defining better customer service, which will ultimately aid in the development of a solid community for the company.
Keeping Up With The Productive Conversation
Many clients have to admit that while the messaging exchange is running smoothly, there is no alternative option to choose for the approach. It's even easier to keep track of previous conversations, which will be saved for future reference.
The Desku has two key features that will assist in keeping the customer's conversation going.
Shared Inbox
Live Chat
Shared Inbox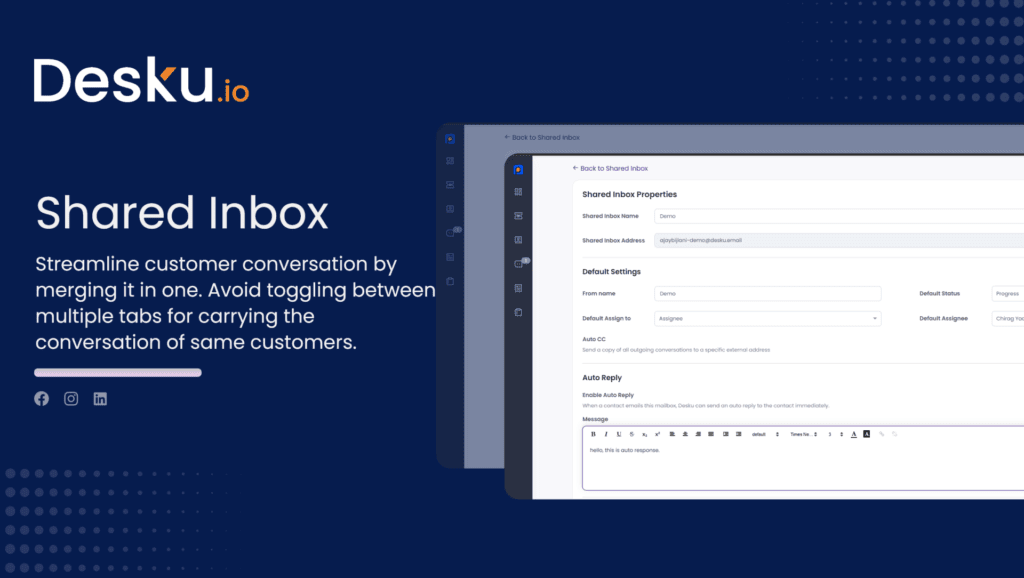 Customers can approach the company or brands from a variety of sources; there are no defined channels through which they can contact the firm or brands. The only problem is that you must always be available to them through many channels. It can be challenging to cop up and match the criteria for reaching back to clients when they approach from several sources. In this scenario, Desku's "Shared Inbox" option is the most useful. In Desku, it is easier to Set up the Shared Inbox in the Helpdesk.
Shared Inbox facilitates the merging of discussions and subsequent continuation of those conversations with the same consumers. This is made easier because support agents do not have to search for responses across several platforms and may continue on the same platform.
Live Chat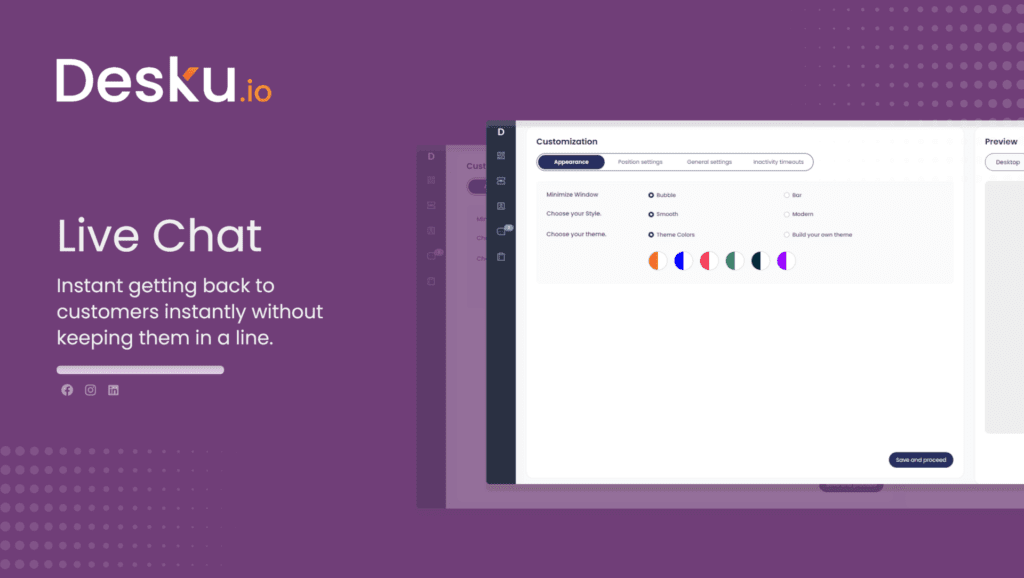 When customers visit your website, they will almost certainly have questions that they want to ask right away. What happens if they can't discover a way to contact your company? What happens if no one is available to help consumers with their problems? Deku's Live chat service has got you covered.
Also Read: How Do Desku's Integrations Make It Worthwhile For Customer Support Agents In Your Business?
It goes without saying that when clients visit your website, they will not stay for more than 5 minutes, and during that time, it is quite likely that they will ask a question. When no one responds, there is a considerable risk of losing a customer, which is why Live Chat is useful in maintaining the customer-agent relationship.
Conclusion
Getting in touch with your consumers right away for their questions or other chats is one approach to delight them. Whether it's a tiny or medium-sized business, each and every consumer is critical in making the business community stronger.
One of the most effective methods is to provide clients with seamless messaging services. It aids in maintaining consistency while responding to customers.
You can always rely on Desku to assist you to provide the best customer support services in your company. You can always explore Desku's features, which are always available.