We have always talked about digitalization changing the aspects of the business and overall working style. The most important thing that has come to the notice is that the most important part of maintaining any type of customer support is nothing but communication. When it comes to customer support, a lot of companies rely on customer emails to help them rectify any issue a customer might have. This is why some companies push for faster customer support, but what happens when emails are not enough? A recent blog post shares a few ways to improve customer support and communication with your customers.
In any business, customer support is a no-brainer. Who doesn't want to provide the best customer service possible? But, how do you know you are providing the best customer service? Do your customer service reps know how to answer the right questions? These are just a few of the many questions you should be asking. One way to ensure your customer service is up to par is by having team members that know how to effectively communicate with customers. The blog will discuss things you can do to make your customer service better.
It becomes difficult when you want to carry out a smooth working flow in the business along with carrying out customer support. What can be the alternative and effective solution? Why it has become crucial to attain and carry better customer support service? Customer service is one of the most essential aspects of any business. Customer service plays a crucial role in distinguishing the brand from the competitor. This is why companies are growing their customer service, so as to satisfy the customers.
A brief about helpdesk software
The Best Helpdesk Software elevates the customer service of any business that helps in managing customer queries and their services. It helps in solving external issues like customer queries, requirements for guidance, and much more. Not only does it help in solving external queries but also helps in maintaining the workflow amongst team members. Team members will then have an easy flow of communication among themselves.
"For better or worse, the help desk is a fixture in the IT landscape, but it might be time for a change. The help desk technology landscape has evolved in the last few years, with help desk software taking the lead. Help desks are used to organize, manage, and respond to service-related requests"
How does helpdesk software work for your business?
Helpdesk software work with your business in the best ways possible, as it helps in easing out your customer services. By organising customer support with the help of sleek features and some effective integrations.
Some of the feature lists that will make an effective impact on the business in handling the Business further:
A Helpdesk Software with a sleek ticketing system.
Shared Inbox for email ticket generation for customers.
Live Chat for instantly getting in touch with the customers where basic queries can be easily resolved by just having a conversation between Support Agents and Customers.
A self-service portal Knowledge Base that helps customers in helping themselves through relevant sources of information.
Multiple integrations make the workflow easier for a support agent.
What is the "best customer service" for your business?
Before jumping into any helpdesk software for eCommerce, it is much important to scale up your customer support service capability, needs, and future updates. Let's see how and what effect it can bring by changing the approach of the customer support service with helpdesk software.
Multiple businesses have their own tactics and methods to acquire customer support. Some of the companies only need some good reviews in return, whereas some companies provide instant support for the customers through having conversations or instantly replying to their queries. It falls more important to know what your company needs to evaluate the type of Helpdesk Software requirements.
Also Read: What is Helpdesk Software and how does Ticketing System work?
How helpdesk software for eCommerce elevates your business?
When it comes to running a business digitally, it becomes more important to look for the customers by getting back with them. Especially when we talk about helpdesk software for eCommerce, it has become much more important to evaluate the best strategies for maintaining customer support.
It becomes easier for eCommerce platforms like Shopify and WooCommerce. Business owners can easily manage their customer support services by utilising the best features of the Helpdesk Support solutions. Each feature will help in evaluating customer support in the best ways possible.
There are some points that are considered when the business owner of any eCommerce platform avails the e-commerce helpdesk
Increases the efficiency
With all the use of the available features, the efficiency of the support agent increases and hence, support agents can have all the time to put their efforts into another task or resolving the tickets of the customers.
The E-commerce helpdesk helps in managing the support services easier with the help of its sleek features that can be to the rescue
Best helpdesk software for eCommerce platforms
Helpdesk Ticketing Software Lists are mentioned below.
Desku.io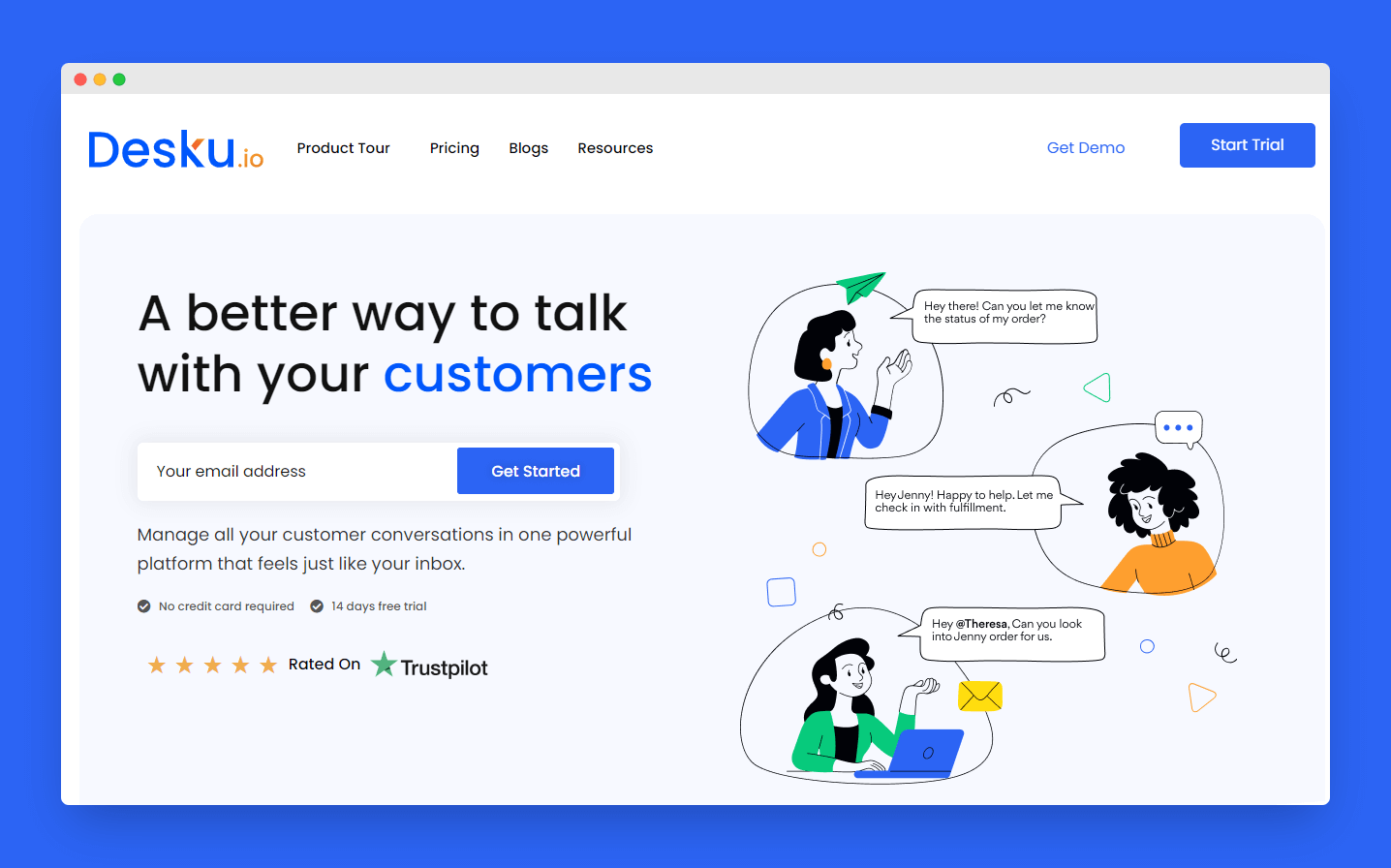 Desku is an all-in-one helpdesk support software which is now also known as a messaging platform as it allows one to manage customer queries in one may it be social media or more. Desku has sleek features through which support agents can easily manage customer queries in one. The features that are included in Desku are:
1. Live Chat
2. Shared Inbox and Ticketing System
3. Chatbot-Deskubots (no-code chatbot builder)
4. Knowledge Base
5. Seamless Integrations
6. Social Inbox
7. Accurate report and analytics
8. Automation and Macros
9. Ecommerce Platform Integration to add multiple stores
10. Satisfaction survey and much more.
These features do not let you go out of the tool or software in order to manage the customer query but one can always manage the customer queries under one dashboard. This will bring an organised way of customer query management. Not only this, but it is the most affordable which will surely not burn your pockets.
Price: $19/month
Labidesk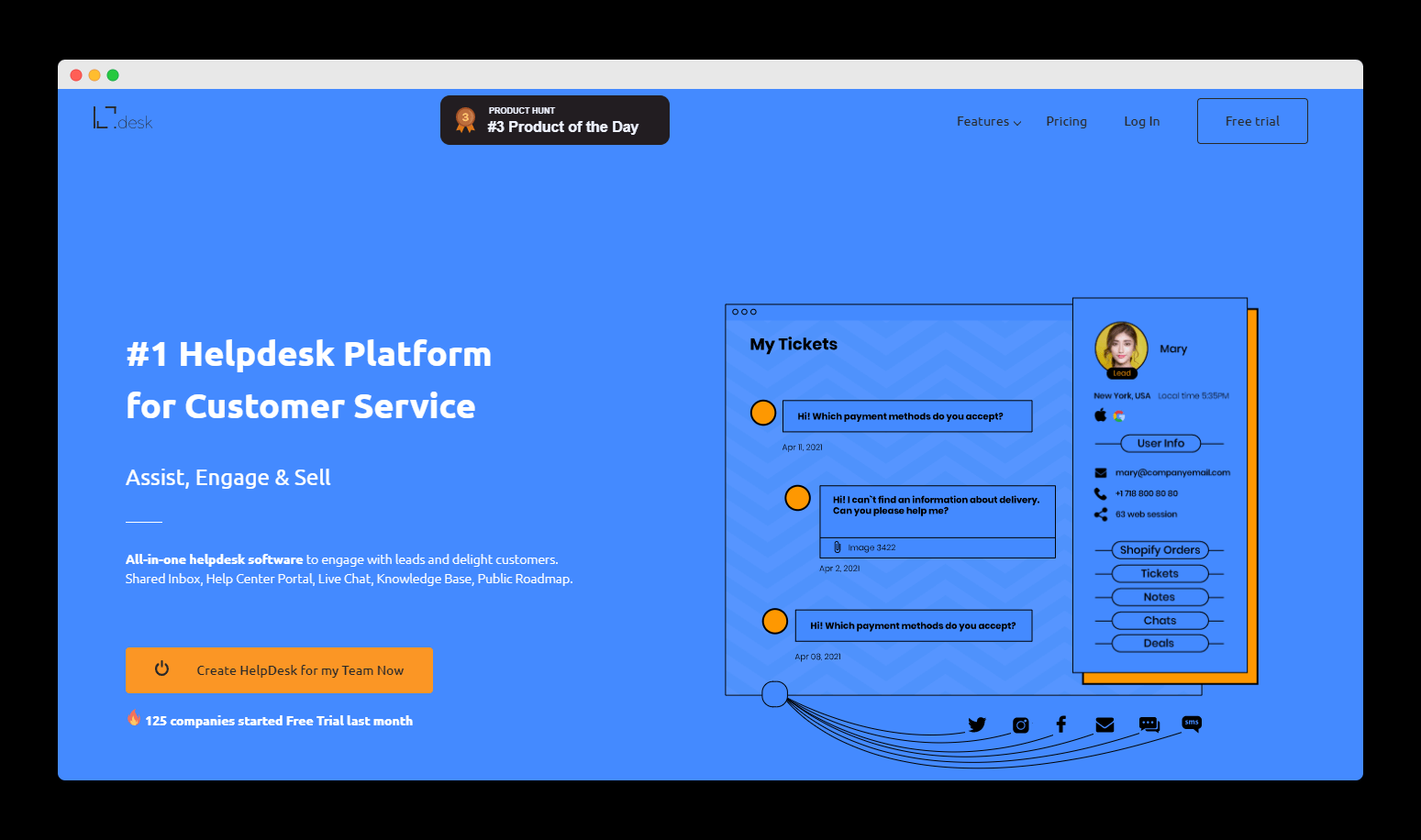 Labidesk is also considered the best customer service platform which has various features that help in managing customer support queries. It has a main focus on sales conversion by providing the best customer support platform to grow the business through features like;
1. Shared Inbox
2. Knowledge Base
3. Help Center Portal
4. Live Chat
5. Road Map
Labidesk helps in customer retention and making the best customer query management platform which will provide better growth for the business.
Price: $79/month
Helpdesk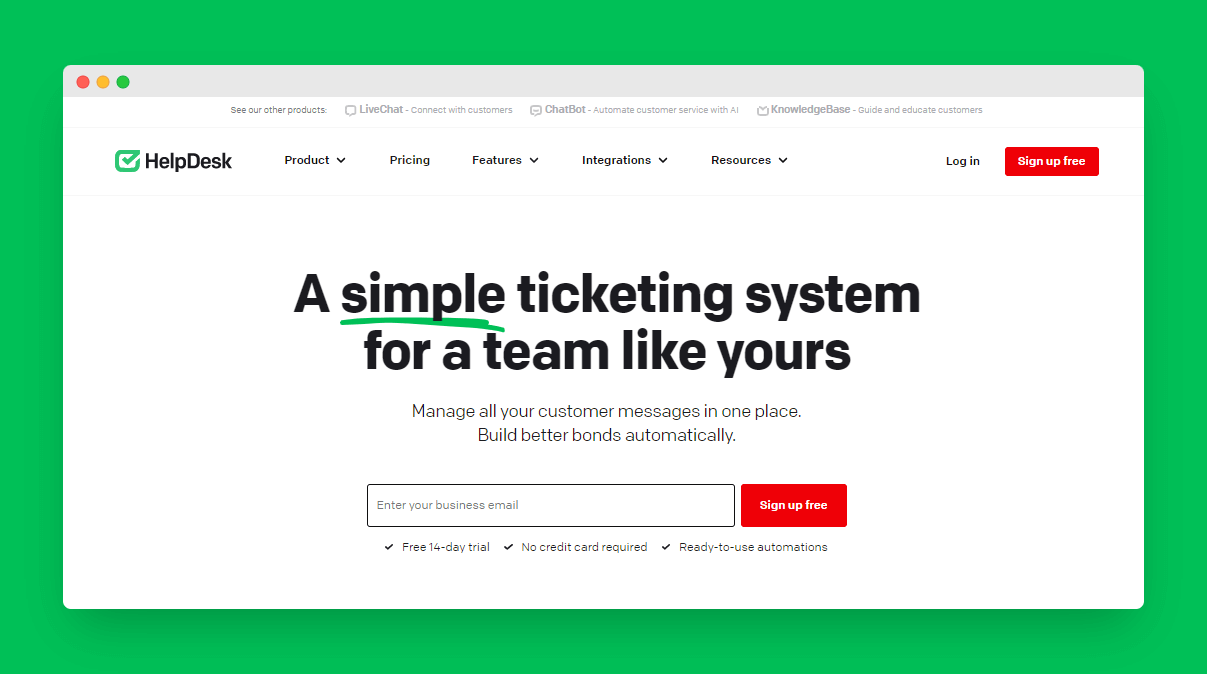 The helpdesk is considered to be the biggest platform of all where they have been focusing on medium and large-scale businesses. It has an email ticketing system which works for the customer who wants to send their queries through emails. The queries will be received through emails and managed under the Ticketing system. The helpdesk has main 2 products integrated with it, Live Chat and Chatbot. Those two are completely different products but are managed under the Helpdesk.
From ticket management to team collaboration, it has got it all covered to manage customer support queries. It has in-built automation that provides better configuration and customer management even in absence of the support agent.
It is the perfect model if you have a medium or large-scale business organisation.
Price: $29/month/per agent
Thrivedesk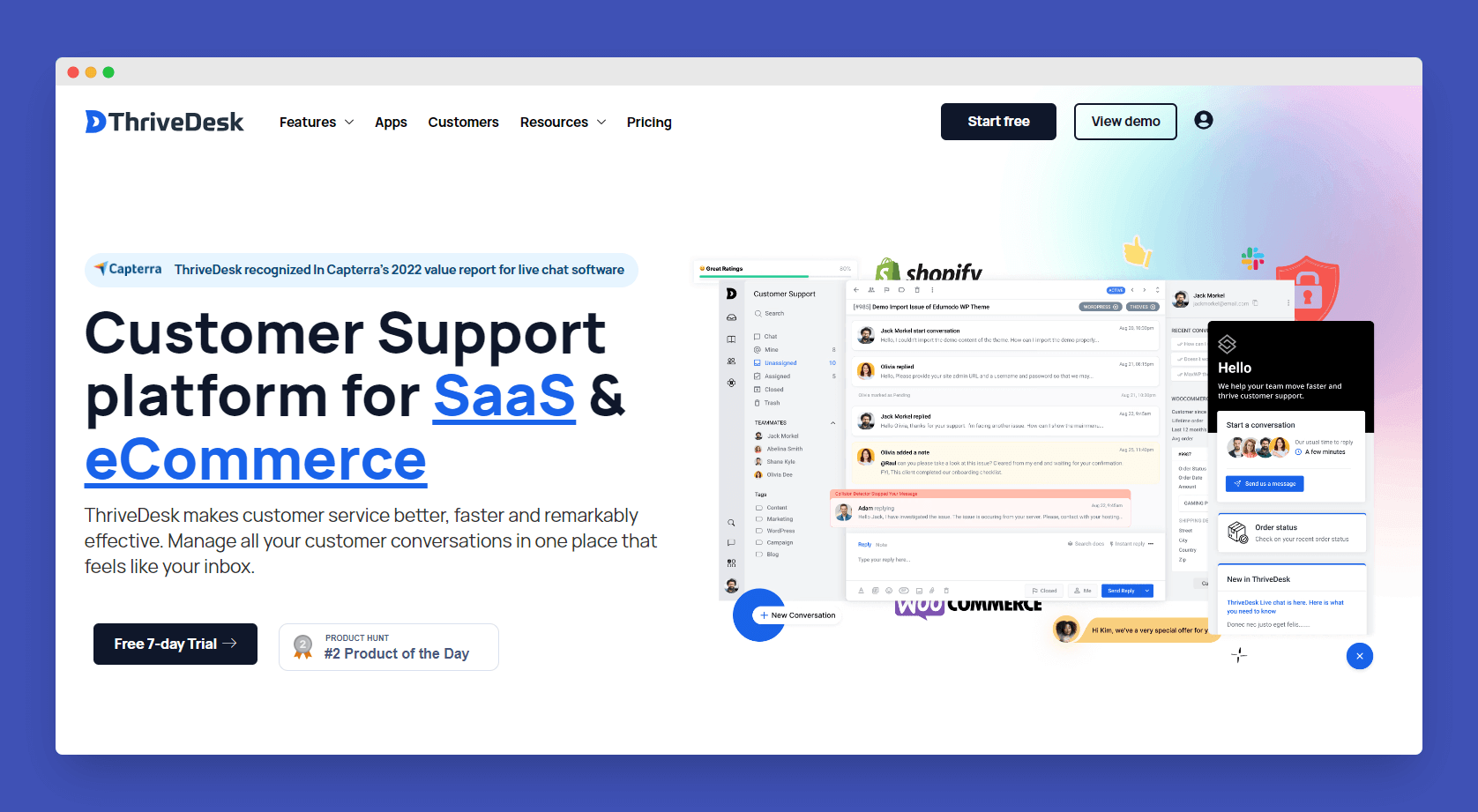 Thirvedesk helpdesk support is built for SaaS and Ecommerce business owners. It is curated for small-scale business owners which have difficulty managing support queries. There are various features that help in making the support system much easier to handle.
It has all the necessary features that any Helpdesk should have like Shared Inbox, Ticketing system, and Knowledge Base that will help in managing customer queries in no time. The only drawback that Thrivedesk has in the eCommerce Integration is that it does not have the Shopify store integration. So business owners with the Shopify Store cannot use Thrivedesk as a helpdesk platform.
Price: $6.67/month
MyAlice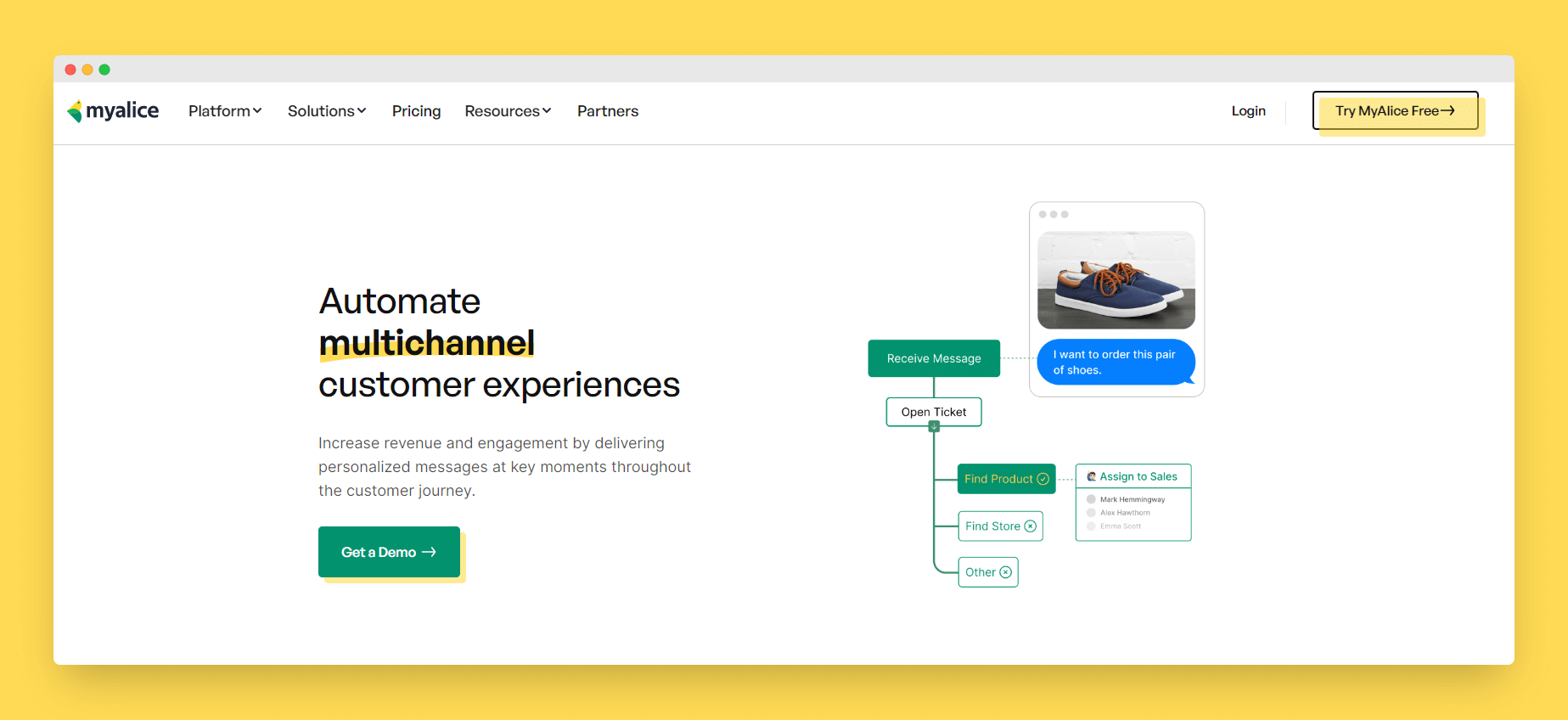 MyAlice is an automated multi-channel customer experience platform. It supports the integration with Ecommerce platforms and helps in integration with Shopify and WooCommerce. It helps in converting customers through social media platforms, easily taking updates and orders from the customers, not only that but it helps in sending broadcast messages to customers when needed to update them.
It has various social integration like Whatsapp, Instagram, Viber, Messenger, Telegram and more.
Price: $27/month
Conclusion: Choose your best helpdesk software for eCommerce.
We hope you enjoyed our blog on help desk software. We know that many people today prefer to utilize help desk software for their internal requests that come from a team member. When trying to find help desk software that will work for your team, we recommend doing some research. Many companies today offer free demos of some help desk software, giving you the chance to test out the software and how it will work for your particular needs. If you have any questions about help desk software, please don't hesitate to reach out to us at support@desku.io
We hope our blog helped you out!