Help Scout is a customer service platform that allows businesses to communicate with their customers in an organized, efficient, and effective manner. It offers features such as email support, automation, support collaboration, customer profiles, and more. Help Scout also provides an intuitive user interface for easy navigation and use. With these features, Help Scout has been an invaluable tool for many businesses since its launch in 2011. However, some business owners might be considering alternatives to Help Scout as the market changes in 2023.
In this article, we will look at the top 5 best alternatives to Help Scout for 2023 and compare their key features and pricing so you can make an informed decision on which one is right for your business needs. We understand that there might be lots of support tickets and support requests, but we are here to help you better with the omnichannel support and help centre. Today, the support tool is not just providing or limited to giving only customer support, but it also has additional features that power up the marketing and sales of the business. The Help Desk system has evolved, and if you are looking for a help desk that suits your business in the most accurate ways, then alternatives will help you in choosing the one which stands right for you.
Introduction to Help Scout and its Features
Help Scout is a customer service software that provides businesses with an easy way to manage their customer interactions. It tracks emails, chats, and other conversations between customers and agents, as well as tracks tickets and assigns tasks. It also includes tools to create automated emails, set up custom forms, and provide customers with self-service support options.
Help Scout's features make it an ideal tool for any business that needs to manage customer communications quickly and efficiently. It helps streamline the customer service process by consolidating all customer communication into one place, making it easier to respond promptly to inquiries or requests. Help Scout also offers the ability to customize forms to collect information from customers in order to better understand their needs and tailor responses accordingly. Additionally, its reporting capabilities enable businesses to generate insights on their customer service operations such as response times or overall satisfaction levels. Finally, Help Scout's integration with leading third-party services like Salesforce allows teams to leverage existing data sources as they move through the customer service process.
Why You Might Be Considering Alternatives to Help Scout
Help Scout is a popular customer support and help desk software. However, it may not be the best choice for everyone in 2023. You might be considering alternatives to Help Scout if you need features like a project management tool, live chat capabilities, or an easy-to-use knowledge base. You may also want to consider alternatives if you need more customization options when creating tickets or setting up workflows for complex processes. Additionally, your budget could be a factor in deciding whether to switch from Help Scout to another help desk solution.
In this article, we'll take a look at some of the top Help Scout alternatives for 2023 and compare their features and pricing so you can find the best one for your business needs.
Top 5 Help Scout Alternatives for 2023 to consider
Finding the right help desk software for your business can be a challenge, especially when faced with the abundance of options available. Help Scout is one of the most popular tools on the market, but there are many other great alternatives that may better suit your needs in 2023. In this article, we will be looking at the top five Help Scout alternatives for 2023 to help you find the best solution for your company.
Desku
Desku is an all-in-one customer support platform that helps business owners and support agents to solve queries faster with multiple messaging platforms. Not only that but it helps in carrying the business marketing too in terms of visibility. It is not limited to only customer support but it helps in marketing, sales, and executing through messaging platforms.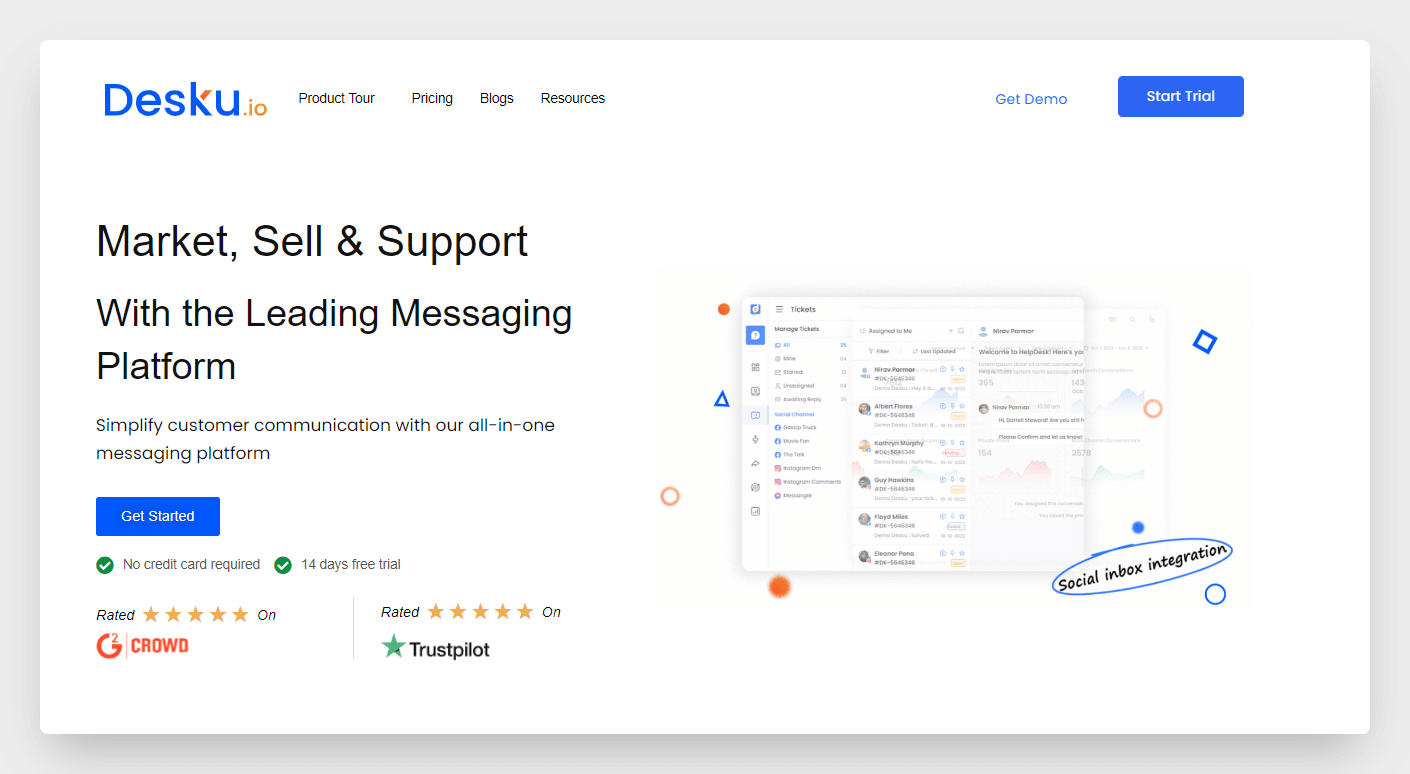 It has numerous integration that makes work easier. It lets you connect your Shopify and WooCommerce store to connect for easy carrying out business with Desku. Give your support team a wave of relief, as they will have the best tools to manage and support everything they need through Desku. Assigning the questions to your support team is easier by easily passing
When it comes to finding the best help Scout alternative for your business in 2023, it's important to compare key features and pricing for each alternative, let's start with the Desku which is considered more than just a Helpdesk Support Platform.
Features of Desku
Shared Inbox
Help Center-Knowledge Base
Automation tools like Macro and Rule
No code chatbot builder-Deskubots
Numerous Integrations
All-in-one dashboard for management of everything in one.
Marketing and Sales opportunist features
You won't find the best support solutions than Desku!
Price: It has 14 days of Free Trial and the basic plan starts at $19/agent/month.
Zendesk
Zendesk is an all-in-one customer service platform designed to help businesses manage customer engagement and support functions. It offers features such as ticketing, automation, reporting, knowledge base management and more. Its intuitive interface makes it easy to use, and its pricing is competitive compared to other helpdesks on the market.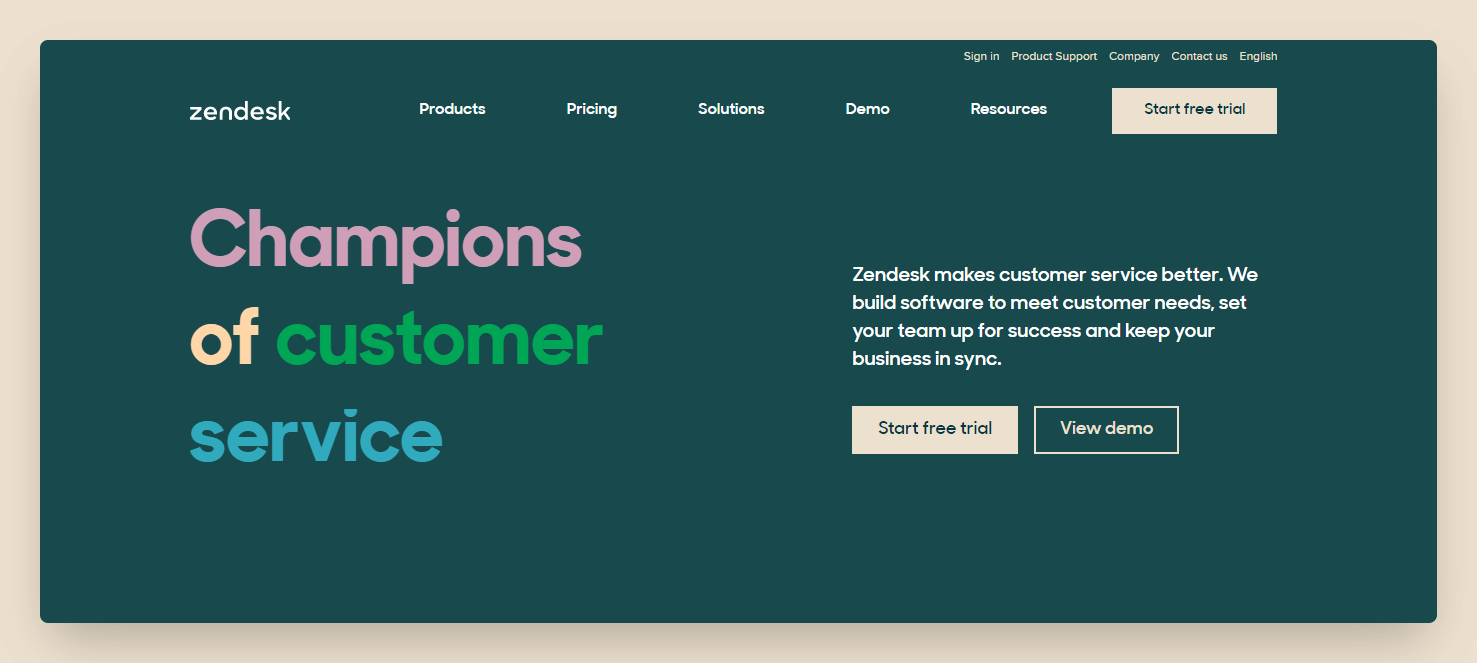 Zendesk is a great support system which mainly focuses on large business industries. It is one of the alternatives to consider if you are in a large-scale industry and wants help with the management of customer queries.
Features of Zendesk
Ticketing:
Zendesk allows businesses to create, assign, and track customer service requests through a simple ticketing system.
Live chat:
Customers can chat with support agents in real-time through the live chat feature.
Automation:
Zendesk offers a range of automation tools to help businesses streamline their customer service processes.
Knowledge management:
Zendesk's knowledge management tools allow businesses to create and share knowledge bases with their customers and support teams.
Multichannel support:
Zendesk supports multiple channels, including email, phone, and social media, so businesses can communicate with customers through their preferred channels.
Integrations:
Zendesk integrates with a range of third-party tools, including CRM systems, social media platforms, and project management tools.
Customization:
Zendesk offers a range of customization options, including the ability to create custom fields, workflows, and views to fit the specific needs of a business.
Reporting and analytics:
Zendesk provides a range of reporting and analytics tools to help businesses track and measure their customer service performance
Pros of Zendesk
Comprehensive reporting for agents and chat interactions
Quick overview of new and pending requests
Self-service options including chatbots, knowledge base articles, and FAQs
Cons of Zendesk
Limited customization options for the self-service portal
Limited integration options with third-party applications
Lacks some advanced features such as call centre support and AI-powered chatbots
Some users have reported difficulties with the ticketing system and slow response times from customer support
The pricing structure may not be suitable for smaller businesses or startups on a tight budget
Data transfer complications
Reports and technical analytics face an issue.
Pricing of Zendesk
The Suite Team plan is priced at $49 per agent per month, billed annually
The Suite Growth plan is priced at $79 per agent per month, billed annually
The Suite Professional plan is priced at $99 per agent per month, billed annually
The Suite Enterprise plan is priced at $150 per agent per month, billed annually
Freshdesk
Freshdesk provides a unified platform for managing customer service operations and helping customers faster with their inquiries. It offers features like ticketing tools, automation rules, live chat support and more. Additionally, its pricing plans are highly competitive and flexible enough to accommodate businesses of different sizes and budgets.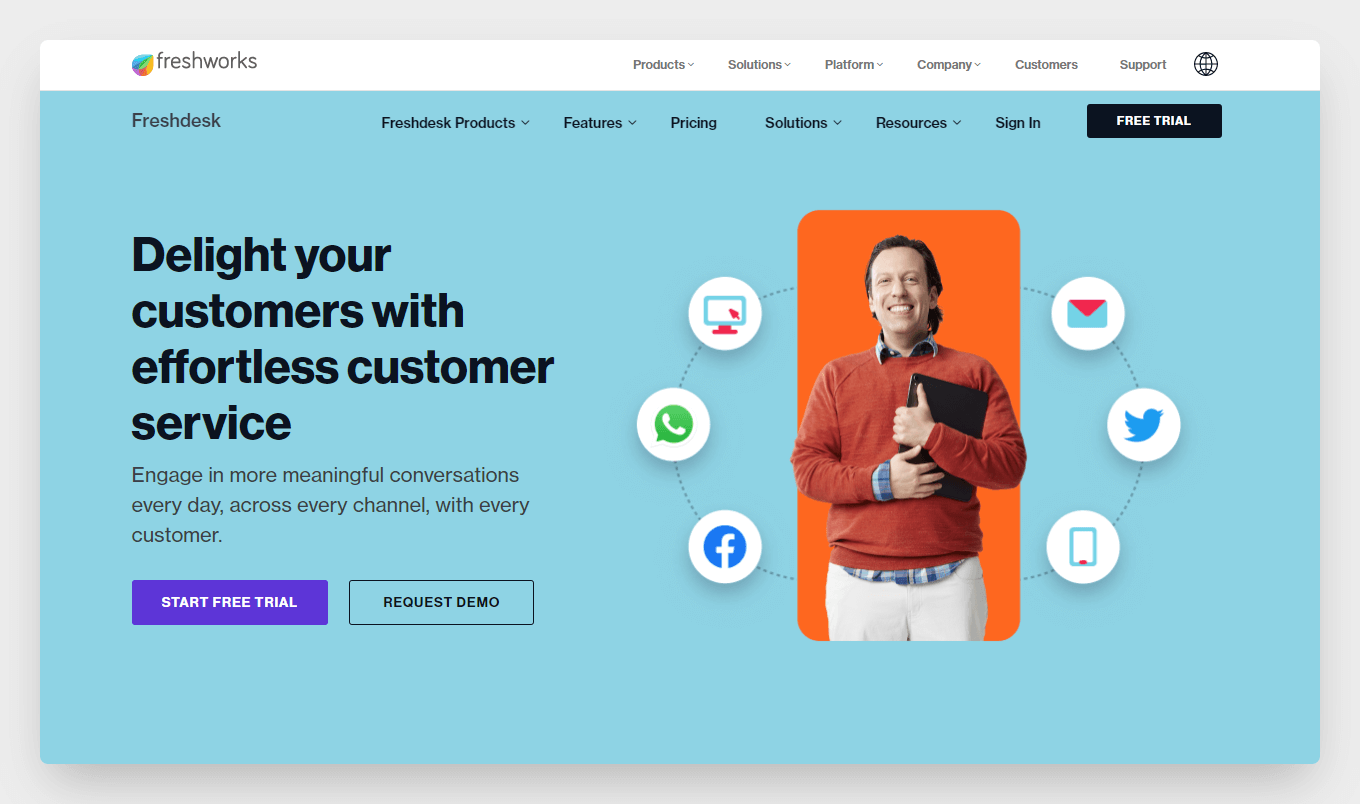 This is one of the cloud-based alternatives to Help Scout that allows businesses to increase customer engagement and manage relationships. Service Level Agreements (SLAs) are also managed through this customer service software.
To increase customer engagement, Freshworks offers custom ticket views and rich marketing tools. You can provide customer support via mobile chat, live chat, and your contact centre with Freshworks Omnichannel Suite.
Freshdesk is a customer support platform that has many support options through embeddable integrations that ultimately make your work easier.
Features of Freshdesk
Custom ticket views for the organization of customer communication
Rich marketing tools to increase conversations
Omnichannel support, including mobile chat, live chat, and contact centre functionality
Service Level Agreement (SLA) management to set expectations between customers and service providers
Cloud-based platform to easily access and manage customer relationships
Diverse tools to increase customer engagement and manage customer relationships.
Pros of Freshdesk
Assignment and merging of tickets
The activity log is available
Forecasting, insights, and analytics at the highest level
Cons of Freshdesk
Data synchronization issues have been reported by some reviewers
Integrations with third parties are limited
Pricing of Freshdesk
Freshdesk offers a free plan
Growth Pricing Plan ($18/agent/month)
Pro Pricing Plan ($59/agent/month)
Enterprise Pricing Plan ($95/agent/month)
Live Agent
With this Help Scout alternative, you can prioritize customer conversations through user-friendly ticket management. The help desk solution is perfect for small businesses that need help organizing support tickets. There is a shared inbox for different customer service channels so that tickets never get lost again.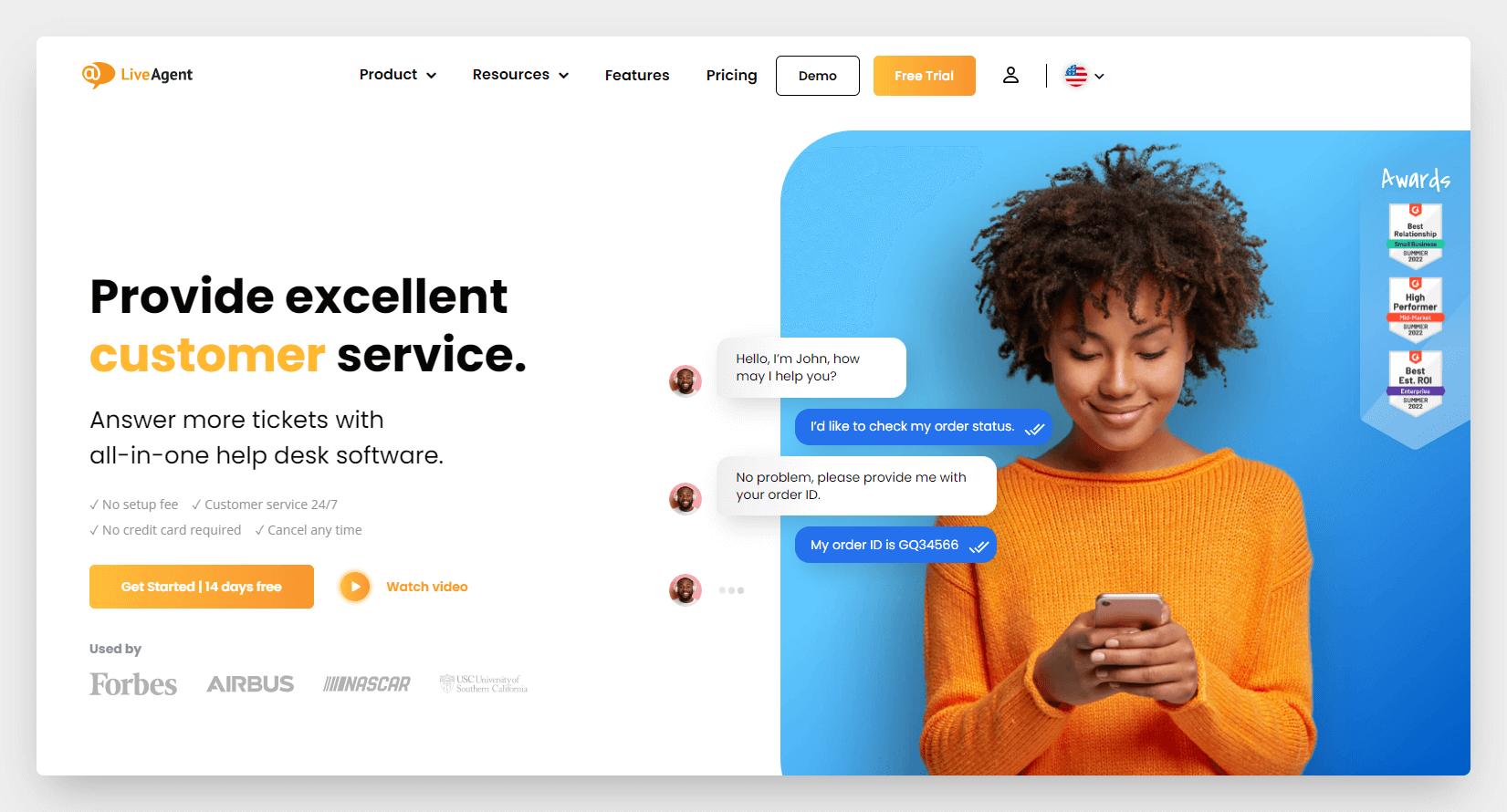 Chatbots are also available with LiveAgent to automate some customer service tasks. If your business has a strong social media presence, you can take advantage of its multichannel service desk.
Features of Live Agent
Ticketing System like every other Helpdesk Platform
Time Tracking
Unified Inbox
CRM-Ticket and Customer insights
Set flexible business hours
Pros of Live Agent
With the built-in call centre, you can automate customer callbacks
Inbox spam filter for your company
Facebook, Twitter, Instagram, and Viber integration
Cons of Live Agent
Inactivity sometimes logs users out of the app
Users can accidentally reset the chat history without seeing previous messages, according to reviewers
Pricing of Live Agent
Free version available
Ticket ($15/agent/month)
Ticket+Chat ($29/agent/month)
All-inclusive ($49/agent/month)
Intercom
Intercom helps in connecting with your customers in real-time through any platform. Customers will also be able to contact support while they are using the Intercom in case of any queries. With the support, it has hands-on marketing and sales which helps in boosting the business and helps your team to generate more sales in the business. It is a dedicated customer support platform built to function at all the paces of the journey in the business.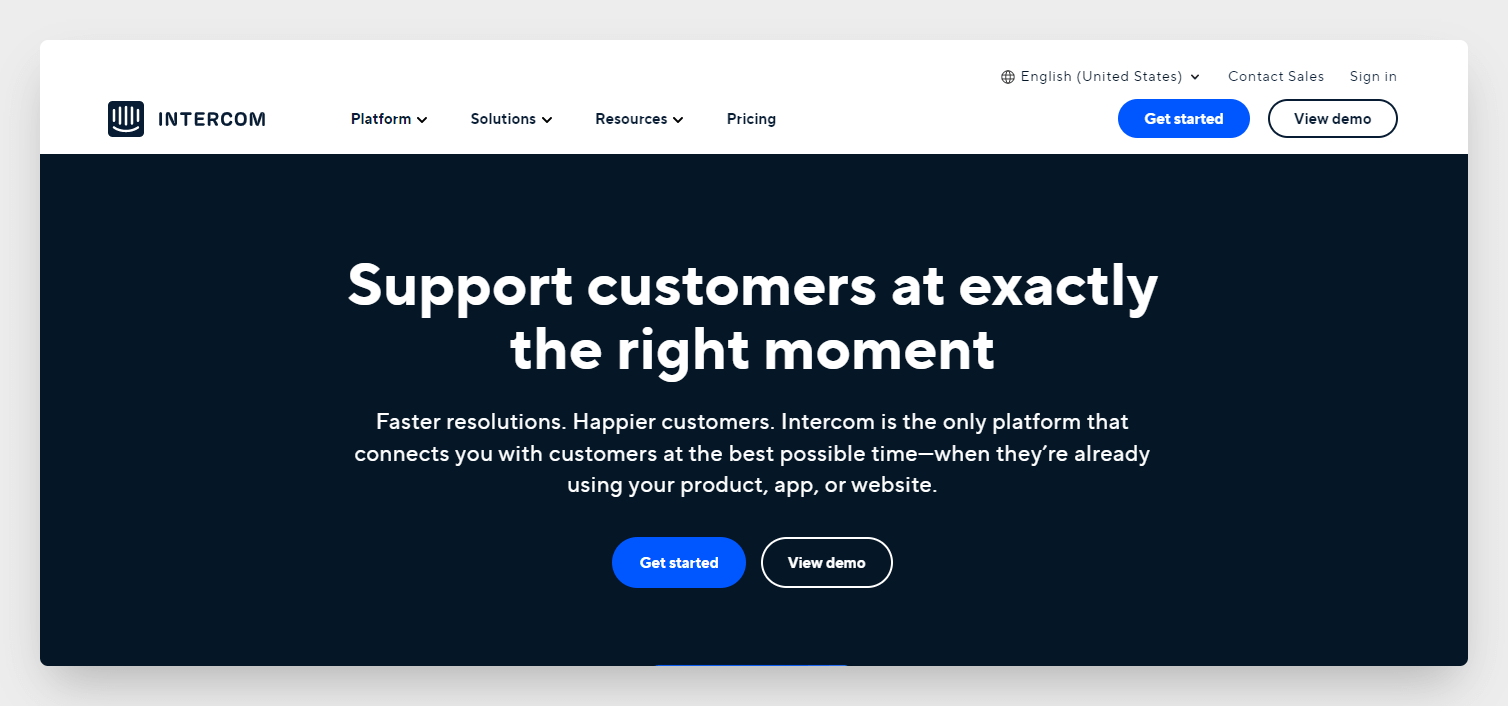 The chat capabilities and proactive support options are one of the advantages of Intercom. Help your agent to conquer the secret of providing a complete customer support platform.
Intercom is one of the best alternatives to Help Scout. Businesses can add rules to their funnel to automate workflows in order to better support customers. Additionally, you can automatically sort visitors into categories to streamline interactions over time.
Users of this Help Scout competitor have full customization and flexibility. You can use it to communicate with customers in real time, track customer interactions, and collect feedback from them. By improving customer satisfaction and enhancing their lifetime value, these functionalities can help you grow your business.
Features of Intercom
Intercom Messenger
Next-Gen inbox
Ticket Management
Outbound Messages
Help Center Articles
Product Tours
Custom Bots
Resolution Bots
Custom Actions and Objects
Pros of Intercom
Dashboard for monitoring and reporting workflows
A variety of languages are available
Support request collision detection
Cons of Intercom
Comparatively expensive
The learning curve is steep
Pricing of Intercom
Each company's pricing is calculated individually – contact sales for a demo and a quote
Recommendation for the Best Help Scout Alternative for Your Business Needs in 2023
Whether you're looking for an alternative to Help Scout or considering making the switch from one customer service platform to another, it's important to weigh your options carefully. Different platforms offer different features and advantages, so it's essential to choose the one that best meets the needs of your business. With
When picking a Help Scout alternative, consider factors such as pricing plans, customer support quality and response time, ease of use and customization capabilities. Take a closer look at how each platform fares in terms of these criteria and compare their features with those offered by Help Scout. Additionally, research the customer reviews available online – these will provide an unbiased opinion about which provider offers the best user experience. Finally, review your own list of priorities and decide on a platform that best meets them.
Also Read: The Best Help-desk software for eCommerce Websites in 2022
By comparing these criteria across platforms you should be able to make an informed decision on which Help Scout alternative is most suitable for your business needs in 2023. Each of these tools offers something different across various categories including cost-effectiveness, customer service efficiency and overall user experience; so choose wisely!
Conclusion
The right help desk software can be a major asset for any business, helping to streamline customer service processes and providing an easy way to access support. Desku is one of the most popular solutions on the market, but there are many alternatives that may better suit your company's unique needs. 
After examining five of the top Help Scout alternatives for 2023, we can confidently say that each of them offers its own unique set of features and pricing plans. Desku is the go-to pick if you need a help desk solution with advanced analytics capabilities.
In conclusion, no matter what size your business or what type of customer service needs you have, there's sure to be a Help Scout alternative out there to fit your budget and requirements in 2023. Choose which fits right for you in order to get the best for your business.