A chatbot is software that simulates human speech and enables companies to improve their marketing efforts. It also allows companies to engage in conversations with potential customers 24 hours a day, seven days a week. If you are not familiar with chatbots you can find chatbots for social media in different types of shapes and sizes. They improve various messaging mediums like SMS text, social media platforms, and website pop-ups.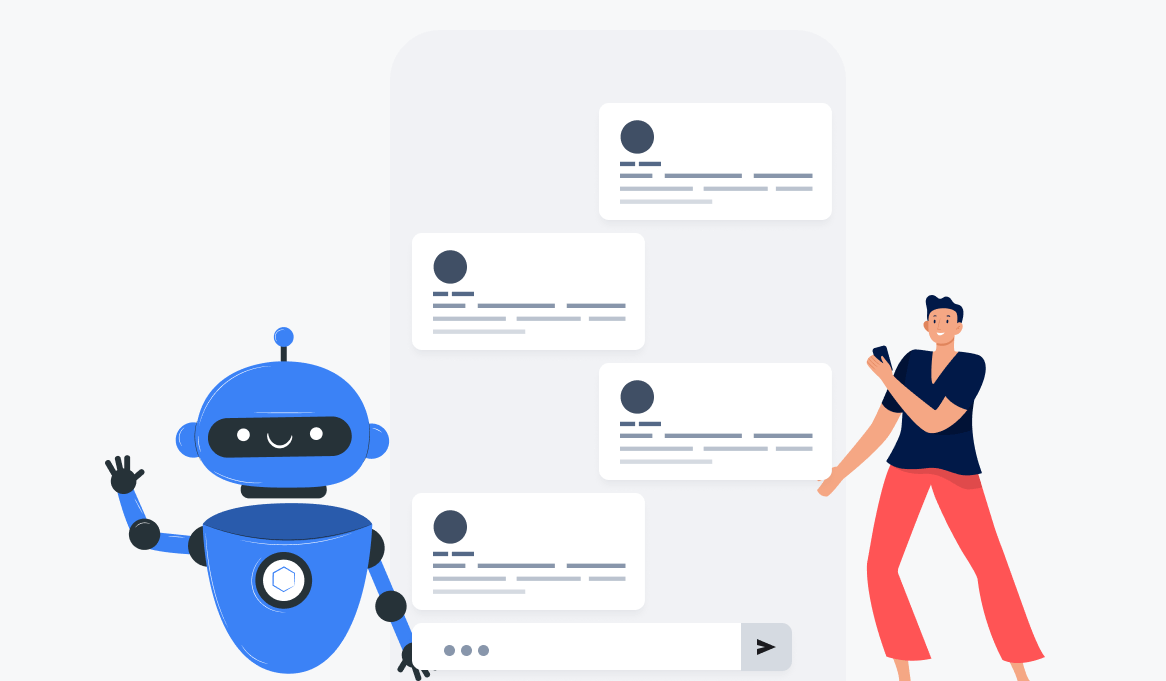 You may also make them perform like traditional interfaces and virtual assistants just like Siri or Amazon's Alexa. These will help you to interact with brands or businesses on social media platforms if you are going to return clothing or catch a flight. This post will discuss how you can use chatbots for social media platforms.
Also Read: Importance of Customer Service in DTC Brands for Quality Customer Service
How do chatbots work for social media platforms?
Most of us use chatbots for social media platforms. If you are confused about implementing a new chatbot for customer service on social media you should get to know the following work process of chatbots for social media platforms:
● Chatbots provide 24/7 service.
● They provide instant responses
● It saves time and cost.
● It helps users to get their required information.
● Then provide customers with a new and interactive way to engage with brands
● It enhances sales.
● It provides customer satisfaction.
● It lessens human error.
Top tips to use Chatbots for Social Media Channels
We all know that implementing a chatbot for social media can be very useful for any business. But if you enjoy the benefits you have to follow some tips to make sure that you are getting the most out of your chatbot. We have accumulated the most useful tips in the following for social media chatbot success.
Enhance the human experience with social media Chatbots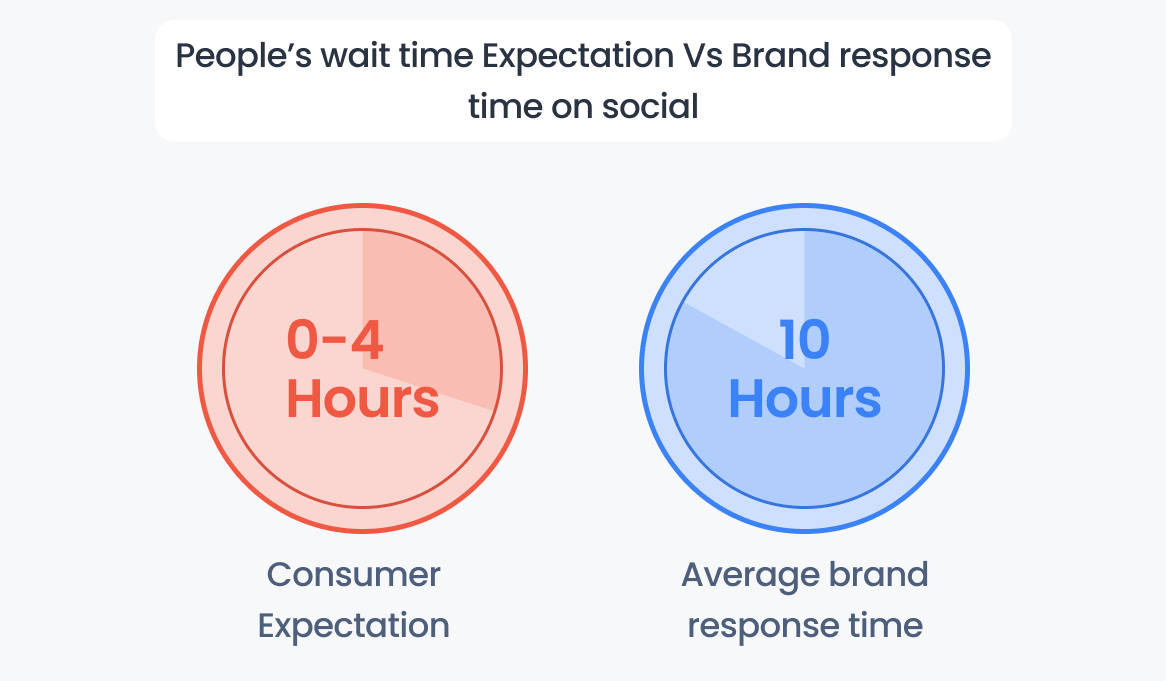 Automated support can indeed be extremely helpful, but you have to make sure that your chatbot does not replace human agents completely. Rather, a social media chatbot should enhance the human customer service experience. That is why it is very important that your chatbot for social media platforms can stimulate escalations to a human agent.
Choose the right kind of chatbot for your social media accounts
If you are going to implement a social media chatbot, you will get a choice between a rule-based chatbot and an AI-powered chatbot. You can differentiate the two options by noticing their abilities.
Rule-based chatbots respond to customer questions by using decision trees and scripted responses. The responses are either previously scripted by you or brought from your brand's database. In most cases, rule-based chatbots need customers to choose responses from set phrases or keywords. It can be a great tool for basic use that also restricts the scope of user input.
Also Read: 11 Unique Ways Chatbot Builders will Escalate Your Business Success
AI-powered chatbots on the other hand interact with customers conversationally. They do not completely depend on scripted answers. A virtual agent comprehends the customer's purpose by using machine learning and natural language processing (NLP) to respond in a more 'human-like' way. The advanced AI-powered chatbot can even 'remember' previous interactions. Thus, it can handle more and more customer queries over time.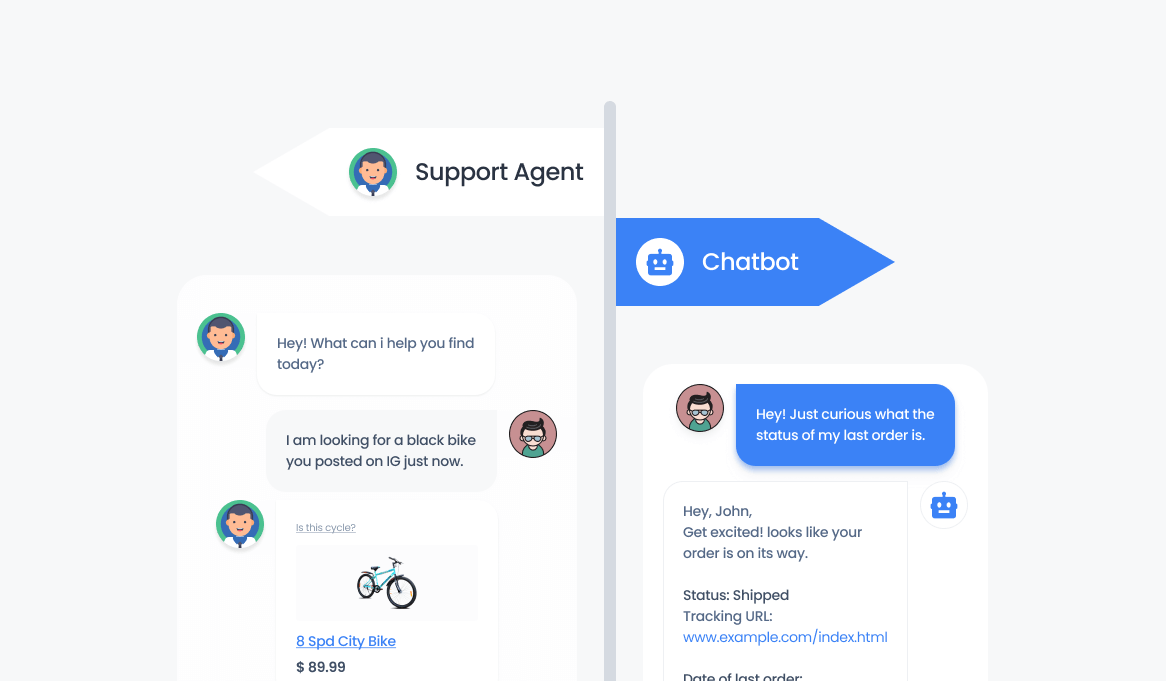 So, AI-powered virtual agents will be beneficial to deliver more humanized support and an extraordinary digital customer experience. But, to improve efficiency and give customer advisors in a pocket-friendly way, a rule-based chatbot can be a useful option.
Get started with Chatbots to connect with customers easily
Proactive customer service is essential to increase customer engagement with your social media chatbot. When a brand reaches out to customs first without a request for help, proactive engagement occurs.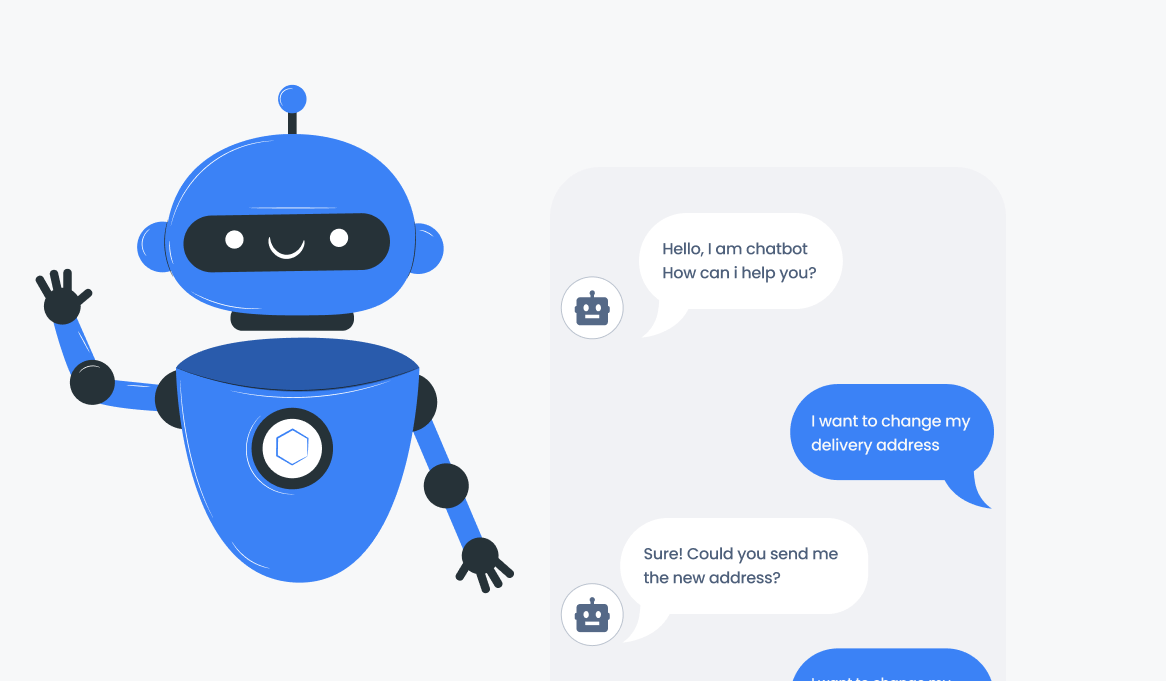 For instance, you can set a chatbot to welcome customers with a welcome message when they visit your social media page. It ensures a friendly tone and allows customers to know that they will get help whenever they need it. By using proactive chatbot support you will be able to engage more users and boost the customer experience by meeting their needs.
Provide multilingual support for better conversational Marketing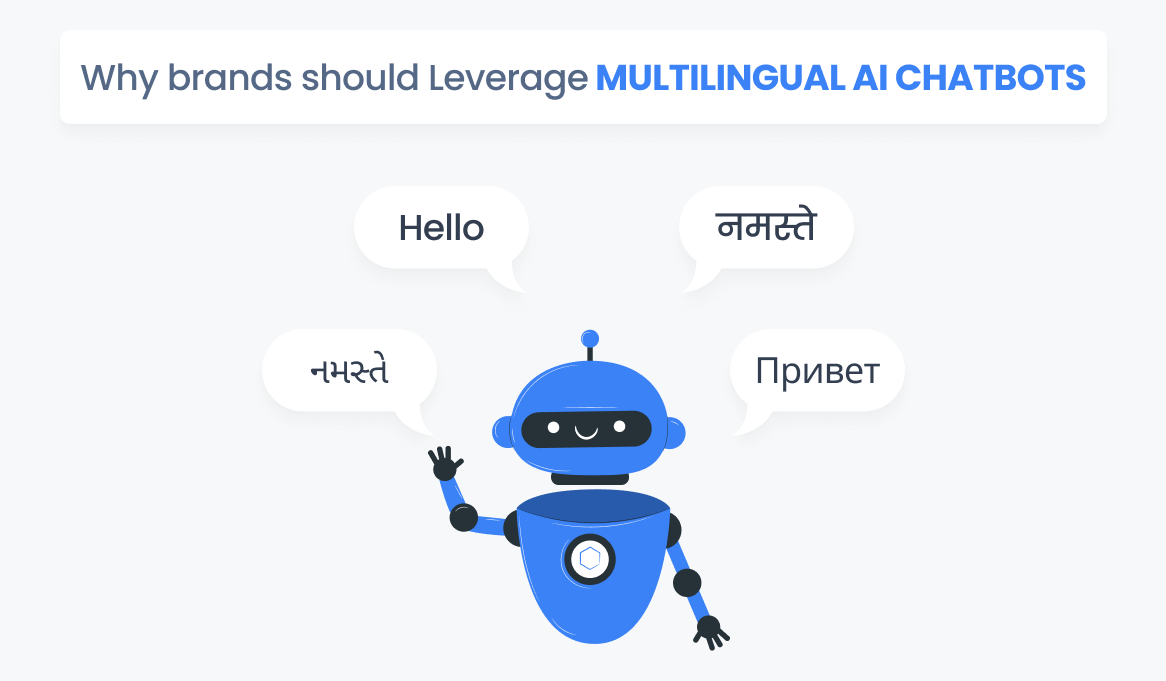 You must check that your social media chatbot is accessible to all of your customers. You can achieve this by choosing a multilingual chatbot that provides:
● Real-time instant translation
● Automatic language detection
● Editable translation glossaries
These factors help to immediately engage and support all of your digital customers all across the globe. You'll also achieve the opportunity to broaden your customer base worldwide and capture leads overseas.
Develop a social media bots personality
One of the best tips for social media chatbot success is to make the bot preferable and enjoyable for customers to interact with. You can make this possible by developing an engaging personality for the chatbot. It also helps to bridge the gap between human and AI-powered support and improve the chatbot experience for customers.
Gather customer feedback with social media chatbot
It is essential to listen to and collect customer feedback to get success in any business venture. Social media chatbot is no exception to this rule, and they can be a great way to get information regarding customer perceptions and attitudes. Therefore, you have to make sure that your social media chatbot asks customers to review and rate their experience.
This automated, in-the-moment feedback can be used to inform your chatbot strategy going forward. Finally, you can make sure that your social media chatbot adds value to your customer's experience.
What are the different ways to implement Social media chatbots?
There are several ways to implement chatbots in social media that include;
Chatbots on Social Media Channels For Customer Service
Surely, you won't want to wait for an email and wait for a reply for 2 working days. Customers want instant responses. Customers can inform you about their issues on Twitter instead of sending you an email. But for this, your team must be there to follow up on the issues. If there is a new chatbot for customer services on social media like Twitter, Facebook, or Facebook messenger you will be able to provide 24×7 customer service and save your staffing cost.
Use Social Media for product viewing and automation
Most internet users spend 50% time of their day online surfing on social media. It is the easiest way for a person to shop and pay on the social media website. You can also display your whole catalogue in a Messenger chat. A lot of effective chatbots are available on Facebook messenger, searching and suggesting products to customers already. If you want to create a better conversational marketing platform it is important to connect communication channels to enhance the social media presence of your company.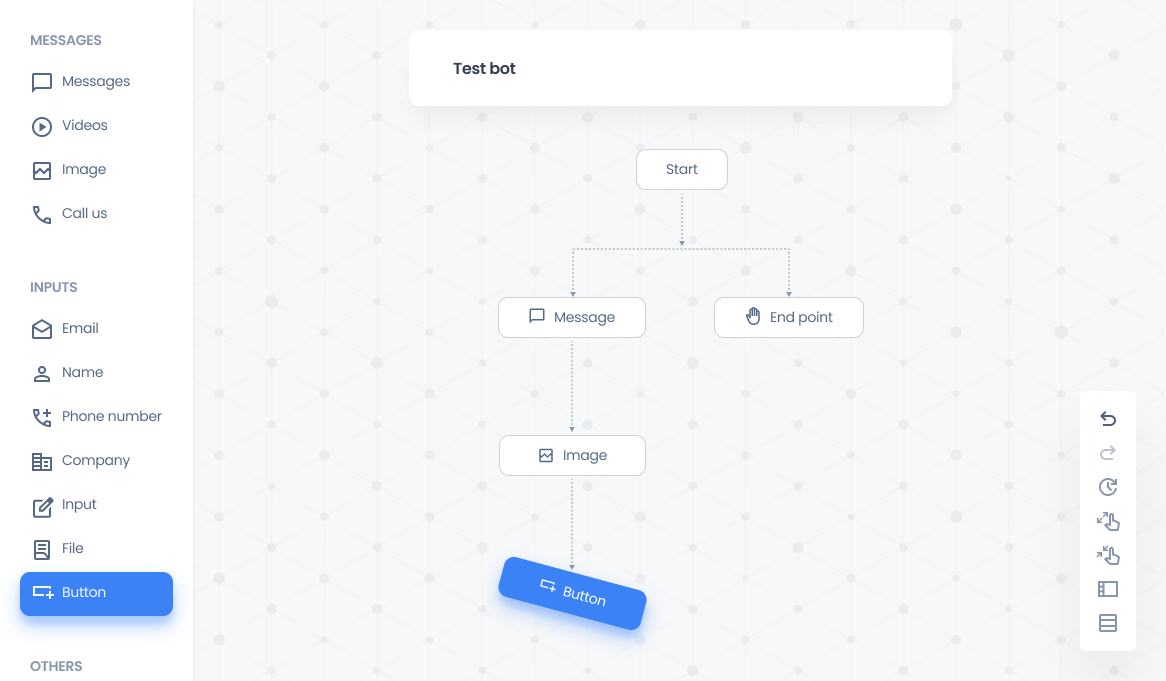 With sales and marketing automation, carry the experience for your customers in the best ways by generating marketing campaigns on marketing channels. Customer service teams get relief from unwanted customers gushing in bulk.
Handling Your Social Media Accounts
Handling thousands of followers on Twitter is easy. But when you have more followers you can not handle it yourself. You can not handle a lot of notifications, queries, DMs, and Tweets perfectly. But by implementing chatbots you can do so. It lets you interact with every follower and make them realize that you care for them.
Conclusion: Choose the best Social Media Chatbot to automate work in 2023
A chatbot for social media can be an outstanding tool for better customer service, marketing, and online sales. You may follow the tips to develop a successful social media chatbot that will improve the customer experience digitally and enhance your engagement. There will be an immediate increase in conversion rates for sales and marketing teams as one can also embed the knowledge base for customers to view the guides and information. Build a chatbot marketing tool with conversational AI for a better configuration as the best Chatbot.
The use of marketing strategy has become much more crucial and here AI Chatbots help to carry the best social media marketing. Make social media strategy for chatbots for marketing. From answering Frequently asked questions to solving customer queries, everything can be done with the Chatbot Software for your social channels. Chatbots can be programmed and trained as custom chatbots for better digital marketing on social platforms like Facebook.