CRM software, or customer relationship management software, comes in a variety of shapes and sizes. Some are designed for tiny enterprises, while others manage millions of contacts for large corporations.
Then there are eCommerce CRMs, which may be the most essential type given the number of customers who visit websites, buy things, and seek help. Sure, a CRM like Salesforce or Pipedrive may theoretically be used by any type of business. But what about a WooCommerce CRM that syncs data for WooCommerce customers, products, orders, and other items?
If you're using WooCommerce or planning to start, you'll need a professional approach to communicate with and manage your consumers. And the way to do it is by using a WooCommerce CRM.
This article will show you which WooCommerce CRM is the best.
What is WooCommerce Customer Relationship?
Woocommerce Customer Relationship Management (CRM): The ideal solution for managing existing and potential customers. It enables the administrator to integrate the sales agent in the store in order to manage the customer. This will aid in increasing conversion rates and sales in the store. Furthermore, by viewing the data in a graphical style, the store owner may manage profit and sales.
WooCommerce is an ecommerce plugin for WordPress. WooCommerce turns your WordPress website into a product-selling online store. Both are completely free and simple to use.
Is the Helpdesk worth it for online stores?
Talking about the helpdesk software, Desku is one of the ideal software that helps ecommerce business to manage their customer in the best ways possible. From managing customer queries to looking for customer retention, everything is possible through Desku. Talking about WooCommerce stores, it automatically sync your WooCommerce customer data in the helpdesk so that easy management can be carried further without adding customer information manually.
The helpdesk has some of the best features, let's have a look at it.
📌It automatically sync your WooCommerce Store
📌If you are using WooCommerce for the online store, customer management is much easier with the quick solving of tickets and queries.
📌Live chat feature for instant connecting with customers
📌Track down customer activities with your website
📌Automation and Macros
📌Email ticket management system
📌Affordable and does not burn holes in the pocket
📌Social inbox integration
and much more…
Looking for the best WooCommerce customer management system, look for Desku for better handling of customer queries under one roof.
But,
Let's know how the Best WooCOmmerce CRM solutions help and for that it is important to know the benefits of WooCommerce customer relationship manager.
Benefits Of WooCommerce Customer Relationship Management
Improved Lead Generation with customer relationship management
Salespeople can create a comprehensive picture of their customers and sales prospects thanks to advanced data collection. BI integrations can track customer service and product browsing patterns, product preferences, and social media activity. With automated marketing, frequent reminders, and information on new goods, salespeople can nurture their leads. It's crucial to assign the appropriate lead to the appropriate salesperson, and integration can automate this process based on employee competencies, sales closing rates, or the salesperson's proximity to the customer for a quick direct sales call.
What you choose is determined by your needs and the areas of your business that you want to improve. Dedicated WooCommerce CRM integration with Woocommerce will, without a doubt, reduce the need for spreadsheets, handwritten notes, various files, and siloed systems.
Recognize customers with Woocommerce customer relationship
Any business that nurtures customer relationships succeeds better. No aspect of client website behaviour is left unrecorded thanks to the integration of Salesforce with WooCommerce. The automatic intelligence-gathering capabilities of integration include corporate concerns, external relationships including social media interests, customer transactions, website behaviour, customer preferences, complaint history, login tracking, and consumer preferences.
Superior Communication
By providing more means to communicate with customers, integration expands communication possibilities. Sales professionals may communicate with consumers from any location thanks to mobile-friendly connectivity. It's simple to contact consumers by phone, text, or email at a time that works for them when client profiles are complete. Interoffice communication between sales teams and between salespeople and their managers is also improved by integration. To ensure a successful transaction, managers can mentor their salespeople, keep an eye on their online and telephone communications, and even step in when necessary.
Routine Task Automation
By handling repetitive tasks automatically, such as gathering data from various databases, monitoring customer behaviour, alerting staff when human intervention is required, and sending marketing messages based on customer profiles, seasonal buying patterns, and special occasions, automation can increase sales. Gathering customer information, completing sales reports, and reviewing legal issues and contract conditions from prior transactions are additional typical activities.
Understanding The 6 Best WooCommerce CRMs in 2023
Metrilo: CRM for WooCommerce
Metrilo is one of the few CRMs designed specifically for WooCommerce. It's intended to make your WooCommerce analytics work smoothly without the need for time-consuming integrations. There are three distinct plans that provide access to various tools, each one expanding on the preceding one. On any of the plans, there are no restrictions on the number of users, traffic, data, or emails.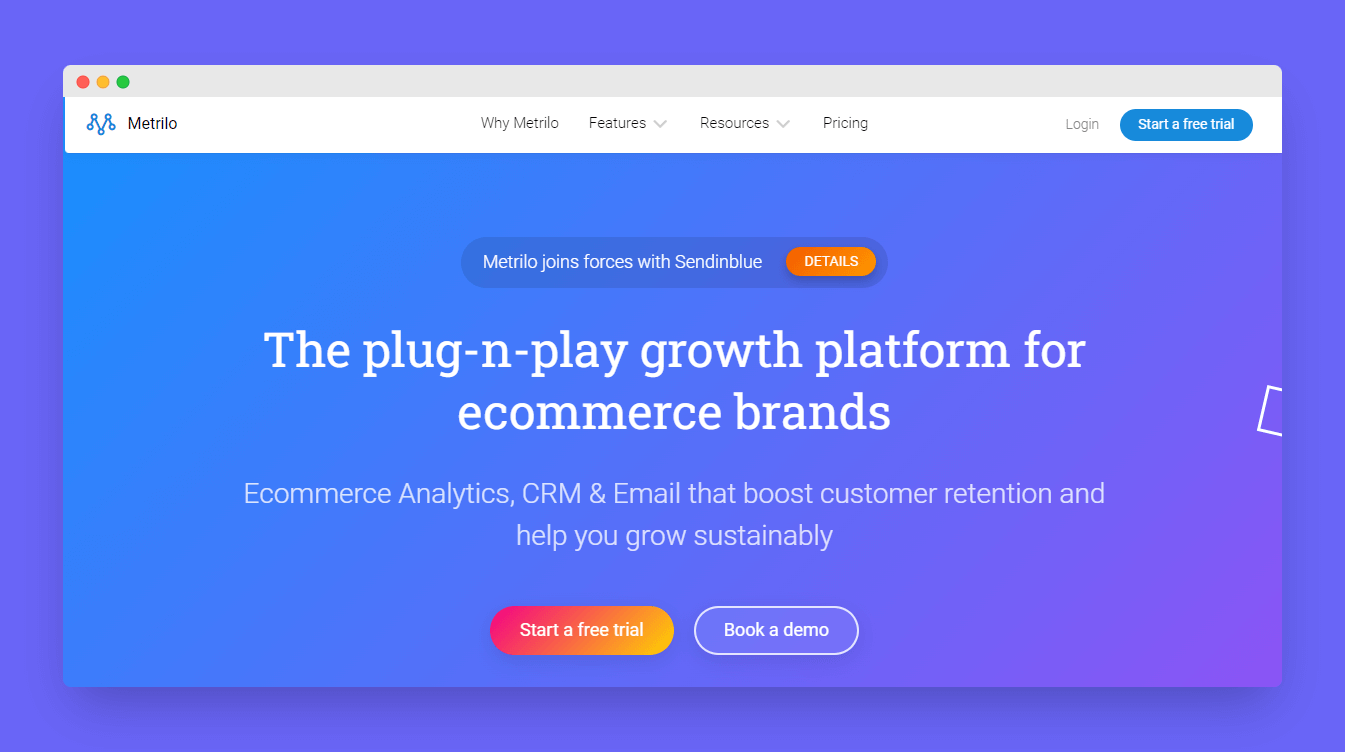 The mix of email marketing and CRM is Metrilo's key strength. It's essentially a one-stop shop for managing and optimising all of your eCommerce marketing. Metrilo naturally integrates with WooCommerce, but you can also link it to Shopify or Magento.
What Makes This WooCommerce CRM Unique?
Metrilo works with WooCommerce and a few other eCommerce platforms.
All of your customers can be managed, emails can be sent, and analytics can be viewed in one spot.
All visitors are captured by the Metrilo CRM, which enables product engagement, cart abandonment, customer segmentation, and one-on-one mailings.
Custom domains, automation, personalised emails, and segmentation are all available with the eCommerce email marketing module.
Revenue data, product performance, retention analysis, predefined sales funnels, and order statuses are all available in the eCommerce analytics section.
Agile WooCommerce CRMs
Agile WooCommerce CRM software can be incorporated into any eCommerce platform or website, however, also has a WordPress CRM-specific offering. Customer management, intelligent processes, web interaction, and other tools are included in the WordPress WooCommerce system.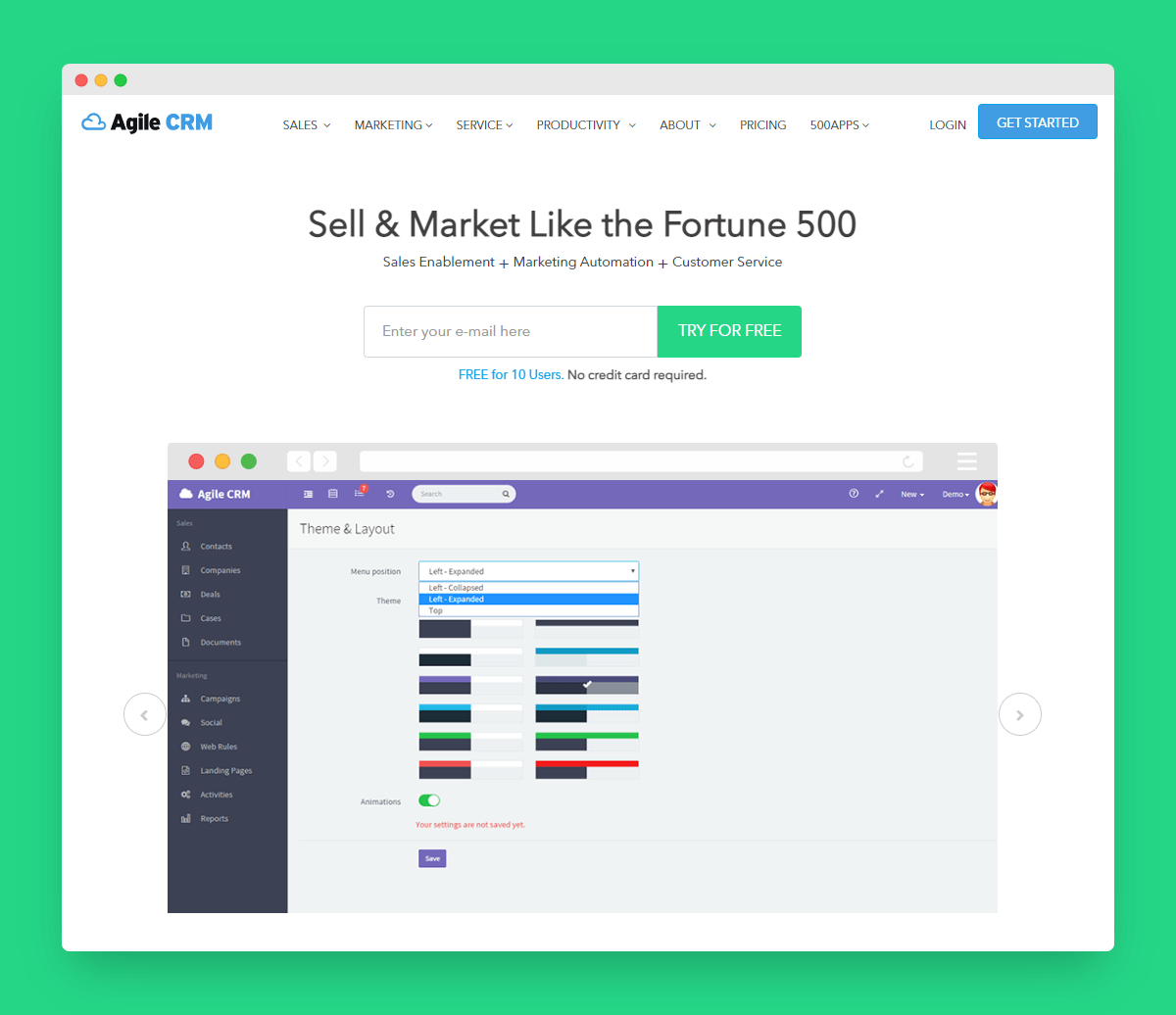 The best part about Agile is that it is one of the most powerful CRMs on the market, yet you can try it for free. The company offers a free plan for up to ten users, so a smaller corporation may end up paying nothing if they don't exceed that number.
What Makes This WooCommerce CRM Unique?
Agile offers a free subscription for up to ten users.
Even the premium plans are reasonably priced.
Agile combines the majority of your marketing and CRM requirements into a single system. This includes sales, marketing, customer service, and add-ons.
Agile's helpdesk is unusual in that it supports canned responses, groups, labels, and reports.
All options include email and phone support.
The CRM works with programmes such as Google, Shopify, and Stripe.
Agile provides a Chrome extension to help you with the process in your browser.
With an email template builder, landing page builder, marketing automation, and social media monitoring, the marketing section is more powerful than most CRMs on this list.
Ninjodo: WooCommerce CRM Solution
Ninjodo, designed for small teams and entrepreneurs, provides a simple and focused CRM tool without the confusion or clutter of larger solutions. The software is intended to help you generate sales, manage contacts, simplify emails, and become organised.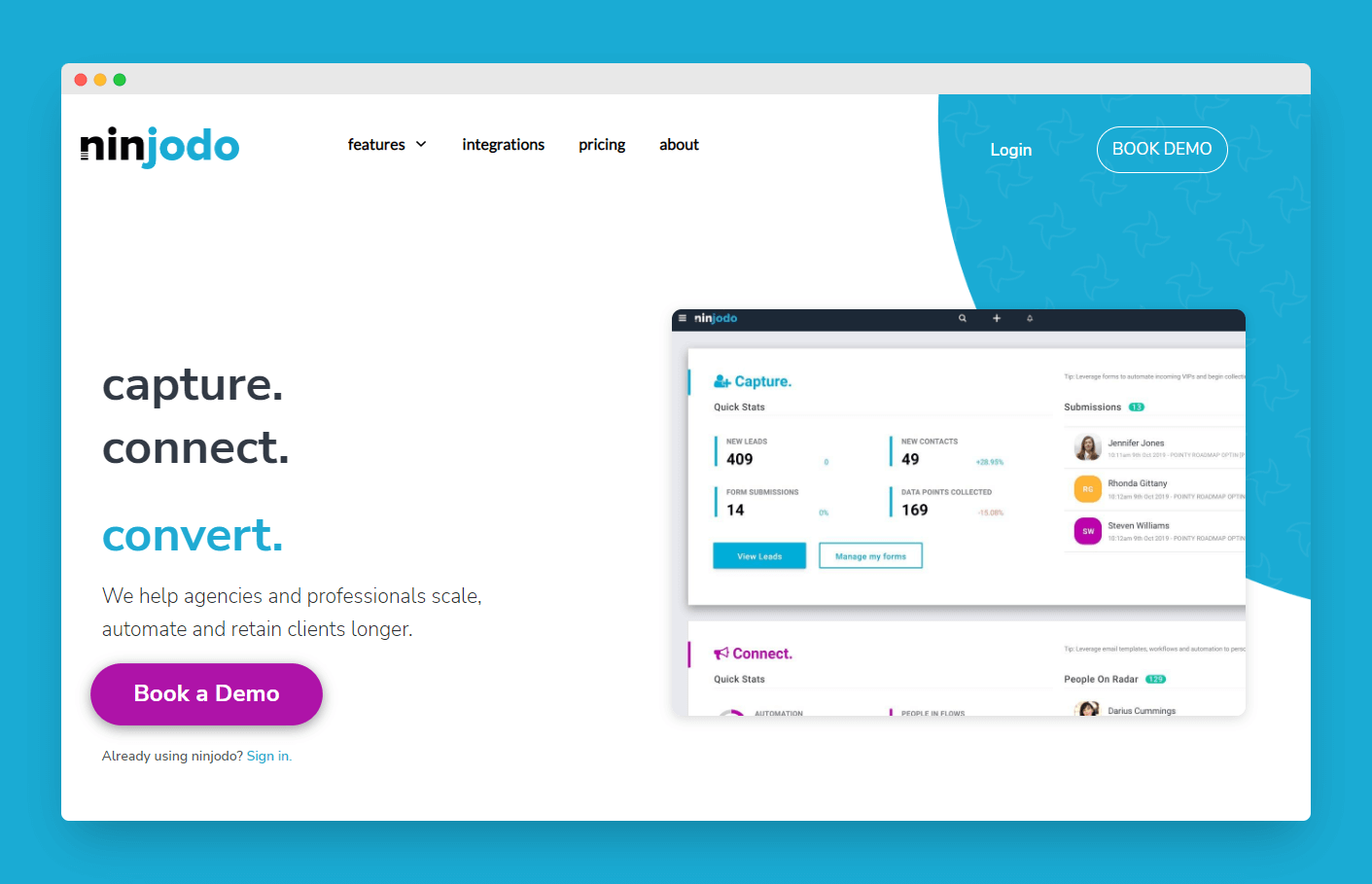 The company offers three pricing levels, the most affordable of which is $49 per month. A 14-day free trial allows you to test the system before enrolling in the Phase One plan, which covers up to 5,000 contacts and five users.
What Makes This WooCommerce CRM Unique?
Email templates, client interaction forms, and lead collection forms are all included in every package.
Ninjodo is well-known for its excellent how-to videos, live chat help, and step-by-step instructions.
Ninjodo is by far one of the most user-friendly CRMs for WooCommerce. It is designed to be modern and uncluttered, rather than stuffed with thousands of functions.
Sync your WooCommerce customers and orders automatically. You may monitor delivery workflows and view orders in real time.
Ninjodo works well with Xero Accounting, Google Drive, and MondoTalk as well.
A mobile app may manage your complete CRM. The app not only appears to be simple to use but everything is displayed on a single page.
Salesforce Connector for WordPress and WooCommerce
The Salesforce Connector for WooCommerce CRM plugins costs $199, which is a one-time payment. However, you can join up for extended support periods, which raises your pricing. There's even an installation cost if you don't want to do it yourself.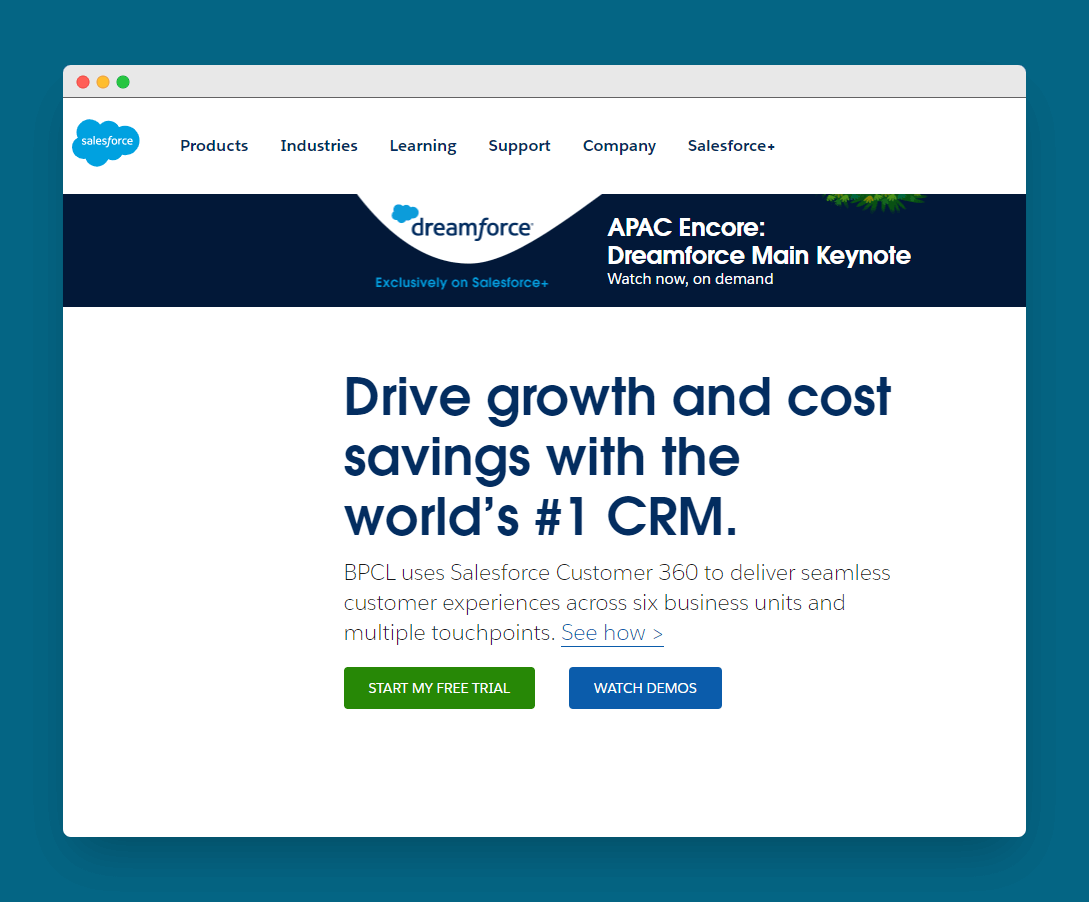 The entire purpose of this WooCommerce CRM is to link Salesforce to WooCommerce. The CRM, at its most basic, syncs all WooCommerce products and customers with Salesforce. You may even go the other way and import any Salesforce orders and products into WooCommerce.
What Makes This WooCommerce CRM Unique?
Customers are ecstatic about the developer's assistance.
It connects the most popular eCommerce free Woocommerce CRM plugin and the most popular CRM.
Orders are synchronised right at the checkout.
The integration allows you to create targeted customer segments in Salesforce using data from WooCommerce.
The Salesforce Connector makes use of a cloud computing solution to activate a global network for your company.
Sales AutoPilot for WooCommerce: For WooCommerce Store
Another example of a standalone CRM feature with built-in technology for integrating with WooCommerce is Sales AutoPilot for WooCommerce. As a result, the combination makes sense if you're already using Sales Autopilot or if you want to select a whole new CRM that will undoubtedly operate with WooCommerce.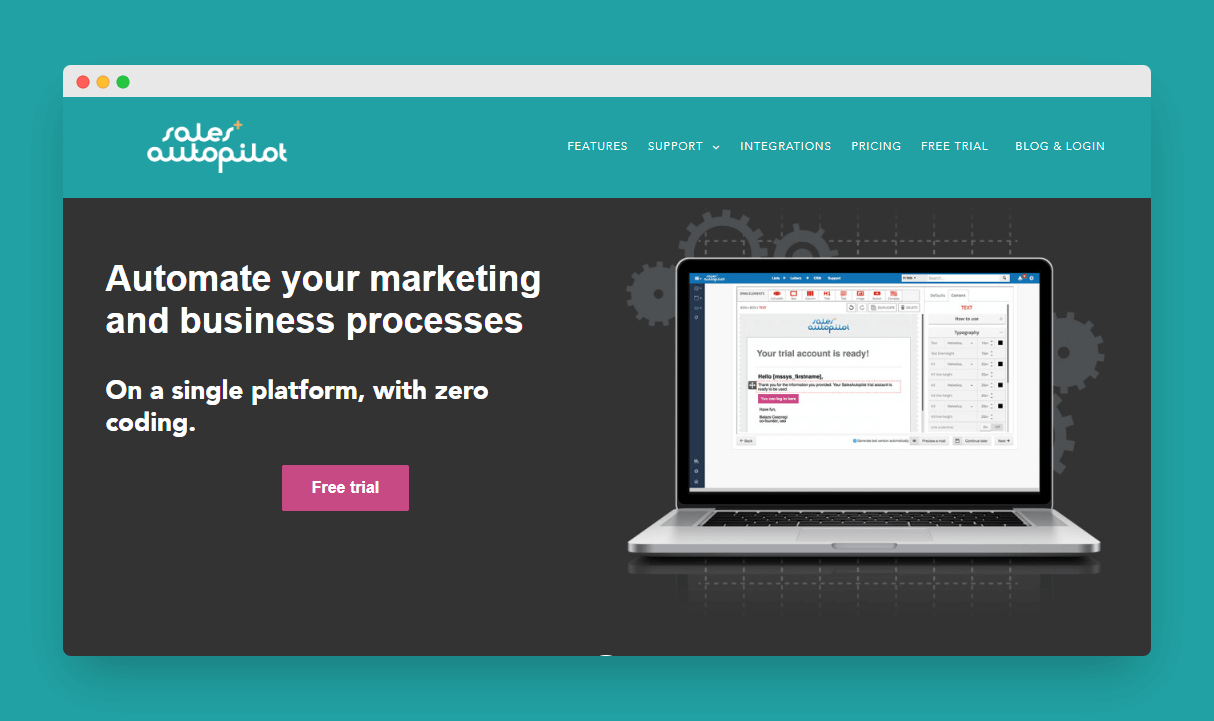 What Makes This WooCommerce CRM Unique?
It has various marketing tools that are not seen in other CRMs. Consider SMS marketing and affiliate tracking.
Sales AutoPilot includes a tool for creating membership sites with several levels of access, a password reminder feature, and a full connection with your marketing system.
It offers a fantastic selection of price alternatives to both large and small organisations. This also ensures that you do not overpay or receive insufficient features.
The WooCommerce integration is as simple as copying a code from Sales AutoPilot and pasting it into WooCommerce.
Sales AutoPilot features a one-of-a-kind payment system for accepting payments from customers online. As a result, even non-eCommerce websites can benefit from online sales.
WP ERP: Best WooCommerce CRM
WP ERP is a free WooCommerce plugin also that includes a CRM system, HRM, and Accounting solution for small and large businesses. It presently has over 7,000 active installations and a 4.5-star rating. Their premium WordPress plugin integration costs $99.00. It allows you to connect your sync your WooCommerce order details and customer data with WP ERP and track your sales with your CRM agent.
Also Read: Which Are Top-8 Ecommerce Helpdesk Support Software?
What Makes This WooCommerce CRM Unique?
44 currencies are supported.
View all WooCommerce orders and transactions from your agile CRM and Accounting modules.
Exports newly registered clients to the CRM contact list and the Accounting customer list automatically.
Create dynamic customer lists by segmenting them using more than 22 critical filters. Save those lists for future email and newsletter distribution.
Give your CRM agents the ability to track WooCommerce orders.
Customers that have purchased an exact, less than, or greater than quantity should be excluded.
Allow your CRM agents to view the customer log from the contact's profile, which includes all of the customer's actions on your site.
Conclusion: Choose the best WooCommerce CRM options
The CRM industry is saturated, but that doesn't imply it has to be perplexing. With this list of WooCommerce CRM choices, you should be able to narrow down your search and find the CRMs that will truly sync with WooCommerce and make your eCommerce store work more smoothly. Using the WooCommerce CRM for WordPress has all the noted benefits that you might have read about in the blog. The advanced CRM makes the best CRM functionality choosing a WooCommerce Ecommerce CRM. Look for a CRM designed specifically to store WooCommerce information in the best ways which is easier for WooCommerce users. CRM comes with many responsibilities that need to be taken care of while finding the best solution for WooCommerce.