Why do small-medium scale business needs Helpdesk Software for customer management?
Ticketing system for small businesses helps business owners in customer management because whatever decision you take is affected a long way considering your customers. The trust that your customers put in the business is elongated and affected by the decision you take for your business and thus it is one of the actions that need to be placed right while taking any decisions.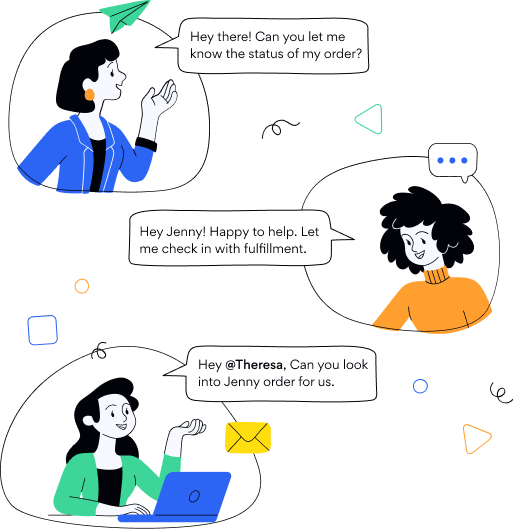 A small business is always on shoestring with the budget, and at that time you might think about the shared inbox and mailbox would be the most viable option for attending to the customers. Giving importance to every customer's interaction is considered to be the most crucial role in small businesses.
Also Read: Which Are Top-8 Ecommerce Helpdesk Support Software?
What limitations can be faced by small-medium scale businesses while working without the Helpdesk Support Software?
Delayed response to customers
It is not always possible for a human support agent to always answer the customer's questions or their messages and when a delay in replies is practised, it is considered to be the biggest turn-off for customers which reflects poorly on your brand's reputation.
The difference in the agent productivity
The productivity in the agent's activity is directly reflected. When a support agent is busy answering repetitive questions, they will not get time to manage and plan for the business further. Thinking about growing a business with strategic ideas is stuck as all attention is given to answering the customer's question.
Restrained team collaboration
We never know what kind of customer will come up with what kind of queries. There will be a chance of external help required from other departments in the business, let's say the billing and accounting team, but without the right helpdesk support software, it is not possible to quickly get in touch with the teammate and get the resolution for your customers.
Ultimately, managing customers becomes a mess where you will not be able to focus on the further growth of the business but always be there to solve customers' queries all the time. However, the best helpdesk support software helps in organising the customer's queries from multiple platforms and not only that but it will keep the teammates on the same page, improving productivity along with no customers left unanswered.
Helpdesk support software like Desku will help in streamlining the customer support of your business keeping everything on track.
What to look for in a Helpdesk Support Software for small businesses?
Choosing the right helpdesk support software for a small business is pretty much daunting while looking for the right price to match the functionality of the features in your business. With the millions of helpdesk support software that are niche-focused like Helpscout, Gladly, or Hiver and some all-in-one Helpdesk Support Software like Zendesk, Richpanel, or Delightchat, it is a bit difficult to choose especially for small businesses.
There is the possibility of growing and scaling up the small business and it can happen in no time. It is important to have helpdesk support software which is not only focused on providing problem-specific solutions rather it is a helping hand in your business considering the customer management support system.
Also Read: Top-8 Ideal Features of an Enterprise Helpdesk to look forward to
For such things, it is important to marginalise some of the functionality and features of customer support software for better optimisation. The checklist is right here made for you to have a glance at:
Availability of third-party integrations
The integration with third-party tools will help in accessing the tools that you use every day. This helps in avoiding switching to multiple tabs and software. Not only apps you use every day but also integrate social inboxes to get back to customers anytime under one roof!
Organised ticket management system
The overall ticket management system will help in solving the queries of customers in no time with a centralised support system that works
Automated workflow
With the help of Chatbot and other automation, the helpdesk will help you in providing maximum customer support to the business.
Self-service
The self-service is for customers who will love to help themselves without needing to contact the support agent or the company. Accurate information in the knowledge base will help customers with their queries.
Instant engagement with customer capability
The live chat helps engage with the customers instantly, simply chatting and solving small basic queries to decrease ticket generation.
Accurate report and analytics
Have your business at a glance, from sales to the ticket queries of customers. Get accurate reports on every activity on support performance and reviews from customers at the same time.
-Fair and affordable pricing
With small and medium-scale businesses, it is important to know fair prices that are affordable and not burning holes in the pocket.
With such features and functionality, you are good to go with the best business escalation in no time.
How Desku is the best Helpdesk Software for SMBs?
Desku is an all-in-one customer support that helps small and medium-scale businesses to manage their customers from multiple platforms in one with ease.
It is considered the best help desk support software because it provides everything that is required for a small-medium scale business.
Organised and overall ticket management system
Ticket management helps in streamlining customer queries from multiple channels in one. It helps in easily assigning the tickets to agents for specific resolutions, changing the status of tickets with open, close, or pending, and ensuring customers never get delayed replies.
Right collaboration with the team, helps in resolving specific queries of customers. It helps business owners to stay on the same page and hence drive a smooth customer support system.
Elevate productivity and efficiency
Desku helps business owners to save plenty of time by automating some repetitive tasks. Customer support can be managed even in the absence of a support agent. Streamline everything in customer support without even increasing the size of your team.
Multiple seamless integrations
Desku has endless third-party apps to integrate to make your workflow easier from one tab itself. Desku does not let you switch to multiple tabs or software for carrying the customer support that you provide.
Flexible conversational sources for customers
Desku provides multiple conversational sources for customers to get in touch with the support agents for any queries. With the help of a shared inbox, you can add multiple work emails without sharing credentials with your teammates. Live chat is considered one of the most important features where you can get in touch with your customers without missing out on any of their queries.
For conversational automated engagement, Chatbot is considered one of the easiest and most sleek features to integrate into the business for seamless customer support.
Conclusion
Talking about help desk support, today it is considered to be one of the most important software as it is more of an investment and a digital business partner. When your customers aren't happy, then your business is not.
If you are still waiting, thinking about which helpdesk to avail, do not delay it anymore. Think to escalate the business and make the best out of the best helpdesk customer support software.