Subscriptions have become one of the most popular eCommerce business models in recent years. How could your Shopify store generate recurring revenue and build customer loyalty through subscriptions? You can start selling subscriptions right away by installing a Shopify subscription app.
With detailed pros and cons comparisons, this article helps you decide which subscription app is best for your Shopify store.
The key features of the Shopify subscription app
Shopify's default settings allow customers to add products to their carts and purchase them once. If they want to purchase the item again, they must return to your site and place a new order. The Shopify subscription app allows your customers to subscribe to their favourite products on a recurring basis, such as weekly or monthly.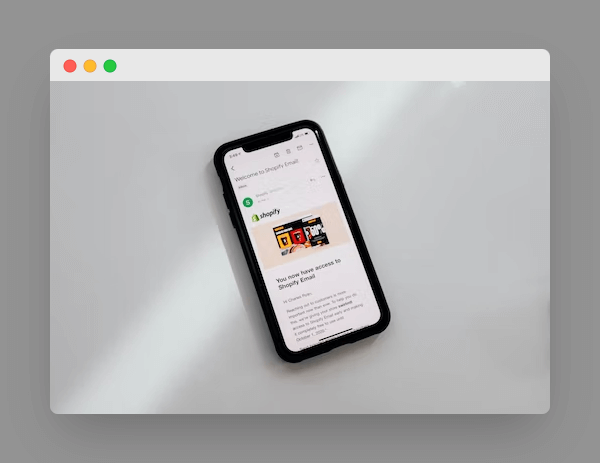 It also has options that will add a "Subscribe" button next to the default "Add to cart" button, allowing customers to manage subscriptions to their favourite products. In addition, the app will automatically handle all recurring payments and orders every month for you, so you and your customers can save time on all the manual tasks.
The following are the key features of a subscription app for Shopify at a glance
Automated subscription process
Set up a subscription service on your Shopify store. Recurring payments should be automatically charged to customers and they should be notified by email.
An intuitive dashboard makes it easy to manage all subscription widgets for order and product management.
Customer Portal
Customers can check, manage, and edit their information and subscription products (swap, add, and delete products). Add a subscription plan along with a 60-day free trial.
Email & message notifications
Send personalized emails to notify subscribers of subscription status, information updates, and delivery times based on their subscription.
Read also: Best Social Login Shopify Apps in 2022 – What to Bet On?
Analytics
Monitor subscription business performance in real time.
Support available 24/7
One of the best Shopify recharge subscription apps is that it is available 24/7 for customer services if required.
Let's view some of the best Shopify Apps to consider!
Subscription & Recurring Order
-The Subscription & Recurring Order app for Shopify is a comprehensive and free subscription management tool. Your store can offer subscriptions right away by installing the app and utilizing all the necessary features.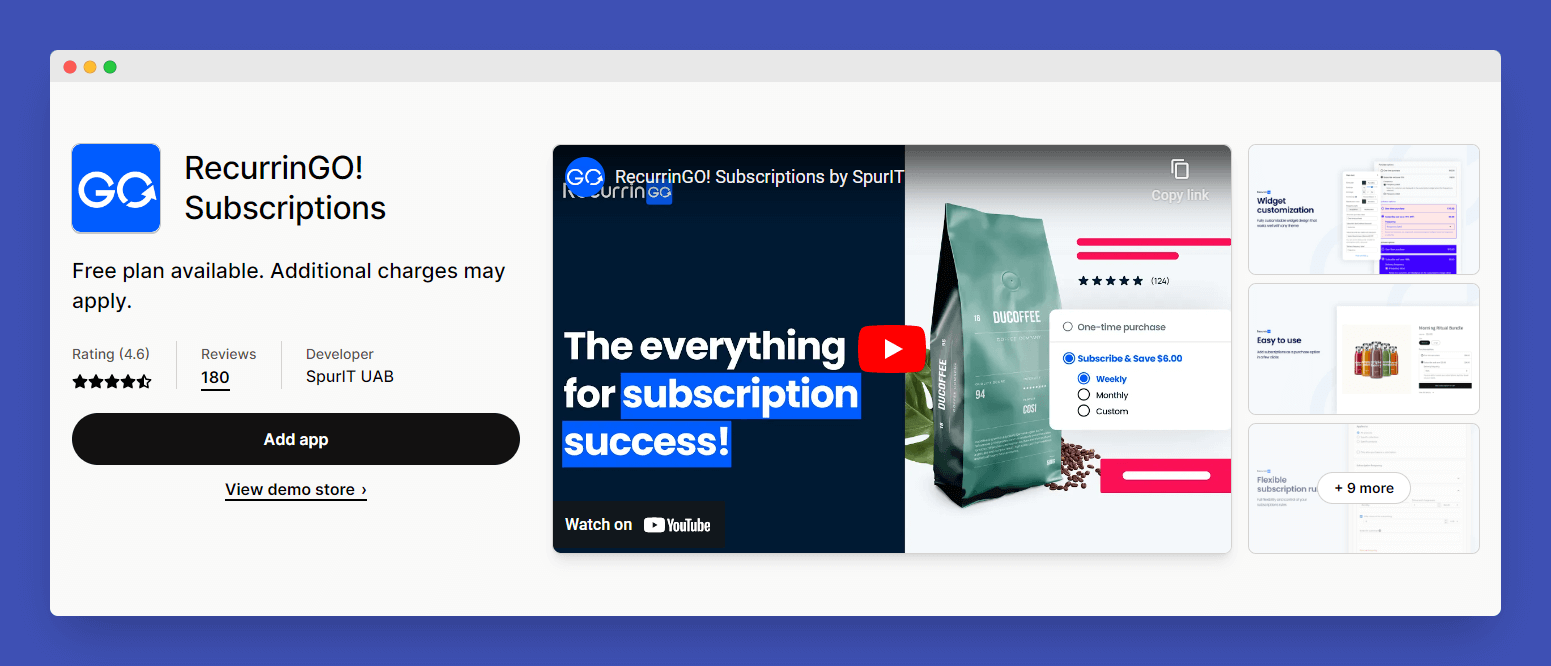 -In addition to smart subscription management and analytics, Subscription & Recurring Order is available for free. A customer portal makes it easy for customers to manage their subscriptions.
-With a built-in editor and online preview feature, the subscription widget can be customized to fit your store theme. Moreover, it is also available in the "Quick view" and "Featured Product" sections so that customers can see what products they can subscribe to.
Benefits of the best Shopify Subscription app
-Automate recurring payments and orders.
-Smart subscription management: edit subscriptions, swap, add, and remove products.
-The customer portal allows customers to manage, check, and edit subscriptions easily.
-Set up and send email notifications for various events, such as paused subscriptions, failed payments, and subscription information updates.
-Allow customers to start multiple subscriptions in the same order by allowing mixed subscriptions in the cart.
-Subscription orders can be discounted. You can set up your own discount rules.
-Support is available 24/7 via phone, chat, and email.
The only Disadvantage
-It is not fully integrated with Shopify checkout.
Pricing: Free
Appstle Subscriptions
More than 1,300+ merchants have given Appstle Subscription an absolute 5 out of 5 stars. You can offer subscription products on your Shopify store with this end-to-end recurring order and payment solution.
Appstle includes powerful tools to increase revenue and scale your business, such as segment-based plans, targeted upselling, inventory forecasting, etc.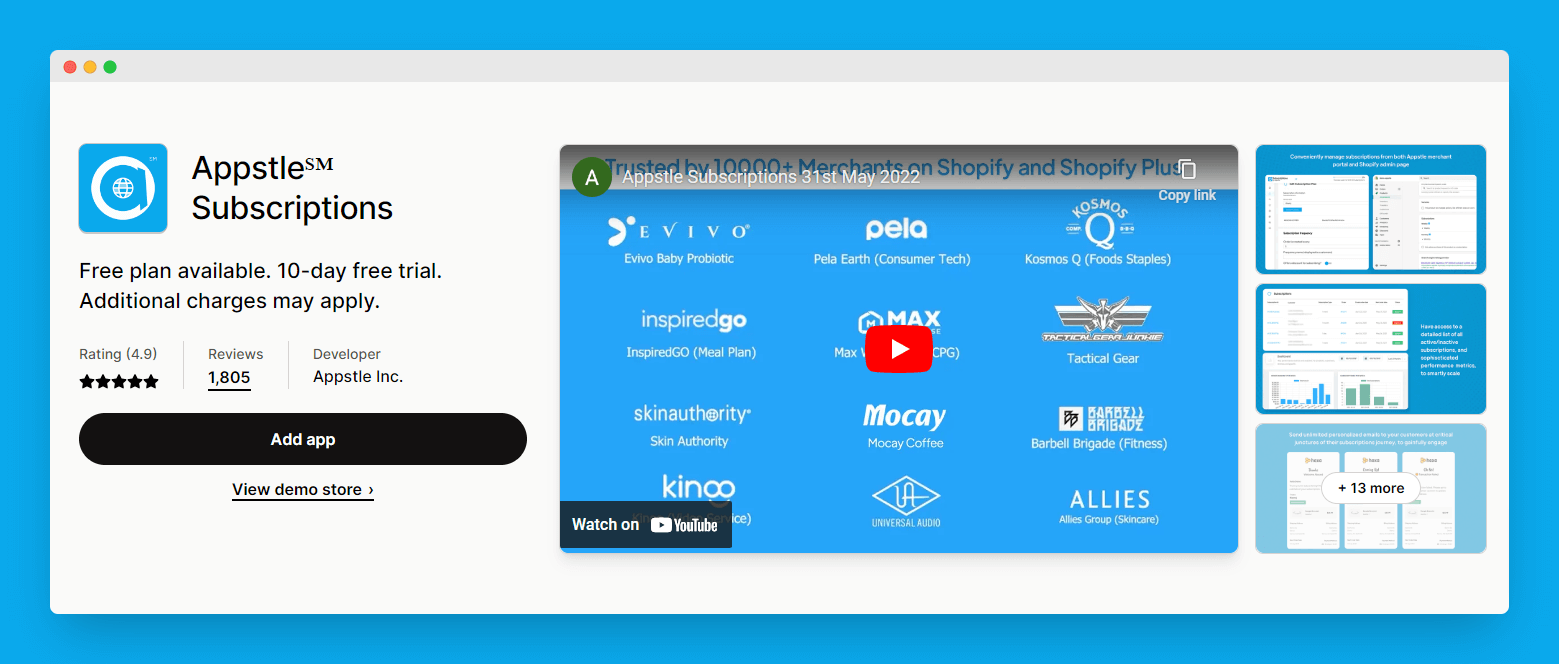 In addition, a comprehensive loyalty program encourages customers to purchase more by simplifying the shopping journey. Many advanced loyalty features are not found in other Shopify subscription apps, such as a mixed cart, tired discount, and product swap.
Pros of Appstle Subscription
-Create & manage subscription model easily & powerfully.
-An advanced set of tools to increase revenue, boost business growth, and simplify subscriptions and recurring payments.
-Multiple shipping profiles can be created and managed for subscriptions based on key variables, such as order value, and weight, and manage subscription orders.
-Reports on subscription customers, revenue, and store performance in real-time.
-Calculate discounts according to the rules. Create a loyalty program with tiered discounts and a subscription program for customers
-Send personalized emails to customers automatically. Analyze why customers cancel their subscriptions with a trigger questionnaire and let them manage their own subscriptions.
-Display mode for subscription widget: dropdown or radio button.
-24/7 live chat support.
Cons of Appstle Subscription
-If you wish to migrate from another subscription app to Appstle, you may have to complete a number of complex tasks.
Pricing: Free
Starter: $10/month
Business: $30/month
Enterprise: $100/month
Seal Subscription
Seal Subscriptions has always been dedicated to bringing the best subscription apps for Shopify at the most competitive prices and subscription packages. With the most up-to-date subscription features, this app is one of the best Shopify subscription solutions.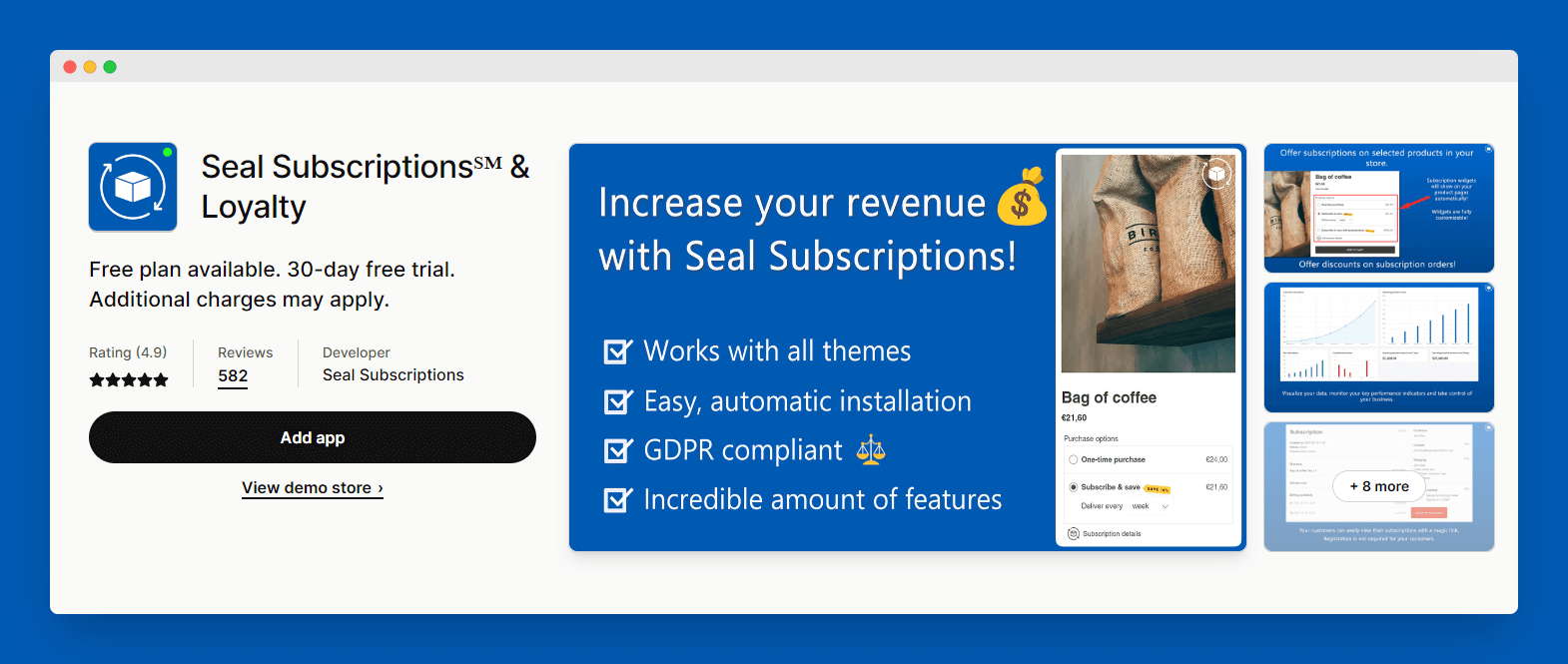 Seal Subscription is an easy subscription on Shopify as it requires no coding. As soon as you have installed the app, you will be able to set subscription frequency and begin selling immediately. A recurring order will be charged to your customer automatically, and the order will be visible in your Shopify account.
The Seal Subscription service allows shoppers to mix top Shopify subscription apps of different products in the same cart in order to increase customer lifetime value and leverage customer satisfaction. Through the customer portal, shoppers can remove and add items to their subscriptions, as well as reschedule billing attempts.
Pros of Seal Subscription
–You can easily set up and configure the subscription app.
-You can customize subscription requirements, subscription intervals, discounts, and product swaps according to your business needs.
-Loyalty programs include loyalty gifts, gift subscriptions, product swaps, and interval changes.
-Subscribers can easily be migrated from other platforms manually or in bulk.
-To encourage shoppers, discount products are included in subscriptions.
-Customers can manage their subscriptions themselves through the customer portal. Products can be removed and added, billing attempts can be rescheduled, etc.
-Customizable API & webhooks.
Cons of Seal Subscription
-There is a limit of 150 subscriptions per free plan.
-Sometimes, the automation feature for sending invoices stops working.
Subscription and membership app: Free plan available
Pricing starts from
Supersale: $4.95/month
Rising star: $7.95/month
Legend: $20/month
Bold Subscription
Bold Subscriptions is an official Shopify subscription app in 2022 that has been approved by Shopify Plus Certified Apps. Bold Subscriptions provides Shopify merchants with the most useful subscription tools designed for high-growth brands.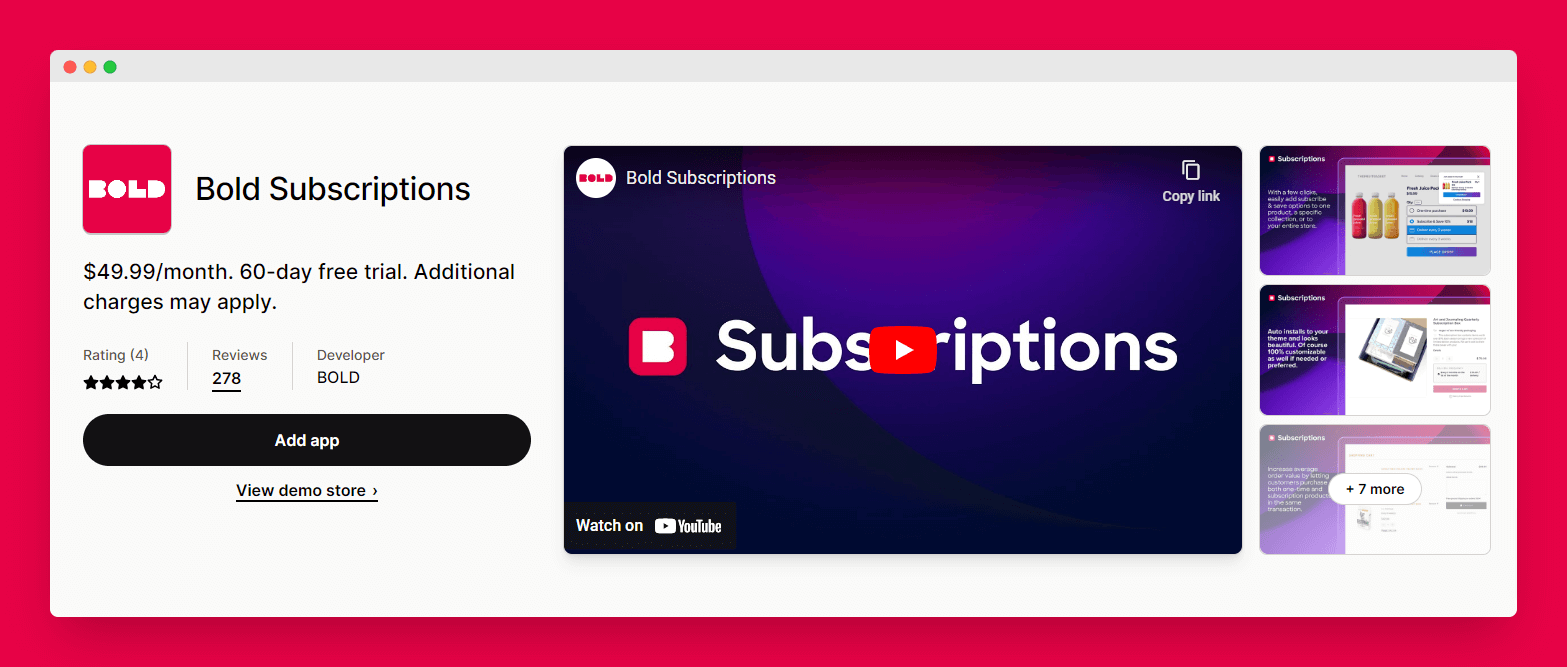 In addition to all of Bold's subscription features, its built-in APIs and webhooks allow you to customize your subscription business or extend it as you grow.
Our Bold experts will handle all migrations with zero downtime and ensure no risk of customer data loss if you're using another subscription platform. Don't hesitate to contact them for excellent support at no cost if you have any installation or technical issues and choose their preferred subscription option.
Pros of Bold Subscription
With out-of-the-box features, you can easily set up a subscription experience.
Subscription functionalities can be added to specific products, the entire collection, or the entire store.
Easily integrate with over 3000+ Shopify apps for better marketing, reporting, and customer management.
Automated emails are sent to shoppers when their subscriptions are changed. Make your emails match your store's theme and brand.
Provide customers with the option to purchase both one-time products and subscriptions at the same time.
Reduce the number of failed credit card transactions by setting up dunning management.
Subscription portal with robust features for seamless customer service.
Bold offers free migration from other subscription apps.
APIs and webhooks are available.
Our support team is available 24/7.
Cons of Bold Subscription
The monthly fee is extremely high that sometimes it does not help you generate recurring revenue.
Each subscription order requires a 1% transaction fee for a membership subscription.
Over time, there have been a few improvements and upgrades.
Pricing
Core: $49.99/month + 1% transaction fee.
PayWhirl Subscription
PayWhirl Subscription is a comprehensive Shopify subscription app that can be used by both small and enterprise-level stores. Four pricing plans are available, including a free one, so you can easily select the one that best fits your subscription business needs.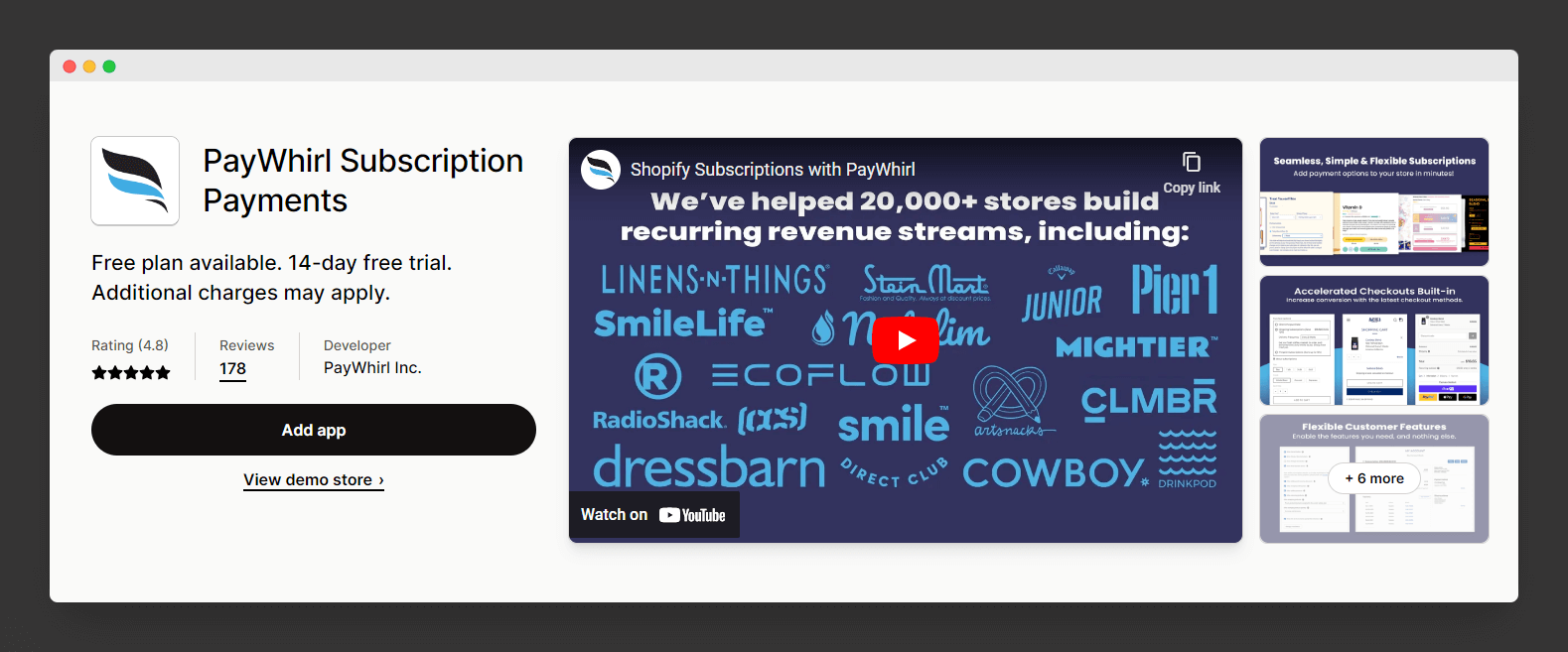 Using PayWhirl Subscription Payments, you can create and manage subscriptions through Shopify's native checkout, so your customers can purchase subscription products and save payment methods.
The PayWhirl customer portal allows customers to manage all their subscriptions, view billing history, and make changes to their accounts without your involvement.
Pros of PayWhirl Subscription
Create subscription orders and charge customer payment methods automatically.
Subscriptions, credit cards, and personal information can be managed by customers.
Subscription discounts are available in various forms.
Easily integrate with Shopify Checkout and Shopify's built-in reports.
Designed to work on mobile devices.
Data exports and dashboards for subscription analytics.
Taxes and shipping fees remain the same as when your store was set up.
Live chat, email, and phone support are available in the US.
Cons of PayWhirl Subscription
Except for the ultimate plan, there is a high transaction fee.
Customers cannot swap products.
Pricing
Free + 3% transaction fee
Pro: $9/month + 2% transaction fee
Plus: $49/month + 1% transaction fee
Ultimate: $249/month + 0.5% transaction fee
Native Subscriptions
The Native Subscriptions solution offers a reasonable solution for Shopify stores that sell subscription products. Native Subscriptions integrates seamlessly with Shopify's Native Checkout to create subscriptions and recurring billing options.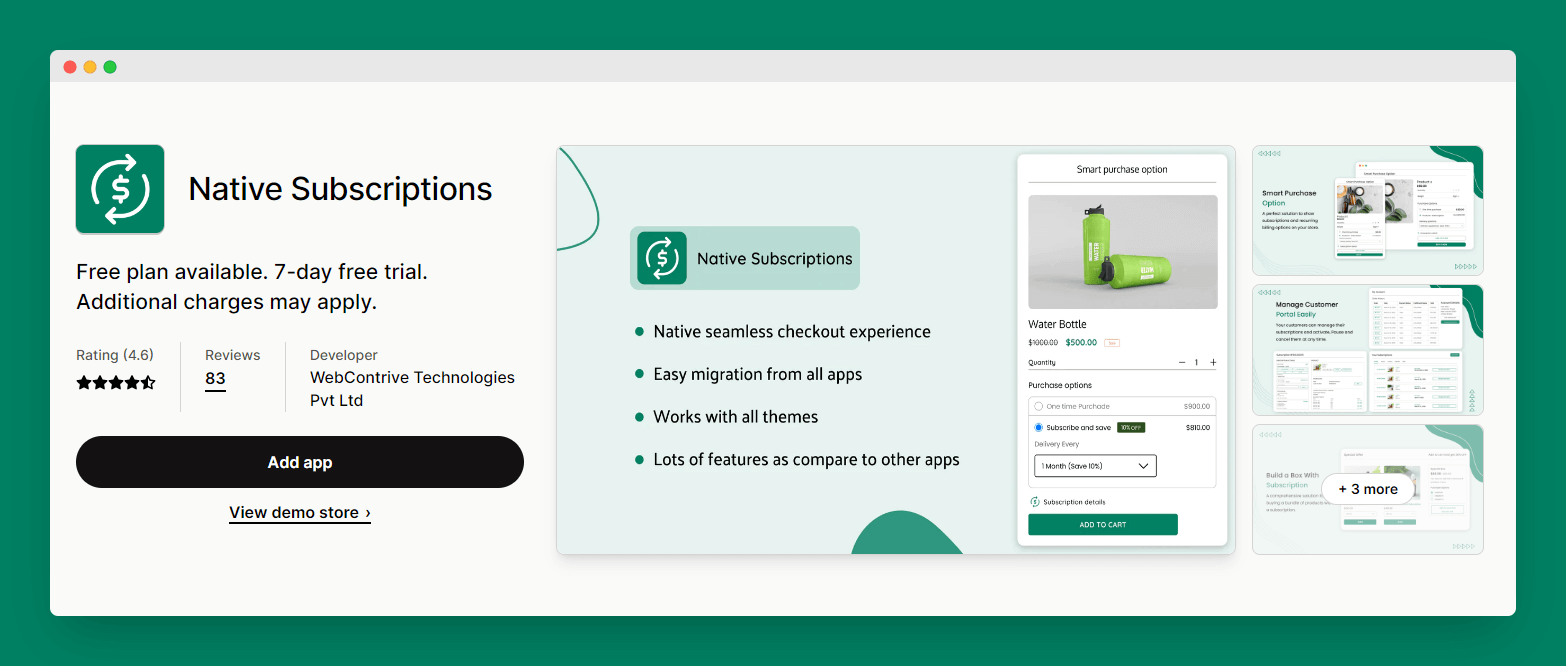 You can start a subscription business quickly with this app because it includes all of the basic and advanced features you need. Setting up discounts and managing email notifications is simple, and you can easily deliver a seamless subscription experience.
Customers can also manage their subscriptions from their own customer portal at any time. Customers can also choose their subscription frequency, such as daily, weekly, or quarterly.
Pros of Native Subscription
Subscriptions and recurring billing are easy to set up.
Subscription information can be viewed and managed via a user-friendly dashboard for both customers and store owners.
Email notifications to customers can be sent, managed, and edited.
Set up subscription models, discounts, and flow rules.
You can customize the design to match your store's vibe and theme.
Migrate your Shopify store from another app.
Cons of Native Subscription
Your theme can be affected by app bugs.
Subscription plans are limited to the starter and business plans.
Pricing
Starter: $9/month
Business: $24/month
Enterprise: $49/month
Loop Subscription
You can enable subscription business at your Shopify store with just a few clicks with Loop Subscriptions, regardless of what subscription products you want to sell.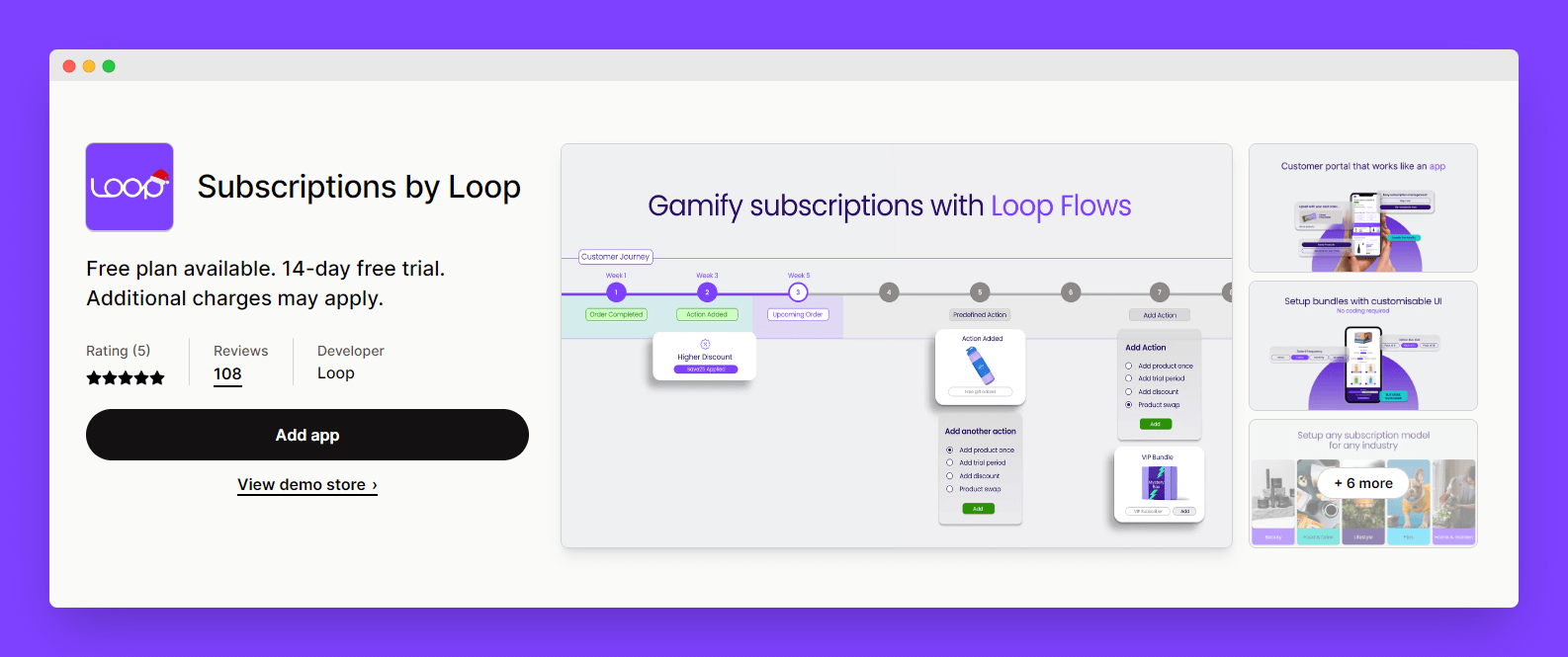 You can reward one-time buyers with tiered discounts or integrate the one-time products with subscriptions at checkout to convert one-time buyers into subscribers.
To reduce subscription cancellations, they can also send automated notifications about upcoming payment reminders, failed payments, skipped orders, and more. The app can also automatically retry failed transactions due to expired or declined cards.
Pros of Loop Subscription
Manage Shopify app plans and customize them.
Subscription plans are automatically charged to customers. Future subscription orders will be charged upfront.
There are more than 20 templates for automated notifications to notify customers based on specific events.
APIs and webhooks are ready for further customization.
Starter/Growth plan quick chat support. Subscriptions set up with the Premium plan receive dedicated support.
Every week, we release new subscription flows and features.
Premium and Ultimate plans support customized subscription widgets and customer portals.
Cons of Loop Subscription
Subscription features are limited in the Free and Growth Plans.
Pricing
Free
Growth: $5/month + 1% transaction fee
Premium: $49/month + 0.75% transaction fee
Ultimate: $499/month
Choose the best subscription of Shopify
Shopify subscription apps can help you generate recurring revenue while still offering your customers a flexible and convenient shopping experience. We hope that you can choose the Shopify app that best suits your Shopify business. Let us know which Shopify app you like best.