Let's think about a solution that gives faster responses to customers, not only responses but also helps in resolving queries faster. 
The best Livechat Software can be the proper solution that brings easy engagement to resolving queries faster. The biggest question is which platform is the best for your business?
In this blog, we will understand how real-time conversation helped businesses to escalate themselves with better customer insights and better customer communication. 
What is Livechat Software?
LiveChat is a leading company offering customer-focused products, with its flagship service being chat software of the same name? This software is a SaaS product, providing live chat capabilities to customers at a monthly, per-agent fee.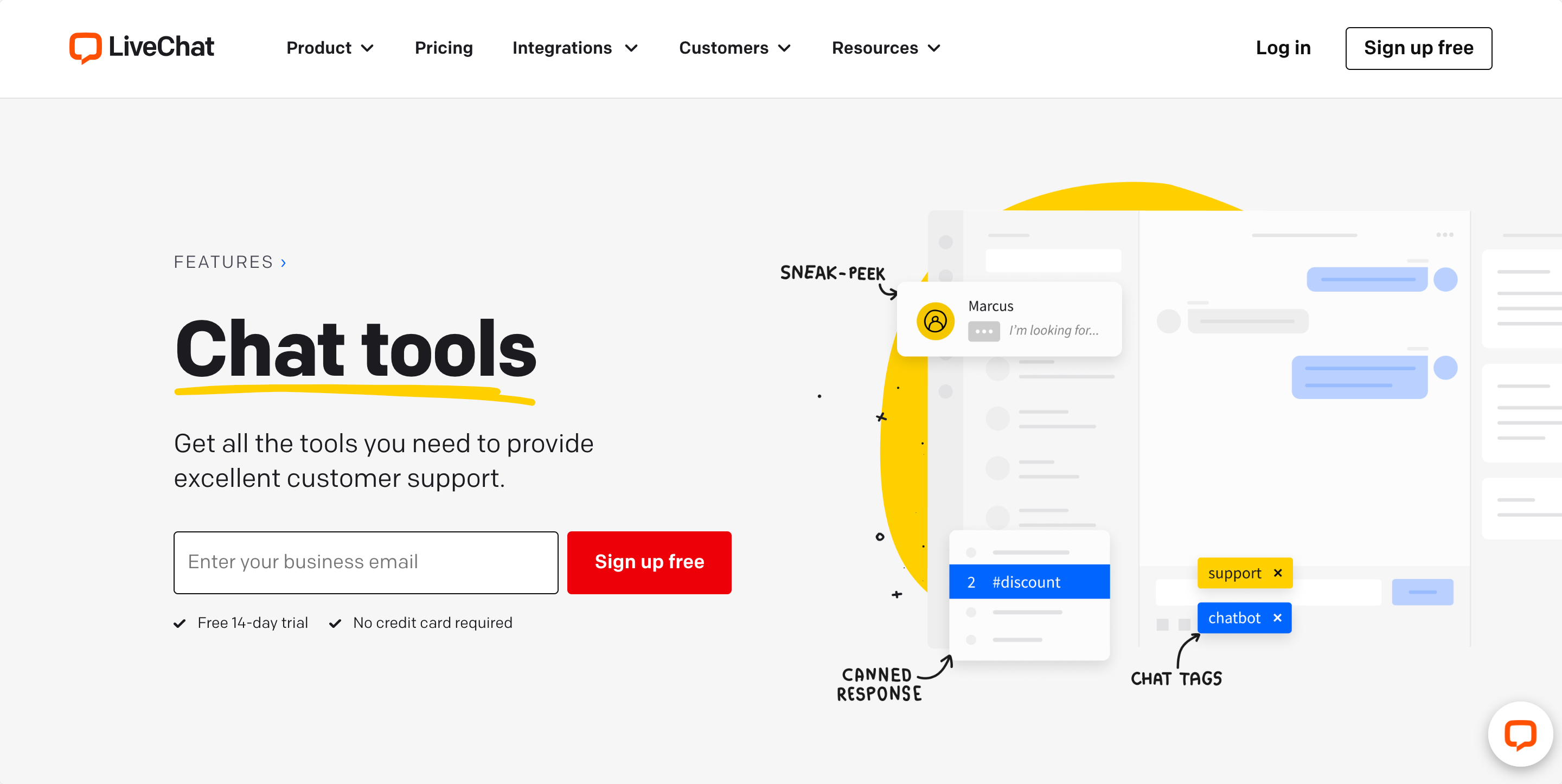 The platform boasts an array of powerful features, including an embeddable chat widget, real-time and asynchronous chat options, seamless integration with popular messaging apps, pre-written responses, chat routing, proactive messaging, ticket management, and comprehensive reporting dashboards.
It's an all-in-one solution for initiating and managing customer interactions.
Some benefits of using LiveChat are mentioned below:
LiveChat enables enhanced engagement across multiple channels.
Chat transcripts can be categorized and saved for later review.
Agents have access to real-time data about website visitors, such as customer name, location, contact history, and navigation path.
The platform integrates seamlessly with popular apps like Calendly, Twilio, and social media platforms.
It provides effective tools for lead management.
However, there are some disadvantages of Livechat;
Compared to its competitors, LiveChat is expensive.
The platform has a steep learning curve.
It offers limited customization options.
Reporting data and chat history for its entry-level plan is limited.
Some users may experience slow response times from LiveChat's customer service team
Key Features of Live Chat Software that you should know
It is important to know the overall features of Livechat and make sure that all these features are included when you go for the best livechat software for your business. Compare with all the Livechat Alternatives for easy choosing software for your business. 
Real-time communication
Instant customer support
Easy integration on websites
Canned responses for quick replies
Chat automation for efficiency
Proactive engagement with visitors
Chat routing for better organization
Multichannel support (e.g., social media, messaging)
Reporting and analytics for insights
Customizable chat widgets
Establishing Livechat is much easier as it is easy to; 
Customise the Live Chat.
Add a chat window to chat with the visitors 
Get live chat analytics
24*7 Support for Customer Satisfaction
Unified Communication Platform 
Easy connecting messaging channels
Decreasing Support Tickets
Insert Knowledge Base Articles in the chat widget
Easy mobile app to answer your customers from anywhere
Chatbots and Live Chat can go hand-in-hand. 
Let's learn about top live chat features and the best livechat alternatives. 
9 Best Livechat Alternatives in 2023
Boost the customer journey with the help of better customer messaging software. Live Chat Solution is one of the most convenient conversational customer service platforms. Connect with customers through the live chat widget. A customer communication platform can bring the entire customer journey seamlessly. 
Let's learn about the best livechat alternatives to livechat and customer messaging. 
1. Desku: Help Desk Software and Livechat Alternatives
Desku is an AI-Powered helpdesk customer support platform that streamlines customer queries under one roof. Add Live Chat to smoothen the workflow of your team and customers.
Simply insert your website chat, and easily customize the live chat according to your brand and business. 
Modern Live Chat Software allows setting business hours and can add chat agents so that query goes to the right agents for resolving and not much time is wasted.
Easily embed the chat widget by pasting the live chat code on your website. Not only that but Live Chat can be easily integrated with Facebook Messenger, WhatsApp, and Slack. 
Features of Desku: One of the Top Livechat Software
Easily create a Ticket from Live Chat:
In case you missed out on any customer's live chat due to any reason, you can convert it into a "ticket", reply to them via email and can carry the conversation forward. 
Live Chat History Available:
View conversations with your customers and get to know insights into what their query is regarding.
Easy assigning live chat to the right agent 
One of the best live chat functionality is that it can be easily assigned to the right agent for better resolution of the customer's query. Live chat and customer messaging can be streamlined and this will help support agents to stay on the same page. 
Set Business Hours of Business
Easily set business hours according to your availability so that customers or visitors know to put the right expectations to get answers. 
Set automation in Live Chat
Desku allows you to set an auto-reply to your visitors and customers when they message you. If you are looking for live chat that has automation and can automate your customer queries, Desku is the one. 
No Code Chatbot builder integration with Live Chat 
Easily integrate chatbot, which is easy to build through a drag-and-drop conversational interface. Give the best experience through customer support. 
If you are looking for free live chat features with intuitive live chat functionality then Desku is the one you are looking for. Easily elevate engagement with customers via live chat. Meanwhile, let's understand other livechat competitors.
2. Zendesk 
Zendesk is a robust platform that helps enterprise companies to support their customers. Zendesk Chat is a cloud-based live chat where you can give instant support to their customers.
Easily monitor and chat with your customers and elevate throughout the customer journey that makes a difference in the customer support game. 
Some of The Features of Zendesk Live Chat:
Chat Widget on your website
Zendesk offers a chat widget that can be installed on websites or in-app for customer support.
Integrate Knowledge Base in Chat Widget
Customers can use the widget to access knowledge base articles, start a chat, submit a contact form, or even initiate a phone call if voice service is included in the plan.
Unified Workspace for Communication
Agents manage all communications from a unified workspace with useful features.
Organised Chat Process with Customers
Teams can create a library of chat macros for frequently asked questions and organize chats using tags and user views.
Customer information is readily available to agents in the ticket system, reducing the need for customers to repeat themselves.
Zendesk seamlessly integrates with popular software platforms like CRMs, ecommerce solutions, and project management tools.
Social Media Channel Integration
Foundational support plans include email and social media channels, but standalone chat plans are no longer available.
Read More: 12 Best Zendesk Alternatives for Your Business in 2023
3. Intercom
Intercom is one of the enterprise help desk and live chat platforms that is well-known for sales and marketing.
It suits the best enterprise business where they can manage everything considering customer queries. 
Some of The Key Points for Intercom That You Should Know:
Intercom integrates with social media platforms (Facebook, Twitter) and messaging software (WhatsApp).
It manages email communication and offers a ticketing system for issue tracking.
The intercom is highly customizable but comes with a higher cost.
But; 
Only pricing for the Starter plan is available on the website, and it has limited functionality.
Additional features often require costly add-ons.
Suitable for large enterprise companies, but may be less valuable for smaller organizations.
Read More: 13 Best Intercom Alternatives for Customer Support in 2023
4. Tidio
Tidio is one of the best live chat software that helps customers to engage with the support team in the most organised ways.
Unline Livechat that are available in the market, Tidio is one of the oldest that holds a speciality in communication. 
Some of The Key Points of Tidio to Look For:
Tidio offers similar features as other tools, such as an embeddable chat widget, transcripts, multi-language support, canned responses, tags, attachments, and live typing.
Tidio also provides chatbots with a visual builder, similar to Intercom, but at a more affordable price.
Tidio integrates deeply with Shopify, allowing agents to access customers' shopping carts, recommend products, view order and payment history, offer coupon codes, and manage orders, all within the chat window.
If you are looking for Livechat that understands and manages the coordination between livechat users and support agents, it is the one you are looking for. 
5. Zoho Desk
Zoho is renowned for its CRM, but it also offers a customer service platform called Zoho Desk.