Having a nuanced conversation with a customer is an art, it should never be taken lightly as it affects the company's reputation and builds trust.
Not a single customer likes to wait or even appreciates the delayed replies and as a human, it is impossible always to stay upright and give answers to customers.
Yes, because we are humans!
But who can help us?
A well-trained Best AI Chatbot can help "humans" to sleep peacefully at night without worrying about customers waiting for an answer in a queue.
Today, humans have absolutely no time for long and delayed waiting time, so AI-powered Chatbot is the most efficient replacement. Also, a great assistant!
By now, you might have gone through and used enough of ChatGPT, which is nothing but just the tip of the iceberg and there is a lot under the water.
Let's explore types of AI Chatbots that can be a perfect fit for your business.
What are the types of AI Chatbots?
AI Chatbot Platforms are some fantastic platforms that are highly made with a high language model that will answer the toughest and most complicated questions by simply answering them without any effort.
There are various types of work done by AI-Chatbots some include generating texts, rewriting the content, and generating AI Images, videos or even codes. There are some tedious work that can be solved easily and you can increase productivity in no time.
Chatbot Use Case in Business
The best AI Chatbot in business is one of the important sources that can get the most out of the business without stress and unwanted effort like;
Scheduling meetings and appointments can be automated
Solve most common and repeated customer queries
Know customers more by taking out an automated survey
Collect contact information of customers or website visitors
24/7 customer live agent to answer the questions of the visitors
Gather customer feedback, to make the company customer-centric and timely updates needed if any
Personal Chatbot Use Case
Since the Chatbots, humans are quiet in relaxed mode as most of the work is done with absolutely decreased effort. Let's know how a personal chatbot can be used efficiently;
Decrease the research time by directly asking for the on-point information
It is stated that almost 55% of the sales and marketing executive have developed the writing skill and have received capture the quality leads from Chatbot.
Write effectively with zero chance of Grammar errors and increase creative writing whenever needed. Writer the most effective Emails for outreach and increase sales.
Get ideas for anything, and develop a creative sense and choice.
Best AI Chatbots are not only efficient for usage but it helps to save your finances that you might be using in making do things manually. When we mention "finance" the amount is in millions.
The fact is that chatbots are expected to save almost 2.5 billion hours and almost $8 billion in coming two years!
But which is the best AI Chatbot that can be used for the business?
Let's have a look
Best AI Chatbots for Business in 2024
Let's Review the top 11 Chatbots that are listed, considering their key features, pricing, integration, and the best use of them for a particular business or industry. 
Desku

Netomi

WP-Chatbots

Microsoft Bot Framework

Zendesk Answer Bot

Rasa

IBM Watson Assistant

Tars

Kore AI

Kommunicate

Inbenta
Desku
Desku is an all-in-one help desk customer support software that helps you streamline customer support queries from every platform. It believes in taking the load off the customer support teams and focusing on the customer needs and fulfilling requirements. 
The Chatbot of Desku has a no-code chatbot builder that helps create a recipe for your business by just dragging and dropping the conversational interface.
Productivity can be easily increased with less effort and if you are an e-commerce business owner it is important that you keep on recommending products to your customers in no time.
Train your bot, sit back and see the magic happening!
It can be worked well by a non-tech person as it is just a drag-drop process. 
Automate repetitive tasks and say no to basic tasks. Focus on the main task and escalate your customer service experience. 
If you are still worried about how to get started building the chatbot and what things to include? Pre-built templates are at the rescue. Getting started with templates is one of the best things you could get started with.
What makes Desku stand on the list of best chatbots of 2024?
No-Code Chatbot Builder

Drag and Drop Conversational Interface

Easily embeddable in multiple communication channels 

Create, edit, and publish according to your business

Affordable

Pricing

with no hidden charges
Desku is Suitable for:
Every business for effortless customer support 24/7
Netomi
Netomi is an all-in-one AI chatbot platform that helps in having smart conversations with customers. There are certain reasons that will help you to avail of Netomi.
Netomi is easily accessible, affordable, and accurate. The platform caters to 70% of customer queries without any human intervention.
What makes Netomi stand on the list of best chatbots of 2024?
Netomi delivers an extraordinary AI-powered customer experience.

The AI platform is capable of automatically resolving customer service tickets.

Netomi supports multiple channels, including email, chat, messaging, and voice.

The platform boasts the highest accuracy of any customer service chatbot.

Netomi's advanced Natural Language Understanding (NLU) engine contributes to its accuracy.

Netomi has not publicly provided pricing information for its services.

Alternative pricing options are available for Netomi's services.
Key features
Natural Language Understanding (NLU) for human-like conversation.

Analysis of phrases, words, and sentiments to give customer satisfaction experience.

Human escalation via agent desk integration (Zendesk, Freshworks, Salesforce, Khoros, Zoho, Sprinklr, Shopify)

Knowledge-based integration.

Use of Omni-channels & multilinguistic.

Analysis of data and reporting in no time.

Dedicated availability like an experienced agent 24*7.
Netom is Suitable for
The company works with companies providing diverse products and services across a variety of industries, including WestJet, Brex, Zinus, Singtel, Circles Life, WB Games, and HP.
Microsoft Bot Framework
Bot Framework Composer is an open-source IDE designed for developers to create, test, provision, and manage conversational experiences. It is built on the Bot Framework SDK and allows you to test and publish your bot to Azure directly from the Composer platform.
What makes Microsoft Bot Framework the best open-source AI Chatbot?
Bot Framework Composer is an open-source, visual authoring canvas.

It is designed for developers and multi-disciplinary teams to create conversational experiences with Natural Language Understanding.

The Microsoft Bot Framework offers a comprehensive open-source SDK and tools for connecting bots to multiple channels and devices.

It provides a comprehensive framework for building conversational AI experiences.
Key features
Facilities of Speech.

Integration with Omni-channels.

Use of AI and Natural Language Understanding.

Open-source SDK and tools to build, test, and connect bots to popular channels and devices

Easily merge with the existing IT ecosystem.
Suitable for
Develop enterprise-grade conversational AI experiences while maintaining control of your data. Build multi-lingual and multi-modal bots for any scenario from sales to customer support and employee productivity.
Zendesk Answer Bot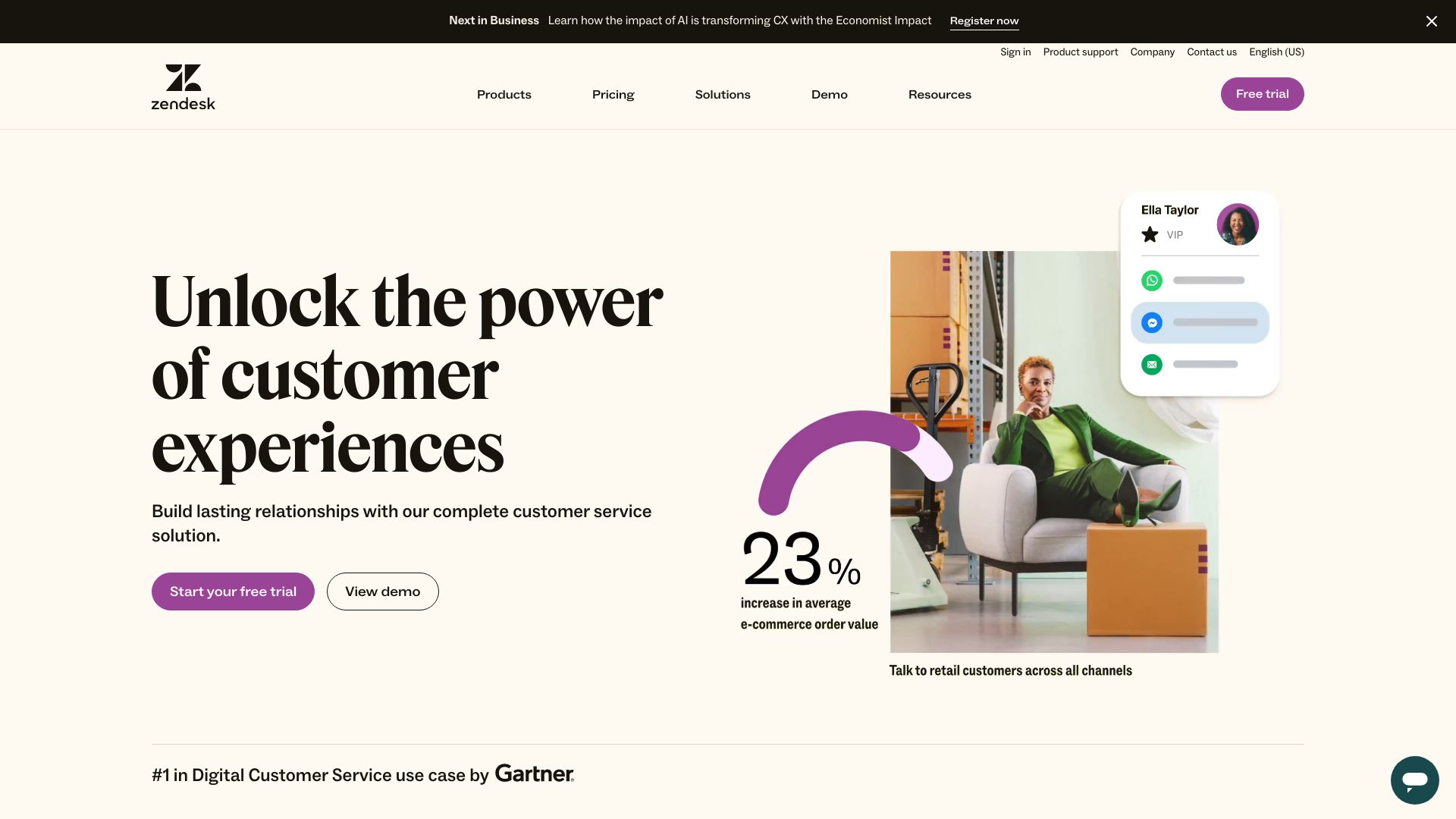 Zendesk has a powerful AI chatbot that helps to smartly carry conversations with customers and visitors. It is the smart answer bot that helps customers to get answers immediately. 
What makes Zendesk Answer Bot to be the Best Agent Desk AI Chatbot?
This bot works alongside your support team within Zendesk to answer customer queries in real time. Without any delay in time, the Zendesk support system provides answers to the customers from the knowledge base. 
Zendesk can be combined with any of the technology or used solo on your website chat, within mobile apps, or for internal teams on Slack. One can manage all the conversations on a single platform, though the customers are from different places.
Key Features
Intense learning system.

Integrated with additional Technology on top of your Zendesk bot.

Multi-Channels integration.

Multi-linguistic with natural learning understanding.

Merge within the Zendesk agent desk platform for real human conversation.
Suitable For
Every Business Type
Rasa
What makes Rasa the Best Agent Desk AI Chatbot?
Rasa is an open-source platform, making it free to use and modify, allowing for scalability and easy feature additions.

It offers flexibility, allowing customization to suit specific needs with a choice of pre-trained models or training your own.

Rasa has a thriving community of developers for support, assistance, and contributions to the platform's development.
Key Features
Language-agnostic Natural Language Understanding

ML-powered Dialogue Management

Custom Actions Server

Multi-Node Concurrency

Dependency vulnerability protection

Real-time Bot interaction and insights

Role-based Access Control
Suitable For
Rasa bots are a versatile tool that can be used for a variety of purposes.

They are especially suited for tasks that require natural language understanding and dialogue management.
IBM Watson Assistant
What makes IBM Watson Assistant the Best Agent Desk AI Chatbot?
IBM Watson Assistant is considered the best agent desk AI chatbot because it utilizes conversational AI and natural language understanding (NLU).

It combines deep learning, machine learning, and NLP models to improve customer experiences and provide accurate information.

Watson also uses machine learning algorithms and asks follow-up questions to better understand customers and pass them off to a human agent when needed. 
Key Features
Agent Assist

AI-powered

Analytics

Integrations

Lifecycle

Security

Visual builder

Voice
Suitable For
Watson Assistant is versatile and applicable in various industries like healthcare, finance, retail, and telecommunications.

It provides features for building and deploying virtual assistants on websites, messaging apps, and voice assistants across multiple channels.

The enhanced intent detection model makes it highly effective in handling complex customer queries and delivering quick and accurate responses.
Tars
What makes Tars the Best Agent Desk AI Chatbot?
Tars is powered by GPT-3, which is one of the most powerful language models in the world.

This means that it can understand and respond to complex queries, even those that are open-ended, challenging, or strange.

Tars is a scalable and customizable bot.

This means that you can easily train it to meet the specific needs of your business. You can also customize its appearance and behaviour to match your brand.
Key Features
Open AI Integration

Live chat

Geo-location Keyboard

Date and Time Scroller

Rich Media

File Upload

Multilingual Chatbot

No-code Chatbot Builder

API Integration

NLP Chatbot

Chatbot Analytics
Suitable For
Tars can be used to answer customer questions, provide support, and even resolve issues.

It can also be used to generate leads, qualify prospects, and close deals.

Tars can be used to provide product information to customers, such as product specifications, pricing, and availability.

Tars chatbot is a versatile and powerful tool that can be used for a wide range of tasks.

If you are looking for a chatbot that can help you to improve your business, then Tars is a great option.
Kore AI
What makes Kore AI the Best Agent Desk AI Chatbot?
Kore AI can access and process information from the real world through Google Search.

This means that it can provide accurate and up-to-date information to customers, even if they are asking about something that is not directly related to your product or service.

Kore AI is easy to use and manage. You can easily create and edit chatbot flows, and you can track the performance of your chatbot to see how it is helping your customers.
Key Features
Conversation Builder

Knowledge Management 

Multi-channel Support 

Testing & Validation 

Integrations & Deployments

Insights & Analytics 

Administration 
Suitable For
Have a large customer base: Kore AI can help you to scale your customer service operations and provide 24/7 support.
Offer complex products or services: Kore AI can help you to provide accurate and up-to-date information to customers about your products or services.
Are looking to improve customer satisfaction: Kore AI can help you to improve customer satisfaction by providing

a more personalized and efficient customer service experience.
Kommunicate
What makes Kommunicate the Best Agent Desk AI Chatbot?
Kommunicate utilizes advanced NLP algorithms, powered by AI, to understand and interpret user queries accurately.

This enables the chatbot to provide relevant and contextually appropriate responses, enhancing the overall user experience.

Kommunicate provides extensive customization options, allowing businesses to tailor the chatbot's appearance, behaviour, and responses to align with their brand and specific requirements.

It also enables personalized interactions by collecting user data and preferences, delivering a more personalized customer experience.
Key Features
Codeless Bot Integration

Kompose

Webhooks & API

Custom Bots

Bot-human Hand-off

Smart Rich Messaging

Conversation Auto-resolve

Pre-defined Bots
Suitable For
It is well-suited for customer support teams of all sizes.

It can handle common customer inquiries, provide instant responses, and escalate complex issues to human agents when necessary.

This helps improve response times, customer satisfaction, and overall efficiency in handling customer queries.
Inbenta
What makes Ibenta the Best Agent Desk AI Chatbot?
Inbenta uses advanced AI technologies, including NLP and ML, to understand and interpret user queries accurately.

It continuously learns from interactions to improve its responses over time, providing a more intelligent and contextually relevant chatbot experience.

The chatbot can handle complex queries, and multiple intents within a conversation, and offer personalized recommendations or solutions.

This enhances the user experience and fosters a more natural and engaging conversation.
Key Features
Pre-trained model

Integration with live chat

Transactionality

Multi-channel capabilities

Proprietary NLP technology

Easy webhook creation

Integration with third-party tools
Suitable For
Inbenta supports sales and marketing teams by capturing leads, qualifying prospects, and offering personalized product or service recommendations.

It assists in lead nurturing, increasing sales conversions, and enhancing customer engagement across the sales funnel.

With advanced AI capabilities, a conversational user interface, integration options, and omnichannel support, Inbenta serves as a powerful AI bot solution for improving customer support, sales, and engagement strategies.
Choose the Best AI Chatbot For Business
The Best AI bots can unlock incredible efficiency, but you need to select the right AI partner which is most suitable for your Business.
Desku is one of the best chatbot platforms for the business. From pre-built templates to no code chatbot builder,
The Reach of AI bots available today is unmeasurable. The best business-specific AI bots are focused on a core use case whether it's customer service, surveys, administrative tasks, or sales. 
Hence, an increasing number of companies claim to have incredible AI platforms.