Crisp is one of the finest help desk customer support platforms that has a very attractive interface. 
But is that it? 
Crisp alternatives could be manier, but to look out for the best one can not be. Don't you think so? 
And what if you want a complete list of crisp alternatives for better comparison between the customer support tools? 
So, If you're looking for various Crisp alternatives, look no further!
We are here with this article to provide you with the gist of it.
Are you aware that most of the software tends to follow either approach? 
They are:
Either go wide or

Go deep
 👉🏻Going wide is when a company puts all its efforts into covering several possible use cases. 
 👉🏻Going deep: They focus only on hiding one or two use cases (completely) instead of covering several cases. 
None of the approaches mentioned above is better than the other; in fact, they are poles apart.
And if you go onto the homepage of Crisp, it's apparent that you're opting for a wide route. 
Crisp Chat at a Glance! 
Crisp is a comprehensive software for customer support. Crisp's traits include;
Chatbot

Shared inbox

Advanced CRM system

Live chat

Knowledge base.  
Crisp could be a great option if you require basic functionality in the areas they cover and for the ones looking for omnichannel customer support. 
However, if you're finding a tool specifically inclined toward customer support, you can not go for Crisp.
Creating top-notch customer support software is too tricky and is not something that you can accomplish without being focused. 
Now, let's move on to the next segment and look into various Crisp alternatives for better customer support.
11 Crisp Alternatives for Excellent Customer Support
If you're willing to leverage Crisp for customer support or are already a Crisp user but want to try some other or new customer support tool, you can look into the list to consider various Crisp alternatives.
Desku

Zendesk

Gorgias

HelpScout

Intercom

Tidio

Drift

LiveChat

HubSpot

HelpCrunch

Front
Each of the above-listed tools is more focused on customer support and might be suited best for that app as compared to Crisp.
It's time to delve deep into this guide.
Desku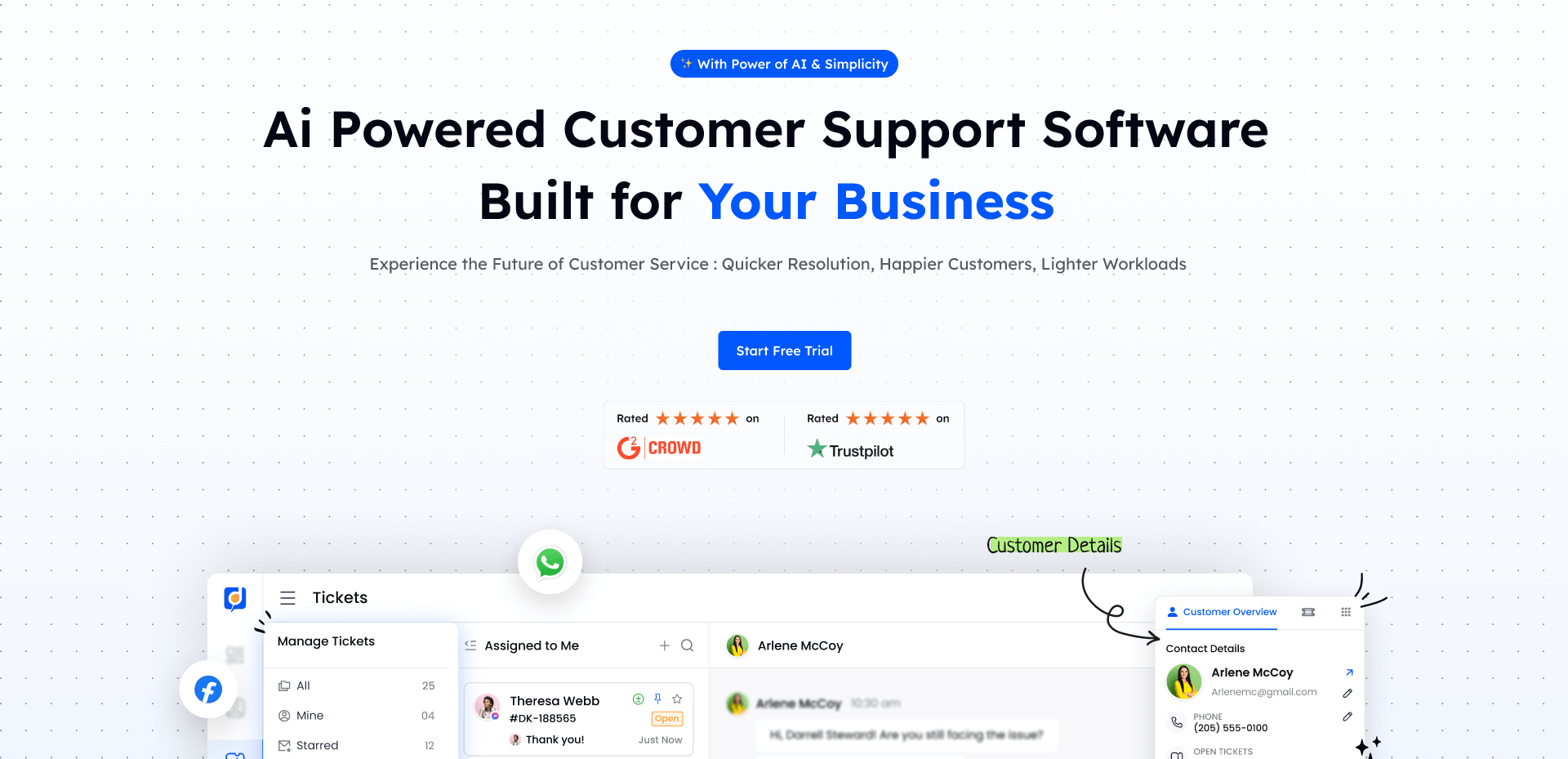 Desku is amongst the most reliable Crisp alternatives. Its features and usage are created in such a way that sounds beneficial to various customers and also loved by them.
It aids in providing different integrations that build your trust to rely on this platform for excellent customer support. You can use the tool according to your convenience in your business.
Affordable pricing, shared inbox, and a centralised customer support system make it different from other competitors in the market. Let's have a glance at some of its significant features:
Key Features of Desku
Seamless ticketing system:
Desku allows its customers to manage customer support tickets from one location without any hassles. This includes making, managing, assigning, and tracking the tickets in the whole process.
Knowledge Base:
Desku caters for its customers in no time for all the customer-related queries and provides customer satisfaction for a better experience.
Reporting and Analytics:
The reporting and analytics tool of Desku aids in tracking customer support metrics like response time, customer satisfaction, and ticket volume.
Great Customer Experience: 
By resolving customer queries and providing them with huge satisfaction, Desku counts itself on serving excellent customer experience with the help of a customer support team. 
SLA Management: 
With Desku, one can fully automate the whole tracking process that aids in managing SLAs or service-level agreements.
Live Chat:
Desku eases its customers by providing and resolving customer issues via customer interaction in which customers can answer their queries and get replies in no time.
Pricing:
Starting at $29 per user/month.
Other package at $59 per user/month.
Business package at $89 per user/month.
Rating:
4.7 out of 5 stars
Zendesk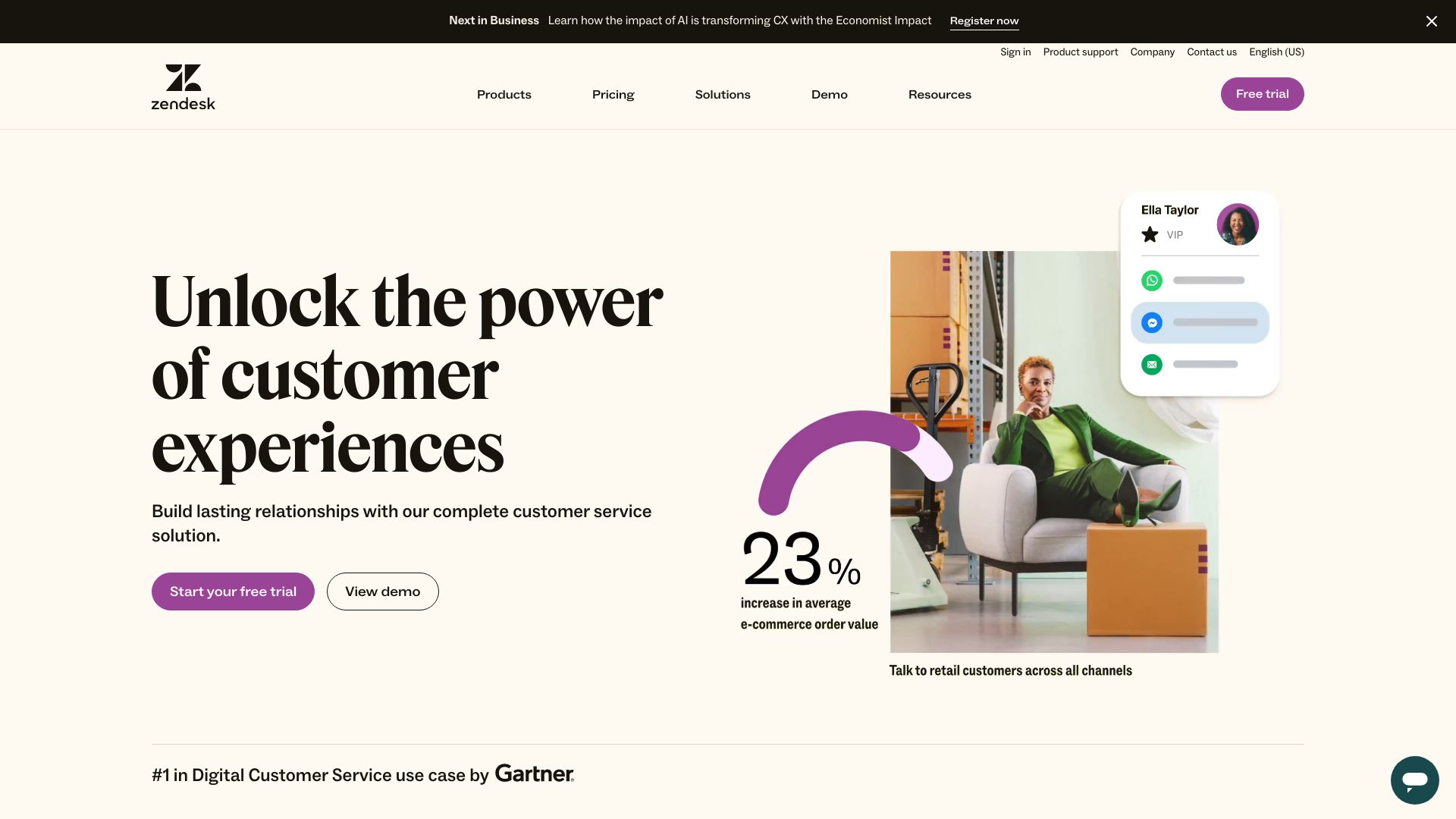 The next on the list of Crisp alternatives is Zendesk, which offers smooth cross-channel support to its customers. 
Moreover, it offers support across all channels, whether social emails, live chat, voice calls, or messaging. 
Your support team can prioritise, track, and respond to customer queries from one platform.
Key Features of Zendesk
Respond in no time with intelligent and routing solutions 

Leverage reporting and analytics Fx capabilities to take appropriate actions as per your customer's needs.

Seamlessly integrates with Slack, SurveyMonkey, Dropbox, Jira, etc.

Optimise and customise the platform as per your needs.
Pros:
An integrated knowledge-management system encourages customers to untangle their queries without external help.

Time and money- savvy with AI-powered live chat
Cons:
Set-up of the tool for your several business needs has a big learning curve.

Complex Sorting feature.
Pricing:
Starts at $49 per agent/month.
Rating: 
4.3 out of 5 stars 
Gorgias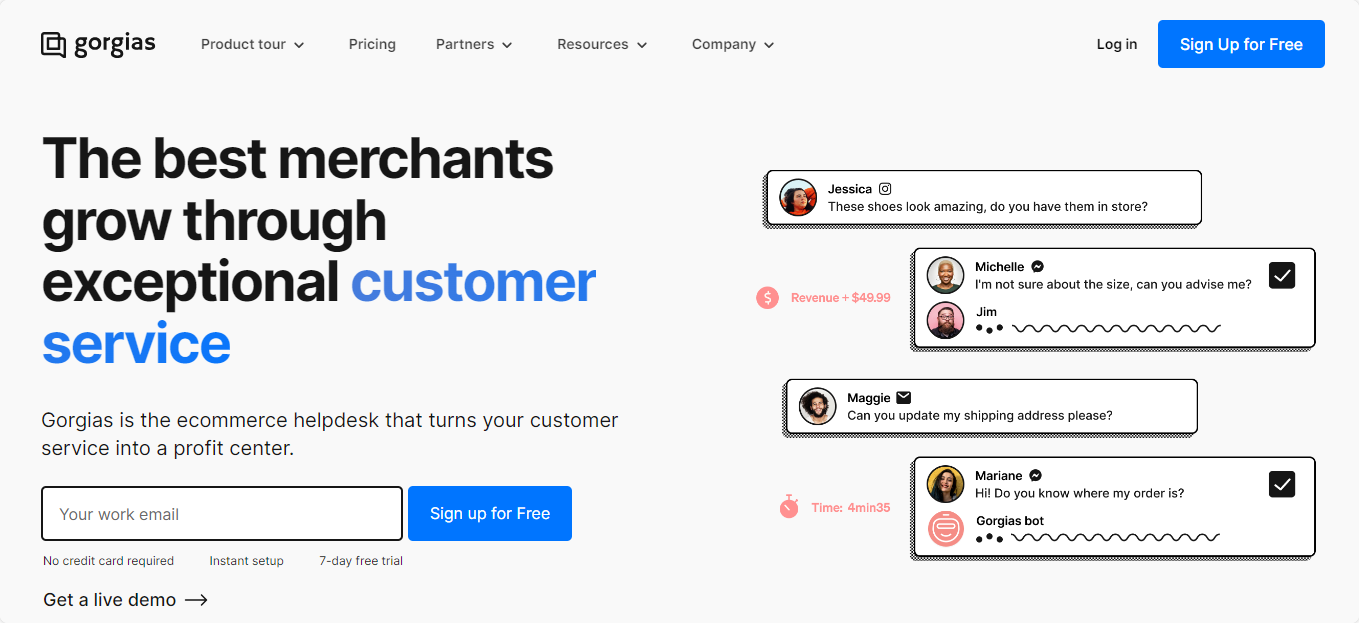 Gorgias aids in delivering meaningful conversations by providing AI-powered support.
One can easily connect to Shopify to use shopper and product history-related information so that you can update orders, check stock availability, and issue refunds through the well-known customer support platform.
Key Features of Gorgias
Customise the look of your chat widget according to your choice

Set up auto-reply when you are offline

Make custom replies to improve customer engagement 
Pros:
Use the tool's automation add-on to reduce ticket volume and enable effortless self-service.

Allows first to message your visitors and provide them with proactive support to boost sales.
Cons:
You can occasionally face some glitches in the tool

Lacks a good mobile app.
Pricing:
Starts at $10 per user/month.
Rating: 
4.6 out of 5 stars
HelpScout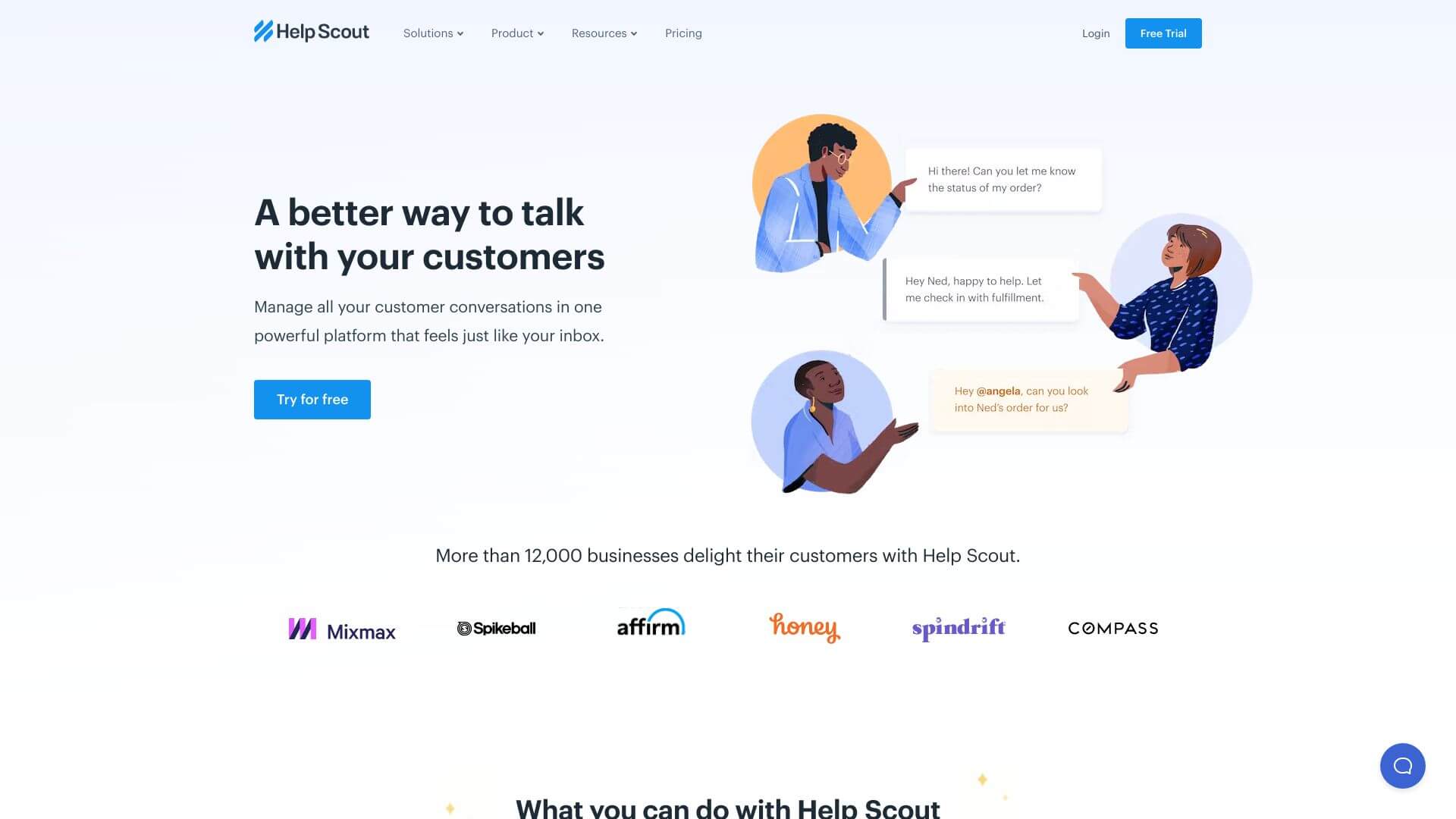 Help Scout simplifies customer support by automating repetitive tasks and organising your inbox. 
There might be a possibility that your live chat agents are not available to connect; in such case, you can raise direct customer requests via email to Help Scout.
The reporting capabilities offered by Help Scout aid in accessing the team's volume by busiest hours, trending topics, and various channels among customers.
Key Features of Help Scout
Complete information about waiting and response time

Advanced filters aid in data sorting

Provide help centre articles through widgets

Save custom views for reference
Pros: 
Automated workflows offload iterative tasks for agents so that they can directly focus on the crucial tasks. 

It is the most accessible platform to leverage customers and agents.
Cons:
Difficult to customise the knowledge base

To enhance reporting capabilities to gather a deep knowledge  
Pricing:
Starts at $20 per user/month.
Rating: 
4.6 out of 5 stars
Intercom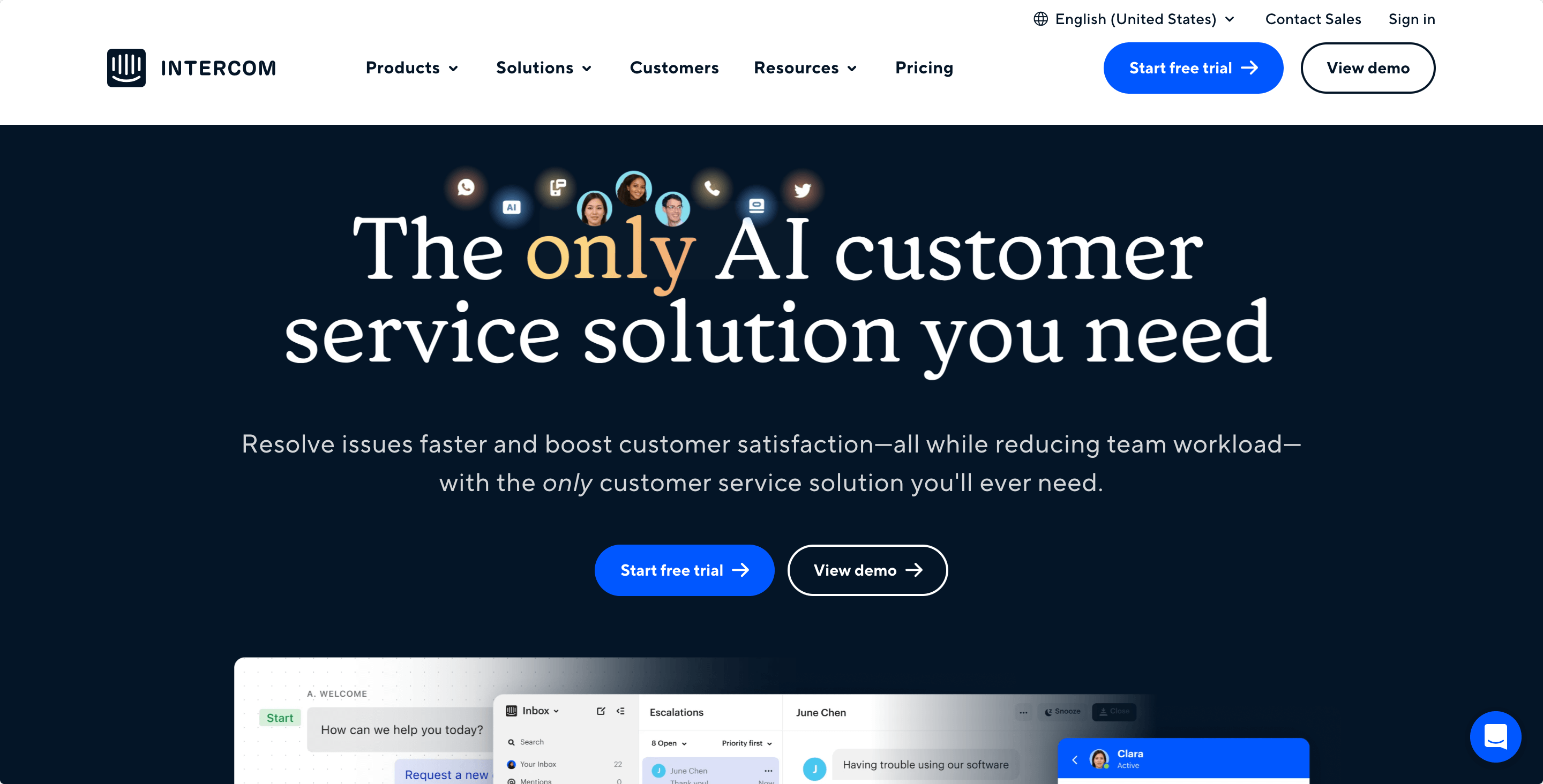 If we are talking about the Crisp Alternatives, how can we forget Intercom? Isin't. It is an excellent platform for customer support and retail businesses. 
Here, Intercom comes with customer segmentation and a lead qualification system that facilitates you in escalating sales by converting more leads. 
Key Features of Intercom
It provides custom service-level agreements, APIs, and ticket workflows to enhance customer interactions

Adaptable and diverse, which aids in matching business requirements

Lead qualification system and customer segmentation 

Increase sales
Pros:
Sales enablement tools to maximise conversion rates 

Customer support ticket workflows to track them

Monitor conversion ratings via performance 
Cons:
Steep learning curve 

Duplicating and merging conversion is not feasible
Pricing: 
Starts at $67 per user/month.
Rating:
4.4 out of 5 stars
Tidio

Tidio adds more value to the crisp alternatives via an easy setup that lets you add live chat to the website. 
Moreover, it also enhances the target base by observing the source from where your customers are coming and what they are searching for. 
The tool also measures agent performance and analytics conversions, increasing visitor interaction. 
Key Features of Tidio
Integrate with Shopify, MailChimp, and WordPress, etc.

35+ chatbot templates

Automate chats with AI

Customer interaction via mobile app
Pros: 
Canned responses for frequently asked questions

Respond by seeing what visitors are typing
Cons:
Not an easily scalable tool

Lacks good language assistance capabilities 
Pricing:
Starts at $0.
Rating:
4.7 out of 5 stars
Drift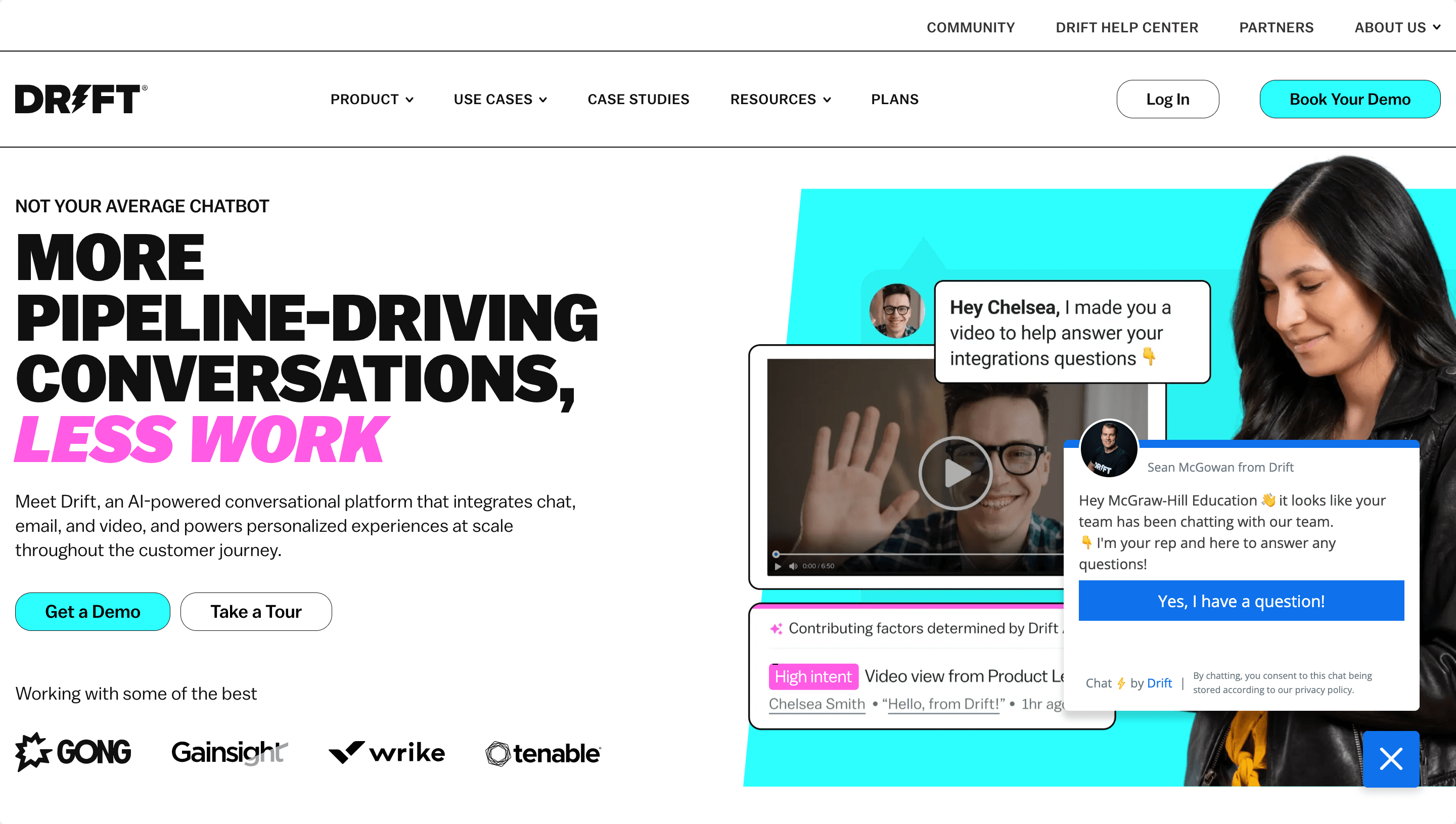 Drift offers customer support that flows across various channels, allowing you to drive more sales and engage more target accounts. 
Similarly, you can make playbooks that aid in targeting open opportunities when returning to your website. 
You can even leverage Chat to Zoom or Chat to Call to address their pain points in no time. 
Key Features of Drift
Notify sales representatives whenever their target account is on the website 

Leverage internal notes to interact with team members within the conversation.

Welcome elite visitors with a personalised message

Time savvy by giving answers to common questions with saved responses.
Pros:
Uses conditional routing for multiple teams

Qualify leads in no time, averaging the conversational AI tool 
Cons:
Steep learning curve

No availability of A/B testing in the premium plan
Pricing:
Starts at $2500 per user/month.
Rating:
4.7 out of 5 stars
LiveChat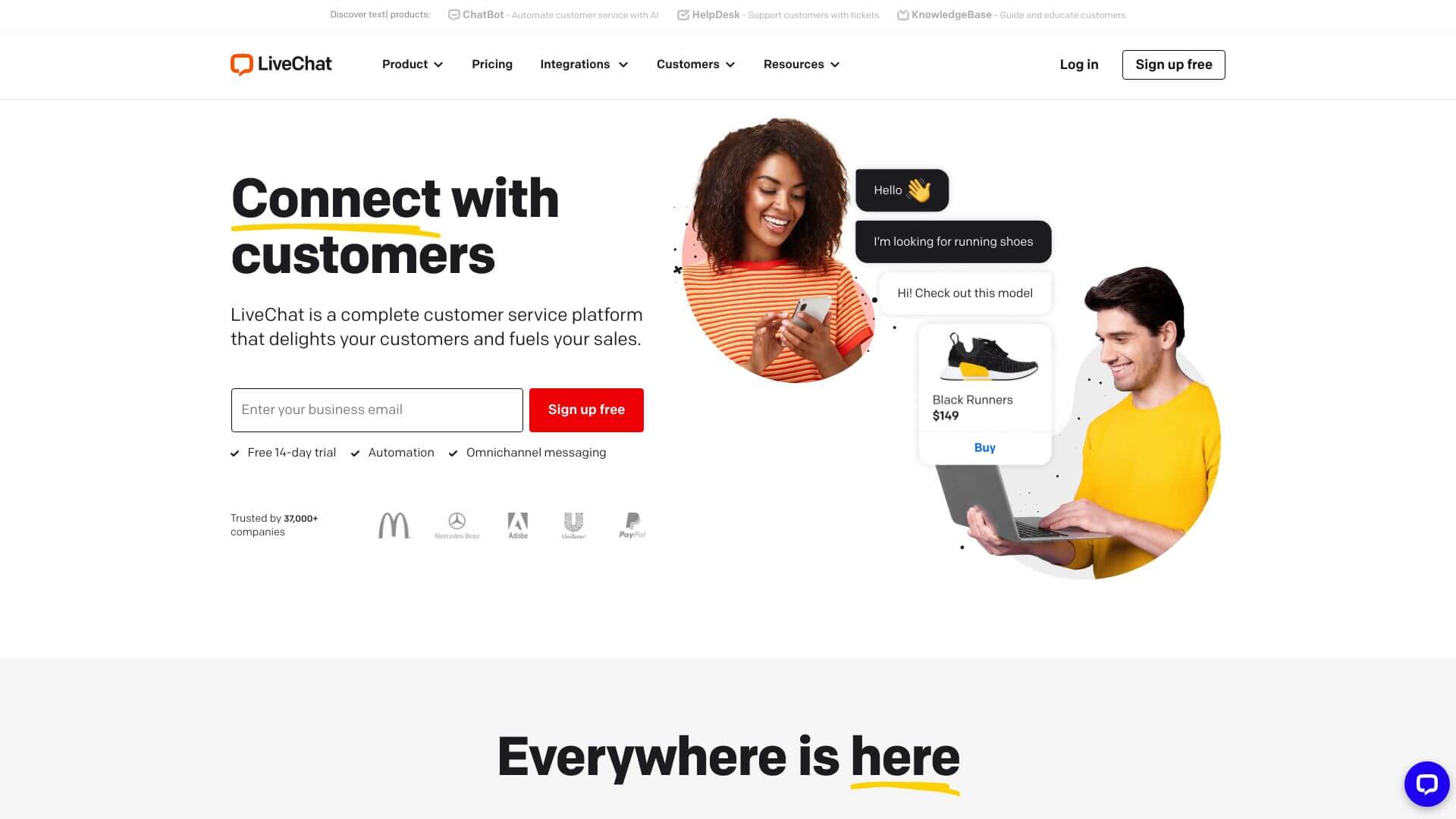 You'll get to know by the name itself. LiveChat is a helpdesk software that is streamlined for live chat customer support. 
It works well for medium to large businesses that will figure out detailed reports on customer satisfaction scores and agent performance. 
Key Features of LiveChat
Customised chat widget

Canned responses to improve customer interaction

Enable visitors to book appointments with the help of a self-service tool
Pros: 
In-chat ratings and customer satisfaction surveys

Chat supervision overlooks communication with your customers

Message templates, product carousels, and canned responses with buttons 
Cons: 
Additional requests get redirected to other channels

Technical glitches with the mobile application 
Pricing:
Starts at $19 per user/month.
Rating:
4.5 out of 5 stars
HubSpot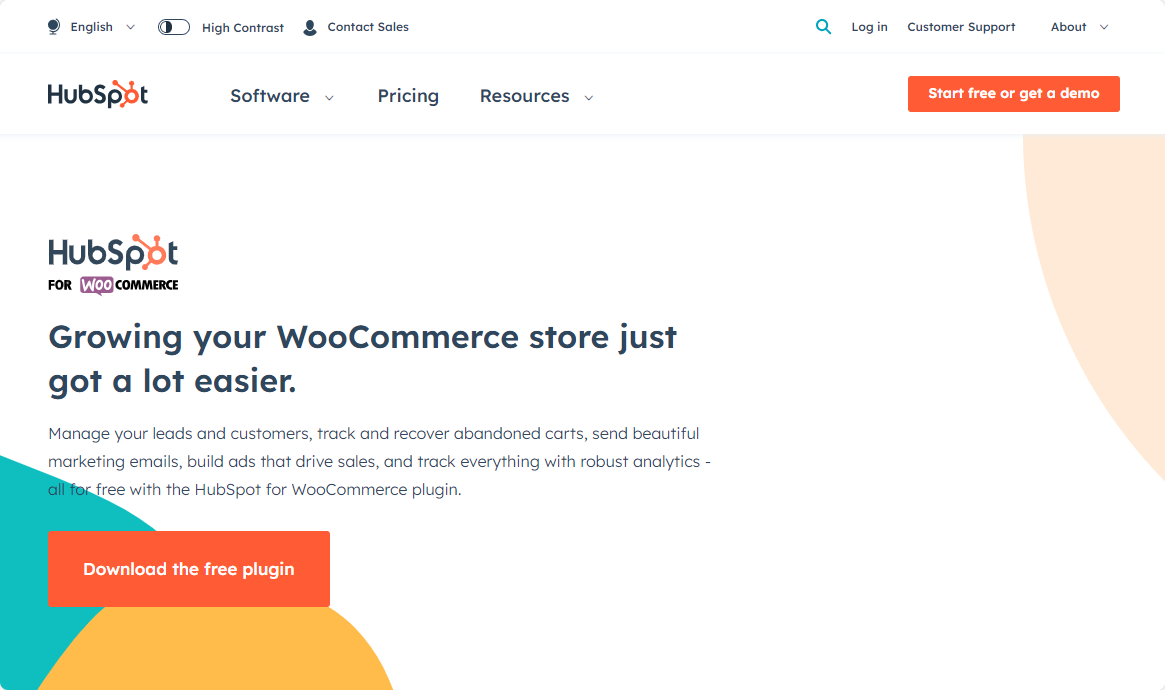 HubSpot is one of the best Crisp alternatives for customer support that provides an inbound marketing system.
It enables you to create a customer database and categorise customer inquiries. It keeps track of visitors' information so your support team knows about the past issues that your client has faced. 
Key Features of HubSpot
Save customers' conversations in the conversation inbox

Integrate with Slack to get chat notifications

Make targeted welcome messages for various segments

Convert repetitive emails (sales) into templates
Pros:
Keep track of when a lead clicks on a link, opens an email or downloads an attachment

Add log sales activity and contact records automatically, which lets you drive good customer experience.
Cons:
There is no availability of custom surveys in the starter plan

Limited reporting capabilities
Pricing:
Starts at $45 per 2 users/month.
Rating:
4.4 out of 5 stars
HelpCrunch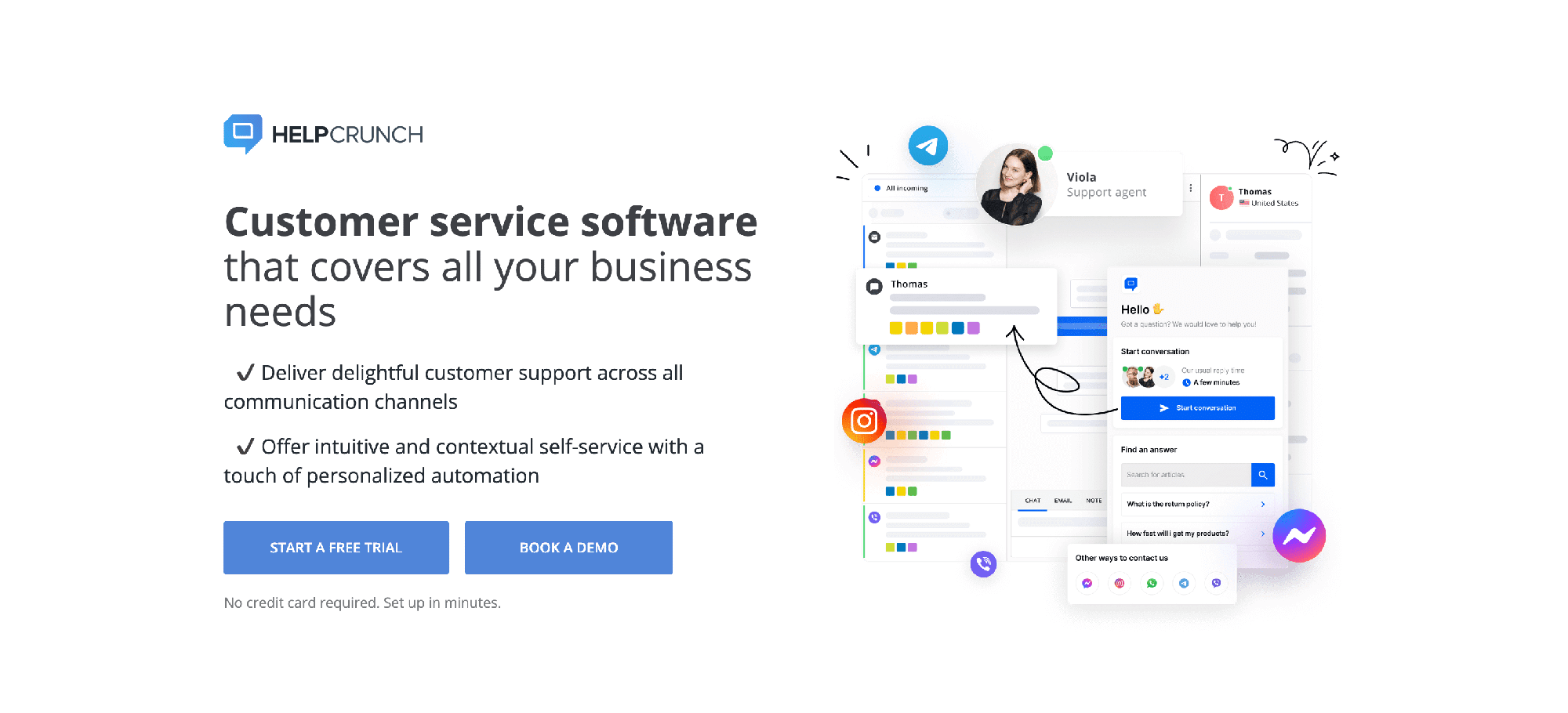 HelpCrunch is amongst the other excellent Crisp alternatives as it serves its customers with a seamless and sophisticated support system to generate more revenue and sales.
Its shared inbox feature lets you manage messengers, social media, chats, and emails from one place.
Additionally, using this tool, you can track whether anyone can answer incoming requests and who is managing a conversation.
Key Features of HelpCrunch
Offer support via mobile application and website without any obstacle

Leave crucial information as confidential notes to your colleagues 

Integrate knowledge base with live chat to resolve general customer queries.

Access the personal data of users for good context into their problems
Pros:
Keep track of chat volume, customer satisfaction, and response time.

Set up rules that trigger chat messages based on the visitor's behaviour.
Cons:
Needs to improve chat widget capabilities 

Lacks advanced customisation options.
Pricing:
Starts at $12/ per user/month.
Rating:
4.7 out of 5 stars
Tawk. to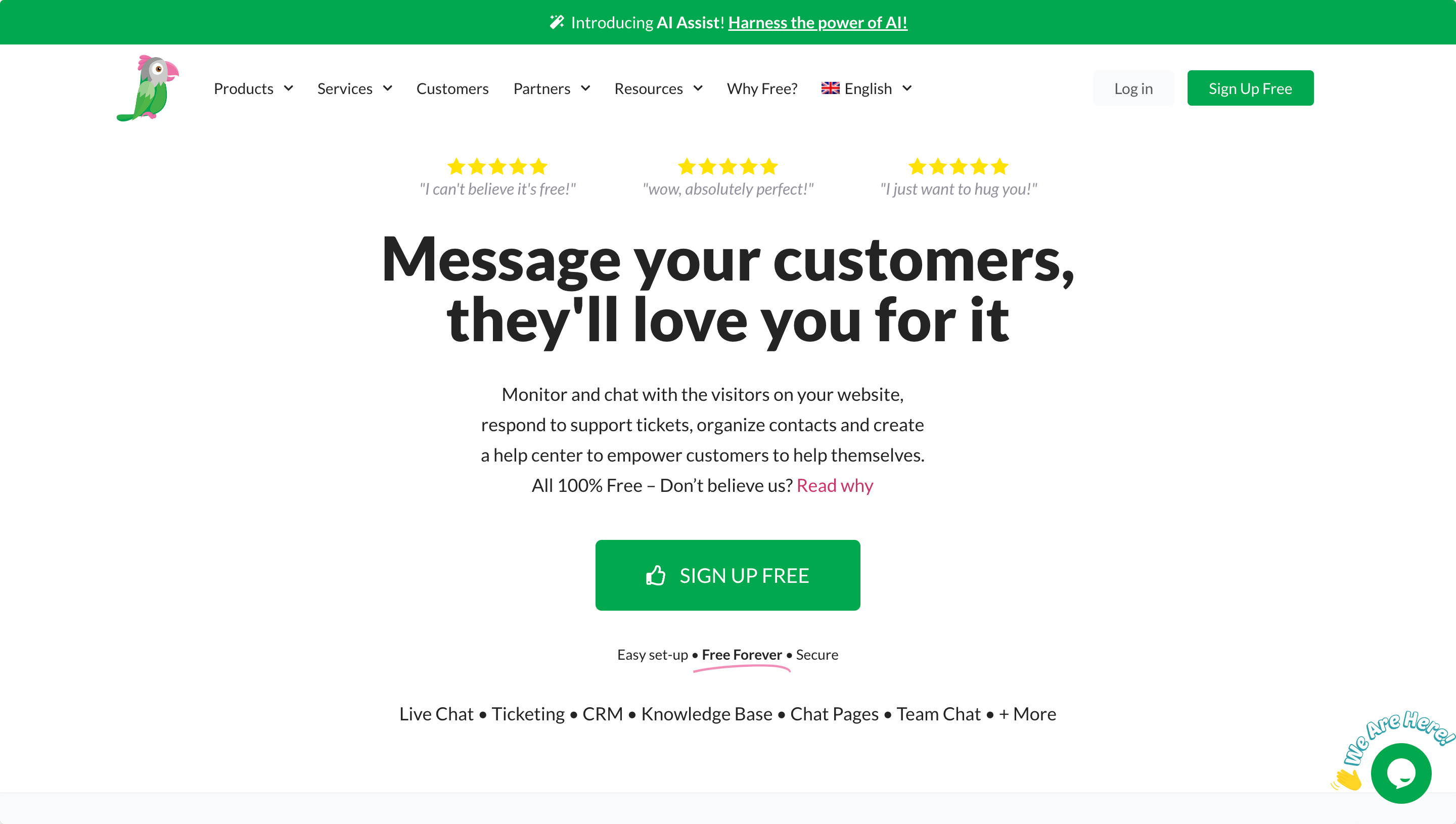 Tawk allows you to check visitors' activity in real time. You can track:
Page visits 

What they are browsing

How often do they visit your website
This provides information about what a visitor is looking for and how you can assist them with better facilities in no time.
Key Features of Tawk. to
Use a customisable and free knowledge base

Track which team member replied to a visitor query at the last

Maintain and organise contacts with a complete interaction history.

Connect with customers via video and audio add-ons
Pros:
The tool enables you to assign communications to different team members

One can make shortcuts and articles so that the support team can untangle customer queries quickly.
Cons:
Obsolete UI

Customers using this tool often complain about mobile compatibility glitches.
Pricing:
Starts at $0.
Rating:
4.6 out of 5 stars
Select Crisp Alternatives by Your Own
Crisp might be a great tool, but it has its own limitations that cannot be let go by business. 
However, you might need an analytical crisp alternative depending on your business needs, such as AI-Powered Software Solution-Desku. 
And, if you're looking for an overall solution to provide better customer support without getting muddled over it, so, in that case, Desku might be the right choice for you.
Your next step should be to look into your requirements and add-on features mentioned in this guide of Desku and you can also explore yourself. 
It will allow you to make the right and quick decision to deliver excellent customer satisfaction by directly impacting them.