Customers are considered the most important part of your business success and so it becomes the first priority to always build the better customer relationships
What can be done to always remain top-notch with the customer service experience? Surely you need to adapt the best customer service software for keeping up to date with customer inquiries and support.
Let's understand more about it.
As per the customer support report, 72 per cent of customers said that they would plan to opt for a different brand after one bad review or experience.
For a small and medium-sized business, the first aspect that you should focus on is to cater for the best customer service software
For this, you are required to invest in customer service software as stated above.
We have prepared a list of several customer service software, its features, and pricing. Considering all the business sizes, choose which is best for you.
But before heading towards this part, you should know what customer service software is about and why small businesses need customer service software.
What is Customer Service Software?
Customer Service Software is a platform that facilitates organisations to offer 24*7 assistance and support to the people who leverage or buy their products.
Customer service software's common role is to offer a ticketing system where service agents can manage, track, organise, respond, and resolve customer queries or employee requests on message.
It also includes a tool that aids in informing or easing customer service delivery.
Customer support solutions can serve you across various channels such as phone, email, social media, chat, and more. Knowing how to serve the right customer service has a different impact on the business's success.
It not only serves you with multiple channels, but it also enables you to better ease your customers by providing them with timely and highly contextual responses.
Why do Small Businesses Need Customer Service Software?
Small businesses need customer service software to consolidate, prioritise, and organise customer inquiries.
If appropriately used, customer service software tools enable reliable, personalised, faster responses to customer inquiries. This facilitates small businesses in setting up and getting started with superior customer service to gain the trust and increase the brand reputation of the business.
A customer seeks better services than seeking better products. Customers are king, with the resources, why we should not serve them right?
If we go by the facts, almost 63 per cent of customers begin searching for an online resource when facing errors.
So basically it is understood that with the help of the right customer service platform, you can avoid mistakes
And if we talk about enterprises, the primary challenge is to manage a system for contriving and updating the provided resources in real-time.
Customer support software allows your business to streamline knowledge base management and creation, offering customers adequate resources and saving agents time. Apart from that it is important to measure customer service performance so that changes can be made timely.
Moreover, you can keep an eye on your customers and how they are leveraging your knowledge base to inform you further on self-service improvements.
7 Best Customer Service Software Tools for Your Business
1. Desku
Desku is one of the best customer service software for small businesses. The software offers an organised and secure system to manage customer inquiries and requests effectively through a unified inbox and the ability to do everything under one roof.
It caters the customers with a centralized help desk platform to improve customer communication with the help of a support agent team.
It is a help desk platform designed to streamline customer queries, increase satisfaction, and have a quick response time.
Let's understand its key features in brief.
Key Features of Desku
Knowledge Base
The intrusive knowledge base of Desku helps customers to read and guide themselves for the common questions asked. A knowledge base helps customers to help themselves and ultimately it decreases the load of the support agents to always stay online and answer common questions of customers. Considering Desku, it has a rich editor that will help to format and insert the rich media for better understanding and curating the information for your customers.
Consider the knowledge base to be one of the important parts of your business! If not now then when?
Unified Inbox
A unified inbox helps in getting the customer queries into one platform so it becomes easier for support agents to coordinate and keep up with the queries. A customer service shared inbox in the helpdesk software also lets you assign queries to the right support agents for a precise and quicker solution.
AI-Powered Unified Inbox
How AI has become so easy to manage the business process that takes usually more time? Desku has various aspects of AI options available for business owners to look forward to and simplify work.
Live Chat Software
The Live chat feature of Desku is known for untangling customer issues in which customers can get their queries resolved with the help of customer support team members 24/7 and can have real-time conversations.
Almost 92% of the customers will go for companies that do not need to repeat or ask their queries to support agents.
There are innumerable embeddable features with live chat such as you can embed a knowledge base and chatbot. Chatbot integration helps to automate the conversation even in the absence of a support agent who does not need to be online 24/7 but also does not miss out on any customer's conversation.
No Code Chatbot Builder
No-code chatbot builder helps in creating the chatbot with the help of drag and drop conversational interface. It helps to have conversations with your customers even in the absence of the support agents. It makes sure that customers do not go without missing out on any conversation. It is easy for a non-tech person to build a chatbot for the business. Automate conversation along with easy human handoff that will help to be there for customers when they need it.
Pricing:
Essential: Starts at $29/user/month.
Other packages: $59 per user/month.
Business package: at $89/user/month.
Rating: 4.7 out of 5 stars
2. Freshdesk
Freshdesk is a help desk software that facilitates customer service Support teams with streamlined automation and collaboration with its sky-high plans and intuitive interface.
Fresh desk includes all the essential traits in customer support management software platforms such as ticket routing, social signals, chatbots, and team dashboards.
Moreover, this tool can lower some of the training burden on your customer service system.
Why Freshdesk?
Live chat software
Ticket routing
Native integrations
Tracking and Reporting
Community forums
Automation
Knowledge base
Automation
Self-service portal
Pricing:
Sprout: Free for unlimited agents with email and social ticketing
Blossom: $15/user/month
Garden: $35/user/month
Estate: $49/user/month
Forest: $99/user/month
Rating: 4.4 out of 5 stars
3. Help Scout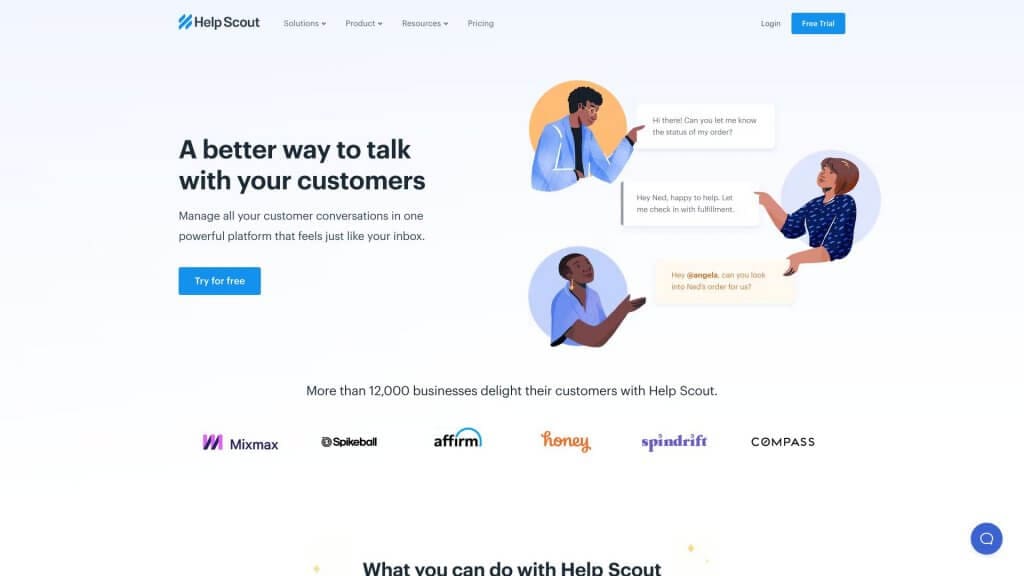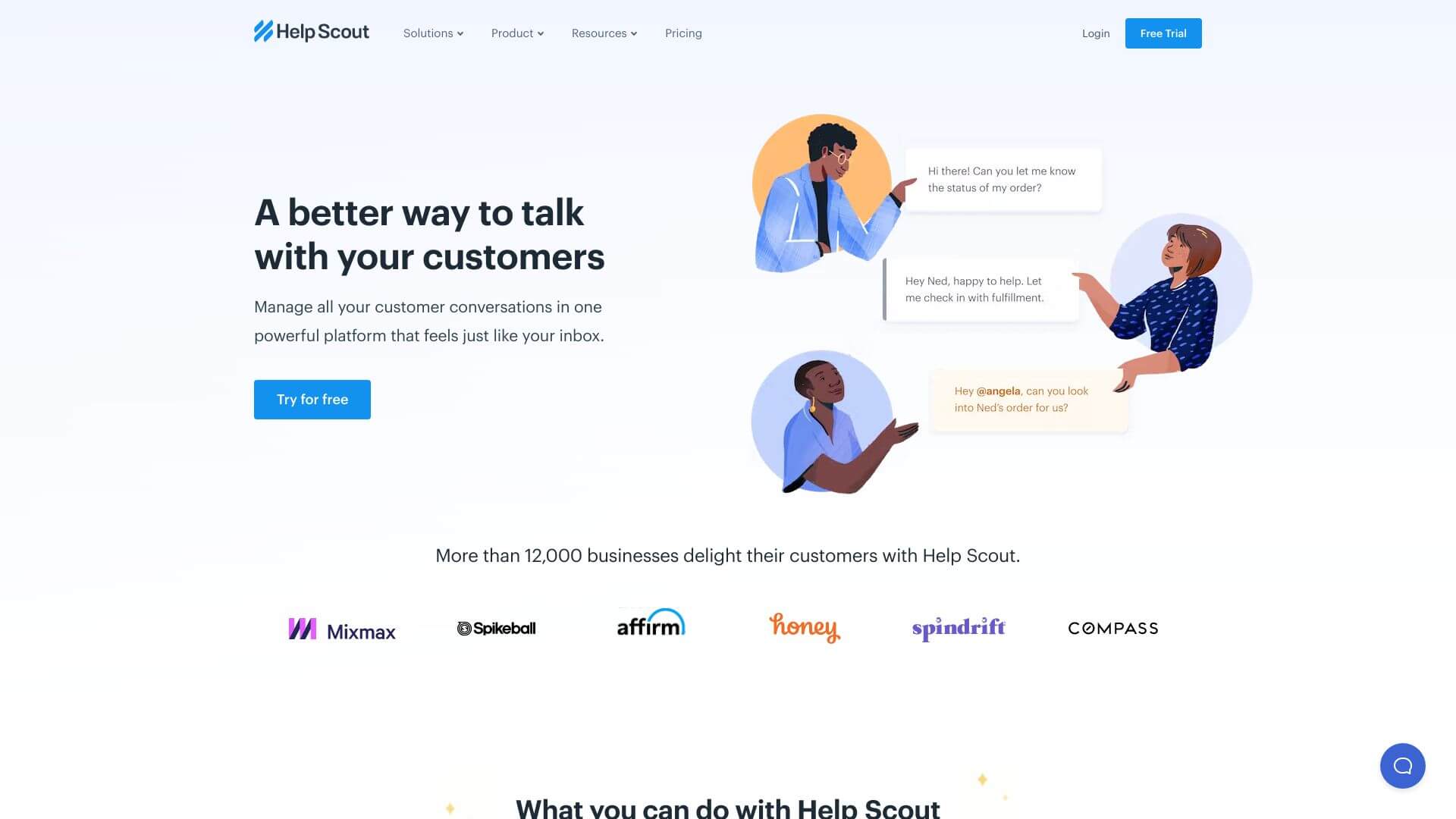 Help Scout is great for customer support teams looking to provide chat and email support from a help desk platform.
It comes with features that include collision detection, response templates, ticket routing and prioritisation, amongst others.
Additionally, Help Scout allows you to easily customise your help desk, moulding it according to your team's needs.
Why Help Scout?
Customised pricing plans according to the needs
Manifold integrations that enable you to leverage the solution smoothly with your current management tools and support tools channels
Email & chat support
Knowledge base
Pricing:
Standard: $20/user/month
Plus: $35/user/month
Company: Available on request
Rating: 4.6 out of 5 stars
4. Zendesk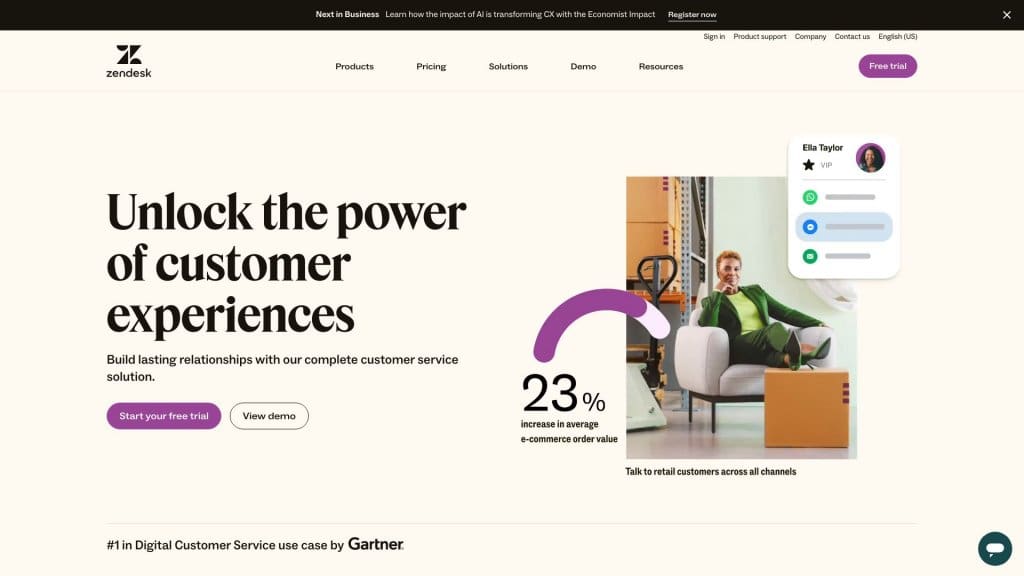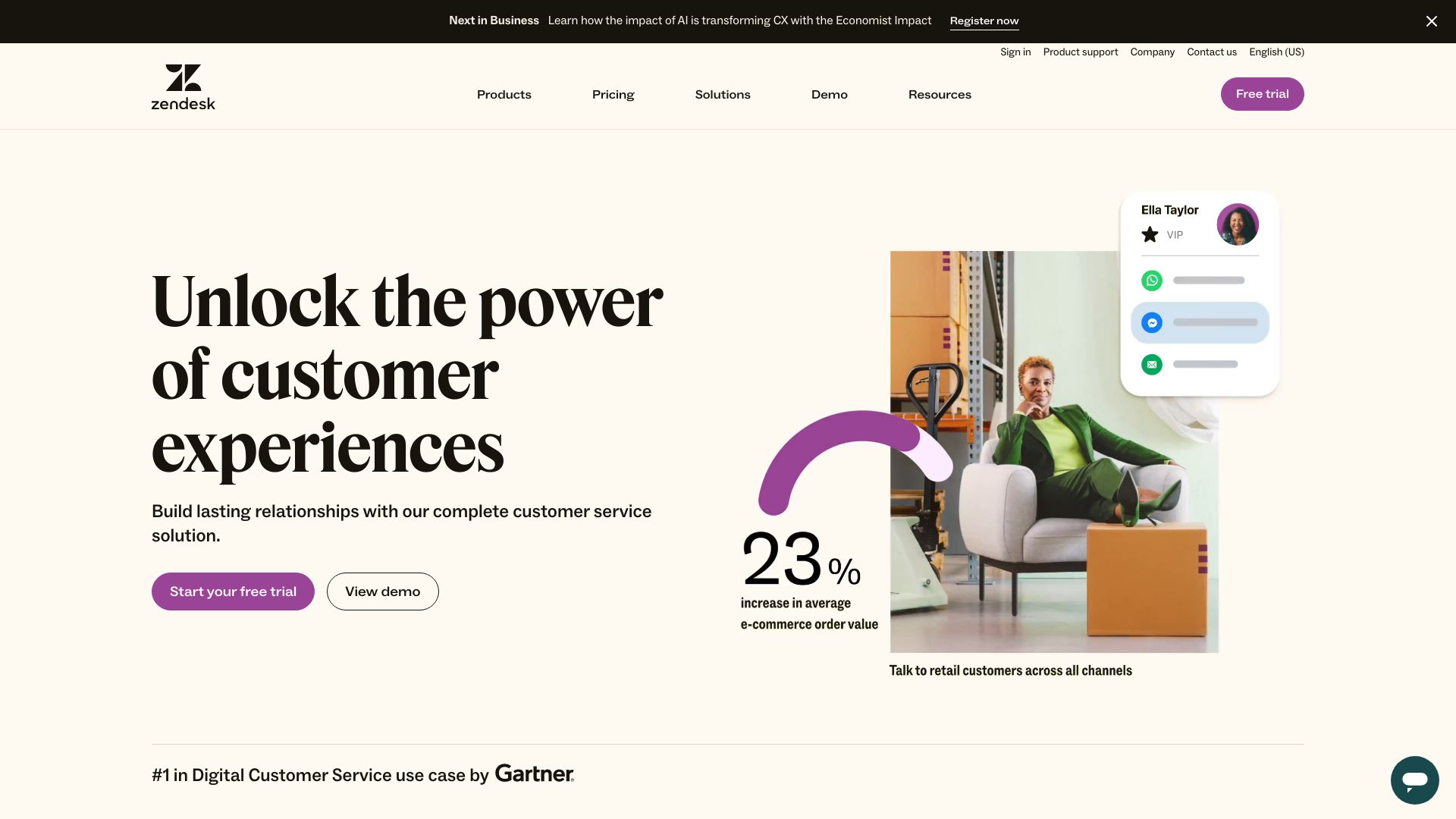 Zendesk customer Service tool is a popular Help desk used by almost every customer from enterprises and small businesses.
Zendesk's basic plan provides you with customer support through social media platforms like Facebook and Twitter and via email.
But, if you are looking to offer support across other channels such as chat and phone, you need to opt for higher-paid plans
Why Zendesk?
SLA management
Powerful Automation
Knowledge base
Community
AI-powered automation
Pricing:
Suite Team: $49/agent/month
Suite Growth: $79/agent/month
Suite Professional: $99/agent/month
Rating: 4.3 out of 5 stars
Read More:10 Best Zendesk Alternatives for Your Business in 2023
5. Zohodesk
Zoho Desk is the most reliable email customer service software for small businesses. Its basic help desk features can facilitate you to streamline customer support processes along with task automation, performance reporting, ticket tracking, and improving customer conversation.
It also aids in providing web forums, live chat, social media, and telephone in various languages.
Why Zohodesk?
Facilitate identifying the sentiment behind every customer request
Multichannel support
Automate workflows
Knowledge base
Provides you with deep context into every request based on previous customer interactions.
Pricing:
Free trial and plan are available.
Paid plans start at $14/agent per month.
Rating: 4.4 out of 5 stars
6. Intercom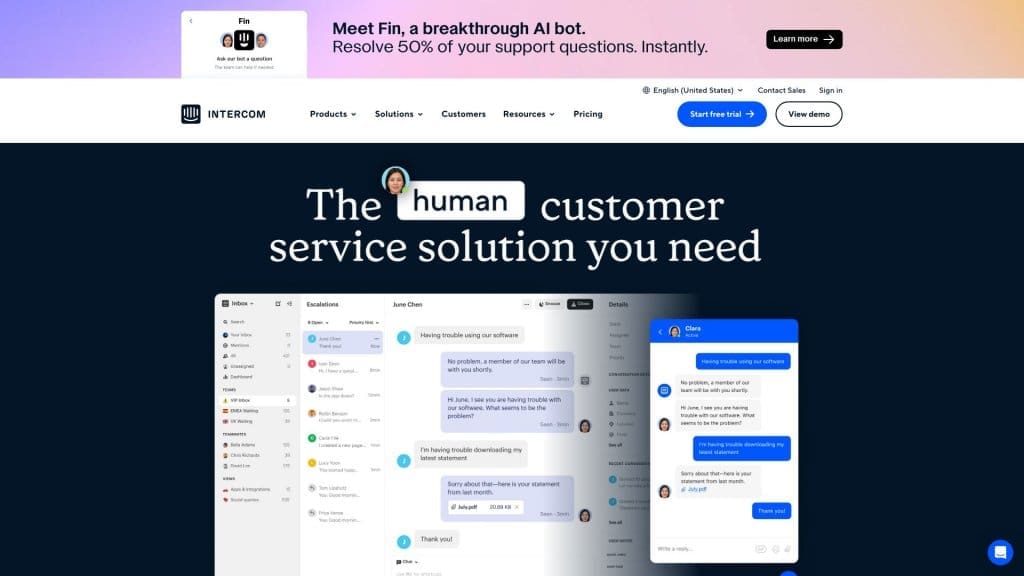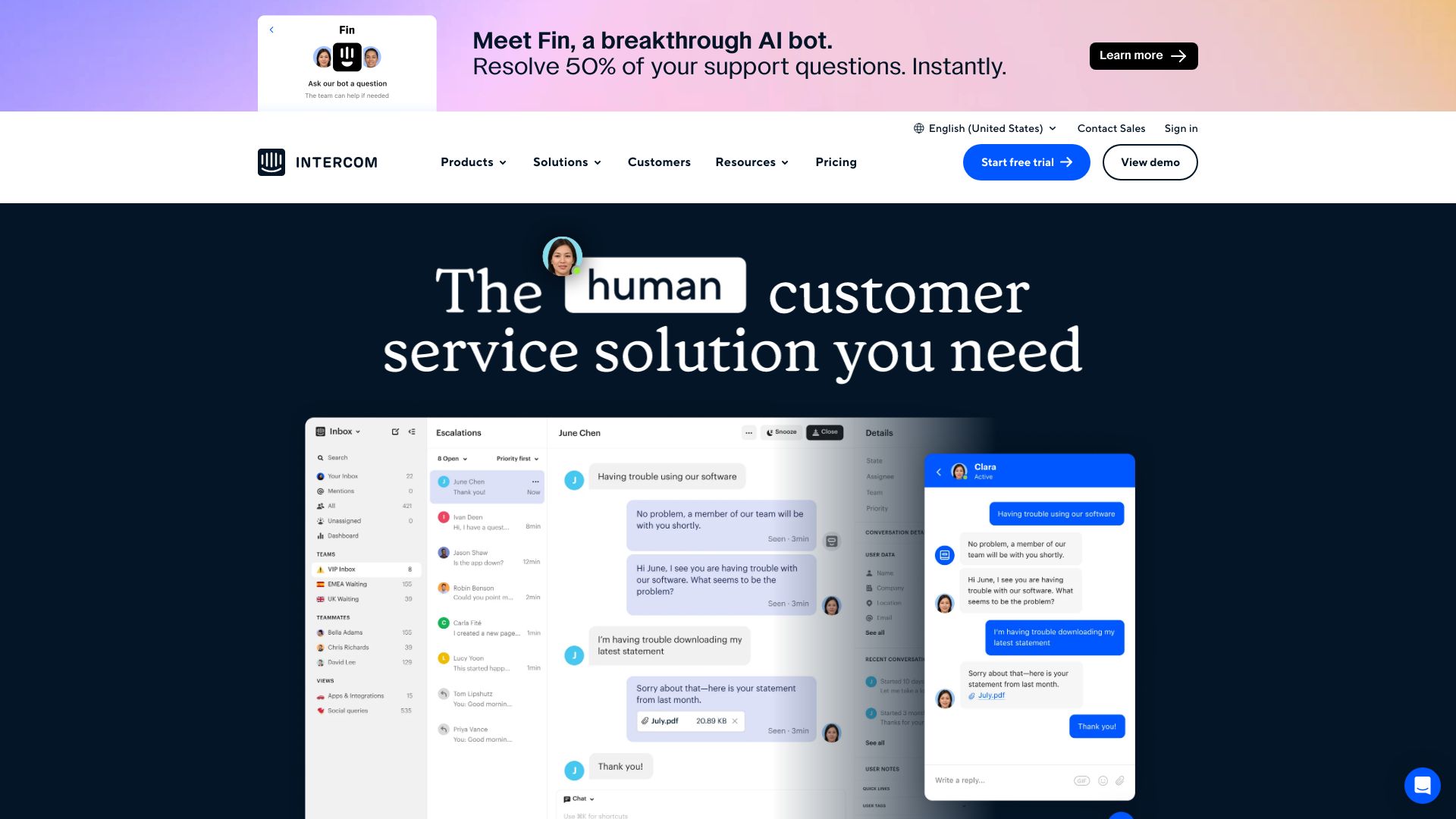 Intercom has a unique identification in the customer support service software category. It enables customers to provide customer support with the help of self-serve, help-center, email, and live chat platforms
It is an easy-to-use tool, and its interactive products make it ideal for those customers who are using this software for the first time.
One of the most promising features of the Intercom is its live chat widget that you can easily install on your mobile phone and desktop. It is the easiest way your customers can reach you at their convenience.
Why Intercom?
Provides multichannel support, ticket management, a self-service portal, automation performance metrics, response templates, and much more to the customers
It enables you to track customer support interactions from one location.
Aids to integrate customer data from the tech stack to provide you with easy access to all the customer information
Pricing:
Start: $59/month (1 seat)
Grow: $119/month (5 seats)
Accelerate: $499/month (10 seats)
Scale: $999/month (10 seats)
Rating: 4.4 out of 5 stars
Read More:13 Budget-Friendly Best Intercom Alternatives in 2023
7. Happyfox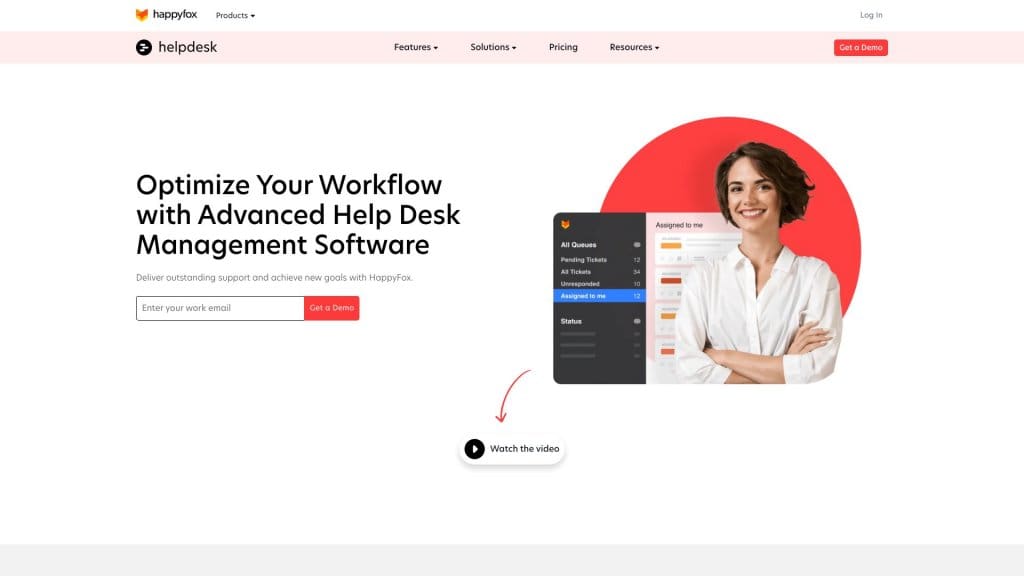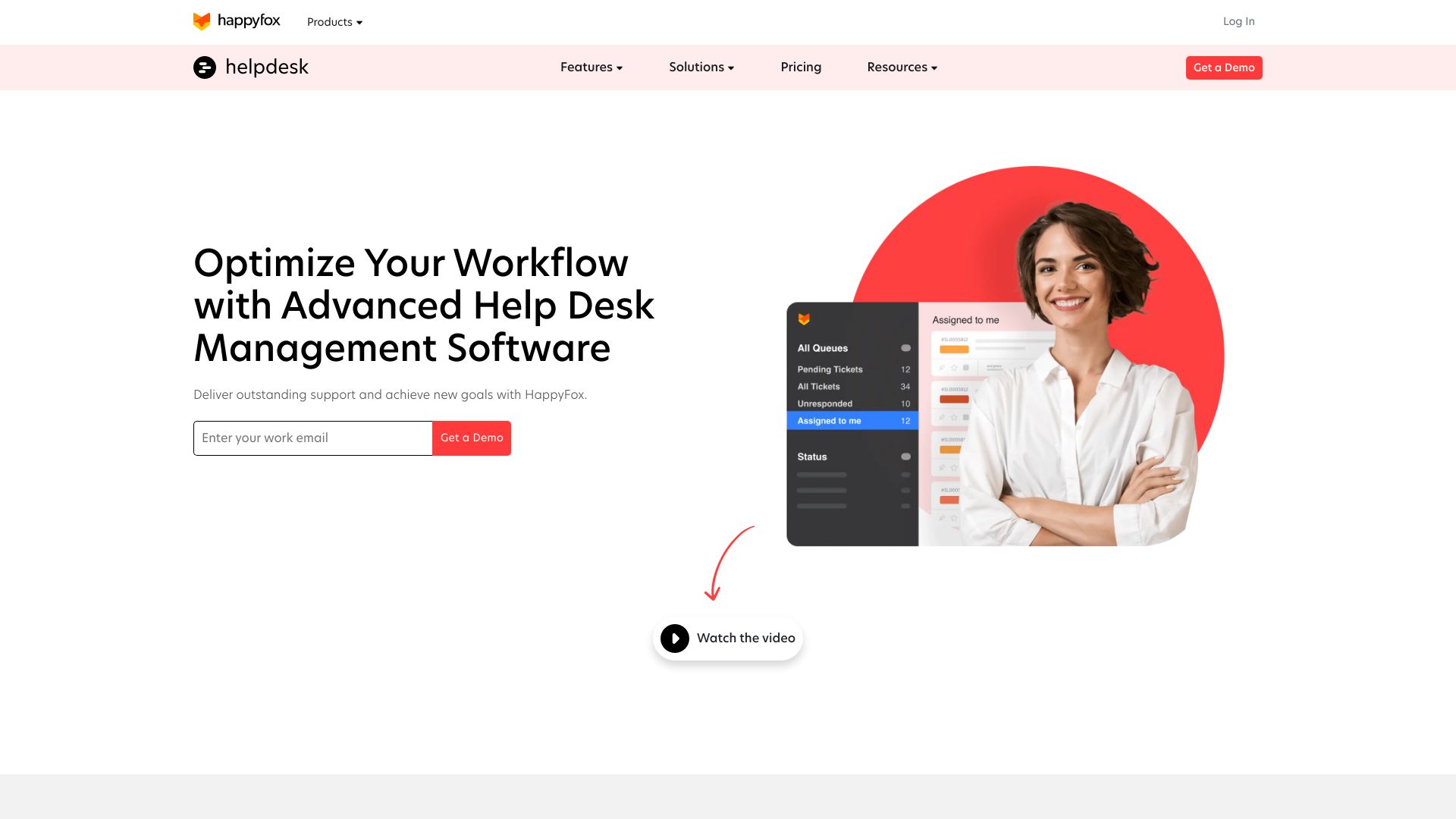 Happyfox is an excellent customer service platform that offers manifold features to its customers, such as a knowledge base, live chat, ticketing system, etc.
It is a robust support ticketing system and an intuitive live chat software that boosts customer experience and support processes.
It offers multiple channel support from social media, web, phone, Live chat, and email.
Why Happyfox?
Advanced help desk management software
One-stop-shop for help desk
Support ticketing system
Offer customer support via live chat, email, phone, social media, etc
Integrates with business for CRM, customer feedback, accounting, and much more
Pricing:
Basic: Starts at $29/month
Growth: Starts at $49/month
Scale: Starts at $149/month
Scale Plus: Starts at $299/month
Rating: 4.5 out of 5 stars
Read More:Top 7 Happyfox Alternatives shortlisted for your business in 2023
How to choose the Best Customer Software Service?
You'll find many customer service software tools in the market with various features and pricing facilities.
And with the availability of various CRM software options out there, it's a bit confusing to come to a conclusion and decide how to choose the right customer service software.
Here are some significant factors that small businesses should consider before investing in customer service management software:
1. Software Pricing
Investing in customer service software can be the right decision for your business. But you have limited resources in the case of small business.
Hence, it's better that you carefully evaluate all the options available in front of you, which should include the software development cost.
Almost every software offers a free plan; you can try it out and decide which will be the best customer price management software for you, which provides you with all your business needs under your budget.
2. Easy to Use
Customer service software is easy to use for the customer support team and makes their job easier.
However, if it is tricky to use and carries a complex interface, it will ruin your entire aim of investing in CRM software.
Your team must be able to carry out essential features and implement the help desk software solution efficiently.
3. Business Goals
Every customer support system comes with its own set of traits; not all of them will be important for your customer service team.
You only need to select a suitable software that best serves your team and carries long-term business goals.
4. Flexibility
As you expand your business, your needs from the customer support tool are also bound to rise.
Good software must scale along with your business needs in the long run. It should facilitate you in fulfilling the rising needs of your customers.
Moreover, if the software cannot tackle the rise in the number of customer inquiries or remains unable to cater for your customers wants, it will not only create a negative impact on your business but also have a detrimental impact on your reputation.
That's why it's challenging to find the best customer support software tools for your business. Therefore, before going for software, you should be sure enough of how good it'll be able to cater for your needs as time goes on.
So, the tool needs to be flexible to meet customers' demands.
Summing Up: Pick Up the Best Customer Service Software
For the business, it is important that you choose the right customer service software, which will help in the smooth functioning of the business as customers are the main aspects considering the business.
So, it becomes essential to choose the right software and learn how to incorporate the right customer service management strategy.
All this can significantly impact your company's success and growth.
📌One of the important reasons why you should not avoid customer service software for business is because
76% of customers would switch to a competitor due to multiple poor customer service experiences.
Keep in mind to consider all the significant aspects like team size, business goals, and expansion plans before making any decision.
If you're looking to serve yourself with improved customer communication and services, Desku might be an excellent option for you to get the complete customer service solution by facilitating customer relationship management as it is one of the most affordable and curated for all business types.
The best thing is you can look yourself up by opting for 7-days Free Trial along with 24/7 customer service at your fingertips.