Can Happyfox alternatives work as well as Happyfox itself? 
Yes, if not better! 
A business undoubtedly aims to provide exceptional customer support to its customers. But without the right tool, that is quite a task. 
Happyfox is one of the most well-renowned customer support tools which has earned a good reputation owing to its great features. 
But this blog is for the ones who are looking for a few alternatives to Happyfox or if you are simply looking for options to have a great customer support tool. 
What is Happyfox?
HappyFox is a cloud-based customer relationship management solution software that provides help desk and ticketing system solutions to businesses across manifold industries as an overall customer support platform. 
It is a practical help desk software that provides omnichannel support for customer requests for a seamless customer experience coming from email, web, phone, and other social media platforms. 
HappyFox as a help desk solution integrates with email accounts and websites to ensure that all support requests get responded to in an organized way, along with it being assigned to the right person. It also offers canned actions and AI-powered smart and automated responses to similar customer support queries within the organisation. 
HappyFox offers affordable monthly plans starting from $39.00/month. 
Top 7 Happyfox Alternatives and Competitors in 2024
1. Desku
Desku.io has really claimed a name among its competitors owing to its fantastic features and ease of use. It is AI-powered helpdesk customer support software that helps any business streamline content queries under one platform. 
Shared Inbox is one of the important features as it streamlines customer queries from multiple platforms and it is pretty manageable and hassle-free.
Proactive Live Chat is highly customisable, and the best thing about it is that it does not disrupt your branding. Knowledge Base and Chatbot can be easily embeddable in the Live Chat widget. Customers can easily get in contact with the support.
No-Code Chatbot Builder is perfect and quick for instant conversation with customers in the absence of a customer support agent. It is just and drop conversational interface and build it in the best ways according to the business.
It is a customer service platform that provides effective customer solutions helping to streamline everything under one. The best thing about Ecommerce Businesses, especially Shopify and WooCommerce is that they can integrate and connect their own store.
Here we have highlighted key features and it's advantages of Desku;
Features
Seamlessly easy user interface

AI automation and native AI benefits

Pricing with 0 hidden charges

Onboarding is the smoothest experience with Desku

Fantastic Customisations

Amazing Help-Desk ticketing system

Highly effective multi-channel communication management
Pros 
Ultimate customer satisfaction with a fast and efficient support system

Amazing AI capabilities 

Fantastic Customisations

Multiple Speedy and Effective Operations in an all-in-one platform 
Pricing
The pricing plan starts at a very nominal US$ 29 per month per user. 
2. Freshdesk
Freshdesk is a customer support suite that offers a shared inbox, live chat software, a knowledge base builder, and AI-powered automated responses which is one of its costly features. 
It is considered very similar to ZenDesk because they literally split their plans into two groups – support desk and omnichannel of Fresh Desk.
Features
Ticket tracking

Effective Sales funnel management

Task tracking

A great omnichannel help desk

Service history kept intact

Automation, artificial intelligence, and such chatbot capabilities

Effective Team Collaboration

Amazing communication management across multi-channels
Pros 
Easy to use and learner-friendly 

Seamlessly customisable

Great multi-channel support

Effective customer engagement and management features

Ticket automation so that they can go to the right agents
Cons
Automation is limited 

Issues with integration

Features can be less customisable at times
Pricing 
It is an open-source platform (Sprout). The paid plan (Blossom) starts from $15 per agent per month.
3. Zendesk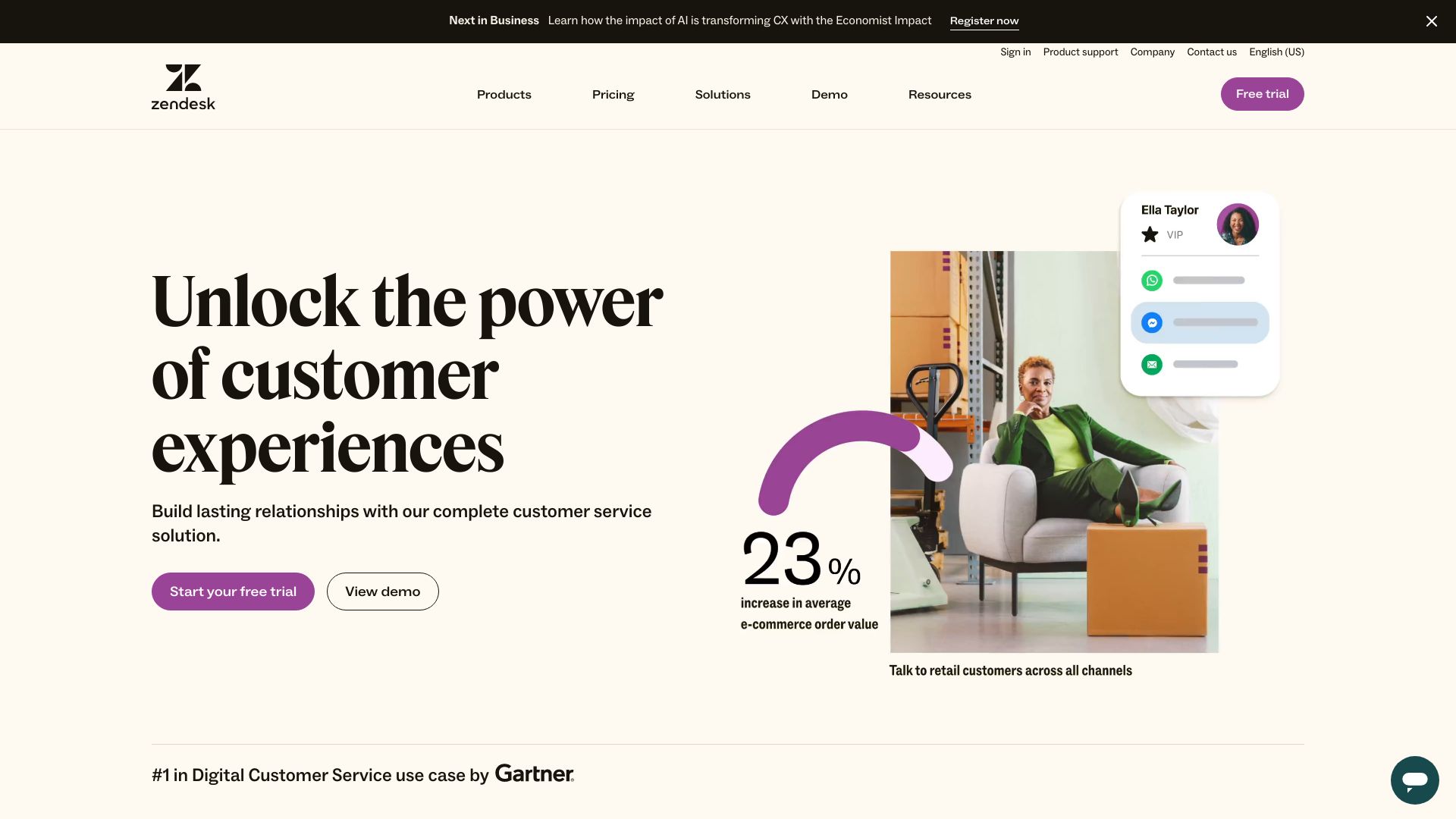 Zendesk is a popular help desk software that offers two distinct types of plans to their users, namely, foundational and suite. 
Zendesk looks well after enterprise-level organizations looking to work with customizable workflows.
Given below are some excellent features, pros, cons, and pricing of Zen Desk:
Features
Good omnichannel ticketing system

Good AI-powered chatbots

Well-customisable chatbots

Very advanced level reporting and analytics

Self-service and great collaboration 

A handy mobile app  
Pros
Very easily customised

Multi-Brand support features

Ease of overall use

Automated ticketing system for the assignation of different agents
Cons
Very lengthy set-up time

Integration issues 

Very limited customisation present for the mobile app

The price is comparatively much higher as compared to others with the same features.
Pricing
Four pricing plans, starting at US$ 5/agent/month (Essential pack).
Read More:10 Best Zendesk Alternatives for Your Business in 2024
4. Zoho Desk
Zoho Desk is a cloud-based customer service software that offers various features. It is known mostly for pulling in customer problems and responses into a single platform with a clear interface. 
As a customer support platform, it is considered to generate lesser ROI than Happy Desk and is also more expensive. 
Given below are some of the exciting features, pros, cons, and pricing of Zoho Desk: 
Features
Manage customer interactions over the phone, live chat, emails, SMS, etc

The ticketing system is omnichannel and effective in nature

Automation and AI-powered chatbots

Customisable platform

Seamless collaboration

Well-known reporting and analytics tool
Pros
Very-feature rich

Zia

Self-service system

Productivity of agents at the maximum

Good customisation

Automation 

Customer-engagement tool
Cons
Very less number of agents can use one plan

AI automation only allowed for higher plans

Very limited customisations for the mobile app

Issues with integration
Pricing
Zoho Desk offers four plans, with a free plan, and the paid plan (Standard) starting at $18/agent/month. 
5. Kayako
Kayako is another cloud-based customer support platform for effective service and engagement. 
The ease of use and the ease of customisation offer impressive multi-channel support for its users. 
Given below are some interesting features, pros, cons, and pricing of Kayako:
Features
Effective omnichannel ticketing system

Document management 

Service level agreement (SLA) management 

Fantastic real-time monitoring

Call Me Option

Knowledge Base

Visitor Tracking

Issue Tracking
Pros
Top-notch Ticketing

Very customisable software

Great for learners and is user-friendly

Automation of the ticketing system 
Cons
Reporting is not that great 

Integration is poor
Pricing
The starting price at US$ 1080 per agent per month.
6. LiveAgent
LiveAgent is a customer support platform with a great ticketing system, live chat support, and additional features for effective customer service.
Given below are some exciting features, pros, cons, and pricing of LiveAgent:
Features
Omnichannel and universal help desk

Advance chat features

Live chat software

Star-of-the-show ticketing system for smooth functioning

Proactive communication

Organised Multichannel communication 
Pros
Fast implementation and very easy to set up

Organized communication through the effective ticketing system

Chat features are advanced and easy to use
Cons
It's complex to work with Mobile App's interface

Less-integrated 
Pricing
Starts at US$ 9 per agent per month.
7. Help Scout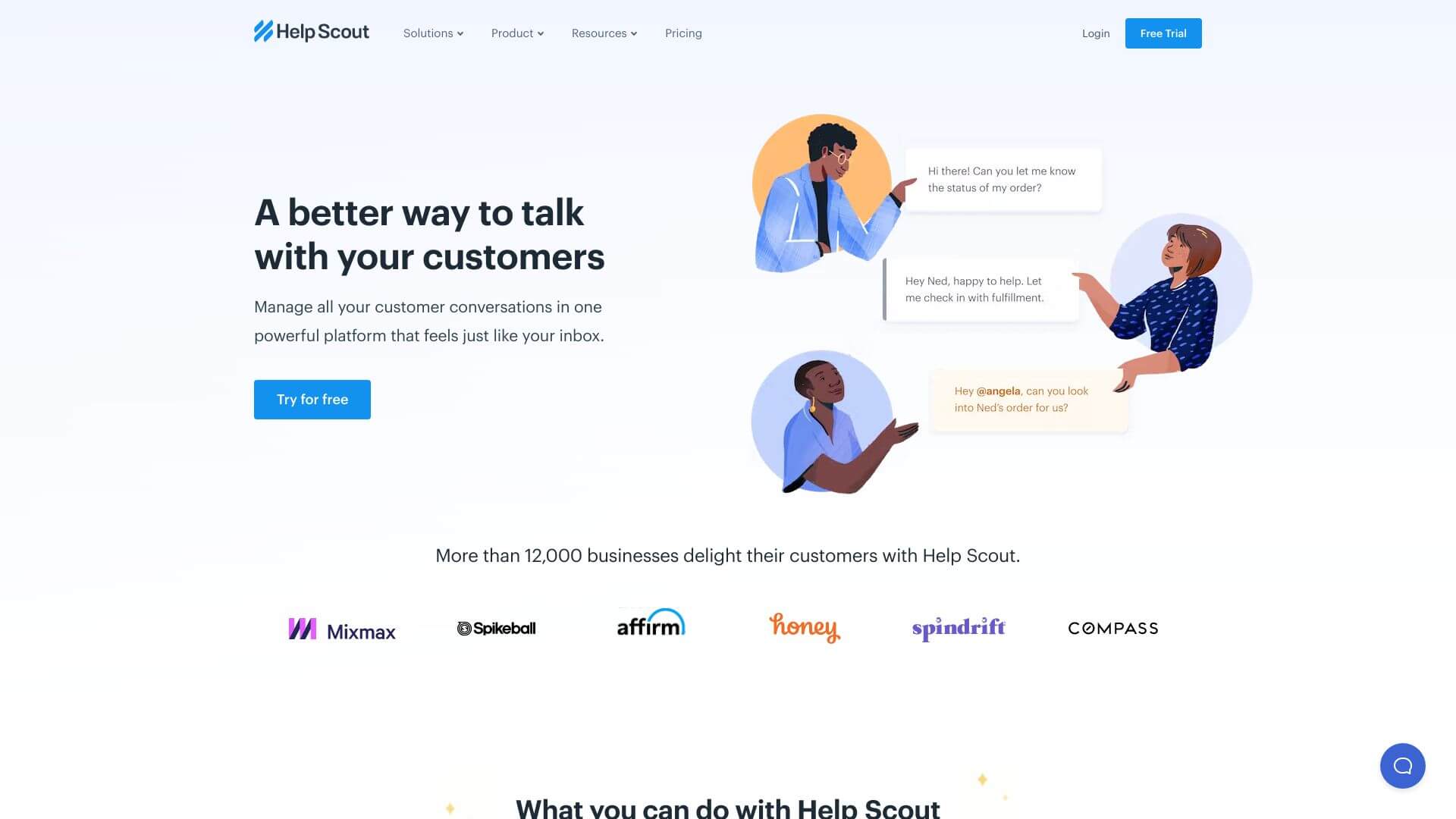 Help Scout as a customer service software is liked and similarly supported by people because it is very easy to use, offers a pretty effective ticket system, and is an affordable option. 
Given below are some of the interesting features, pros, cons, and pricing that Help Scout offers:
Features
Email-based ticketing system, effective and convenient

Self-service portal

Inbox Queue Management

Amazing collaboration tools

Reporting and necessary analytics

Customisable workflows

Integrated with other software applications as well

A handy mobile app

Document management
Pros
Beginner-friendly as it is easy to use

Affordable pricing structure

Effective ticketing system

Features for customer engagement 
Cons
Limited automation

Limited customisation

Limited features 
Pricing
Two basic prices start from $1440 per user/month.
8. DelightChat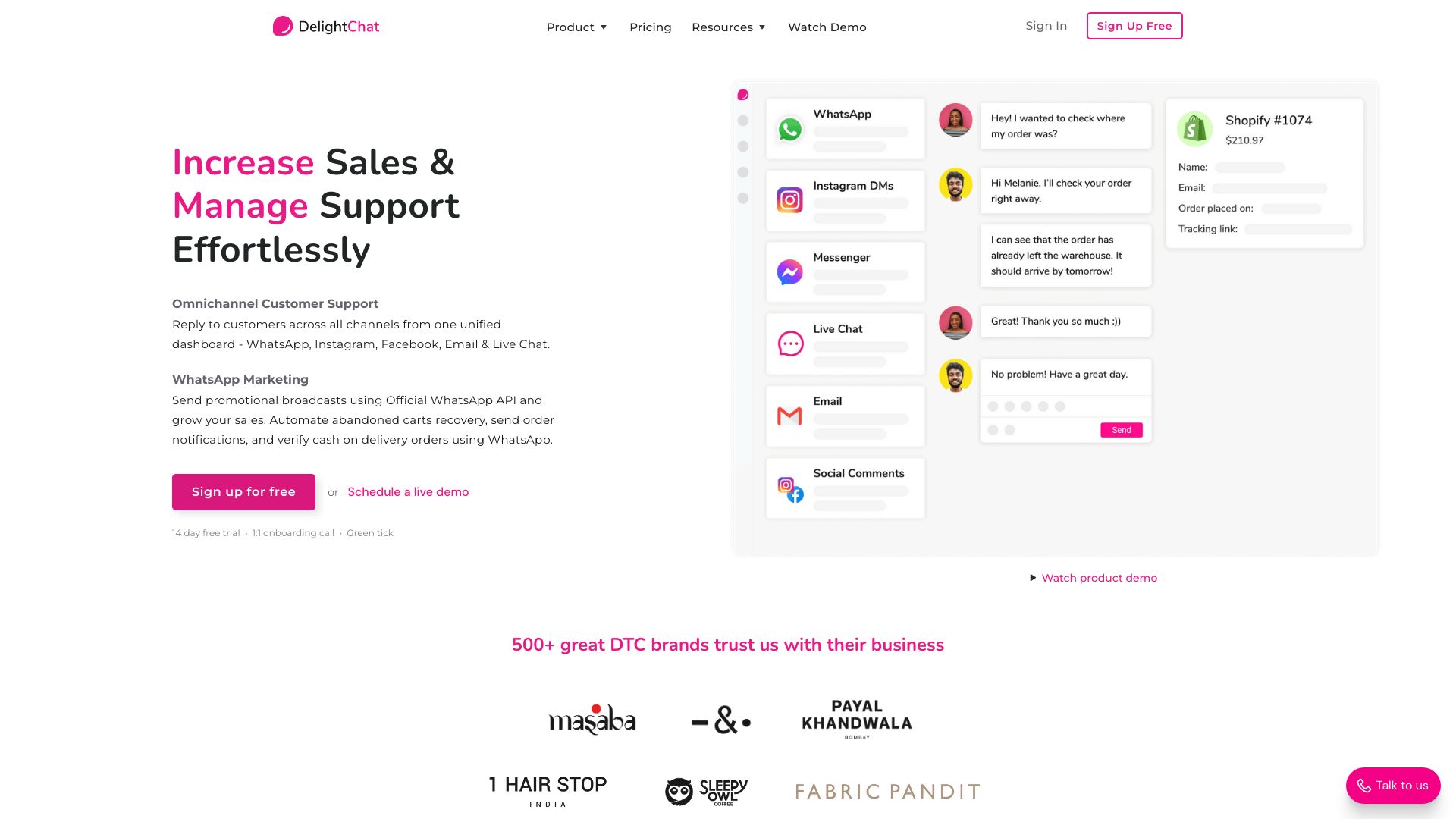 DelightChat is a popular live chat platform created specifically for SME brands that lets them provide excellent customer service. It is built with a conversation-first approach that lets you resolve customer queries and manage your store's support from a single screen. 
Features:
Omnichannel support

Effortlessly automate repetitive tasks

Reduce tickets with self-service

Deep Shopify integration

Simplified and productive collaboration
Pros:
Provides great value for money

There is no penalty if you add more users to increase your customer support activity.

Seamless team collaboration within the application
Cons:
Integrates only with Shopify for now
Pricing:
Startup:

$49/month + WhatsApp charges

Scale:

$99/month + WhatsApp charges

Growth:

$299/month + WhatsApp charges
9. Tidio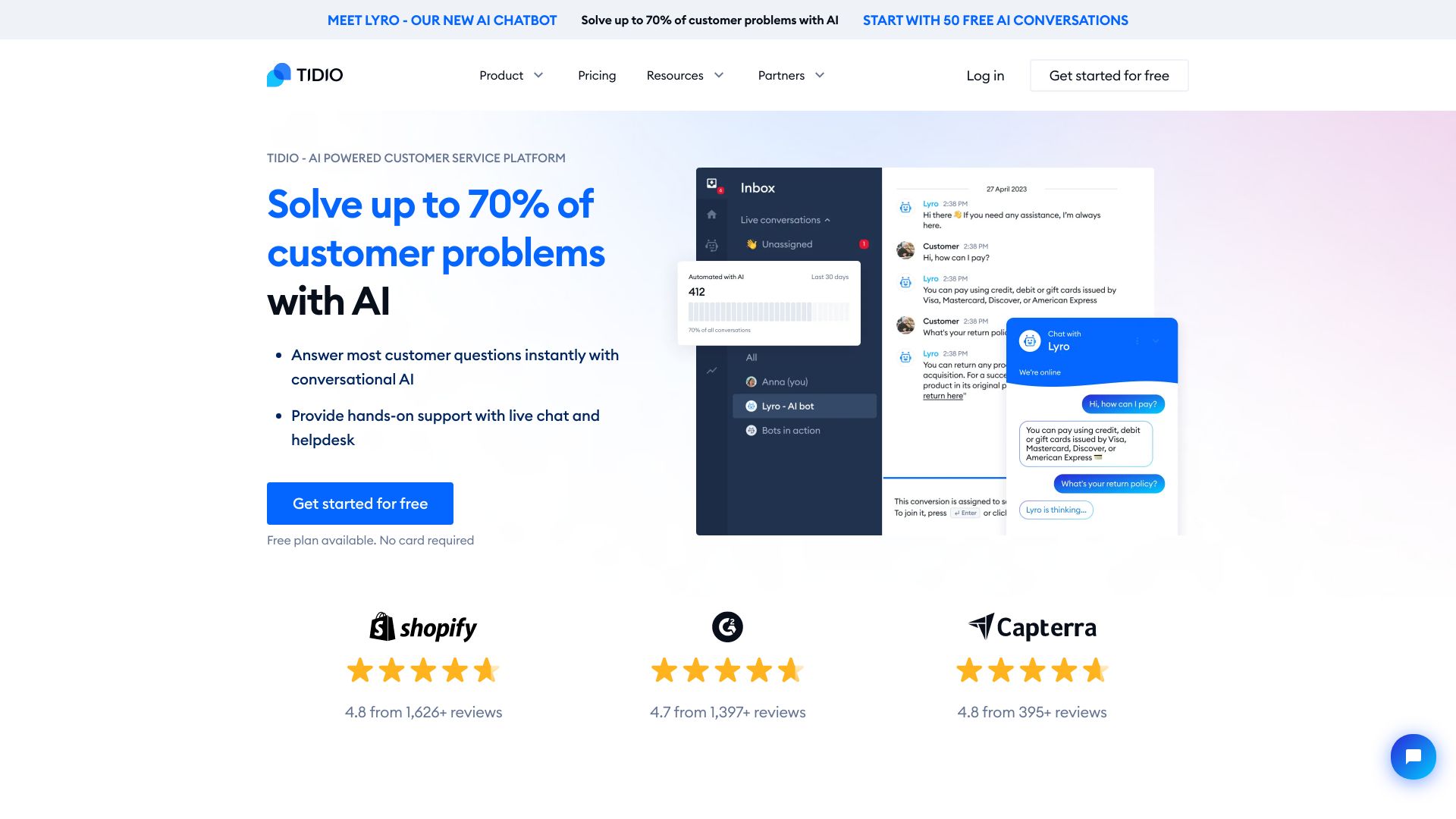 Tidio serves its customers with a live chat feature embedded with chatbots to boost your sales generation and customer engagement. It also offers a shared inbox to communicate with the support agents from multiple channels, like Instagram, Facebook, and Messenger.
In addition, Tidio analyses customer satisfaction and behaviors to provide you with better outcomes. It can also benefit you to get in touch with visitors and offer proactive customer service. 
Features:
Multichannel shared inbox

Integrates with WooCommerce, BigCommerce, And Shopify Apps

Proactive customer service

Visitor profiles with information including pages visit, contact details, and locations 
Pros:
Allow teams to monitor chats from emails, messenger, and live chat from a single-screen

Customised widgets
Cons:
The tool cannot fulfil specific requirements

Additional charges for every additional user
Pricing:
Free version available

Communicator:

($19/mo/operator)

Chatbots:

($49/mo)
10. Gorgias
Gorgias is the idle Happyfox alternative dedicated to ecommerce businesses. It eases customers with a shared inbox workspace to make communication more efficient and responsive.
It comes with an attractive suite of analytics features, including social media sentiment analysis to see users' reactions to how they feel about your business. 
Features:
Integrates with BigCommerce, Magento, and Shopify

Omnichannel support

Reporting & analytics

Centralise all support tickets in one location

Increase conversion rates
Pros:
Chatbots templates available

Offers Social media sentiment analysis
Cons:
Ideal for ecommerce business only.

Might face technical issues during system updates
Pricing:
Basic:

($60/month)

Pro:

($360/month)

Advanced:

($900/month)

Enterprise:

contact the sales team
11. Kustomer
Kustomer is a CRM software that provides access to a knowledge base builder, live chat, and shared inbox software. They have an AI product known as Kustomer IQ, designed to help you handle basic customer service requests and ticket deflection.
Features:
AI-powered customer service

Ability to add custom objects to profiles

Ensure data security

Visual theme builder

Multi-brand support

Integrates with Acuity Scheduling, Ada, Babelforce, Amazon Redshift, and more.
Pros:
Instant query resolution

Code-free configuration
Cons:
Email Thread visibility

GUI needs improvement
Pricing:
Enterprise:

$89/user/month

Ultimate:

$139/user/month
12. TeamSupport
TeamSupport is the best alternative to HappyFox for providing B2B customer support with the help of a Knowledge base builder, live chat software, and shared inbox feature. 
Moreover, you'll also get some advanced customer management features, such as different SLAs for different customers, a customer health dashboard, and in-depth customer profiles to keep your team updated and informed to meet customer needs. 
Features:
Great customer management

Provides better customer relationships

Ticket management

Use internal chat for prompt responses

Track customer issues by product

Reporting & analytics

Omnichannel support
Pros:
Use ticket deflection to minimise incoming tickets

Manage product lines

Access a shared calendar with task assignments
Cons:
Live chat software is only available at higher plans
Pricing:
Essential:

$49/month

Enterprise:

$69/month

Suite:

$119/month
13. Front
Front is the great Happyfox alternative for teams using a personal email address.
Support teams usually have a group email address ([email protected]), but in some cases, it is not ideal. If so, Front might be a perfect option for you. It's a shared inbox tool that allows customers to respond from a personal email ID.
In addition to this, they have some collaborative tools such as ticket assignment capabilities and internal notes. The platform also features some productivity tools, including basic automation.
Features:
Offers collaborative tools

Insights & analytics

Automated workflows

Seamlessly integrates with Slack, Telegram, Instagram, Twilio, and more

Self-service for customers

Omnichannel inbox
Pros:
Availability of customer tagging feature

Helps in sorting messages into group inboxes
Cons:
Automation is limited to higher plans
Pricing:
Starter:

$19/2 agent/month

Prime:

$49/5 agent/month

Enterprise:

$99/10 agent/month
Why Look for Happyfox Alternatives?
There are several reasons responsible for opting for Happyfox's alternatives. Here we have listed a few of them:
Phenomenal Features
Some businesses may have different needs. Happyfox does not have all the features needed for a particular business to function effectively, exactly why they should simultaneously try other options
The Affordability Factor 
Happyfox is not going to be very affordable to use for all businesses, if some business finds a better alternative, they should go for it. 
Multiple Customizations
Happyfox is reported to not offer as many customisations as is needed by businesses to tailor to their specific needs. Some other customer service platforms may have better customisations available for a business
The Support Factor  
Happyfox is not extremely supportive of businesses looking to find customer service and training. Businesses will find other options with better customer support and training options. 
Conclusion: Which Happyfox Alternative Should You Go for? 
Choosing a customer support platform is subjective. It totally depends on the business and the roles they want to perform as a customer support software. 
Choosing the right Happyfox alternative is similar to the above concept. It can only be decided after a company has tried and tested the other tools. Therefore, choose the toolbox as per the company's objective and want to fulfil your desired dreams.
However, if you are looking for optimum customer satisfaction as a customer support platform, Desku is the right platform for you. Its highly integrated features are catered for maximum customer engagement and it uses effective automation and a ticketing system for generating maximum ROI for your business. When in doubt, choose Desku.
Frequently Asked Questions
1 Is Happyfox a good customer service tool?
The answer is yes and no. Happyfox will be a good customer service platform for businesses who are happy with its specific features and functions, but with businesses having different needs, some other tools might work better.
2 Is Desku a good alternative to Happyfox?
Desku is an amazing alternative to Happyfox, if not the best. Laden with some outstanding features and some amazing advantages along with affordable pricing, Desku is one of the best customer support platforms out there. 
3 What are the best alternatives to Happyfox?
They are Desku, Zen Desk, Fresh Desk, Kayako, Help Scout, Live Agent, and Zoho Desk respectively. Read the blog to find out the best alternative to Happydesk for your business.