Can anyone offer you the best HelpCrunch alternatives that could result in excellent customer satisfaction and increase your overall sales?
Well, you need not worry about it!
HelpCrunch is a fully-featured customer support software that is not very expensive.
But, we should also accept the fact that it is not the appropriate software for every business
Irrespective of how it looks on the surface. There is a bundle of hidden flaws inside it that crushes the high expectations of businesses, pushing them to search for better alternatives.
Users leveraging HelpCrunch are unhappy with the problems they usually encounter; some complain about its lack of essential traits in the basic pricing plan.
There could be various reasons to look for HelpCrunch alternatives. Whether you've just begun your search, or looking for some other customer support tool, we are ready to help you out!
HelpCrunch Software Tool
HelpCrunch is a customer support streamlined for startups and small businesses and is a well-known customer support tool in ecommerce business.
The founders of HelpCrunch started their company as interaction with customers resulted in detrimental interaction with their existing business.
The HelpCrunch team has created an excellent all-in-one customer communication platform that centralises various channels into one inbox to facilitate SMBs for an excellent customer experience.
You are probably here as you might see some features of HelpCrunch that are not enough to convince you and push you to go for some of the HelpCrunch alternatives that fit your needs. 
HelpCrunch support tool can help you with a knowledge base, a help desk, and a live chat; despite all this, it has some drawbacks. 
This is the primary reason why many businesses are looking for HelpCrunch alternatives. 
Now comes the question: Why is there a need for HelpCrunch alternatives?
Let's take a deep dive into it!
Why Look for HelpCrunch Alternatives?
Various reasons force or encourage you to look for HelpCrunch Alternatives.
HelpCrunch has a good knowledge base solution, but it is far behind some customer service tools leading the market today. 
Like other famous tools, HelpCrunch does not provide third-party integrations, which restricts the capabilities of its knowledge base. 
Besides this, it also lacks traits like multiple language support, a workflow approval system, and ready-to-use knowledge base templates.
Most tools provide the basic features in their plan, but HelpCrunch is not an open-source tool, which means you need to splurge $12 per user/month (starting price) even for basic features
The reporting system of HelpCrunch is below average because the information it offers is insufficient.
While it gauges two key metrics:
Failed articles, and 

Searches
It fails to tap into other significant performance metrics, such as author activities, articles with bad ratings, and broken links. 
It can be a huge challenge for those who expect a robust reporting system.
11 HelpCrunch Alternatives to Consider
Desku 
Desku is one of the best HelpCrunch alternatives, as it is an all-in-one customer support platform with a great knowledge base.
It facilitates business owners to add self-service blogs for a great customer experience. 
Therefore, it becomes crucial for users to learn deeply about this platform.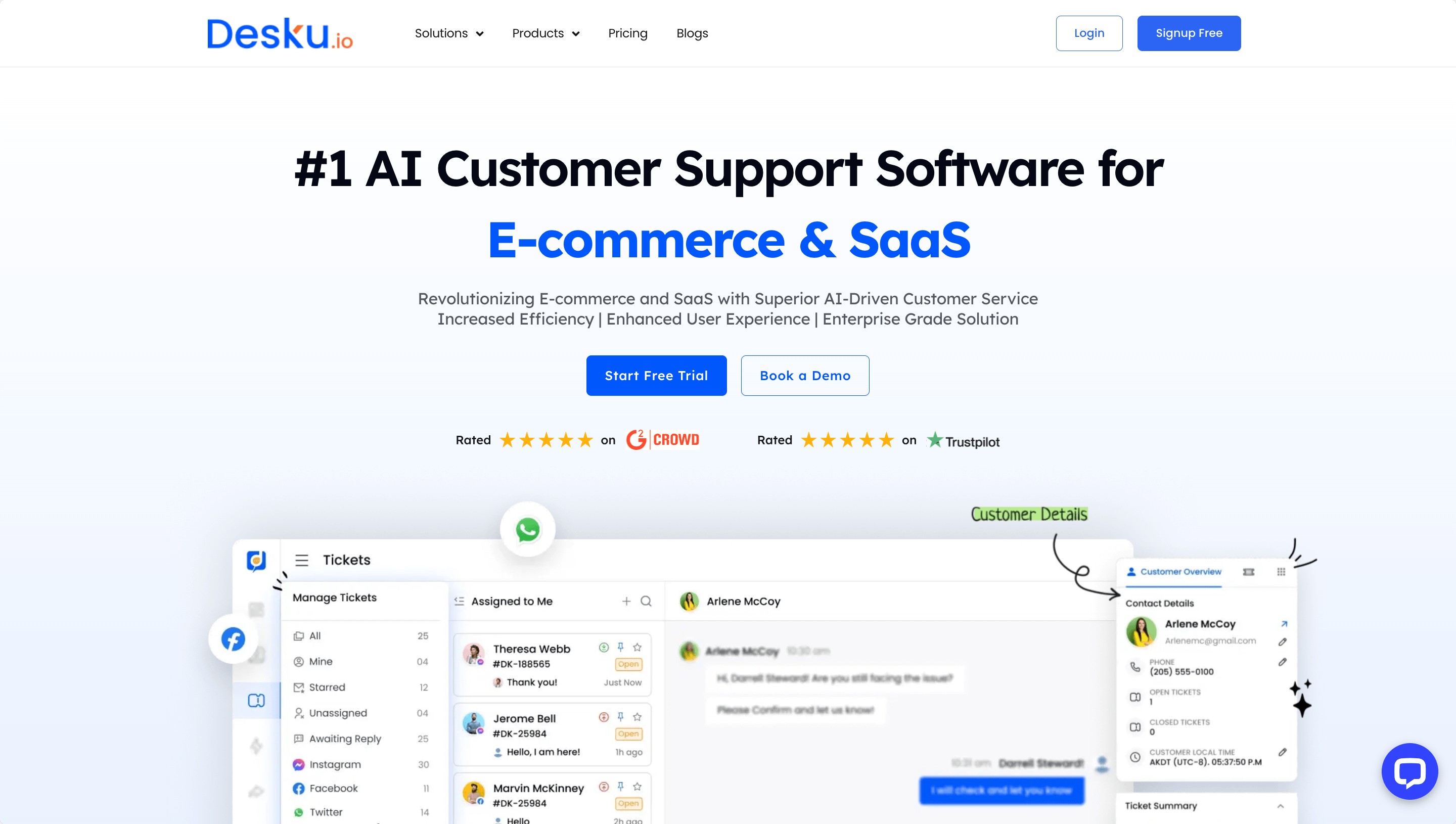 Moreover, you'll love its outstanding features, which can't restrict you from choosing this tool.
One can collect information from the Desku knowledge base that can be easily accessible and organized. It includes articles, documents, FAQs and other resources that give solutions to common queries.
You'll face 50 per cent fewer queries and get a top-class customer support solution with Desku in no time.
Additionally, One can easily build automation using triggers, bots, rules & responsibilities, and conditions in Desku.
Key Features of Desku
Customer Support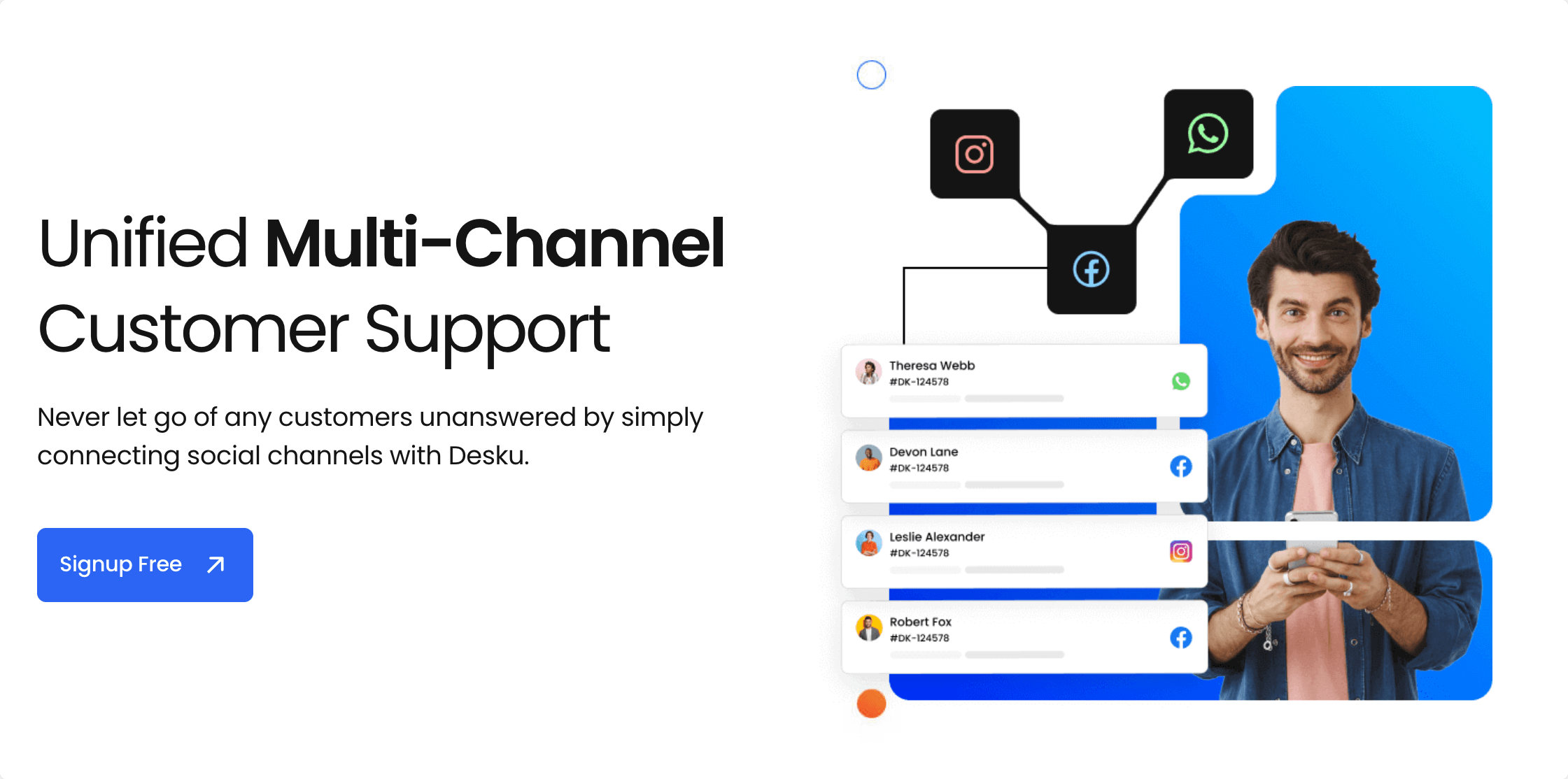 With Desku, Support teams don't have to answer iterative questions from the customer's helpdesk platform as it provides an external knowledge base to its customers. Unified shared inbox helps businesses streamline customer engagement  
Multiple Resources Knowledge Base 
Desku has no limitations in adding the number of blogs because it aids in creating a knowledge base with multiple resources. The knowledge base of Desku is rich in SEO and it brings down the easy search of wherever your customers are stuck anywhere. The knowledge base is one of the self-service options that helps to customers to help themselves.
No Internal Cost
Desku has no internal costs to add articles and handle the knowledge base. It's included in the basic price range if we discuss maintaining the current knowledge base software.
Seamless Customer Service
There's an easy way of adding informational guides, videos, images, articles, tips or tactics to help your customers provide better direction without contacting the support teams.
Ticketing System
Desku eases its customers with a great ticketing system from one place to resolve customer queries, which includes assigning, maintaining, and tracking the tickets in an entire process. 
Pricing:
Essential:

Starts at $29/user/month.

Other packages:

$59 per user/month.

Business package:

at $89/user/month.
Rating: 
4.7 out of 5 stars 
ProProfs 
ProProfs is an easy-to-use tool, and one can use it without jotting a coding line. It is designed for experts and beginners for business establishment and growth. 
It aids in creating internal and external knowledge bases for customers and employees with utmost comfort.
You can even create user manuals, FAQs, guides, and documentation with this user-friendly platform.
Key Features of ProProfs
Configure SEO settings to improve online ranking and visibility

Customise the knowledge base by changing its themes, fonts, colours, etc

Set access permission to handle the responsibilities of each member 

Create documentation, manuals, knowledge base, self-service help centre, and more

Harness the power of AI-powered reports to gauge article usage and performance
Pricing: 
Essentials:

Starts at $30/author/month

Premium:

Starts at $40/author/month

Enterprise:

  Available on Request 
Rating:
4.4 out of 5 stars
Zoho Desk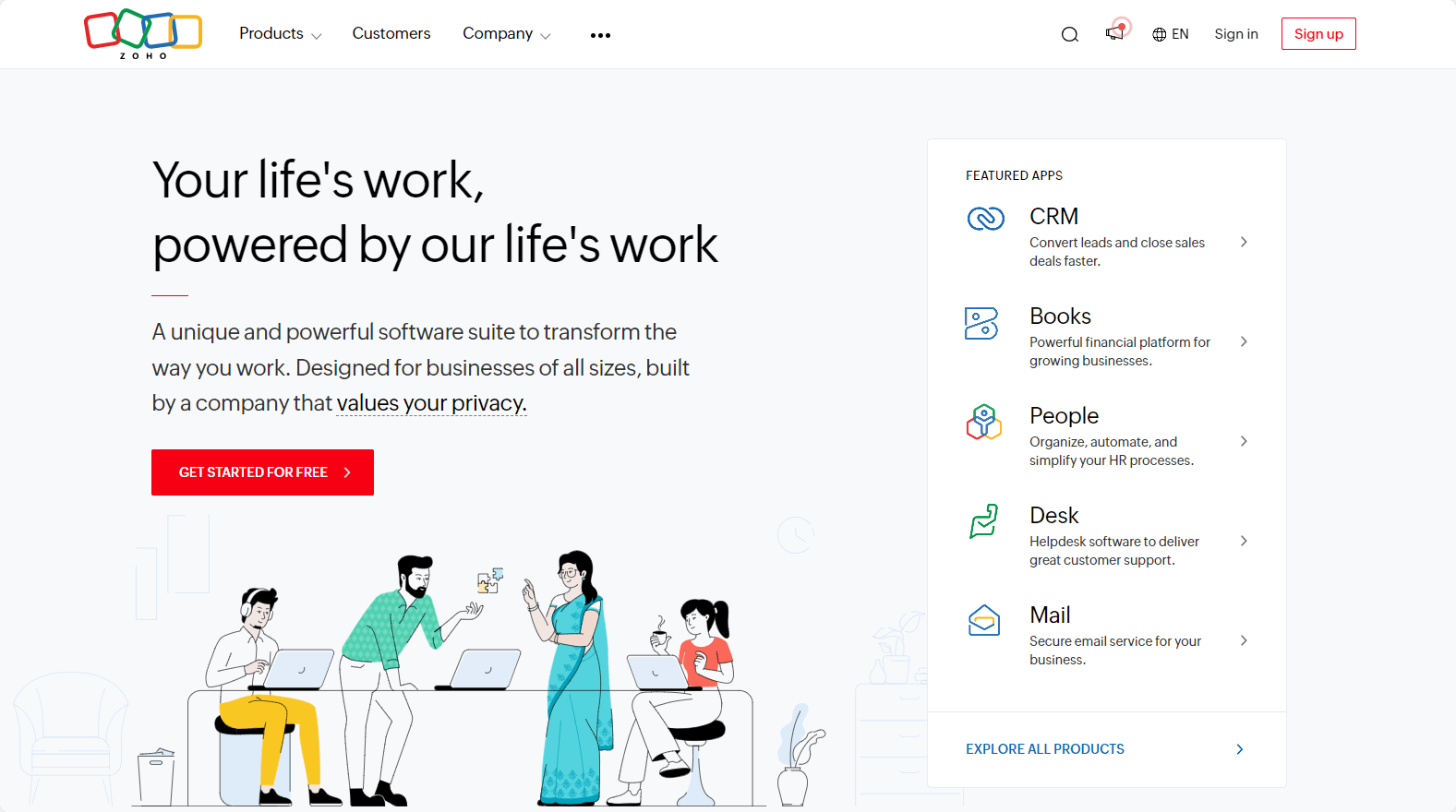 Zoho empowers your customers with smooth self-service. One can leverage the tool to build multi-branded help centres with quirky design and content. 
You can customise your knowledge base to offer a distinct appeal and look and even design a custom domain name to make it an extension of your brand.
It provides enterprise-grade security features that allow or restrict your knowledge base.
Key Features of Zoho Desk
Allow engines to travel via a knowledge base

Choose the right blogs based on the ticket keywords and quickly share them with customers. 

Help customers submit tickets within the self-service help centre

Set up limitations to handle who can leverage your knowledge base

Track article usage patterns and customer behaviour with built-in reports
Pricing:
Forever Free:

Free plan with limited features

Standard:

– Starts at $10.79/agent/month

Professional:

  Starts at $18.88/agent/month

Enterprise:

Starts at $32.36/agent/month
Rating:
4.4 out of 5 stars
HelpScout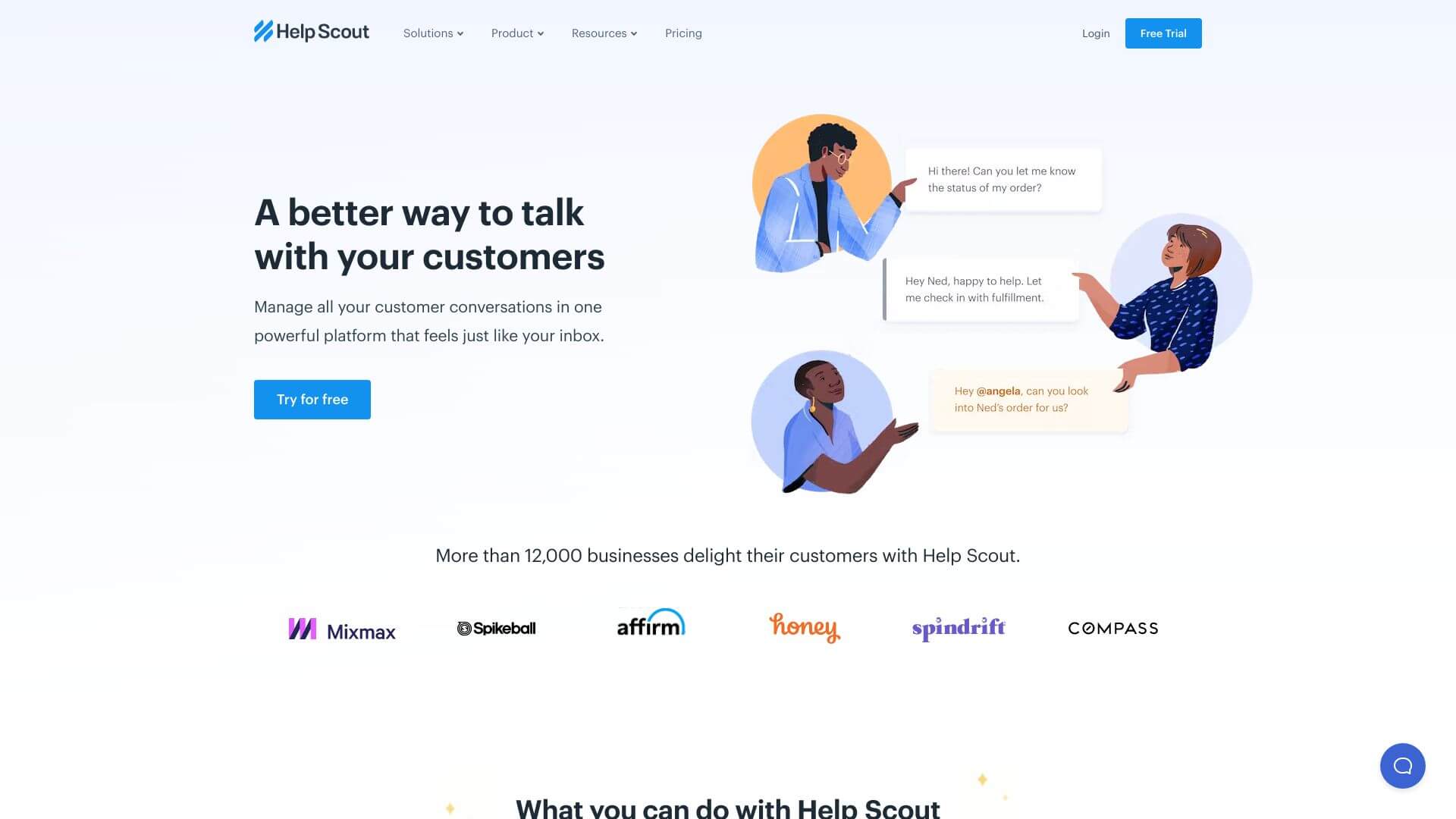 Another in the list of HelpCrunch alternatives is HelpScout, which comes with fuss-free and simple knowledge base software. It allows you to build a customer service knowledge base quickly.
HelpScout caters to its customers with manifold SEO tools, formatting options, and a powerful editor at your disposal. 
You can leverage these features to optimise it for search engines, customise it deeply, and craft content in no time.
Key Features of HelpScout
Maximise online visibility with configurable SEO options and automatic sitemaps

Share collision detection alerts in real-time when two persons start to edit the same blog

Launch self-service help centre devices like desktops, mobile, or tablets.

Use document reports to gauge knowledge-base performance metrics

Customise every corner of your knowledge base with the help of CSS 
Pricing:
Standard:

$20/user/month

Plus:

  $35/user/month

Company:

Available on request
Rating:
4.6 out of 5 stars
LiveAgent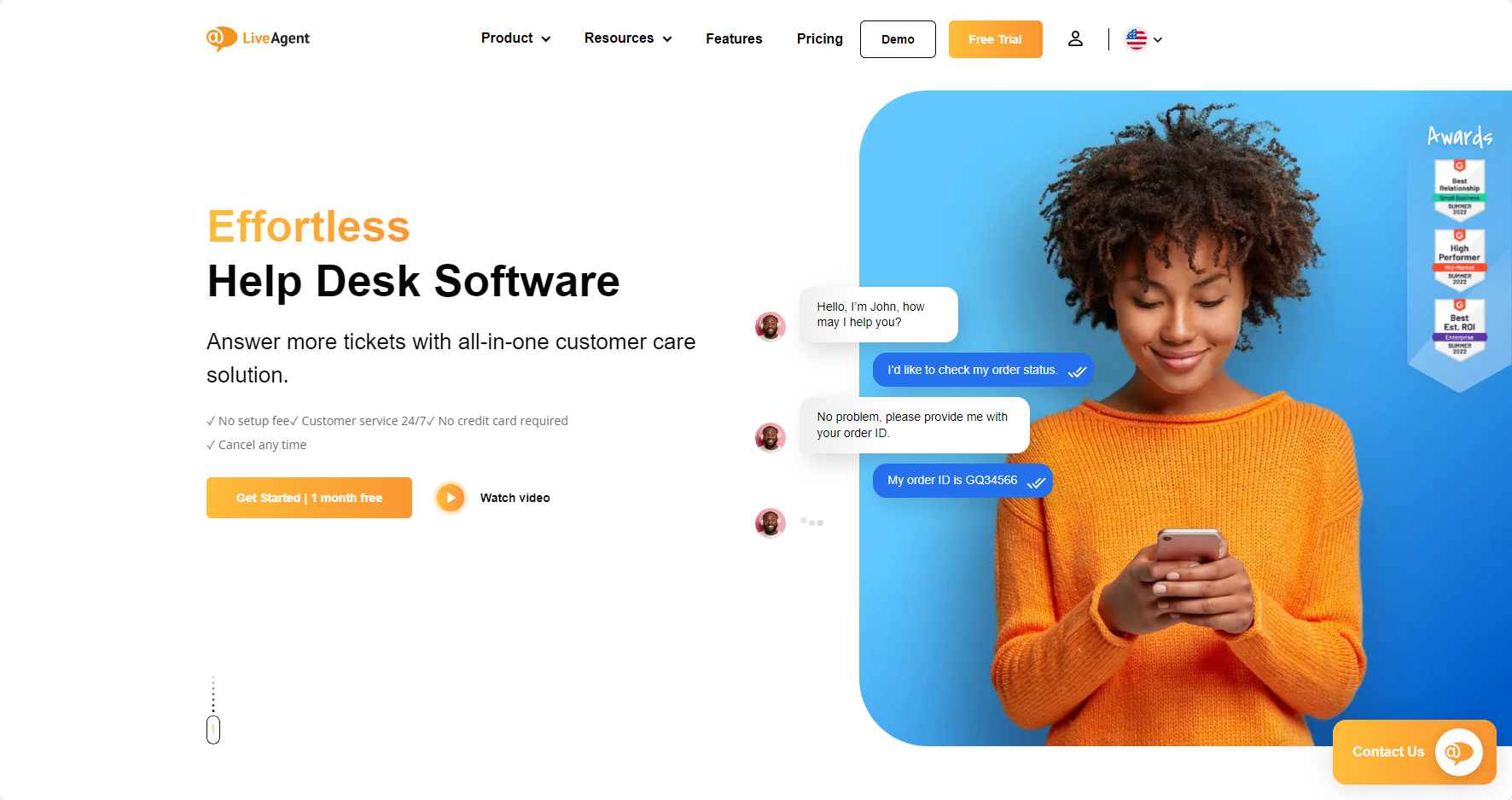 The knowledge base software of LiveAgent is created for internal and external usage. It can aid in setting up a public knowledge base for customers and an internal knowledge base for employees.
One can even leverage it to design internal and external forums that provide collaborative platforms for valuable discussions.
Key Features of LiveAgent
Create a multi-branded knowledge base with quirky design, content, and settings 

Write, edit, and style content with the help of a built-in editor

Share a blog as an attachment in ticket emails

Integrate with various communication channels like Chat, Gmail, Calls, and Facebook, and much more

Design your knowledge base for easy and quick search
Pricing:
Free:

Forever free plan with limited features 

Ticket:

Starts at $15/agent/month

Ticket + Chat

: Starts at $29/agent/month

All Inclusive:

Starts at $39/agent/month.
Rating:
4.5 out of 5 stars
Zendesk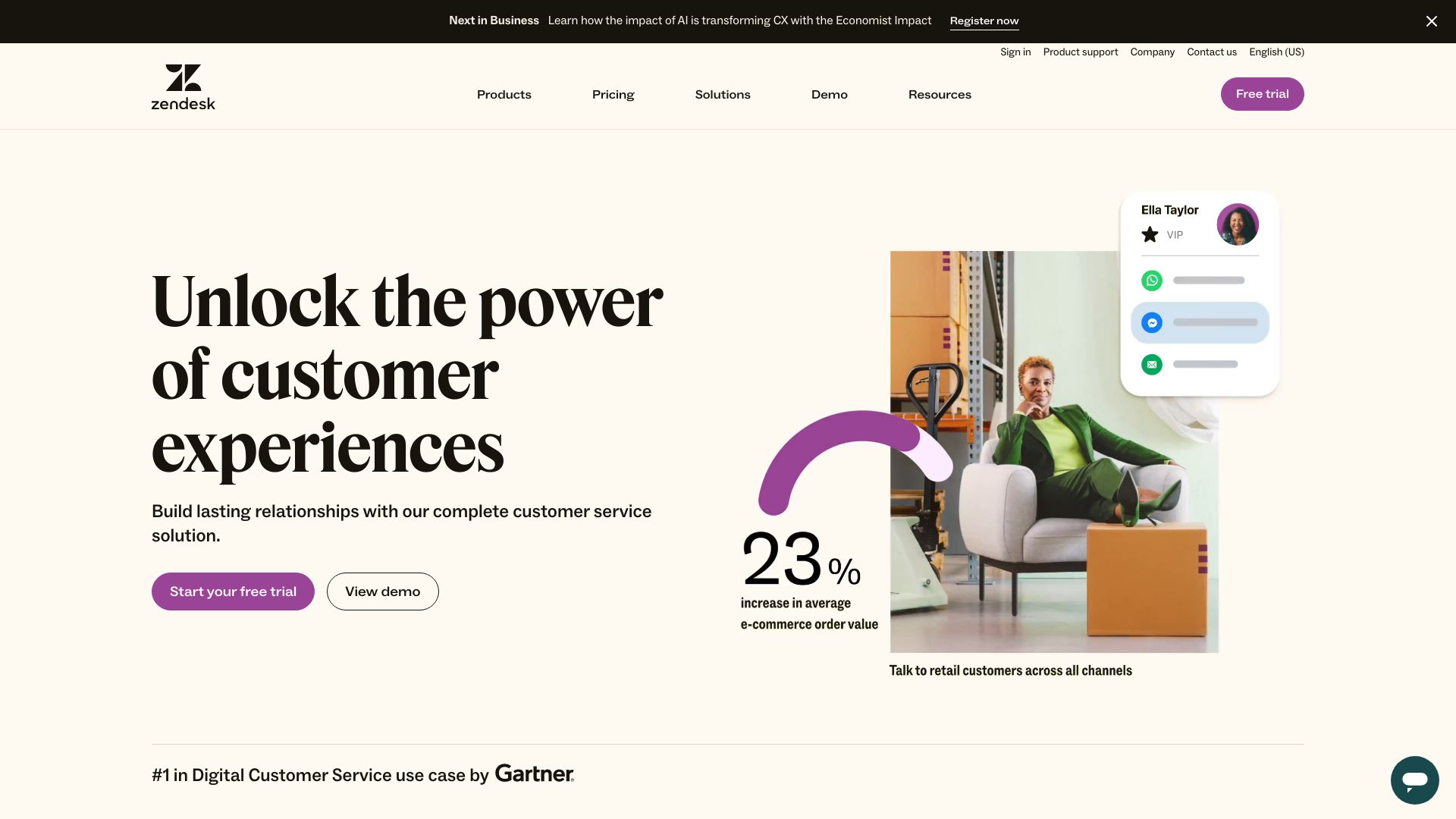 Zen desk is a well-known knowledge base software that offers a self-service solution to customers plus a handy information resource for the support team.
Zendesk knowledge base software, popularly known as Zendesk Guide, offers AI-powered content cues.
These cues aid in identifying what to remove and retail from your knowledge base based on the customer's use. 
Key Features of Zendesk 
Assigning the writing and editing work to the right people 

Localise your knowledge base blogs in more than 40 languages

Leverage customised themes to provide a quirky look to your knowledge base

Handle how your knowledge base looks plus feels by leveraging customisable themes

Manage and update the content across blogs leveraging content blocks
Pricing:
Foundational Support:

Starts at $19/agent/month

Suite Team:

Starts at $49/agent/month (Single Help Center) 

Suite Growth:

Starts at $79/agent/month (Multiple Help Centers) 

Suite Professional:

Starts at $99/agent/month (Multiple Help Centers)
Rating:
4.3 out of 5 stars
Happyfox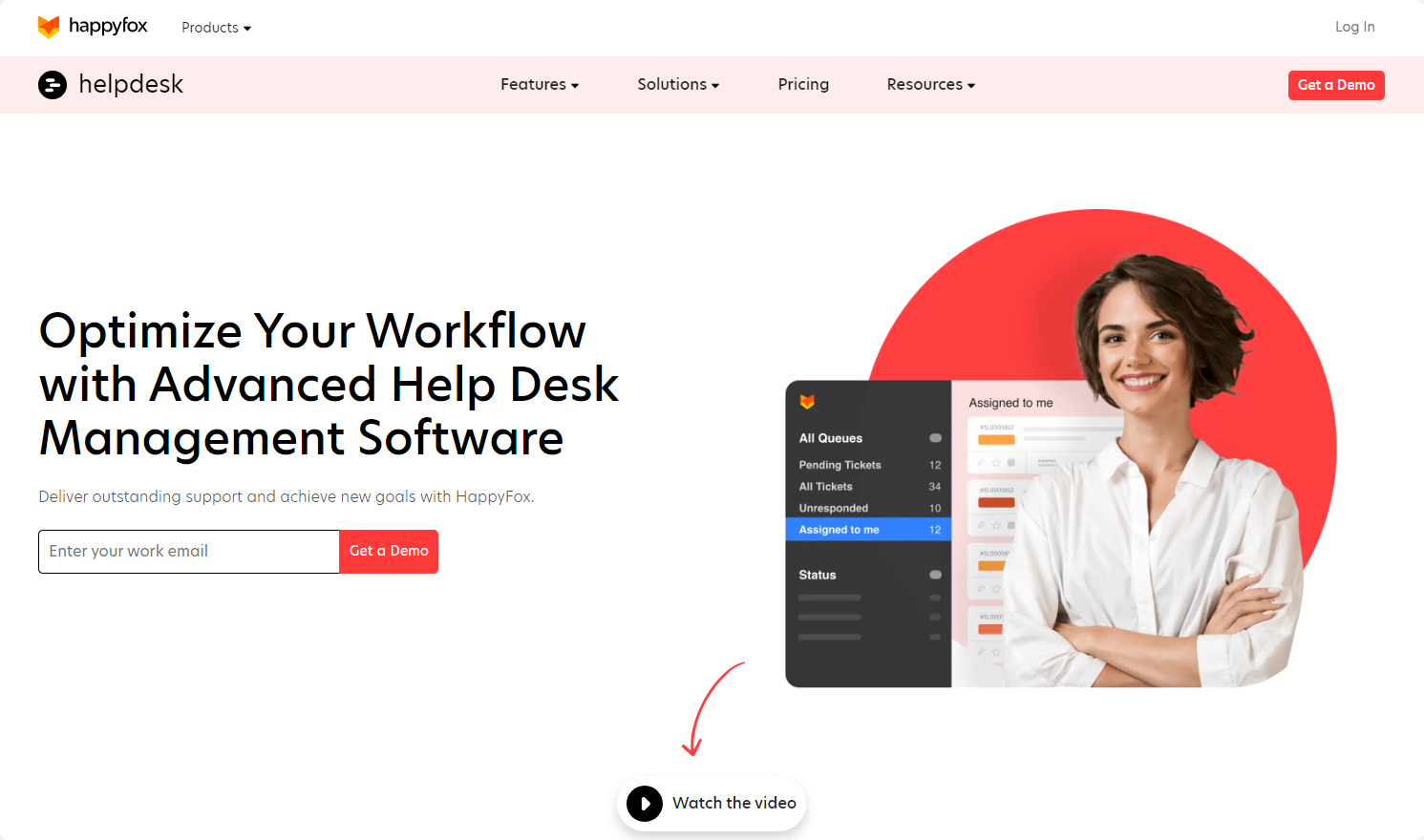 Happyfox can turn out to be a great HelpCrunch alternative if used effectively. You can build a simple online knowledge base that is mobile responsive, looks beautiful, and is social media ready.
It offers a user management system that facilitates managing user roles and allows everyone to contribute meaningfully to the content.
Key Features of HappyFox
User-responsive and mobile-friendly interface 

User management system that helps to manage user responsibilities and allows them to contribute to the content

Created for both internal and external usage

Build a multilingual knowledge base for different customers 

 Customise the knowledge base with colours, logos, links, and more.
Pricing:
Basic:

Starts at $29/month

Growth:

Starts at $49/month

Scale:

Starts at $149/month

Scale Plus:

Starts at $299/month
Rating:
4.5 out of 5 stars
FreshDesk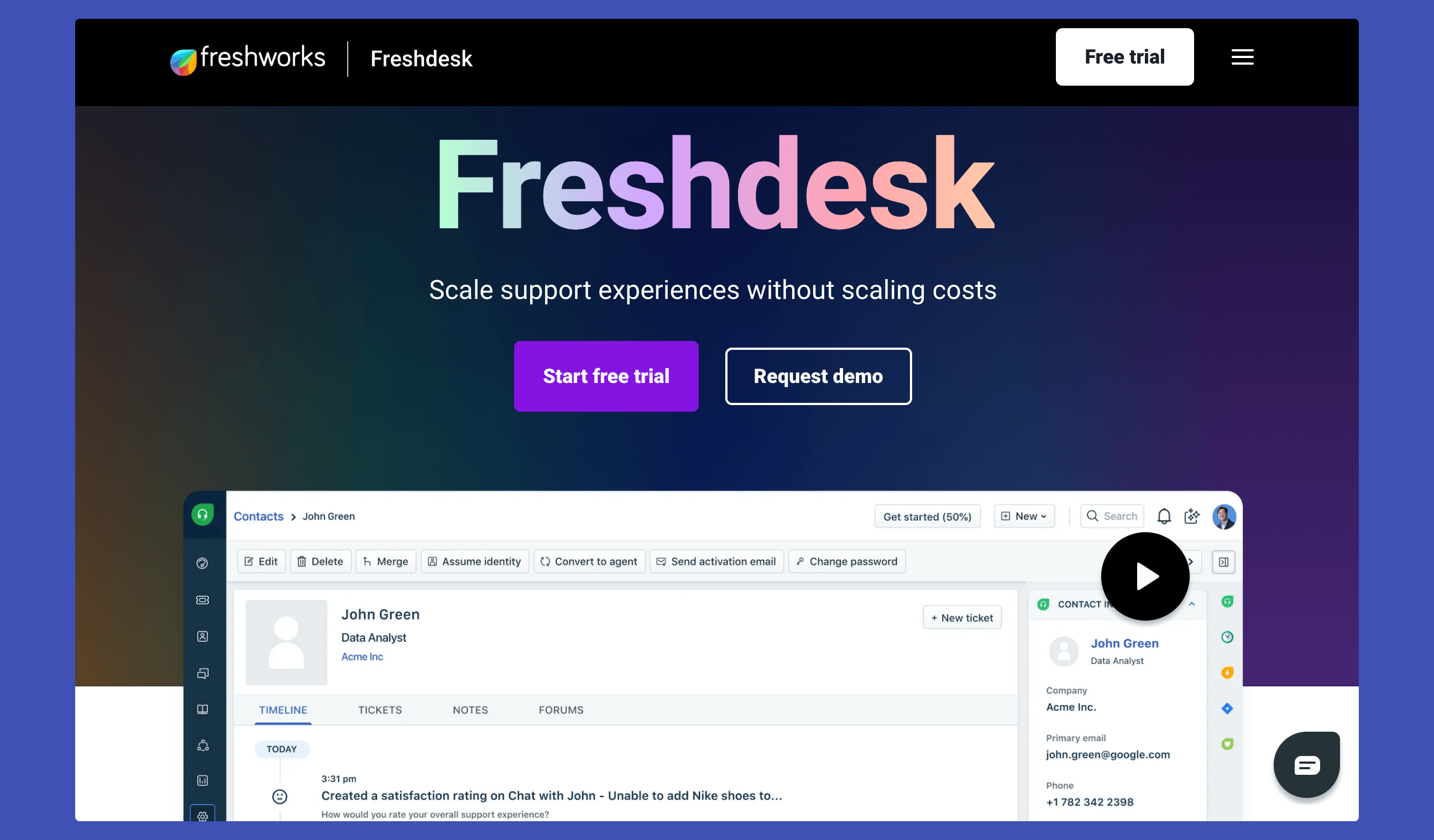 Freshdesk is an intuitive knowledge base software that provides unlimited storage space to assist your content. 
All its superb features differ from others and count it in the best HelpCrunch alternatives.
Key Features of Freshdesk
A rich text editor

Collaborative system to review your content

 A wide range of formatting options

A version control system. 

Convert ticket replies into knowledge-base blogs
Pricing:
Forever Free:

Free plan with limited features

Growth:

Starts at $13.43/agent/month

Pro:

Starts at $48.39/agent/month

Enterprise:

Starts at $76.63/agent/month
Rating:
4.4 out of 5 stars
Intercom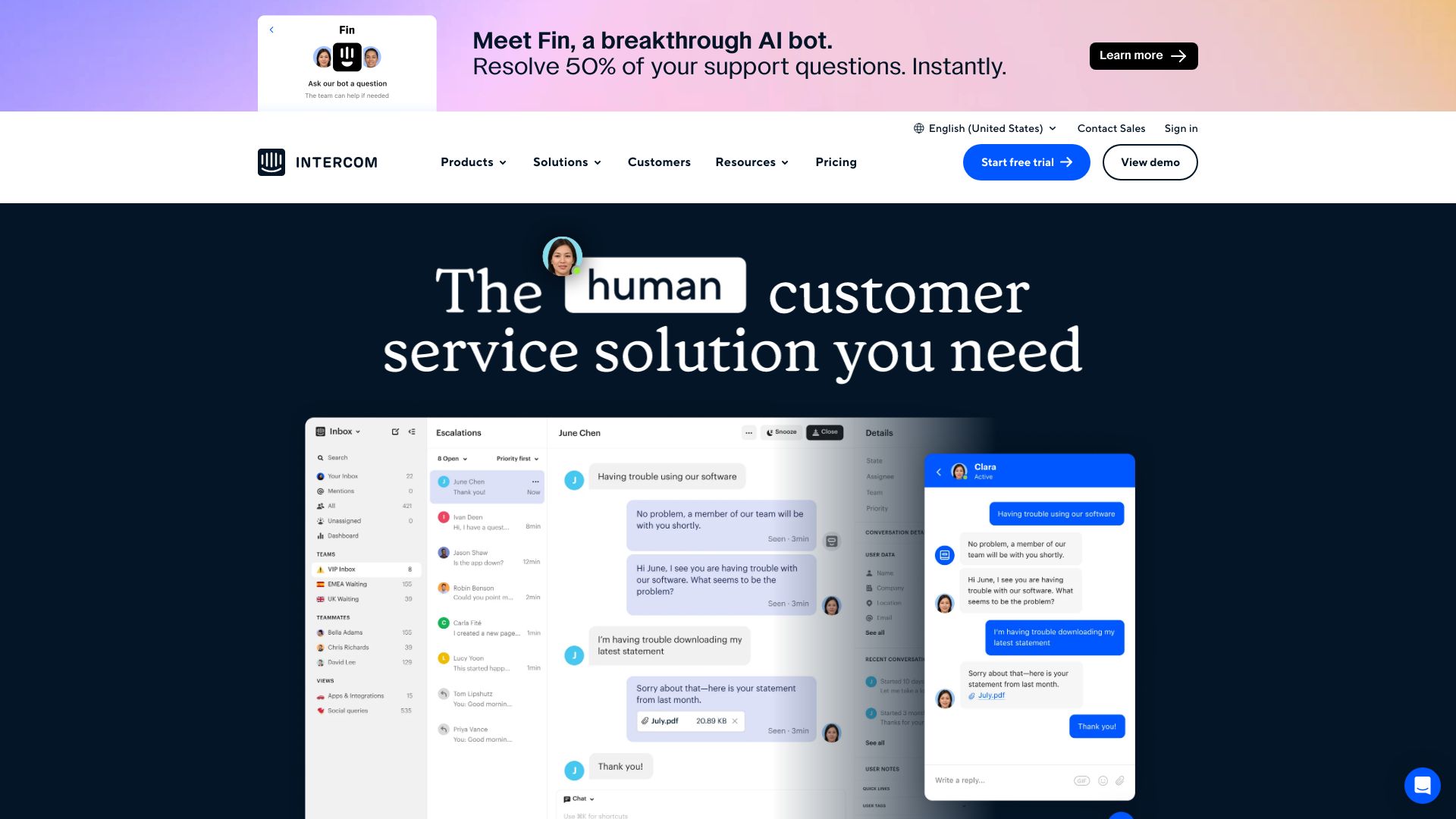 Intercom is also listed under the HelpCrunch alternatives because of its advancing features that facilitate building customer relationships.
Deliver customer help content and increase your support using an integrated knowledge base.
Key Features of Intercom
Divert repetitive questions using hot that recommends relevant blogs

Optimised for channel customer use through chat, mobile apps, website, or product messages

Customers can communicate on every blog

Create multilingual blogs for customers all across the globe

Self-service help centre 
Pricing:
Start:

$39 per month with one seat

Grow:

$99 per month with five seats

Accelerate:

$499 per month

Scale:

$999 per month

Early Stage Program:

$49 per month 
Rating:
4.5 out of 5 stars
Drift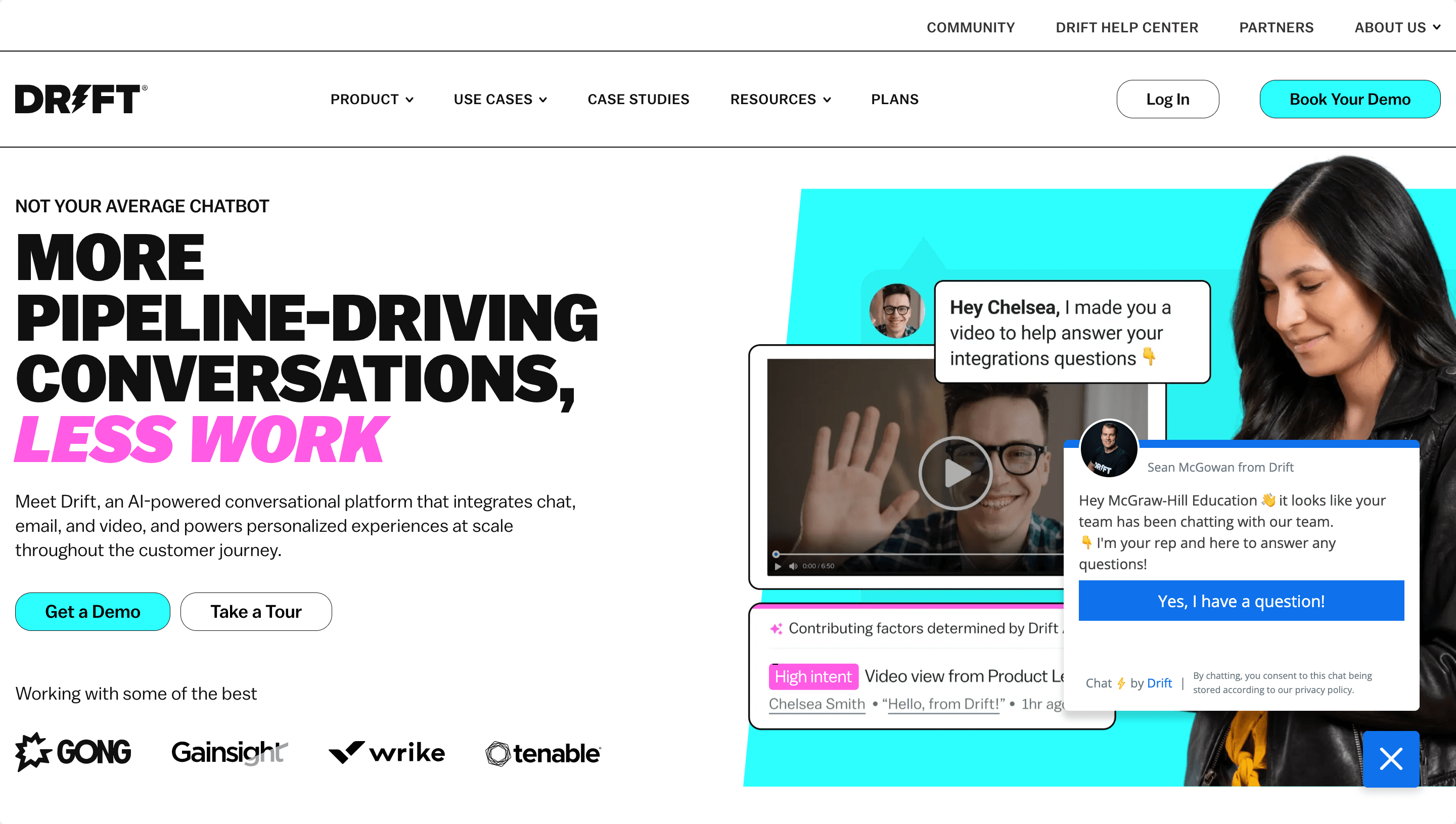 Drift is an interactive messenger you can add to your site, online business, or knowledge base.
Drift's primary aim is to promote engaging conversations with your customers. 
One can share relevant information and blogs from your knowledge base without leaving the communication page.
Key Features of Drift
Share relevant information and blogs from your knowledge base

No need to leave the Drift's communication page

Promote engaging content
Pricing: 
Basic:

Starts from $2500/month 

Advanced:

Custom pricing

Enterprise:

Custom pricing
Rating:
4.4 out of 5 Stars
Front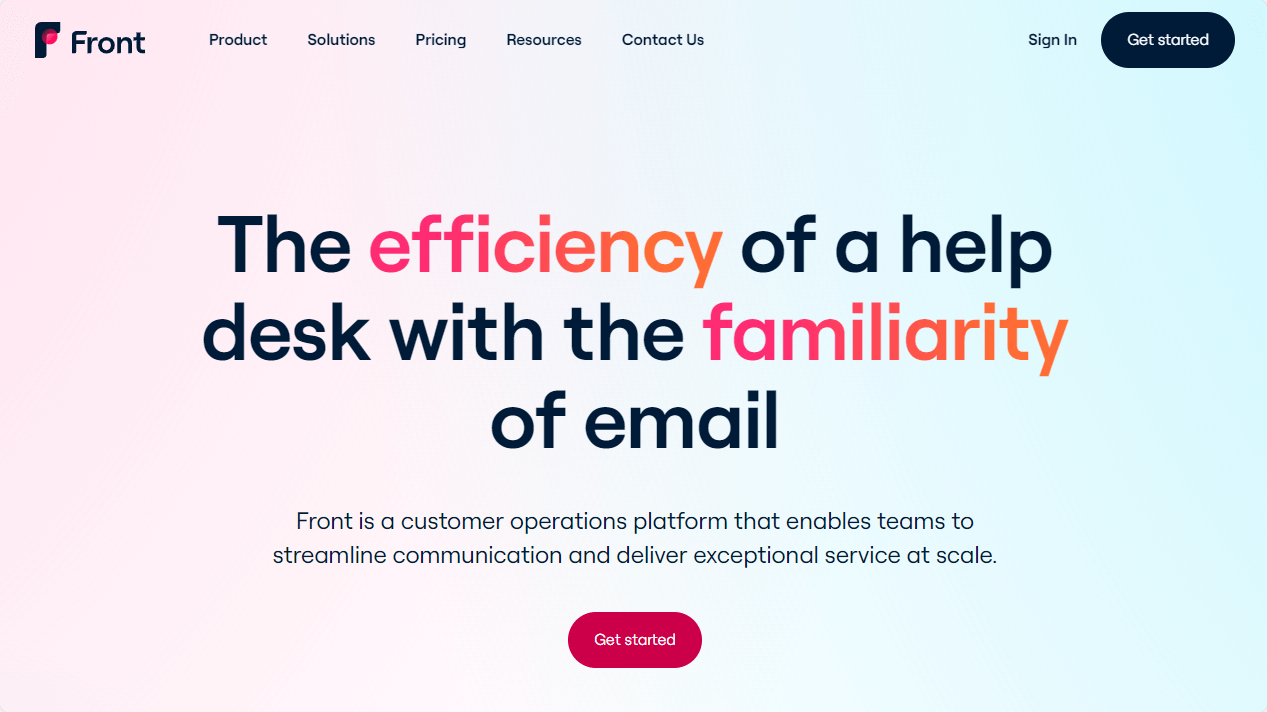 The Front is created with a simple design in the style of an email platform to interact with its customers seamlessly.
Agents can use this platform effectively without interruption, easily maintain good customer relationships, and respond to them quickly.
Key Features of Front
Offers customer service analytics

Self-service help centre for customers 

Availability of customer tagging feature

Facilitates sorting messages into group inboxes 
Pricing: 
Starter:

$19/2 agent/month

Prime:

$49/5 agent/month

Enterprise:

$99/10 agent/month
Rating:
4.7 out of 5 stars
How to Choose Between Manifold HelpCrunch Alternatives?
Selecting a HelpCrunch alternative is not everyone's cup of tea and is as tricky as finding your way to an unknown place.
We do not want you to suffer in this process and get completely lost in it. So, we have made things easier for you.
After thorough research, we have shortlisted the best HelpCrunch alternatives to save our time from endless scrolling.
Let's look into the selection criteria, which include the following parameters:
User Reviews
One must look into the minimum and maximum user reviews from real users on a particular tool. This aids in observing the tool at a deeper level.
Core Knowledge Base 
When preparing the list of HelpCrunch alternatives, you need to see that the tools must have the features of a core knowledge base like reports and analytics, online editor, reporting and analytics, customisation options, smart search, etc.
Listed on Top Review Platform
All the HelpCrunch alternatives must be listed on the prestigious websites, which ensures high-class reviews.
Now is the high time to glance at some Best HelpCrunch alternatives.
Final Thoughts: Which HelpCrunch Alternative Will be Best for You?
There can be numerous aspects that can affect your mind when choosing amongst the best HelpCrunch alternatives. 
We suggest you deeply think and analyse all the angles before taking the next step.
Splurge your penny on a tool that would be beneficial for you in the long run, easily manageable, easy to use, and has all the significant features to meet your quilt needs.
If you want to go for versatile software with excellent features without burning your pocket, in such a case, Desku would be a great option.
You can look into the pricing of Desku and compare them with the other knowledge base and see the difference between them.  
Choose us so that we can assist you better!