Are you a small business owner looking to maximize your marketing efforts? If so, you've likely heard of marketing automation and CRM systems. These powerful tools can help you streamline your marketing processes, increase customer engagement, and boost your bottom line. In this article, we'll explore the best marketing automation and CRM systems for small business owners, so you can make an informed decision about which one is right for you.
Here is a list of Small Business CRMs to choose from
Desku
ActiveCampaign
HubSpot
Mailchimp
Salesforce
Infusionsoft
Zoho CRM
Constant Contact
Desku: Specially curated for the Small Business
Desku is all-in-one helpdesk support software which is not only limited to providing a support platform but also provides the marketing automation to carry out in your business. Its sleek features help in automating the marketing process specially curated for smaller businesses. The business processes become easier as everything is automated so that focus on running a small business becomes very easy ad you can grow your business.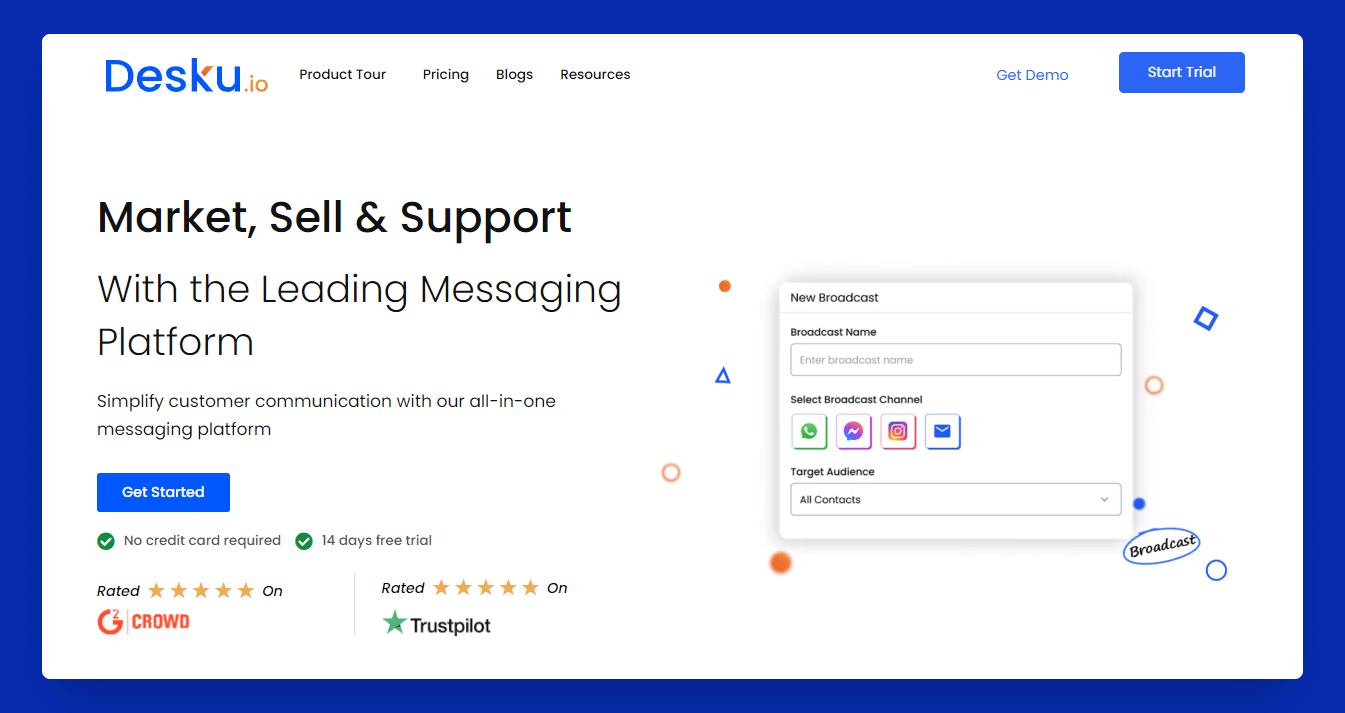 It has various features like automation, Macros, and also no-code chatbot builder Chatbot that helps in automating customer conversation for customers even in the absence of a human support agent. It does not have any rocket science process to use it as it is just dragged and drop conversational interface that helps to match your business needs. Do not let go of any of your customers, conquer your business operations with the best CRM Software for small businesses.
ActiveCampaign: CRM Software for Small Business Owners
ActiveCampaign is the perfect CRM and marketing automation solution for small businesses. It is designed specifically for businesses that need a comprehensive CRM and automation tool that is easy to use and tailored to their specific business needs. With ActiveCampaign, small businesses can maximize their customer relationships by tracking customer data and automating the sales process.
Also Read: How Are Bot Automation Created?
It offers a free plan, comprehensive CRM features, workflow automation, and email marketing campaigns for small businesses. The platform makes it easy for businesses to manage customer relationships and sales activities, helping them meet their specific business goals. Additionally, ActiveCampaign helps small businesses streamline their customer service operations and save time when responding to customer inquiries. It allows them to create multiple support forms and provide customers with quick and personalised responses.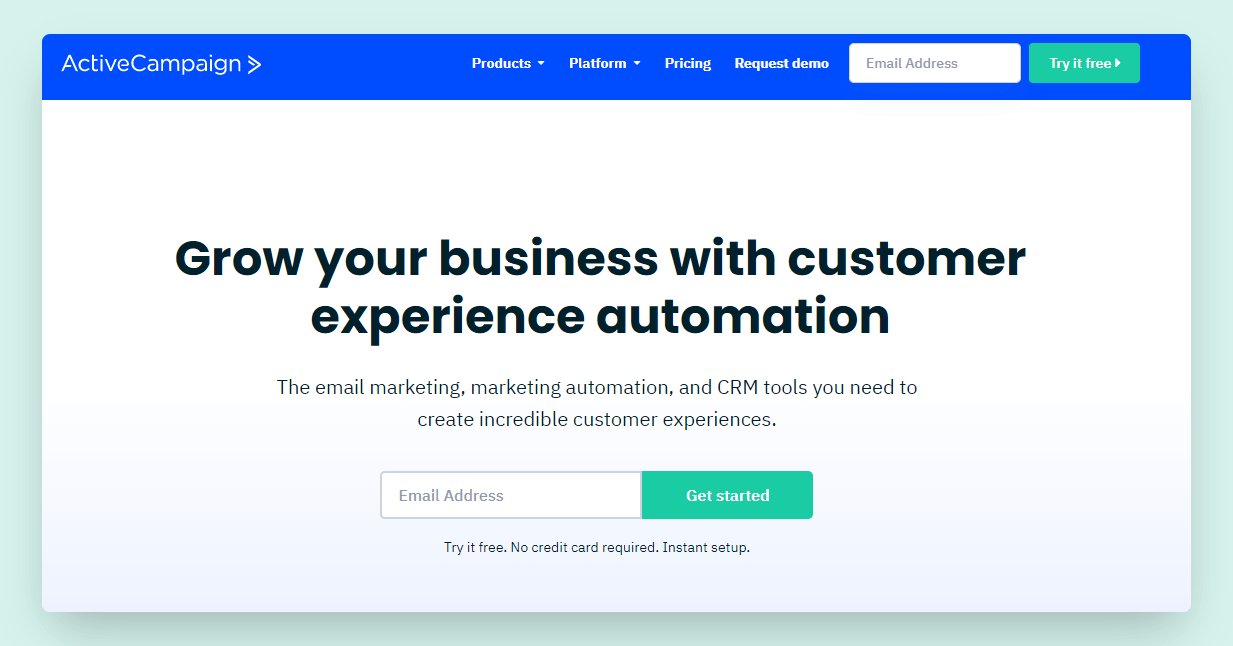 Businesses can also view their previous conversations with customers and elevate customer discussions with relevant customer information. With ActiveCampaign's robust CRM and automation features, businesses can streamline their sales process and increase customer retention. Small businesses can take advantage of the comprehensive CRM options and set up automated campaigns to target new and existing customers.
Furthermore, they can track customer interactions, measure customer satisfaction, and launch email campaigns to keep customers engaged and loyal. In short, ActiveCampaign is one of the best CRMs and marketing automation tools for small businesses. It makes it easier for businesses to manage customer relationships, automate the sales process, and offer personalised customer support.
HubSpot: Best Small Business CRM
HubSpot's all-in-one marketing automation and CRM software is the best solution for small business owners. The comprehensive suite of tools makes it the ideal choice for businesses of all sizes, with services that are tailored to specific small business needs. From powerful lead and customer management tools to streamlined sales processes, HubSpot gives business owners the control they need to achieve success.
CRM software offers tools to help manage and analyze customer data, allowing business owners to deepen their relationships with customers and acquire new ones. Automation tools, such as email marketing, allow businesses to send customized and targeted emails to customers based on behaviour and preferences. With HubSpot's easy-to-use CRM, sales reps can quickly create detailed, accurate records for each customer, and business owners can track sales activities to keep track of the sales pipeline. Plus, HubSpot's free plan provides essential features for businesses just starting out or for small businesses who need a comprehensive tool with no upfront cost.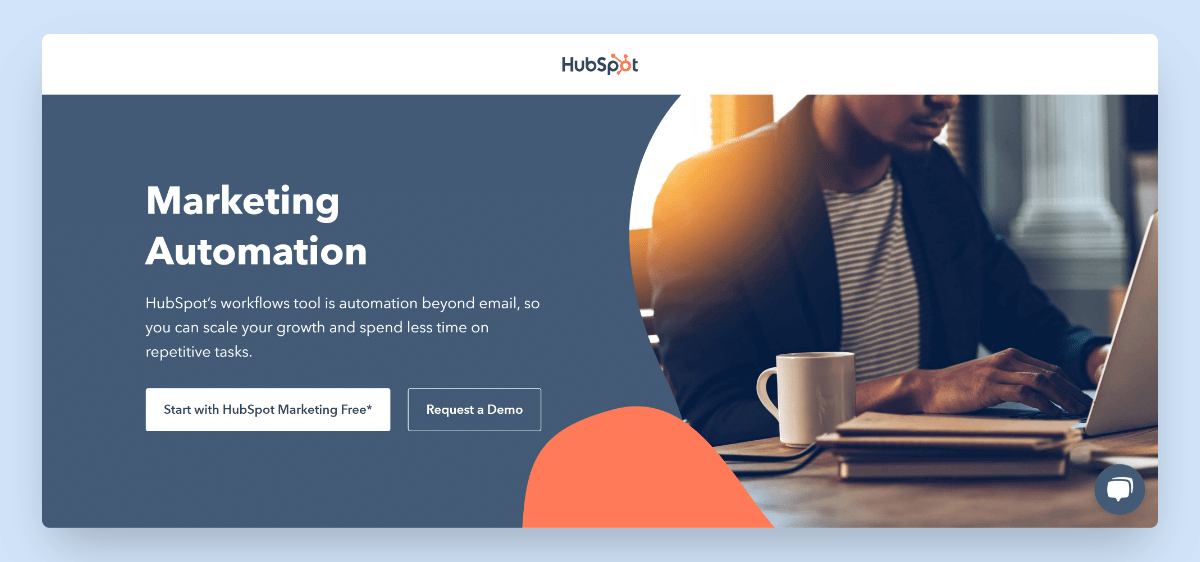 The features of HubSpot's CRM make it the perfect choice for small businesses and startups. For example, its workflow automation feature allows sales reps to save time by automating certain activities, such as scheduling emails and setting reminders. With Freshworks CRM's automated marketing and communication systems, businesses can follow up with customers based on their actions and target the right messages to the right people. The comprehensive CRM platform provides the tools businesses need to match their specific business and customer needs.
HubSpot offers a variety of plans to meet the needs of different business sizes and types, and its less annoying CRM is specifically designed for small businesses. With all the key features of other CRM
Mailchimp: All-in-one CRM for small business
Mailchimp is an all-in-one marketing automation and CRM software for small business owners. It helps businesses to build brand loyalty and engage customers across their entire customer journey. It has powerful marketing automation tools to help businesses segment and distribute messages to the right customers. It provides an engaging and easy-to-use interface, making it simple for business owners to manage email campaigns and target customers.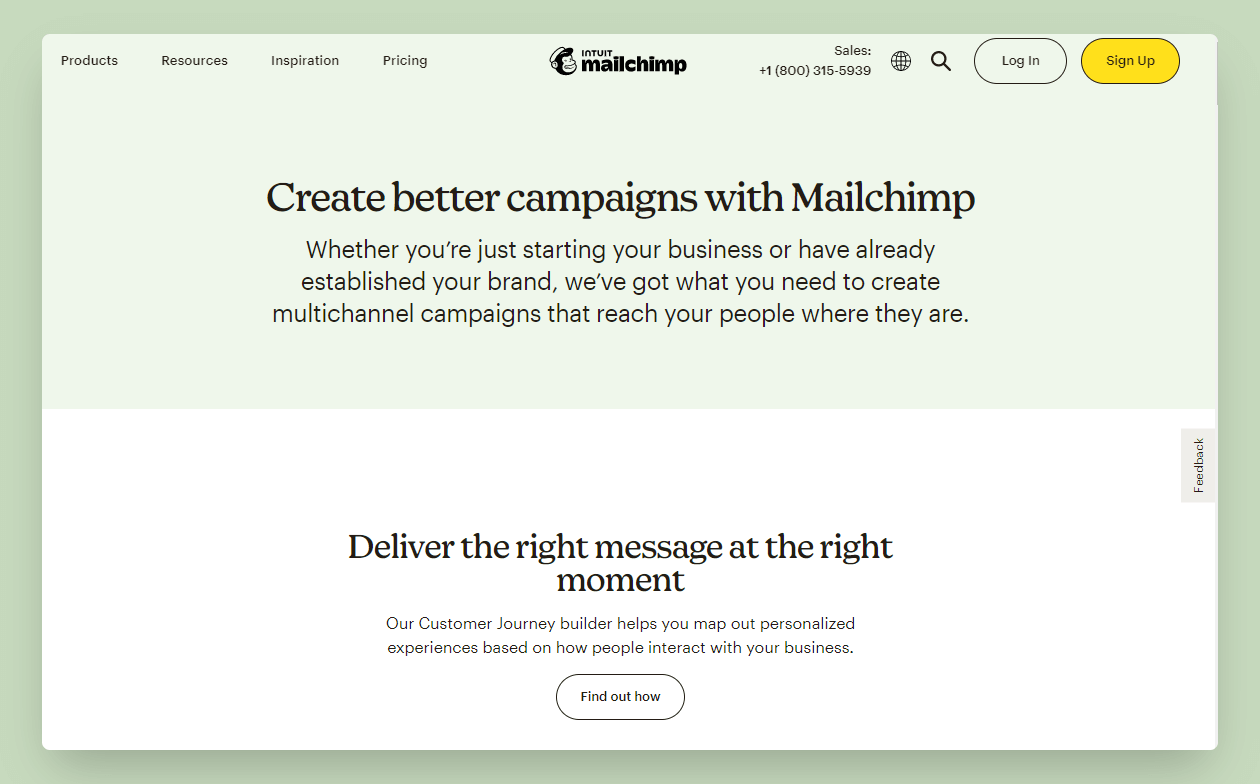 Mailchimp also offers a comprehensive CRM solution with robust customer profiling and segmentation capabilities. The CRM system helps businesses build more efficient sales pipelines and better target potential customers. It helps businesses build detailed profiles of customers and analyze their online activities, allowing them to tailor their marketing campaigns to the specific needs and wants of customers.
With Mailchimp, all of your marketing and sales data is stored and synced across one dashboard. This lets you view the performance of your campaigns in real time and make data-driven decisions on how to optimize them for the best results. The platform also offers advanced analytics to monitor marketing performance and identify opportunities for improvement.
Mailchimp is an ideal solution for small businesses and startups. It offers an affordable and easy-to-use platform with features such as automation, customer relationship management, email campaigns, and more. Businesses can easily customize the interface to match their specific needs and preferences. It is one of the best CRMs and marketing automation solutions for small business owners looking to grow their businesses.
Salesforce: Best CRM for small business needs
Salesforce is one of the leading customer relationship management (CRM) and marketing automation software solutions, ideally suited for small to mid-sized businesses. It is designed to help small businesses streamline their sales and marketing efforts in order to maximize their business potential. With Salesforce, small business owners can easily gain insight into customer behaviour, identify areas that need improvement and find out where their sales are coming from.
Salesforce offers powerful features that appeal to a wide range of small businesses, such as custom fields and objects, secure customer data, intelligent automation, powerful insights, and more. All of these features help businesses run more efficiently and maximize their sales. With Salesforce, businesses can also access customer records in real-time and provide personalized interactions with their customers. Plus, small business owners can easily keep track of the marketing and sales activities of their entire team.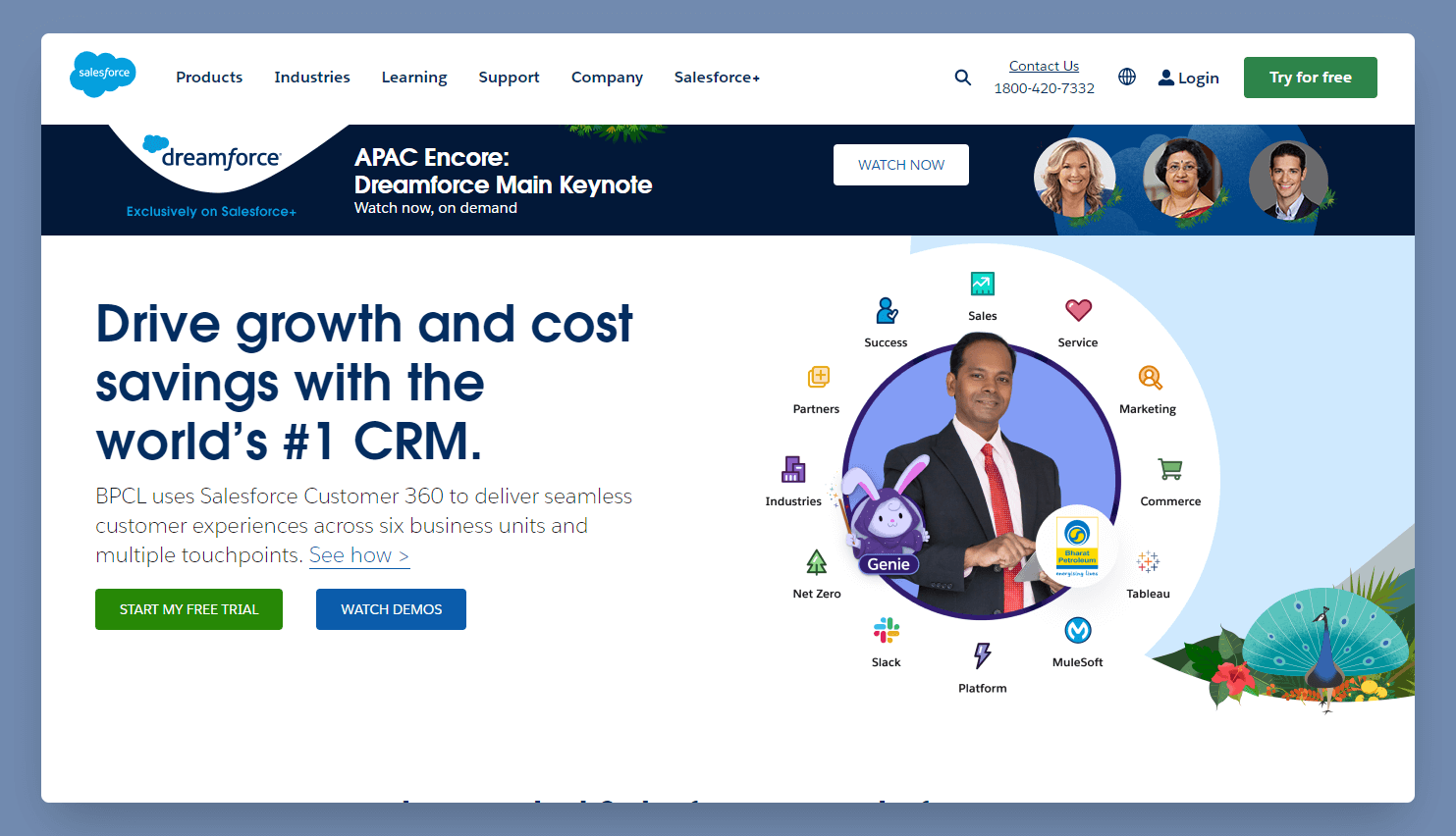 When it comes to choosing the best CRM and marketing automation software for small businesses, Salesforce stands out from the competition due to its wide range of features and scalability. Business owners don't have to worry about outgrowing the platform as their business grows. Additionally, Salesforce makes it easy for small businesses to create workflows that are simple, efficient, and automated. This helps businesses save time and money, allowing them to focus on their core activities and drive sales.
When it comes to choosing the best CRM for small business owners, Salesforce offers a number of features above and beyond those offered by its competitors. Business owners can create customized reports and dashboards to track their sales activities, manage their customers and leads, set up automated sales and marketing activities, and more. Plus, they can even integrate Salesforce with other
Zoho CRM: CRM for your small business
As a small business owner, you need your CRM and Marketing Automation software to be just as agile and powerful as you are. Zoho CRM is a high-performance, all-in-one platform that can help you make every customer engagement smarter and more productive. The software is tailor-made for small businesses, startups and entrepreneurs offering easy-to-use yet powerful CRM and marketing automation tools that can be customised to grow with you.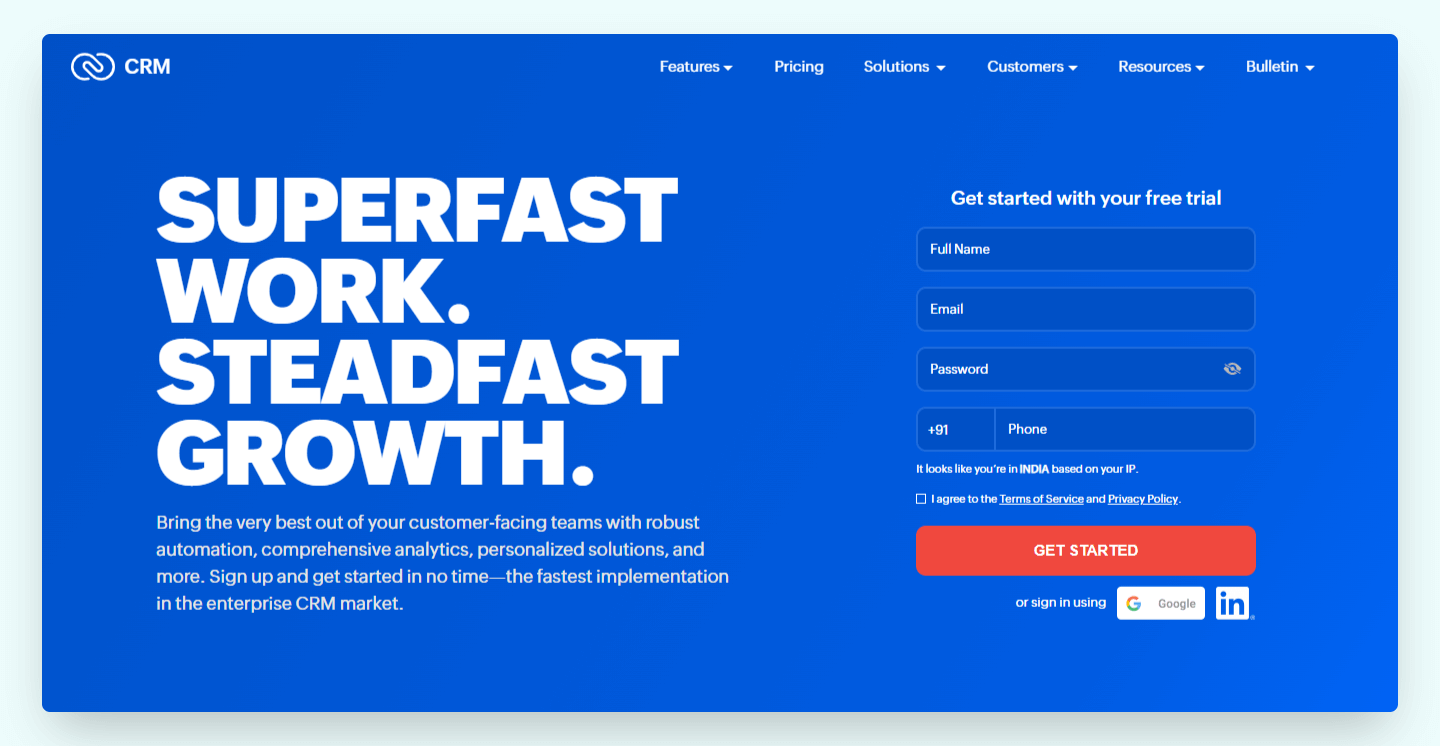 With Zoho CRM, you can quickly onboard customers, track and optimise the sales process, shorten sales cycles, and significantly increase your conversion rate. It also offers powerful marketing automation features such as email campaigns, lead management, segmentation, and other features to help you reach and convert more customers. Another advantage of Zoho CRM is that it does not require a complicated setup, and you can get up and running in no time.
The software provides more than just CRM and marketing automation features – it also gives you complete control over every aspect of your business. From businesses that need to create their own unique workflow to businesses seeking to use a range of powerful CRM tools, Zoho CRM has you covered. It allows you to control who can view, edit, or delete data, and who is responsible for taking action. You can also create custom dashboards, reports and solutions to suit your specific business needs.
Zoho CRM allows you to interact with potential customers in the way that works best for them, helping you to stay on top of customer feedback and provide responsive customer service. You also have the option to easily integrate with other software and services, making it easier to stay in touch
Constant Contact: Best CRM for Small Businesses
Constant Contact is the perfect marketing automation and CRM solution for small business owners looking to increase customer retention and maximize return on marketing spend. It is an all-in-one CRM platform that provides powerful and easy-to-use tools to help small business owners stay organized, engage customers, and increase customer loyalty.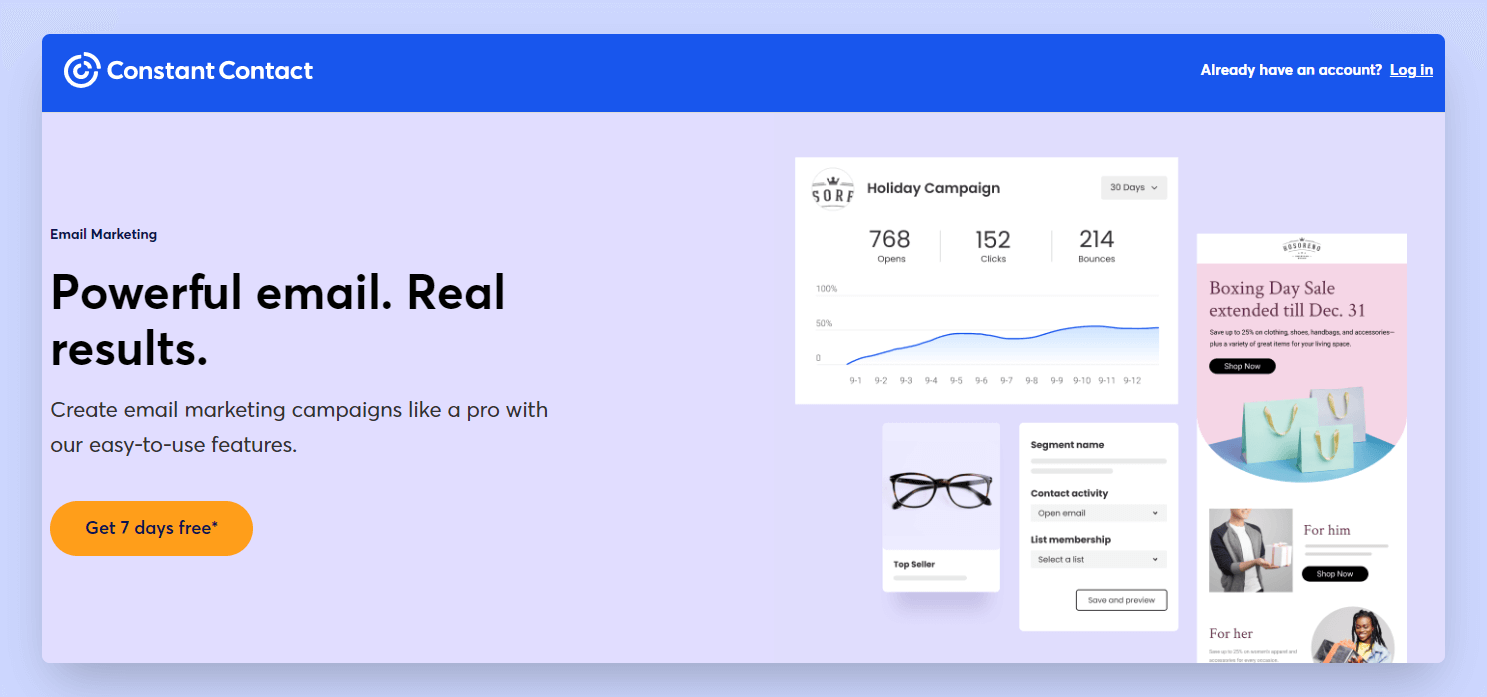 The core feature of Constant Contact is its Email Marketing automation, which automates the process of running successful customer campaigns. It also provides tools to create effective email subject lines and content that encourages clicks and drives customer engagement. Constant Contact also allows you to easily segment your customers based on their interests and purchase history. This enables you to send targeted campaigns to the right people at the right time. The platform also enables you to create customer segments, which enables you to better understand their buying habits and target campaigns accordingly.
Constant Contact also offers a variety of integrations with other popular applications, such as Google AdWords, WordPress and Salesforce. This makes it easy to manage multiple platforms from within the platform. Furthermore, it offers a free plan which is designed for startups and small businesses that want to get started quickly. This plan offers basic customer segmentation, email automation and reporting capabilities, making it a great starting point for any small business.
In addition to its core features, Constant Contact offers a variety of ancillary services, such as customer surveys and feedback management. This enables you to get valuable customer data and insights on trends and preferences that can be used to improve customer engagement and increase customer loyalty. Furthermore, Constant Contact also offers a number of features designed specifically for small businesses, such as Facebook advertising customization and the ability to create and manage multiple stores. This makes it easy for small business
Conclusion: Choose the best Small business CRM Software
Marketing automation is a crucial tool for small business owners. It can help you manage your marketing campaigns, track your results, and better target your marketing efforts. Desku is one of the leading providers of marketing automation and CRM for small business owners. Our platform provides you with everything you need to manage your marketing campaigns and track your results. Contact us today to learn more about our recommended marketing automation platforms and how they can benefit your business.
Small businesses just starting with the business are sometimes unable to gather up and manage everything at once on the go and so it is important that any small business that is starting, chooses the best CRM Designed specifically for small to midsize businesses. Choose an all-in-one CRM software that helps within your business and focuses on small business growth.