Whether you're working in sales or marketing, you've come across HubSpot CRM Software. It is a widely used CRM platform often suggested as one of the best customer relationship management software for small businesses that own marketing automation.
With excellent inbound marketing, Hubspot offers free online courses, sales automation features, advanced segmentation options, and a powerful collection of tools for marketing and sales teams.
But while HubSpot maintains itself as an all-in-one marketing solution for any size of business, it is not always the best and most reliable option for customers because of its increasing costs and that's why it's good to look for various other alternatives to Hubspot to meet business needs.
But hold on – is it worth going for the best Hubspot alternatives?
Sure, why not?
This post is all about how Hubspot Alternatives can be beneficial to you for your business which are quite affordable and work the same!
Hubspot Overview
HubSpot's CRM is one of the most popular and widely used customer relationship management apps on the internet. HubSpot also offers a centralised database that allows users to align their marketing, sales, and customer service efforts and provide best-in-class experiences to their clients.
When it comes to managing the needs of your ecommerce business, Hubspot is capable of doing almost everything you need. It is so versatile and has many positive sides, including its features, which are:
Offers a Free Plan
Hubspot's free CRM is too generous with the ability to add many users. It allows you to integrate with Outlook and Gmail, set up forms and newsletters and build tasks and goals for your team.
CRM Features
It is an easy-to-use CRM where you can watch all the activities, like which landing page the customer has visited, leads, the source of visitors from where they are coming, the downloads, etc. It can easily manage the sales pipelines by tracking and organising every key aspect.
Support
It has various channels for interaction, and its support agents are very knowledgeable and responsive as they provide support in six different languages, including French, German, Spanish, Portuguese, Japanese, and English.
Integrations
With the Usage of Hubspot, you'll get Hundreds of integrations with third-party apps. Integrations allow data to pass from Hubspot COS and internal/external systems.
Mobile Apps
Hubspot has a mobile app, making it easy for users to keep track of business activities.
Hubspot is also known for its
✅ Best email marketing tool
✅ Best marketing automation tool
✅ Best CRM software
✅ Best live chat app for customer support
Why User Wants to Find Hubspot Alternatives?
The only thing is that it is not ideal for individuals and small businesses because of its high pricing plans. Also, most companies like HubSpot due to its unifying sales, marketing, customer support and 'Flywheel' approach – all under one roof.
Let's know each point in depth by what reasons people are looking for Hubspot Alternatives👇🏻
👉🏻High Pricing Plan
In the case of a paid plan, many business owners think that it will be the solution to all their problems, but the truth is different. It would help if you had time to make the most out of the features you're splurging the amount. Many users end up splurging for only a few top Hubspot features and believe us, this can burn your pockets. Therefore, it is good to look for affordable Hubspot alternatives.
Let's compare the pricing plans of Desku and Hubspot and understand why Desku is the ideal option than Hubspot.
Basic Pricing Comparision
| | |
| --- | --- |
| Hubspot-Pricing Plan | Desku-Pricing Plan |
| Starting Plan: $450/month | Starting Plan: $29/month |
| Enterprise Plan: $1200/month | Business Plan: $89/month |
Features + Add-ons + Pricing Plan
| | |
| --- | --- |
| Hubspot Features and Limits | Desku Features and Limits |
| $90/month per user for additional user | Price for agents applied according to the default pricing plan (still cost-effective than Hubspot's pricing plan) |
| Bots is considered as additional feature | Default feature |
| 100 Shared Inbox | 5 Email Inbox only in the starting plan rest 2 plans have unlimited shared inboxes (cheaper than the Hubspot starting plan) |
| 5,000 Documents | Unlimited Documents |
👉🏻Not Ideal for Small Business and Start-ups
Those using this CRM software might be familiar with the fact that Hubspot is not ideal for small businesses, start-ups, and individuals because of its high pricing structure. These organisations do not have enough funds to upgrade to the paid plans as they are too high.
👉🏻Complex Set-up
Hubspot CRM might be complex to set up; thus, it is usually outsourced to a Hubspot professional to look after it. If there is difficult onboarding, then users might be frustrated to use it and it is fact and there are chances that people leave in between and go away. Similarly, Hubspot has quite a complex onboarding.
The 11 Best Hubspot Alternatives for 2024
We'll look at the eleven best Hubspot alternatives, and to make the search more manageable, we have categorised the alternatives into five major categories, which are:
1. Desku
Most Affordable AI-powered Customer Support Platform
The powerful customer support and AI-powered platform, Desku is a unified customer support that facilitates you to connect a unified inbox to seamlessly manage your customers and provide them with outstanding services and features. It is an intuitive and visual interface that makes it easy for customers to find their way and thus falls under the popular Hubspot alternatives.
Desku offers various advanced features to ease its customers improve communication, faster query resolution, and increase satisfaction with the help of a support team.
Let's understand the features in brief!
Key Features of Desku
✅ Unified Inbox
A unified inbox facilitates getting the customer queries in one location and makes it easier for agents to coordinate with every customer and resolve their queries. A shared inbox also allows you to assign queries to the right agents for quicker and more precise solutions.
✅ AI-Powered Helpdesk
Desku is an AI-powered customer support platform that eases down most of the operations and takes care of almost everything under one roof. The top 3 AI features are mentioned down rocking your customer support platform in the most interesting ways.
Generate Summary: Briefly describe what the customer wants
Sentiment Analysis: Tells the customer's behaviour, whether happy, sad, frustrated, or satisfied.
Suggested Answers: Tell the customer what they should do with the query.
✅ No-Code Chatbot Builder
No-code chatbot builder aids in crafting the chatbot using drag and drag-and-drop interface. It helps to have customer interactions even if the agents are not present. It ensures that customers do not leave without missing out on any interactions.
✅ Live Chat
Live Chat software helps you to communicate in real-time with customers and can talk to them even when you're not present. You can provide live chat when someone is available in your email queue to get the answer to their query.
You can send the email and message to the support team and start the conversation with the agent.
✅ CSAT Feature
You can find the review and rating regarding the customer and agent conversation about resolving the problem and quickly responding without any hassles.
✅ Knowledge Base
One of the best self-service options for customers is provided and completed with Knowledge Base as it provides infinite articles and guides for your customers to refer to and help themselves. It does not have any limit in adding the articles so it is a plus point. Apart from that it consists of a rich text editor that will help to edit and customise the article however a company demands and wants.
Pricing
If you are looking for an affordable customer support platform, Desku is surely a go-to option. There are no hidden charges in the pricing plans to pay after or before opting for or availing of the plan. A product with transparent pricing and quiet more affordable than Hubspot!
Essential: Starts at $29/user/month.
Other packages: $59/user/month.
Business package: $89/user/month
2. Zendesk
All-in-one Customer Support Platform for better Customer Experience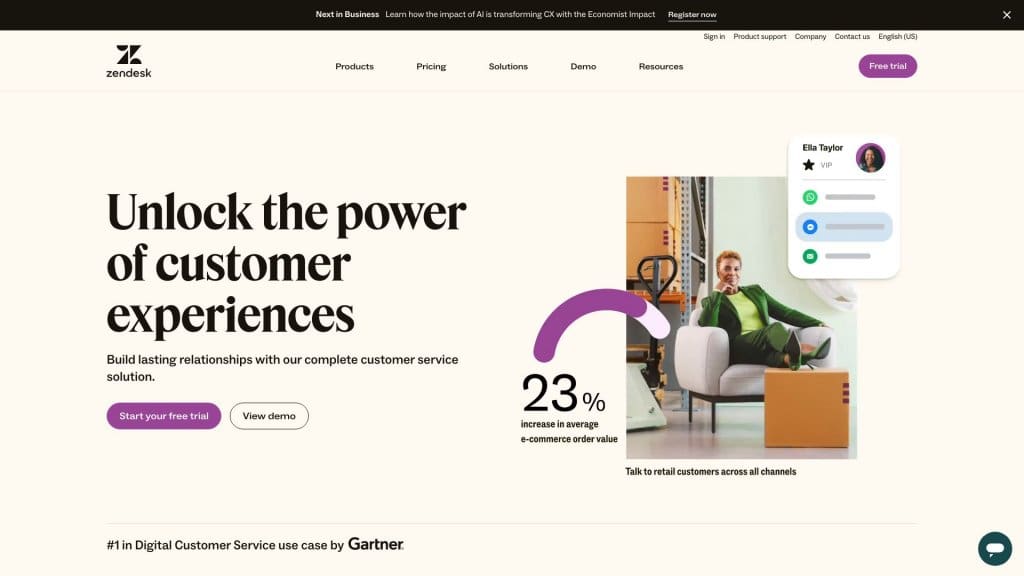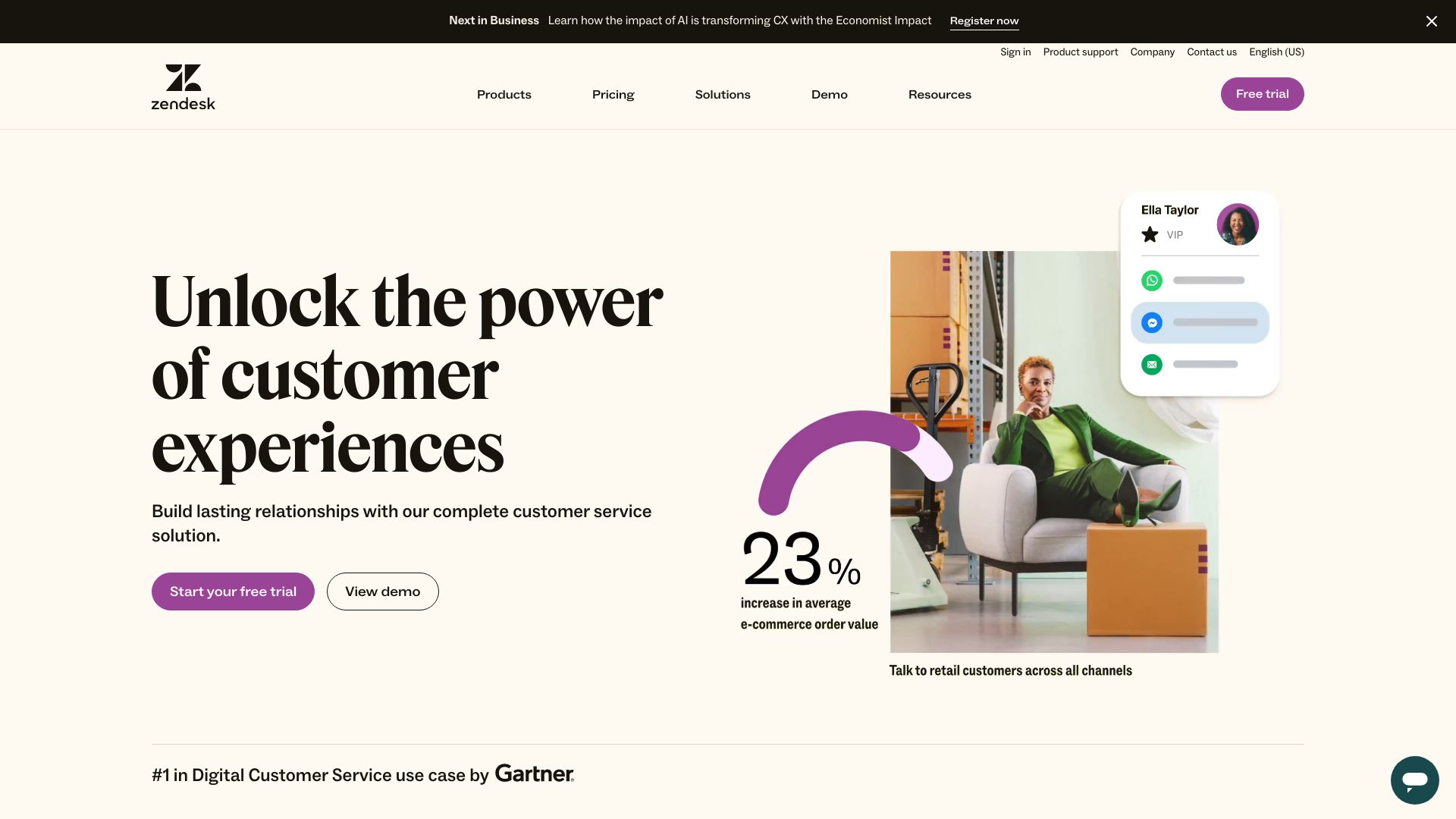 Zendesk is a great alternative to Hubspot for enterprise and support teams. It combines a self-service platform, a knowledge base, and a chat software.
Zendesk offers ticket management features for support teams so that they can easily manage their workloads. Tickets are being assigned to the agents based on automated workflows, expertise, and the ability to update tickets as per the time or any specific events. Let's understand the key features and Zendesk pricing plan to know better.
Key Features of Zendesk
Reliable customer support
Collect information using custom ticket fields
Use Customized themes
Allow customers to discuss solutions on the community forum.
Controls the overall look of your knowledge base
Pricing
Foundational Support: Starts at $19/agent/month
Suite Team: Starts at $49/agent/month (Single Help Center)
Suite Growth: Starts at $79/agent/month (Multiple Help Centers)
Suite Professional: Starts at $99/agent/month (Multiple Help Centers)
Read More:10 Best Zendesk Alternatives for Your Business in 2024
3. Freshdesk
For scaling Customer Support Experience
Freshdesk is on the list of the best competitors to Hubspot for call centre support.
Freshdesk provides customers with a shared inbox, ticket management, and knowledge base features. With Freshdesk, agents can easily change ticket priority, assignment, or status within the ticket lists. When you lose a ticket, Freshdesk allows you to send CSAT surveys to see your performance.
Key Features of Freshdesk
Direct customer interactions
Collaborative system to review your content
Integrates with Jira, Shopify, and Slack
Version control system
Service management
Wide range of formatting options
Pricing:
Growth: ₹999/month
Pro: ₹3599/month
Enterprise: ₹5699/month
4. Zoho CRM
One platform for CRM and Customer Service Platform Operations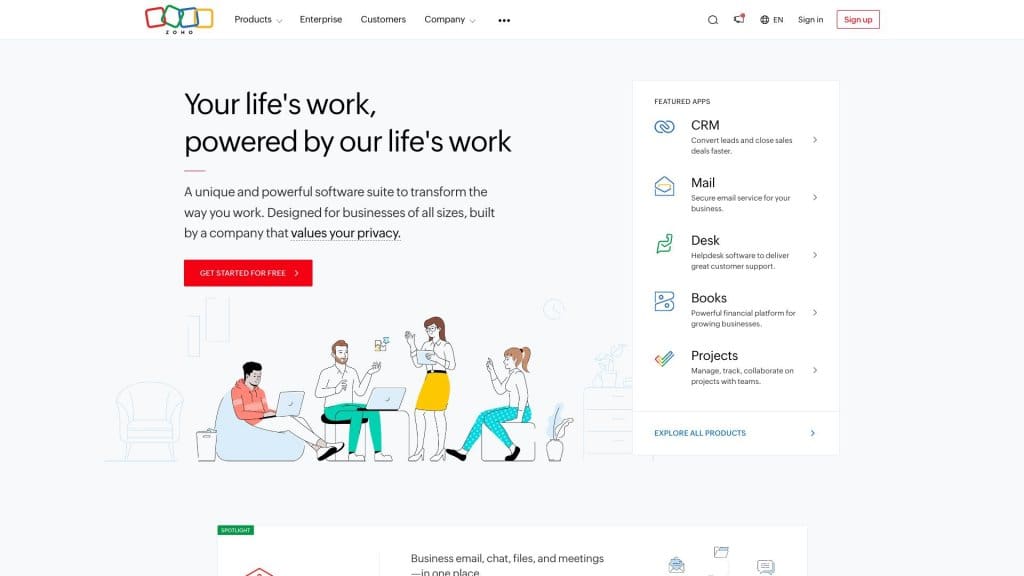 Unlike Hubspot, Zoho is a powerhouse of marketing and CRM. This popular CRM offers email, website creation, and hosting. However, the features, like customer service, project management, and contact management, make it different from the other CRM tools.
Zoho is a great Hubspot CRM alternative, and as it competes with Hubspot on different levels, both offer you a basic range of features (to nurture leads, organise tasks, and create workflows) and allow you to import leads, files, and lists for seamless integration and platform-switching.
Key Feature of Zoho CRM
Reasonably priced CRM software
Lead management
Social listening
Store up to 1,00,000 contact records with contact management
Reply approval workflows
Sales intelligence & automation
Easy team management and collaboration
Product customisation
Pricing
Standard: $14/month
Professional: $23/month
Enterprise: $40/month
Ultimate: $50/month
5. Pipedrive
Affordable CRM designed for salespeople
Pipedrive has a better CRM than Hubspot software. It is a powerful solution for medium and small-sized businesses. It is a great Hubspot competitor as it offers sales tools, integrations, analytics, and hosts unique features of Hubspot to help you manage projects, content, and more. The essential difference is that Pipedrive specialises in supporting the sales team, which Hubspot may not, as it offers various services for business growth.
Pipedrive sales CRM offers something that Hubspot cannot, as it offers advanced CRM features to its customers. Despite many dashboard features and customisation options, the Pipedrive interface is easier to navigate than Hubspot.
Key Features of Pipedrive
Contact management
Easy-to-navigate interface
Excellent reporting capabilities
Manage leads
Deal tracking
Automated marketing campaigns
Landing page builder
Pricing
Essential: $9.90/month
Advanced: $19.90/month
Professional: $39.90/month
Power: $49.90/month
Enterprise: $59.90/month
6. Insightly
A modern designed CRM for your team
Insightly is a CRM software created specifically for small businesses. As you sign up, you can design a customised dashboard matching your business needs. The CRM suite of Insightly designs visual graphics to unfold chart progress and customer insights towards your goals. It is also easy to generate drag-and-drop reports and further share them with team members.
Key Features of Insightly
Advanced workflow automation
Identify potential leads and engagement
Sync external systems
Produce drag-and-drop reports
Customised dashboard
Create visual graphics
Pricing
Plus: $29/user/month
Professional: $49/user/month
Enterprise: $99/user/month
7. ActiveCampaign
Escalate Business with Email Marketing Automation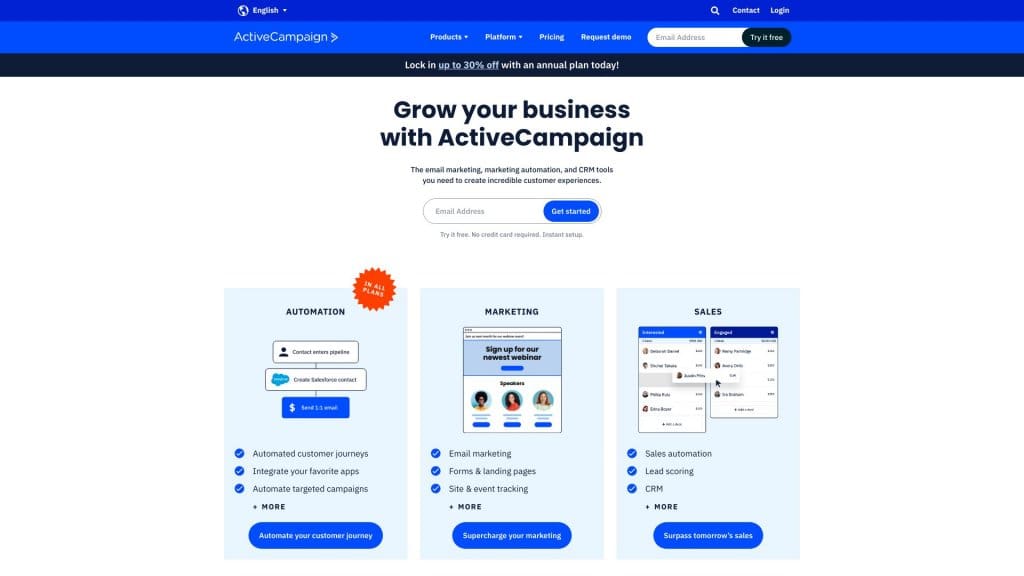 ActiveCampaign is one of the top Hubspot competitors for those looking for marketing automation software. ActiveCampaign and Hubspot provide intuitive interfaces, smooth onboarding, a wide range of templates to support your marketing processes, multiple sales and marketing features, robust automation, and built-in CMS.
It is designed for customer service teams, sales, marketing, and verticals like SaaS, ecommerce businesses, higher education, and bloggers. The software takes user information from live chat, text messages, landing pages, and other web content to automate targeted marketing campaigns.
Key Features of ActiveCampaign
Track micro conversions like link clicks and email opens
Automate follow-up campaigns
Excellent deliverability rates
Machine learning
Marketing automation
Integrates with platforms like Shopify, WooCommerce, Salesforce, Zapier, and more
Pricing
Lite: Plan starting at $29/user/month
Plus: $49/month
Professional: $149/month
Enterprise: Talk to sales
8. EngageBay
Best for Customer Support and Marketing
EngageBay is the best free CRM software for start-ups and small businesses with insufficient budgets. Engagebay is a highly affordable software as compared to Hubspot's onboarding cost. Unlike Hubspot, it offers various features & services to its customers.
Those services are categorised into three different Bays:
The Sales Bay
The Marketing Bay
The Customer Support Bay
Key Features of EngageBay
Marketing automation software
Highly affordable
CRM and email marketing tools for personalisation, sequencing, and running drip campaigns.
Easy segmentation
Free drag-and-drop landing page builder
Solid tracking tools
Monitor performance
Pricing:
Free version available
Basic: $12.74/user/month
Growth: $55.24/user/month
Pro: $101.99/user/month
9. Ontraport
One platform for Sales and Marketing Operations
Ontraport is a strong marketing automation with with no enterprise charges. Based on the charges, businesses may see Ontraport as a great marketing hub alternative. You will get various solutions with Ontraport, like landing pages, email marketing, business process automation, referral programs, marketing automation, salesforce automation, marketing analytics, and membership sites.
It's easy to get a bit flustered when you've got so many layers to your marketing efforts (emails, landing pages, forms, social ads, etc.). Ontraport allows you to integrate all of this and much more to create complete automated funnels. This helps to give you a holistic view of your efforts and allows you to better track the success rates of each one.
Moreover, Ontraport allows you to build automated funnels that provide a holistic view of your efforts and allow you to track success rates. They also have a choice of responsive landing page templates, which are always easy to split-test and edit across various pages.
Key Features of Ontraport:
Referral management system
Offers split-testing features
Business, marketing, and salesforce automation
Responsive landing page templates
Create automated funnels
Serve thous of business owners
Pricing:
Basic: $24/month
Plus: $83/month
Pro: $124/month
Enterprise: $249/month
10. Mailchimp
Best for Email Marketing Campaign to scale revenue
Mailchimp is a popular email marketing and CRM software. Just like Hubspot, Mailchimp also offers a free CRMcrm. It offers access to intuitive email builders that do not need any marketing experience to use, and both apps offer metric-rich reporting tools. Moreover, they also allow you to create functional landing pages for lead capture and have several built-in tools.
If you stick with Hubspot, it is going to be a more substantial investment for you as compared to Mailchimp once you switch to a paid plan. Hence, if you are looking for a simple tool that will mainly focus on email outreach, then Mailchimp may be the best fit for you, as Hubspot is a bit tricky.
Key Features of Mailchimp
Autoresponder to emails
Access to an intuitive and effective email builder
Easy-to-use
Email marketing automation
Turn emails into revenue
Optimise with reporting & analytics
Offers metric-rich reporting tools
Allow you to create functional landing pages
Pricing:
Essential: $4.59/ month
Standard: $6.87/month
Premium: $137.32/month
11. Salesforce
AI-powered CRM platform for customers
Salesforce is the #1 rated CRM worldwide for sales and marketing and is specifically developed for small businesses. Both (Hubspot and Salesforce) provide various tools, from data insights, & to lead management and more. When offering a wide range of customer management and marketing features, both apps won't hurt you; instead, they ease you with CRM, contact scoring, sales forecasting, forecasting & analytics features, and VoIP.
Key Features of Salesforce
Lead management
Customer management
Social media engagement
Customised marketing, sales, and customer service
Lead conversion
Social insights
AppExchange marketplace
Real-time sales forecasting
Pricing:
Starter: $25/user/month
Professional: $80/user/month
Enterprise: $165/user/month
Wrapping Up
Hope this blog helps you to pick the best Hubspot alternative for your team from the list mentioned above that we have divided into five segments.
If you are a small to medium-sized business, it is difficult for them to afford and go for such lengthy pricing plans where they only require a few things but have to even pay for non-used features.
Have a glance at the advantages and disadvantages that Hubspot follows so that you can have an idea on how to spend your money wisely.
| Advantages of Hubspot | Disadvantages of Hubspot |
| --- | --- |
| Amazing UI/UX | Annual contracts and commitment |
| Offers app marketplace | It has best cost-affective alternatives to look for |
| Core CRM is free forever | Most expensive (paid) CRM |
| It has its own CMS | Not an effective tool when you use it as an all-rounder |
Considering the alternatives list, Desku is considered to be one of the best customer support platforms where you can find the exact features that you need for your company.
Think Twice and Choose Wise!
Frequently Asked Questions
1. How is HubSpot different from its Competitors?
Hubspot has very high prices that are not affordable for most of the companies. It has wide features which cannot be even used by most companies which is the reason Hubspot is different from its alternatives.
2. What are the best alternatives to Hubspot?
There are multiple options for alternatives to Hubspot, but if you are a small-medium scale business owner then you should go for Desku as it is very affordable with all the features you need and customer support 24/7.
3. What is a cheaper alternative to Hubspot?
If you are looking for a cheaper option, then Desku is most recommended as it is an AI-powered Help Desk Platform that will provide all the features in one, centralising the customer queries under one roof and much more.