Customer Retention is an important part of any business, and considering the e-commerce business, you especially need the best customer success software to look forward to because gaining the trust of customers is what wil lead to business success.
The market for Global Customer Success Platforms is projected to hit $3.1 billion by the year 2026. These platforms leverage cutting-edge technology to streamline and enhance tasks related to customer success, such as onboarding new clients and monitoring customer health metrics.
By consolidating all customer data, these platforms enable companies to conduct comprehensive analyses.
Keep your customers happy, and engaged, and keep on building trust in your business.
Let's learn about how can you conquer Customer Success in the business.
What is customer success software?
Customer Success Software is a tool that helps in customer data management in terms of contact details, communication history, and the source of customers who visit the business website.
Having the customer details and management in one place is a relief for business owners and customer support agents. It decreases the customer management load and helps in maintaining customer data.
But does customer success software really help you?
Let's understand the advantages of Customer Success Software!
4 Advantages of Using Customer Success Software
Most e-commerce businesses use stand-alone tools like Help Desk for Customer Support, Email Campaign Tool for Marketing and Sales, or Survey Tool to understand customers better for the product team.
As a business owner and customer support manager, would you like to have multiple tools for operation or just one powerful customer success platform?
Of course, we will go with the all-in-one tool that helps the business to manage everything in one.
Some of the best advantages are stated below;
In 2020, over 90% of companies reported having a specialized role for customer success, marking a substantial rise compared to previous years. In the past, only 50% to 70% of organizations had dedicated customer success departments or roles.
✅ Boost Productivity and Efficiency of The Customer Support Team
The customer success software helps to boost productivity as everything will be managed under one roof. May it be a unified inbox to proactive chats.
Customers can be managed with all details, ticket history, customer order purchase history and much more.
Easy assigning tasks to fellow support agents is one of the best ways of being productive.
✅ Centralised Customer Engagement
Imagine a situation, where you do not have to jump from one app to another app but can be managed everything under one roof. Get a centralised way of communicating with the customers. Customer Success Software provides all the customer's data centrally.
Personalised outreach to customers can increase customer engagement, ultimately building trust in the company.
✅ Team Collaboration and Visibility
With the customer success software, there is no chance of miscommunication and bluffing out in front of customers. Customer Success Management Software helps in bringing team efficiency by keeping each team member on the same page.
Customer queries can be easily assigned to the relevant support agent so that they can be resolved effectively and accurately.
✅ No Delay in Response and Resolution
With the customer success software, there is no chance of delay in responses to customers. With centralised data, it helps in bringing customer queries from multiple channels into one place.
Set auto-reply to let your customers know about your availability. Apply the SLA management in the customer emails to get reminders on sending replies to customers timely.
13 customer success software for Ecommerce Business
Multiple industries have different needs in terms of availing the customer success software for e-commerce businesses. Let's understand the key features of Customer Success Software:
1. Desku
Desku is an all-in-one AI-powered customer success software. It helps streamline customer support with a unified inbox. Centralisation helps in never missing out on customer queries.
If your ecommerce business is looking for a powerful help desk support platform that helps to maintain the stores and streamline the customer support queries, then you are in the right place.
Let's understand the key features of Desku;
Key Features
AI-Powered Helpdesk
The powerful AI feature of the Helpdesk helps you to streamline the customer query operations automatically. Eva AI in Desku helps to analyse the sentiment of customers and talk to customers automatically.
No-Code Chatbot builder
Drag and drop message interface helps in building a chatbot to connect to live chat or social media apps like Facebook Messenger. It is highly customisable and can be added or changed anytime.
Unified Shared Inbox
Shared Inbox helps support agents to be on the same page and avoid miscommunication between agents. Let particular agents solve queries that are relevant to them so customer queries can be resolved precisely. Streamline email queries under one roof.
Proactive Live Chat
Real-time customer engagement is very important as customers do not like to wait. They are always in a hurry to get answers. Solve customer's queries instantly and get load off the tickets. Live Chat helps to embed the Chatbot and Knowledge Base in the Chat Widget.
Know how to implement Live Chat of Desku in your Website👇🏻
Knowledge Base
Knowledge Base of Desku helps customers to help themselves. It has the capability of adding unlimited articles with rich media. Add unlimited guides, articles, and any kind of information that will help your customers to find answers.
SLA Management and Advanced Reports
Never miss out on any customer's email. Timely provide answers and resolve faster. It has various benefits;
Performance Metrics: Defines key performance indicators (KPIs) to measure service quality.
Monitoring Tools: Utilizes software to track and report on SLA compliance.
Automated Alerts: Sends notifications for approaching or breached SLA conditions.
Reporting: Provides detailed reports on SLA performance over time.
Contract Management: Stores and manages all SLAs in a centralized location.
2. Helpscout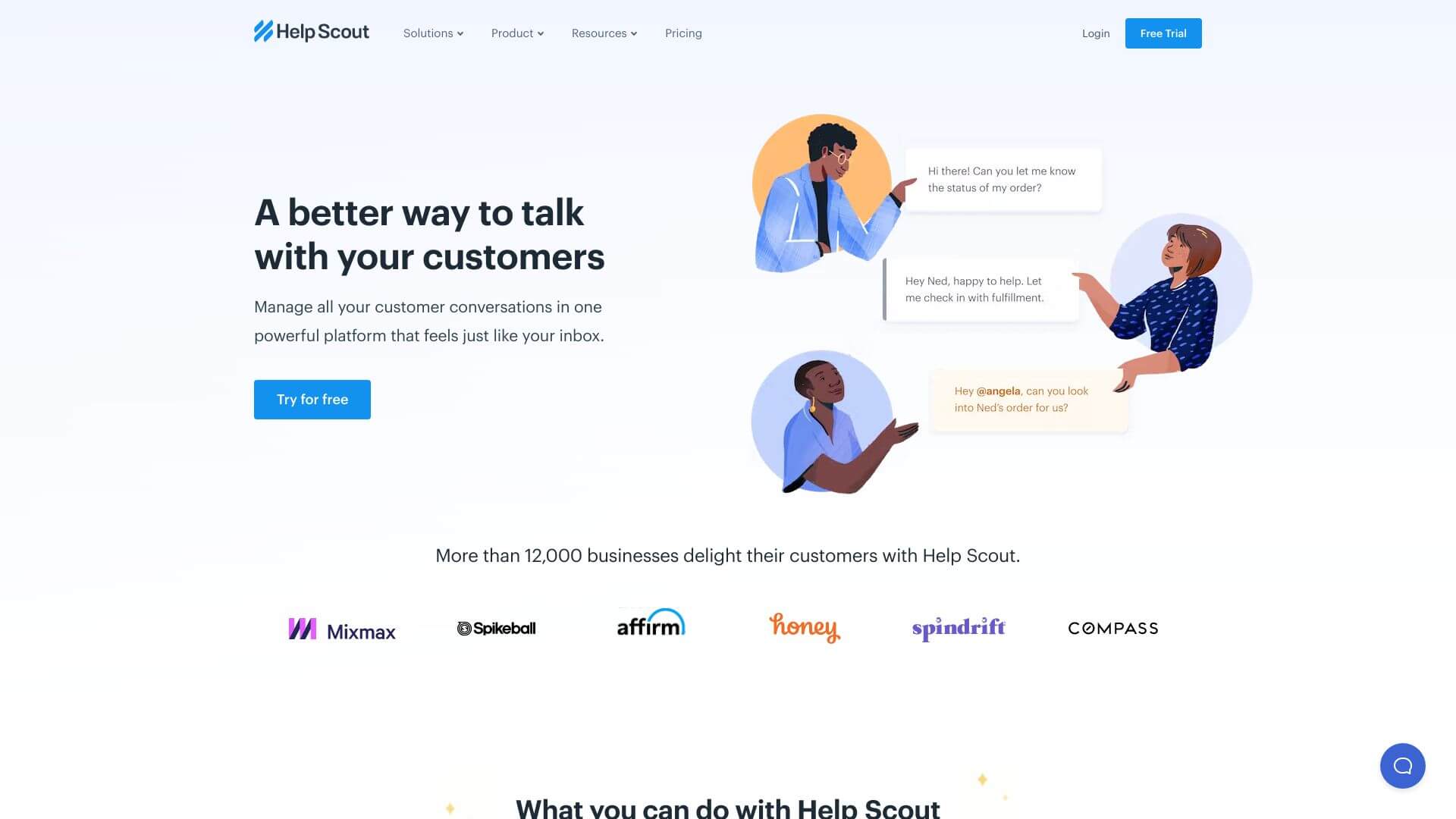 HelpScout is a customer service platform designed to manage all your customer conversations in one place.
It aims to provide a more human, personalized experience for customers and is used by more than 12,000 businesses.
Key Features
Live Chat
Shared Inboxes
Knowledge Base
In-App Messaging
Customer Data
Collaboration Tools
Reporting
Integrations.
Pros
User-Friendly: Easy to use, similar to an email inbox.
High ROI: Voted "Best ROI" year after year.
Scalability: Can support tens of millions of customers.
Quick Setup: Get started in minutes.
Cons
Limited Customization: May not offer as much customization as some other platforms.
Pricing: This could be expensive for small businesses.
Pricing Plan
3. Hubspot
HubSpot Service Hub is designed to meet the growing demands of modern customer service. It consolidates all your customer service data and channels into one CRM platform, making it easier to support, retain, and grow your customer base.
Key Features
Customer Portal
Knowledge Base
Omni-Channel Messaging
Inbound Calling
Live Chat
VoIP Calling
Pros
Unified Platform: All customer service data and channels are in one place.
User-Friendly: Easy to use and set up.
Scalability: Suitable for businesses of all sizes.
24/7 Support: Award-winning customer support team.
Cons
Pricing: This can be expensive for smaller businesses.
Limited Customization: This may not offer extensive customization options.
Pricing Plan
4. ChurnZero
ChurnZero is a Customer Success platform designed to improve the customer experience and drive revenue. It focuses on customer retention and churn prevention, starting from the onboarding phase and extending throughout the customer journey.
Key Features
Customer Health Scores: Monitor the well-being of your customer relationships.
Real-Time Alerts: Get instant notifications about customer behaviour and needs.
Customer Journeys: Map out the customer experience for better engagement.
Plays & Automation: Automate tasks and set up workflows.
In-App Communications: Communicate with customers directly within the app.
WalkThroughs: Guide customers through processes within the app.
Surveys: Collect customer feedback.
Reporting: Comprehensive analytics and reporting tools.
Pros
Proactive Approach: Allows Customer Success teams to be proactive rather than reactive.
Integration: Easily integrates with other tools you use daily.
Customization: Highly customizable to fit specific business needs.
Real-Time Data: Provides real-time insights for better decision-making.
Cons
Learning Curve: May require some time to fully understand and utilize all features.
Pricing: The pricing details are not publicly disclosed, which may be a drawback for some.
Pricing Plan
Contact them for pricing.
5. Totango
Totango, also known as Tango, is a platform designed to simplify the process of documentation and knowledge sharing within a team. It automatically creates step-by-step tutorials with screenshots, making it easier for employees to understand processes and tasks.
Key Features
Workspaces for Teams
Workflow Recording
Automatically-Created Instructions
Annotate, Crop, & Blur
Download and Distribute
Pros
Ease of Use: Simple to get started and use.
Time-Saving: Automates the documentation process.
Collaboration: Encourages team collaboration.
Versatility: This can be used for various types of documentation.
Cons
Limited Media Types: Cannot incorporate gifs or videos in instructions.
Learning Curve: May require some time to fully utilize all features.
Pricing Plan
6. SmartKarrot
SmartKarrot is an intelligent growth platform designed for Customer Success and Account Management teams. It aims to drive customer onboarding, adoption, retention, and revenue growth. The platform is equipped with smart actionable intelligence to manage, retain, and grow customers.
Key Features
Customer Health Scores
Early Warning Systems
SmartPlaybooks
Dynamic Segmentation
Automation
Integrated Data
Operational Intelligence
Pros
Comprehensive Features: Covers all aspects of customer success.
Customization: Highly customizable to fit specific business needs.
Real-Time Data: Provides real-time insights for better decision-making.
Unlimited Users: Allows anyone in your organization to access SmartKarrot.
Cons
Complexity: The platform may have a steep learning curve for some users.
Pricing: Pricing details are not publicly disclosed, which may be a drawback for some.
Pricing Plan
7. Custify
Custify is a customer success platform tailored for SaaS companies. It aims to boost product adoption while reducing customer churn. The platform is designed to provide a comprehensive view of customer interactions, making it easier for businesses to identify at-risk accounts and take proactive measures.
Key Features
Customer Dashboards
Automation Opportunities
Customer Health Scores
Robust Reporting
CRM and Help Desk Integrations
Customer Feedback Tools
Pros
Comprehensive Insights: Offers a 360-degree view of customer interactions.
Customization: Highly adaptable to specific business needs.
Collaboration: Features like the rating system enhance team collaboration.
Multi-Platform Integration: Easily integrates with other business tools.
Cons
Learning Curve: May require some time to fully utilize all features.
Pricing: Pricing details may not be transparent, requiring contact for more information.
Pricing Plan
For the pricing plan of Custify, you need to contact them for more details.
8. Gainsight
Gainsight is mainly focused towards mid-size to small enterprises and is among the highly-rated customer success software present in the market. The customer success software of Gainsight consolidates data from various sources and offers round-robin layouts that depict multiple views depending on the user's role or customer's attributes.
You can even analyze your company's activities with a particular customer and see the complete chronological history of the customers.
Key Features:
Ability to create scorecards of the customer's health.
Study customer's behaviour and tell the probable results using AI
Product Analytics
Support for Mobile, Web & Desktop Apps
In-App Guides & Engagements
Pros:
Customer Education: Boost onboarding via digital programs.
Product Experience: Drive better outcomes
Cons:
Reporting & Analytics: Needs improvement in creating interactive and detailed reports
Automation: Needs to improve in creating sophisticated automated workflows
Pricing Plan:
Custom pricing is available upon request
9. ClientSuccess
ClientSuccess is an idle customer success software tool to encourage growth. You can see all the customer activities in ClientSuccess, from onboarding to retention to growth.
This tool will track your customer via lifecycle and opens several other options for tracking your customer's health. It also has a feature that lets you share all the updates with your team members in real time.
Key Features:
Pre-built integrations
Reduce churn & increase customer revenue
Data-driven growth across all functions
Customer journey management
Customer onboarding & customer portals
CSM reporting & analytics
Pros:
Great Email Automation: Integrates with existing lists of customers to send queries.
Easy-to-use interface
Easily track the client's progress.
Cons:
Low success score model for some projects
It takes time to onboard everything on the platform
Pricing Plan:
Available on request
10. Catalyst
Catalyst is a customer success platform that provides a round-robin view of your customers and simultaneously builds customer health profiles leveraging data from the present tools.
It also facilitates one-click integration with numerous software, like Zendesk, Slack, Segment, and Salesforce. As a Salesforce user, you might be interested in features created to benefit you in aligning your processes.
For instance, you can leverage shortcuts in Catalyst that automatically update Salesforce fields and craft the following tasks and steps to provide timely follow-up.
Key Features:
Automatically log meetings to Salesforce
Automate customer journey
Reduce churn & increase upsells
Accurate customer health
Boosts net revenue retention
Pros:
Personalised education & communication
Customers insights collection
Time-savvy for CSMs
Cons:
Complex onboarding
Reporting of users is difficult
Pricing Plan:
Available upon request
11. Whatfix
Whatfix is a digital adoption platform that offers various tools to optimize your customer experience with the help of in-app guidance for self-help capabilities and effortless customer onboarding for on-demand and continuous customer support.
It caters for teams with a no-code editor to craft in-app guides and walkthroughs that display on the window only for particular user segments at particular times within the application. It also offers advanced analytics that can gauge customer engagement with the product.
Key Features:
Craft interactive product tours.
Onboarding task lists
Interactive guidance without the requirement of coding
Step-by-step walkthroughs
Advanced analytics
Pros:
Context-aware and personalized
Omnichannel presence
Fastest Time-to-Value
Secure and Reliable
Cons:
Lack of digital transformation planning
Complex technology and software
Budget constraints
Pricing Plan:
Custom pricing is available upon request
12. Salesforce
Salesforce software provides several advancing features to its customers to manage communications. Its huge variety of offerings are:
Service Cloud (for customer support and service)
Sales Cloud (for sales automation)
Marketing Cloud (for marketing automation), and more.
This permits businesses to manage market campaigns, keep an eye on customer information, and offer customer service, all from a unified platform.
Salesforce offers customized dashboards, detailed analytics, and catering insights into customer behaviour & priorities. You can use this information to create effective and focused marketing strategies.
Key Features:
Customized dashboards
Drive ROI with great sales and marketing alignment
Quickly resolve cases by unifying your teams
Customer support across different channels
Improves team's productivity with the help of Slack
Pros:
Work more effectively & efficiently with AI and automation
Centralise information
Integration capabilities
Cons:
Steep learning curve
Cost implications
Restricted mobile app functionality
Pricing Plan:
starting at $25/user/month
13. Medallia
Medallia, also known as Strikedeck. It is a customized customer success software with various tools for boosting customers' health and reducing churn. The customer 360 tool of Medallia has the expertise to offer a full view of real-time customers.
Moreover, the algorithm inside the health tool can easily be customized with the help of key customer insights. Medallia also incorporates tools to measure and track product usage in real-time.
Key Features:
Advanced segmentation capabilities
Share data across teams and systems
Flexible for enterprise difficulty
Expert data security and protection
Expert support in design, analytics, research strategy, and deliverables
The 360-degree layout of customer behaviour
Pros:
Easy-to-use interface
Seamless integration with Salesforce
Cons:
Challenges with software navigation
The rating meter is a bit complex
Pricing Plan:
Available upon request
Best 8 Essential Key Features of The Customer Success System
Powerful Dashboard
The rich and powerful dashboard helps keep the business at a glance. Take the overview and insights about business. Know better how business is going on.
Unified Communication Inbox
Centralise the customer communication in one unified inbox. The best customer success software has a unified inbox that helps streamline the customer queries in one inbox.
Proactive Features like Live Chat
Live chat helps in having conversations with customers in real time. Customers can rely on asking queries and expecting a reply instantly. Not only that but in a way it helps in decreasing the support ticket load so that support agents can focus on more important work.
Self-Service options like Knowledge Base
Knowledge base helps customers/viewers/users to have a look at the complete guide that is provided by you. In terms of, they can help themselves and get solutions.
CSAT Reports
Customer feedback is of utmost importance, especially when you are still building your company. With honest customer feedback, you will come to know what your customers expect from you and what is most demanded by your customers.
Powerful AI-Automation
AI-Automation is the work of god. AI has helped us in the best ways possible today and imagine having the powerful AI-rich customer success platform! A business does not need more than that. Do everything but with less manual effort.
Multiple Integration
The customer success tools have one thing best it has built-in integration for customers to use them. Having multiple integrations helps in getting things done in the right ways
Advanced reports and analytics
It is always a good option to have the whole business at a glance. Keeping track of business is important as it gives the best decisions to make further. With the advanced reports, keep track of the business of everything. From total ticket inflow to the resolutions.
Customer Success Software for Business
Customer Success Software is an important aspect in the business to manage customers and streamline queries but choosing the right Customer Success Software is a bit tough but not anymore.
Because Desku is the all-in-one solution that helps to streamline customer queries in one. May it be Emails or any social platform. Make your business powerful like never before.