Have you ever been stuck between which Ecommerce customer service software suits you and your company?
Come with us! We will help you get out of this complexity.
Customer service is gradually becoming crucial in today's highly competitive online world. Due to the COVID-19 pandemic, people's expectations have elevated, and as a result, consumers are looking for a continuous shopping experience.
If we talk about the facts, more than 70 per cent of the customers will say they would switch companies just after one detrimental customer service! 
Before opting for a new support tool, it becomes crucial for customers to understand which features would be more critical to their business. Try to know what they expect from a company to meet their demands and avoid the detrimental customer experience.
Now, we will go deeper into this guide to have better learning of e-commerce customer service tools along with their features. 
And here we go:
9 Best Ecommerce Customer Service Software Shortlisted For You
1. Desku
The first on the list is Desku.io, one of the best customer service software for Ecommerce. Desku is an AI-powered customer support that helps to streamline customer support for Ecommerce businesses. 
Desku is a relief to the customer support agents for streamlined work as well as the power of automation that helps agents carry more work with less effort.
Easy integration of Shopify, WooCommerce, and Ecwid will help to easily connect your store and carry out all the important Ecommerce operations from one unified platform.
Its remarkable and exciting features always give a new experience to its customers who are looking for ecommerce customer service software.
Why Choose Desku?
Desku has manifold features and benefits, which makes it a standalone tool for creating a seamless Ecommerce customer experience in your business.
A unified multi-channel inbox helps in centralising the customer queries under one platform. From easy assigning queries to automating the messages to send to customers.
Proactive Live Chat helps in embedding the knowledge base and no-code chatbot builder that helps in easy communication and engagement with customers.
Let's look into some of it's advancing features: 
Zero hidden charges

Impressive multi-channel communication management

Seamless onboarding and ticketing system

Exceptional customisations

Seamless user interface

Native AI benefits and AI automation

Ultimate customer satisfaction with an effective and fast support system
Price:
Pricing starts from $29 per user/month.
2. Zendesk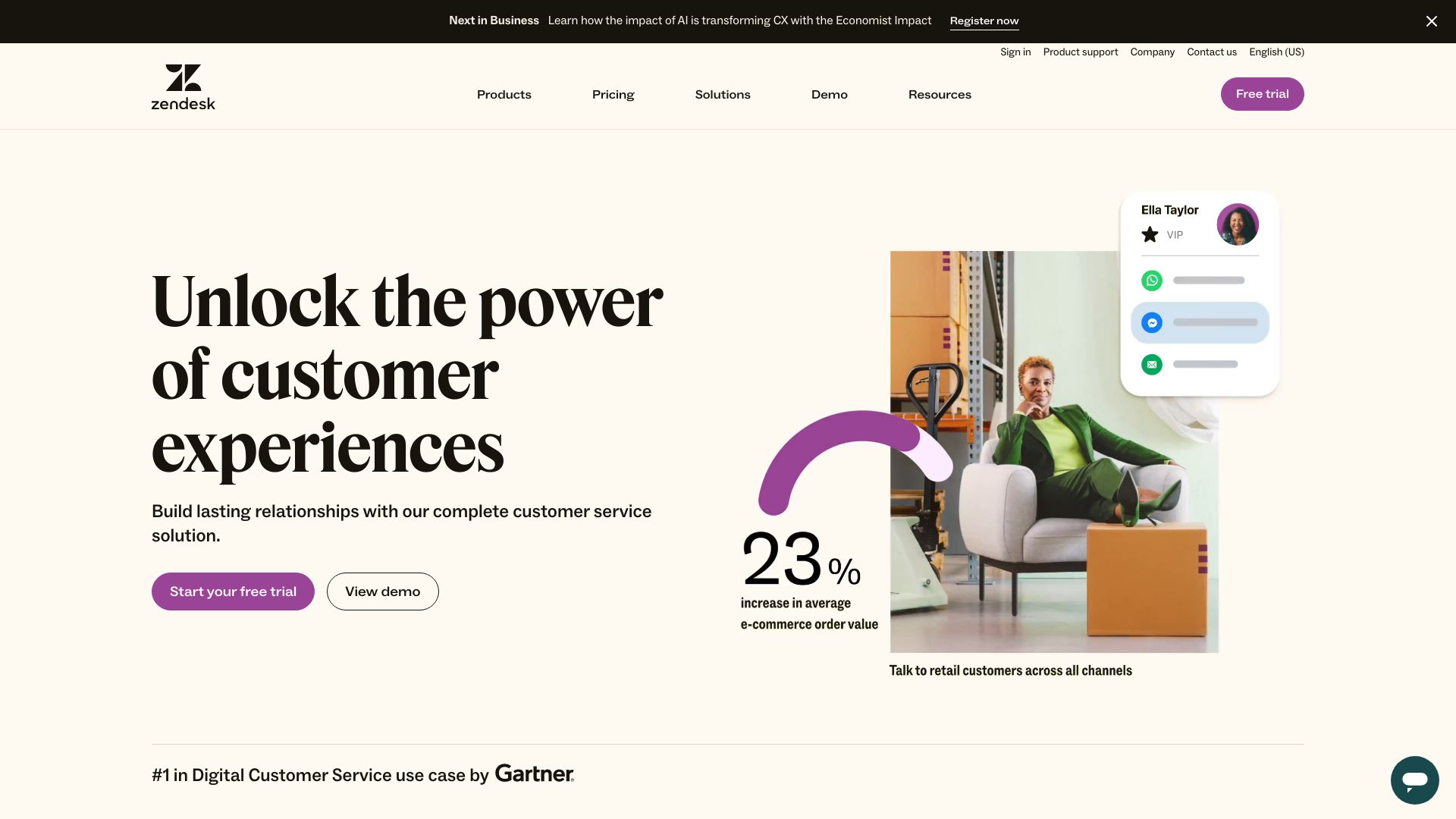 Zendesk is a well-known e-commerce customer service software tool among users. It is usually associated with larger teams due to the product complexity, overall cost, and the resources required for initial set-up, though they have some lower-cost plans, too.
Why choose Zendesk?
Zen desk has the most interesting features catered to the needs of the customers to enhance their service experience with your business and some are as follows;
Seamless ticketing system 

Live chat process 

Offers multiple brands

Reporting and analytics

Wide range of products 

Knowledge base platform

IT service desk

SMS messaging and calls
Price:
Starts at $ 19 per agent/month.
Read More:10 Best Zendesk Alternatives for Your Business in 2024
3. Gorgias
Gorgias is also listed as the best ecommerce customer service software. It helps in automating responses to frequent requests and managing all support tickets from one place. Besides this, Gorgias offers other features to its customers as well.
Why Choose Gorgias?
Gorgias offers remarkable features to its customers, and some of them are mentioned below:
Provides eCommerce support agents

Aids in speeding up processes such as follow-ups and returns.

Frequent customer responses

Great customer support

Live chat

Email integration

Request assignment

Customer history tracking 

Autoresponders
Price:
Starts at $60 per user/month.
Read More:Exploring Gorgias Alternatives and Competitors 2024
4. Help Scout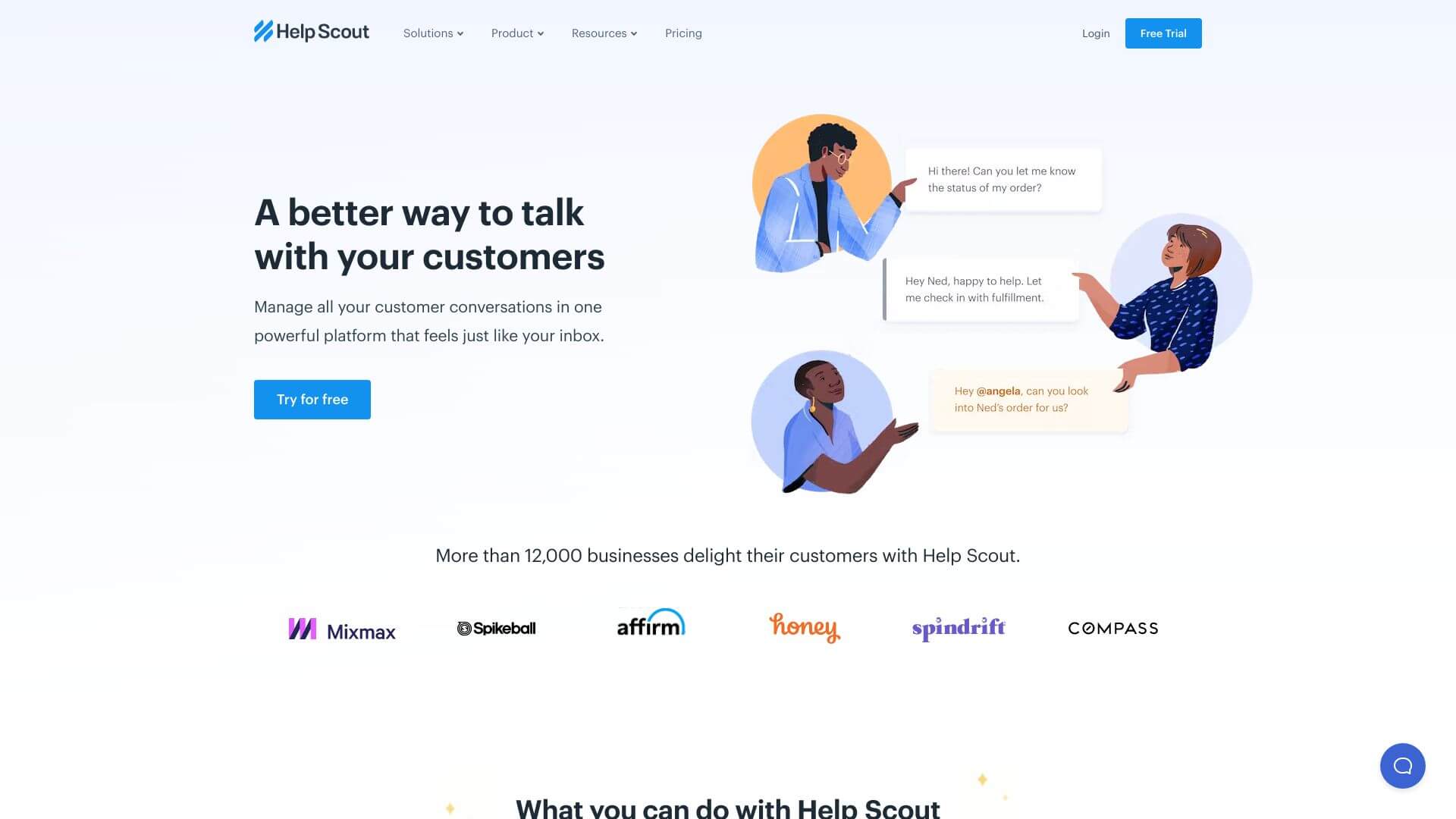 The next on the list of customer service software for e-commerce is Help Scout. 
Small teams usually do not have the luxury of providing huge budgets or time to invest in learning and setting up a new tool; they require something sophisticated to cover all the bases to dash and flexible enough to grow over time.
Why choose Helpscout?
Help Scout offers seamless features to its customers that include:
Clutter-free shared inbox via channels like Facebook, Messenger, emails, live chat

Collaborative environment because of collision detection and private notes

Access to productivity tools such as saved replies and workflows to offer lightning-fast responses to general questions and routine tasks.

Proactive support solution 

24-hour customer service 
Price:
Starts at $20 per user/month.
5. Avochato
Next to go is Avochato, which falls under top Ecommerce Customer Service Software. Global organizations use it for powering your text messaging communications.
Why choose Avochato?
One can improve your business with Avochato's best text messaging software, by incorporating significant eCommerce customer service strategies along with its features.
The advancing features Avochato carries:
Utilise live chat to maintain meaningful, real-time conversations with customers far past promotional emails.

Without any technical background or specific programming knowledge, teams can easily set up their Avochato contact details; import, and broadcast them to their clients/customers. 

The software grows your business by integrating with giant platforms, including the following:

Salesforce

Slack 

Microsoft Teams
Price:
Starts at $19/ per user/month.
6. Sprout Social
The next one is Sprout Social, a one-stop solution for all your social media management and an excellent customer service software for ecommerce.
Why Choose Sprout Social?
Sprout Social is an optimisation platform for several sizes of agencies and brands. In all, the different and unique customer service software for e-commerce offers a hub to publish and monitor content across multiple social networks.
Features that attract users:
Easily analyse patterns in social media comments

Offer your support team many opportunities for acknowledging what needs to be fine-tuned. 

Interacting with the clients/customers on social media will reduce the number of requests.

Allow you to prioritise further complex issues.

Manage up to 5 social media profiles with the Standard plan.

Handle up to 10 with the Advanced and Professional plans.

Saves time and money.
Price:
Starts at $89 per user/month.
7. HubSpot Service Hub
HubSpot is highly popular as a resource or marketing tool. The Service Hub brings all your channels and customer data together in one place to assist the support team through self-service and automation.
There's a difference between complex and flexible pricing, having manifold pricing options and plans to choose from. For those customers who are looking to rise, the HubSpot pricing setup can be overwhelming.
Why Choose HubSpot Service Hub?
Huge customer satisfaction 

24-hour customer support

Flexible pricing plans 

Customer feedback and surveys

Ticket creation bots

Knowledge base builder 

Data sync

Reporting

Automation

Email templates 
Price:
Starts at $45/month.
8. Wix Answers
Wix Answers is the best for omnichannel support for the ones using Wix Answers. Wix Answers is a customer support and helpdesk software platform offered by Wix, a well-known website building and hosting company. It is designed to help businesses provide efficient and effective customer support by offering a range of tools and features.
It is a cloud-based help desk platform specialised for Wix websites. 
Why Choose Wix Answers?
Unlike other e-commerce customer service tools, Wix Answers also has various features. Here are some of them:
Serves small and midsize businesses

Seamless ticketing system

Live chat

A high volume of users

Create help widgets
Price:
Starts at $24/month.
9. Hiver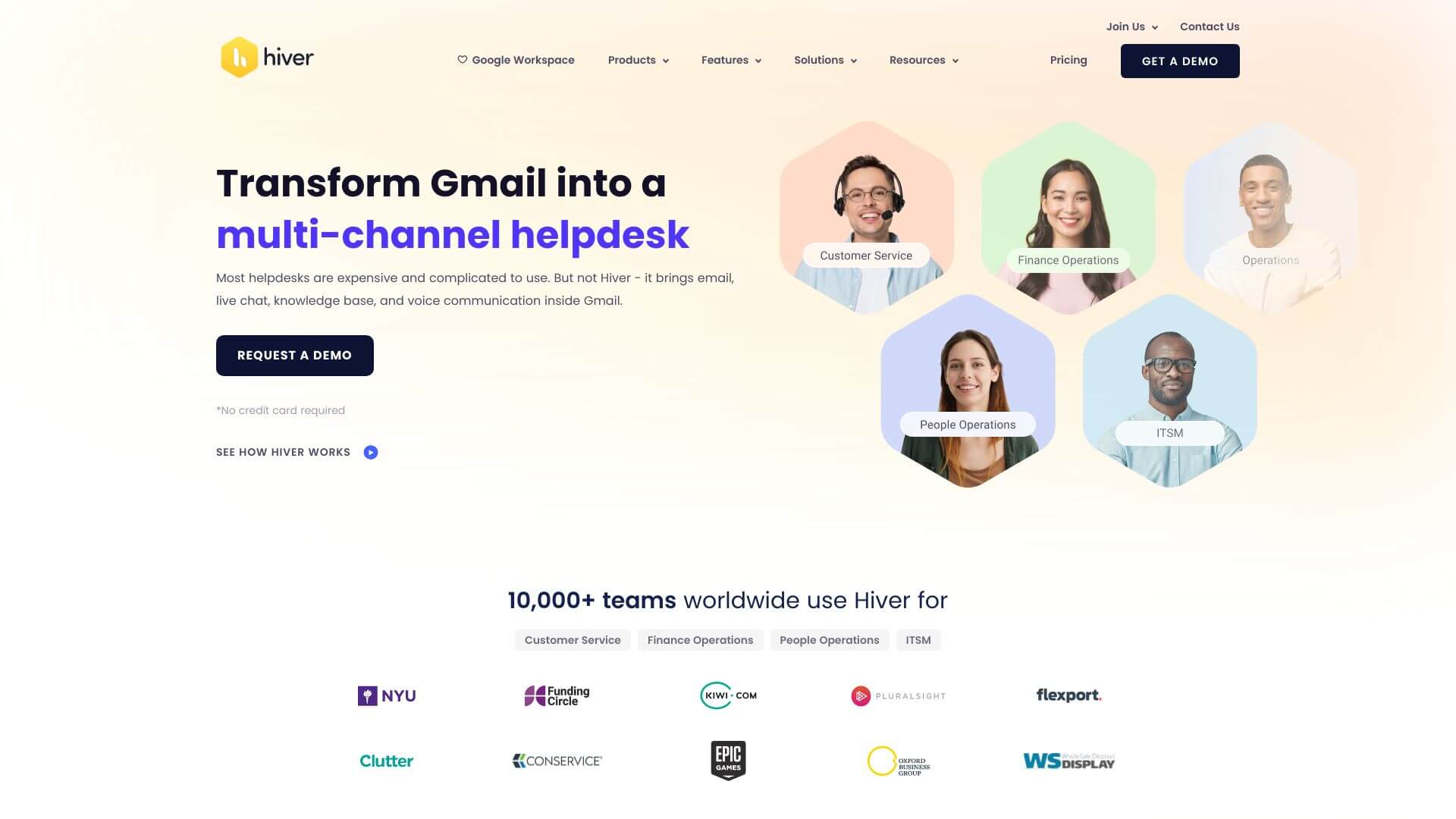 Hiver is one of the best e-commerce customer service tool companies leveraging Gmail.
Hiver's outstanding features make it unique and different from other eCommerce customer service software tools. 
Why Choose Hiver?
We have mentioned some great features of Hiver for your learning and experience. So here you go:
Help teams to deliver customer service from a familiar tool like Gmail.

They can easily collaborate, assign, and track customer emails and run automation and analytics from the Gmail interface.

Teams can also collaborate on shared email accounts that include sales@ or support @ without even leaving Gmail accounts
Price:
Starts at $12 per user/month.
Why are Ecommerce Customer Service Software Tools Important?
Since the beginning of the pandemic, the e-commerce market has seen tremendous growth in the past few years, when online purchasing has seen a 76% sales increase.
One should never forget that customer service is an indispensable part of any business that provides online products and services where people cannot physically touch and see the items. Therefore, it directly impacts a company's sales and reputation.
Dealing with the rising volume of orders, inquiries, customer expectations, and objections results from increased market competition. Consequently, you will get: 
Happy clients with fewer complaints that bring positive Net Promoter Score, better organic sales and better word-of-mouth.
Thus, as soon as you select your e-commerce customer service platform, you should use the tools to improve and automate the support you will provide your customers at all levels throughout their buyer's journey.
Ecommerce customer service software offers functionalities such as ERP integration, customer data collection, order management, or marketing solutions, improving communication and cooperation. It aids in boosting customer loyalty and accelerating conversion rates.
Read More:6 Best Ways To Boost Effective Ecommerce Customer Service
Choose the best Ecommerce Customer Service Software
Each ecommerce customer service software mentioned above has unique functionalities, features, and pricing. Always consider the market position, your expectations, needs, and wants before selecting the right e-commerce software tool.
Moreover, if you are satisfied with your customer service tools and looking for a versatile sales platform, your outreach has CRM features possibilities for integrated email service and prospecting. You could go with Desku.io.