Today running a business is not just selling products or services, it is more than that. When it comes to engagement with customers, it is more of handling and managing customer satisfaction by providing instant solutions. With the upbringing the tb
The upcoming solutions for customer experience are now here. We understand that being an eCommerce business owner there is a lot on the plate, and hence it becomes a little difficult to constantly concentrate on customers because there are other things to look for too!
How about excellent customer service managed by you through the best helpdesk software and you need to focus on things that are required to escalate your business? Let's see how and what can be done with the Helpdesk Support software for ecommerce businesses.
What is e-commerce help desk software?
The best ecommerce help desk software is customer conversation management software that helps in managing the customers under one roof with multiple sleek features and functionalities. May your customers approach you from different communication channels, they will be not left without getting back to them as they will be always approached by the support agents.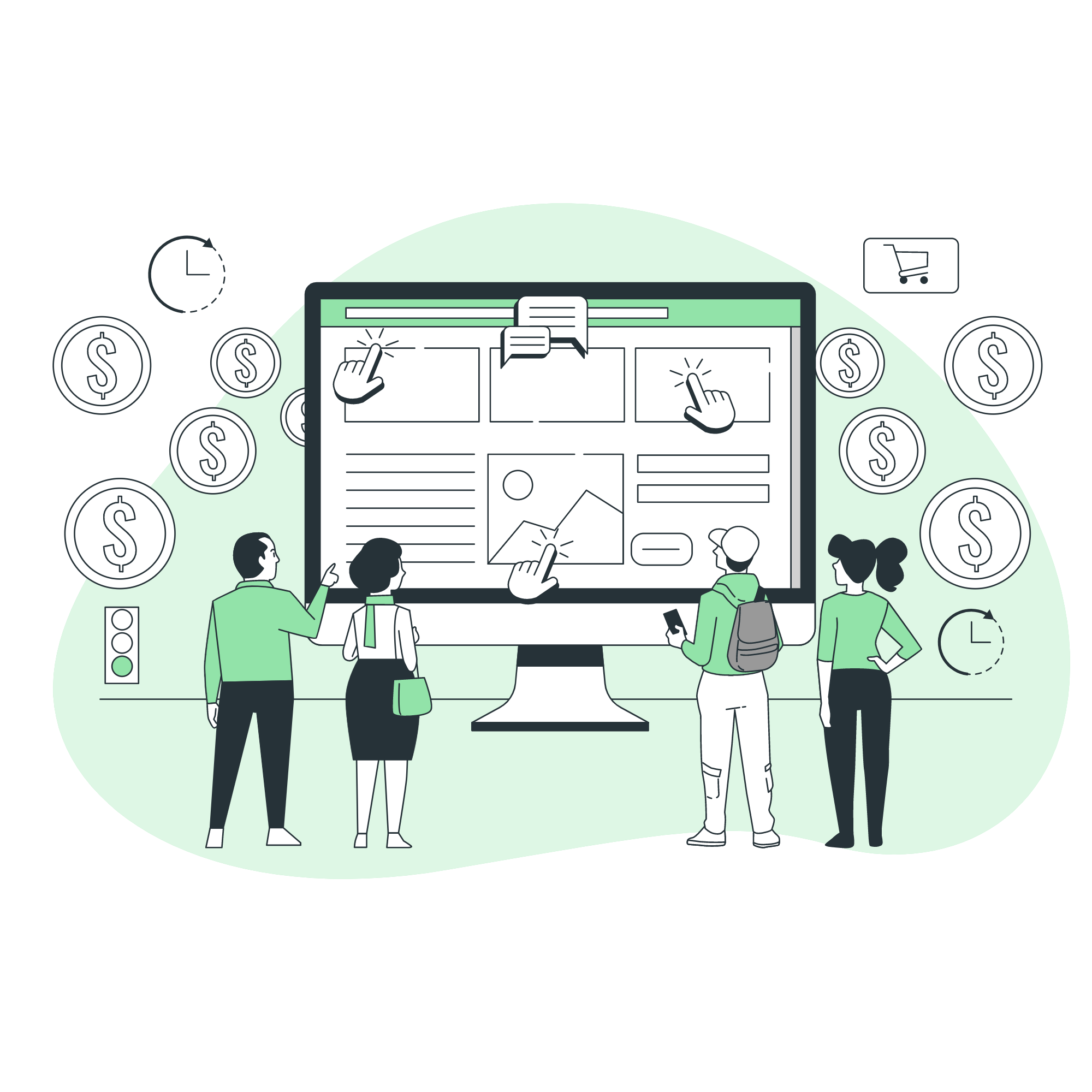 The automation and self-service features in the helpdesk support software bring ease to streamline customer. So various factors help in making your business easier. Various things make the business easier through the helpdesk support software and we will further discuss in the blog why the helpdesk is an important factor in the business.
Why customer service software is important for e-commerce business needs?
As we have talked about how to support software brings the changes in the eCommerce business to streamline the customer management in one. Some things help in prioritising your business better. Before investing it into the good Helpdesk Support Software, how it can help in customer engagement support? Let's get into the benefits of having Helpdesk Support in the eCommerce business. Best ecommerce help desk software like Desku helps in managing and to help your customers in the most organised ways possible to deliver exceptional customer service. Manage your customer service with the help desk software for your business for further service and support.
Also Read: 10 Ways to boost website chatbot efficiency & functionality
Brings the team productivity e-commerce helpdesk tools
As we all know that managing the customers is not the work of one person, it needs a special technician to solve the query of the customer. It needs teamwork. Tickets can be easily assigned to the support agents according to the queries that come along.
This brings productivity to customer management, as the business owner will no longer have to wait for the support team to get in the role and answer, they can easily assign the tickets to the right agent. Businesses need help desk software to maintain the balance between the actual working and the growth ratio.
The live chat software helps in engaging with customers instantly in an e-commerce company. Software for e-commerce businesses makes customer interaction and customer communication stronger. Help desk features include various options that bring productivity to the team where ecommerce store owners can take customer feedback surveys sitting back.
Omni-channel support for good customer service
When your customers are angry, they will always barge you out of different platforms and can do it from any platform. Meanwhile, if you don't get back to them, it will not be something that they expected at that time. When you are connected through Helpdesks, they can provide you with everything under one platform where you can approach your customer support easier from different platforms.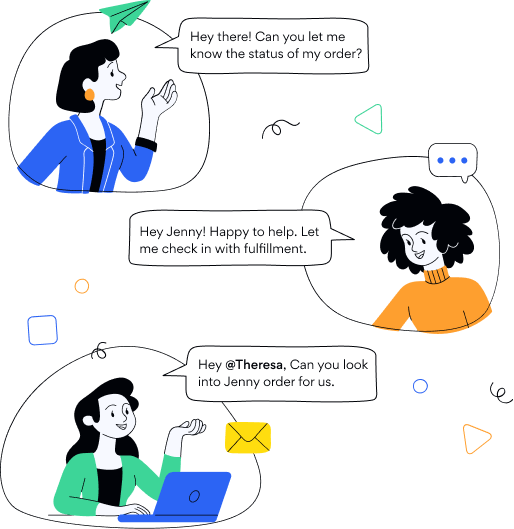 Improve your customer issues with customer service tools to resolve customer issues in minutes. People mostly do not like to wait for a longer time to get a reply from the brand, and hence Desku is the software if you need an all-in-one experience for the best e-commerce help desk software
Instant and strong engagement support by ecommerce help desk software
Your omnichannel customer service will always appreciate your instant engagement and the support you provide to them when they are facing any issues. With real-time notifications, you can always get back to your customers in no time. The sleek features like LiveChat and Ticketing Management can help to get through customers' queries in depth. When you reply to your customers instantly, there will be no unhappy customers barging with your brand or company. This will help in retaining customers too.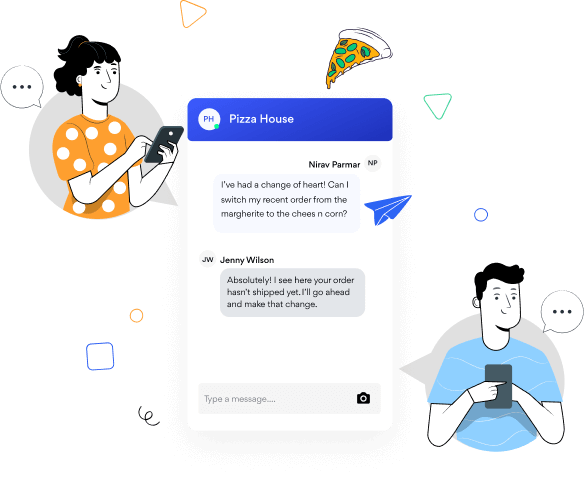 Ticketing and customer service bring instant strong engagement support and can help you streamline customer information. Customer satisfaction surveys are taken that will help in making your product better and customer-centric.
Automations: Right help desk software
The software always comes with the pros that show some or the other automated features that help in streamlining the working process in one. Other features like auto-reply help in getting in touch with customers in the absence of a support agent. This gives customers hope of a support agent getting back to them with the solution.
Chatbots
The chatbots are one of the core parts of the automations that brings up the automated interactions that will directly take customers to their point of query and provide the solution. The chatbots help in the absence of support agents and will never leave your customers hanging. We all know how Chatbots we can see everywhere on every other site when we try to approach them.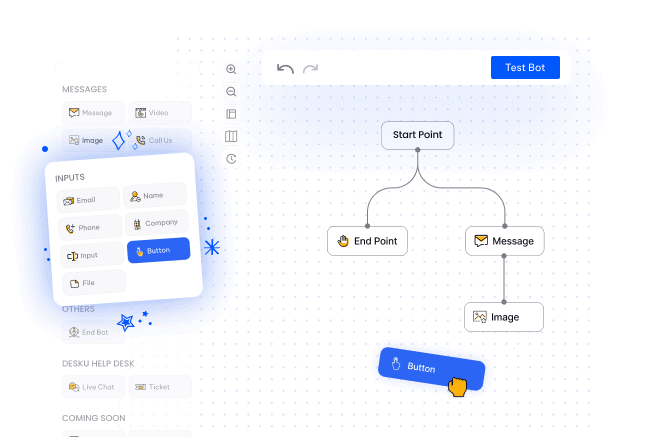 These are some of the top most prioritised features that will help in bringing better functionalities and helps in providing seamless support to their customers. Before investing in any helpdesk support, one should be aware of some facts about the helpdesk they will go further.
Top-10 ecommerce help desk tools
There is various helpdesk support software, with the ongoing trends and competitors in the market one helpdesk should match your budget, features and functionality according to your business. With the various business sectors, it must give you the best solutions by managing the customers in the best ways possible.
Let's get into the each of Helpdesk for your convenience to easily choose the one.
Desku.io: Best Help Desk Software
Desku is one of the most easy-going helpdesk software that brings customer support to ease. If you are an eCommerce business owner or running your business through your website, this platform is right for you.
The Shopify and Woocommerce business owner can just connect their store and manage their customers from Desku itself. It has a powerful ticketing system feature that allows streamlining your customers' queries in one. Along with that, it has a Live Chat that allows instant interaction with your customers.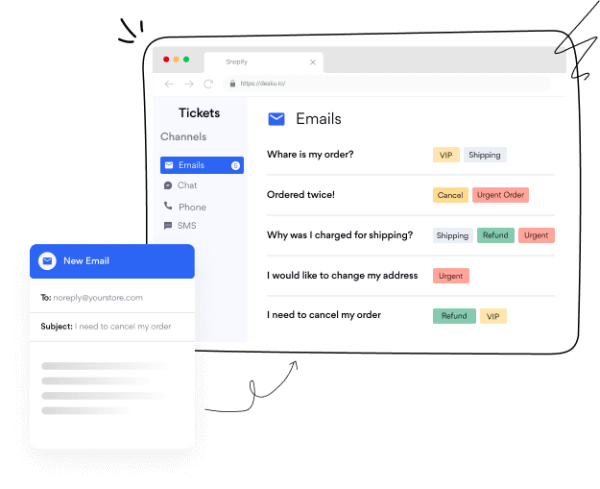 It also has a self-service centre that allows customers to find answers on their own to basic queries. The accurate and informative knowledge base will help in getting accurate answers to your customers even in the absence of a support agent. This will help in decreasing ticket generation as the basic queries will be automatically solved.
Along with the ticket generation and live chat feature, there is automation and chatbots that helps in getting back to customers in the absence of the support agent. With the numerous customers approaching every day, you will not miss out on any customers. Whether you are a small or medium-scale business owner, Desku is the first choice to make it.
Pricing starts at $19 per month
Gorgias
Gorgias provides the centralised view for managing customer support and its data. The repetitive process like filing returns and taking follow-ups can be done through Gorgias itself.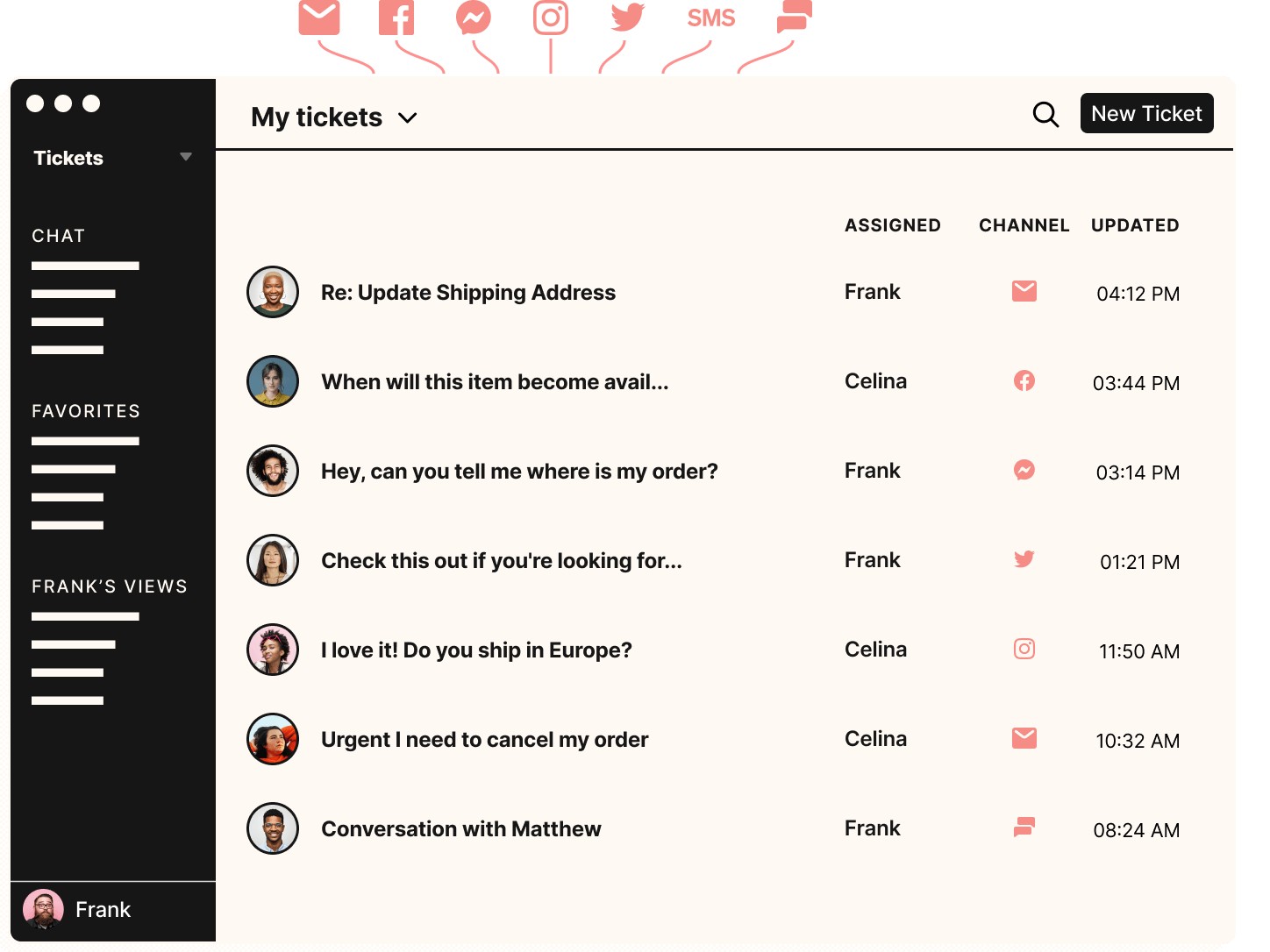 Mentioning the plans and pricing, they have particular limitations in the features and for upgradation, it takes extra charges. There is a limitation in the ticket generation and the number goes around 350 tickets per month users pay $25 for every 100 tickets and which is a lot. Keeping 350 counts, it is much easy to reach in a day if you have more customer base and you will have to keep on paying for the tickets and guess the amount that reaches every month. Too much right?
This strategy and setup of the business can make situations a little messy and hence you will be always wondering about the payment that you will have to pay every time.
Pricing starts at $60 per month
Bitespeed
Bitespeed is affiliated with WhatsApp marketing. It only supports the Shopify business owners and not any other eCommerce platforms which is a major drawback. What about other eCommerce business owners? If you are a Shopify Business owner, it helps in navigating your customer support in Shopify.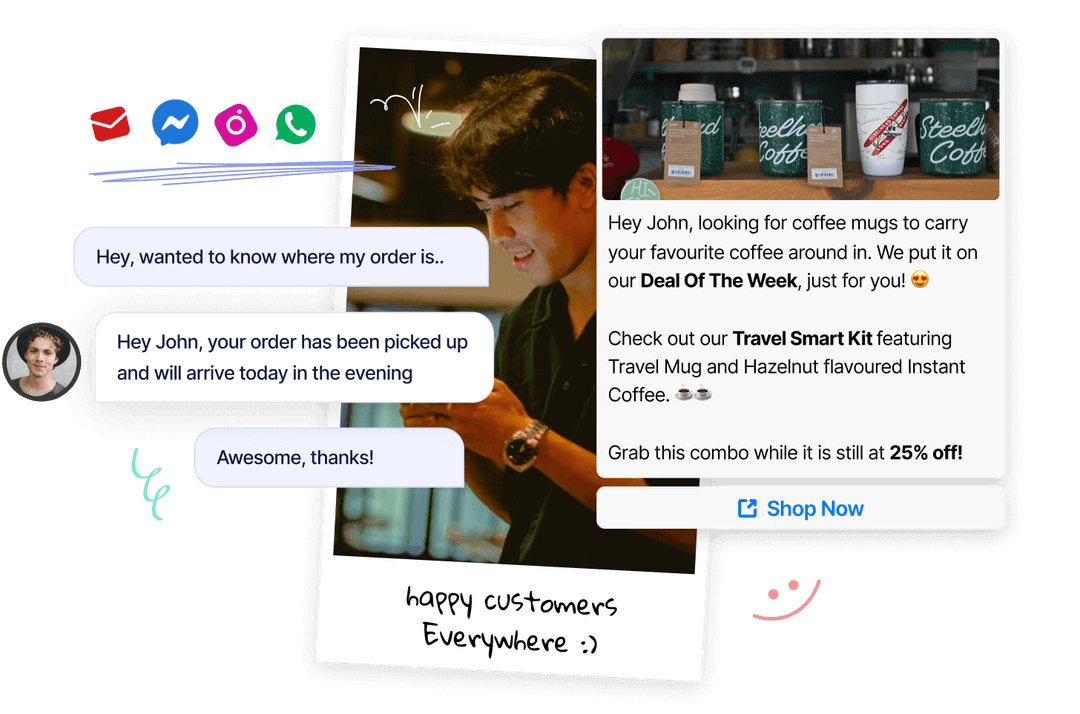 They include one free plan which is a good point if you are having customer range of something 500 customers. The paid plans are extremely higher and that is only focused on Shopify.
Pricing starts at $79 per month
Helpscout
Talking about the small teams who are not able to afford or have massive budgets to spend. Help scout is the best for them to choose for business.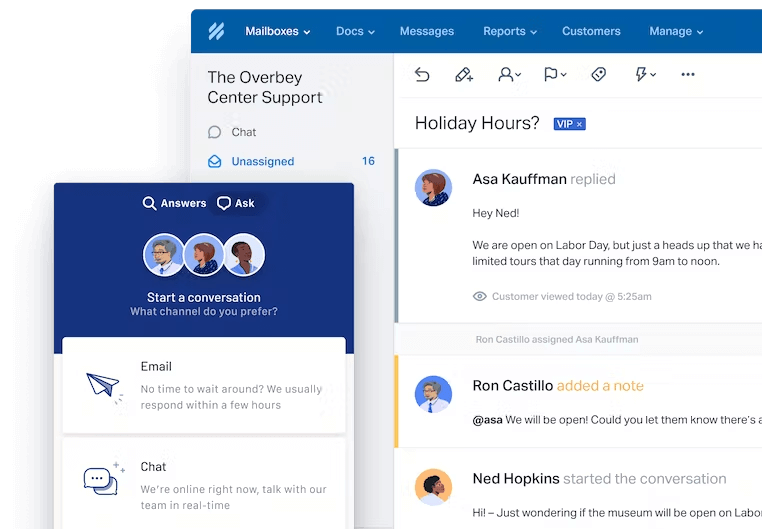 Because smaller teams don't often have the luxury of massive budgets or amounts of time to invest in setting up and learning a new tool, they need something sophisticated enough to cover all the bases, simple enough to get up and running quickly, and flexible enough to grow with them over time. It has a collaborative shared inbox that makes it easy to support agents. Apart from everything, it surely does have limitations for users and so it does limit itself with the features that provide in the pricing plan.
Pricing starts at $20 per month
Live agent
A live agent helps in combining customer data from every platform like emails, calls, and every social media platform. It has a dashboard that has a simple setup where integrations are also mentioned. It surely does have productivity tools for the team but lacks some advanced features.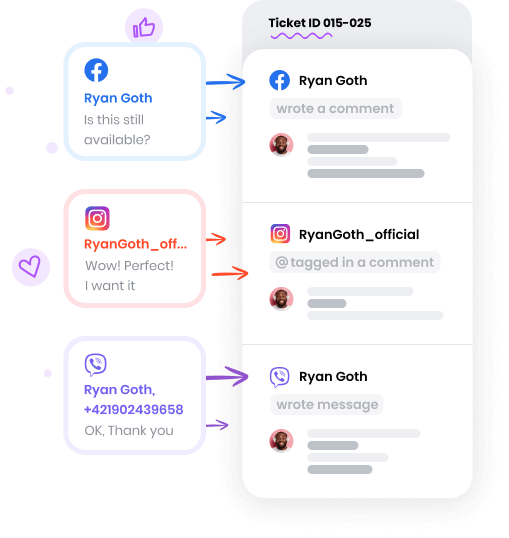 The pricings are normal enough to make it affordable but it lacks some advanced features that help in maintaining customer support with a better connection.
Pricing starts at $15 per month
Zendesk
We all know about Zendesk and the service that it provides to us for managing the customers in your company. It is mainly known for the various multiple tools that will help in customer service, sales, and other Zendesk integration. It allows for to addition or integration of the eCommerce tools so that it becomes easier for the eCommerce business owners to manage accordingly.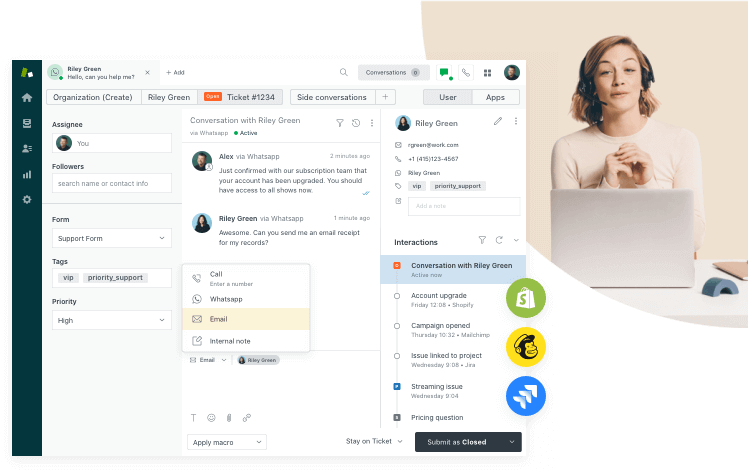 The basic plan includes the basic features of voice, live chat, email and other support sources considering ticketing. Zendesk provides additional charges if a customer wants to access the extra features.
Considering the tentative amount to spent becomes almost $79 or more than that depending upon the features that we use. There are different criteria set but that comes with the charges. Considering the small business owners, it becomes a little extra to spend on the helpdesk software.
Freshdesk
Freshdesk is one of the award-winning helpdesk solutions that is dedicated to customer-centric companies. Along with providing the best support amongst business owners, it is surprisingly affordable and consists of some valuable features to improve the customer base. Like the other helpdesk support software, it has a powerful ticketing feature that helps in getting in touch with the customers instantly.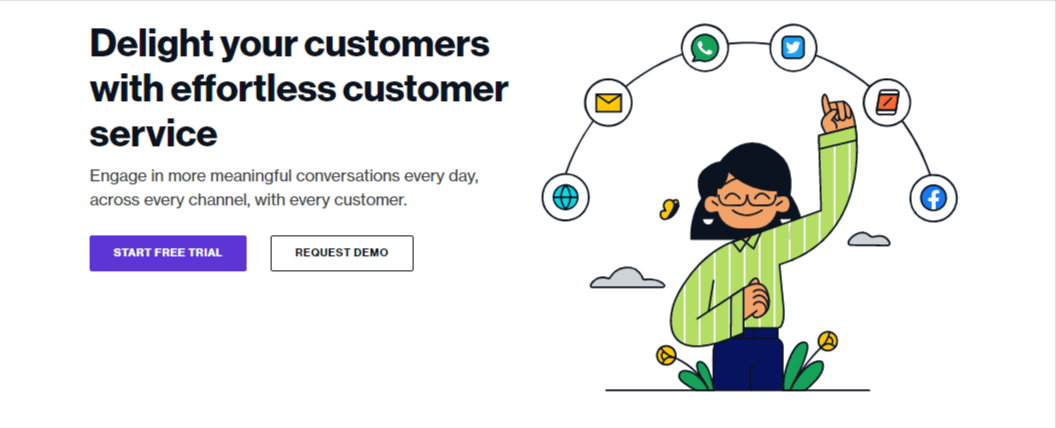 Apart from all the features included, it has some small learning curve which is because of the wide range of features that are included. Due to this, it is only best for supporting the small business and not the enterprise level. If you are a small business owner, consider Fresh desk is a customer software that is built to help and grow the customer service team.
Pricing starts at $999 per month, it also has a free plan which consists of limited features.
Delight Chat
Delight Chat is the help desk support software that allows you to manage your multichannel customer service and is mainly focused on Whatsapp marketing which will help in getting in touch with your customers through Whatsapp. It is an omnichannel support platform that helps in getting in touch with customers through multiple platforms under one roof.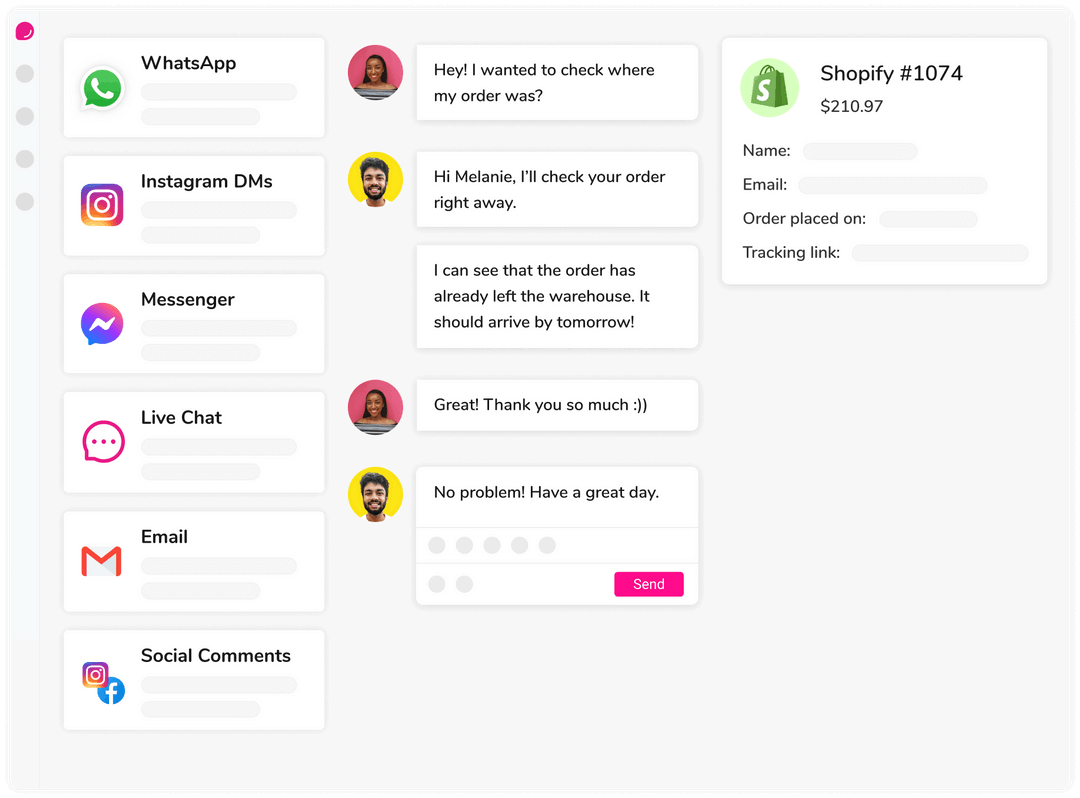 The thing about the Delight Chat is that it has limited features and access in the starter plan which will lead you to upgrade your plan or pay a higher amount for the addons. In the starter plan, it provides upto 500 tickets per month only, that is there is a limitation on the number of tickets. There are some extra $10 charges on 100 tickets.
Pricing starts at $29 per month
Conclusion: ecommerce helpdesk software
These were some top-8 helpdesk support software that is available in the market that you will need as the help center. You might often get confused while going for choosing any helpdesk software for your use. The factors you should be looking for are pricing and the features and functionality that will be appropriate for your business to use it. If the features and functionality match the pricing, bam! It is the software that you were looking for. Need a help desk? Looking for one?
You might have figured out the right help desk software for 2022 to use it as support channels for your company. As help desk software is essential for any business, choosing the right help desk will help answer customer queries.
Out of every help desk system, Desku.io is considered to be the most preferable, as it has a cheaper price it does not have any hidden charges. No matter whether you are a small or medium-scale business owner, it has everything that is needed for your business to provide customer support.