It is time to grow and evolve with ecommerce live chat support. Let's understand why live chat customer support is one of the important things to focus on.
Ecommerce live chat has evolved into an indispensable asset for any ecommerce store aiming to amplify customer support and escalate sales. In the fast-paced digital landscape, online shoppers crave immediate, personalized assistance.
Implementing a live chat feature on your ecommerce website can offer real-time support, and customer engagement, and ultimately drive conversions.
Want to learn more about Live Chat Software, let's jump straight!
Live Chat 2023 [Must Note]
It is stated that in 2023 Live Chat helps in solving the instant questionnaires of the customers or visitors that have impacted to bring the 10x sales in the company due to quicker answers. Almost 60% of customers expect an immediate response when initiating Live Chat
Top 8 Ecommerce Live Chat Software Solution
1. Desku
Best live chat software for ecommerce

Desku is An all-in-one ecommerce live chat and support tool, that brings all customer interactions into a single dashboard. With automated workflows and AI-powered chatbots, it offers a scalable solution for personalized customer support.
Considering the live chat in Desku it has various remarkable features that will help to grow and evolve the customer engagement. Live Chat allows to post-chat surveys. Let's understand more about Desku's Live Chat.
Key Features of Desku Live Chat
Live Chat agents can be easily assigned to the customer's live chat so that customer queries can be solved with accuracy.

Chat history can be easily viewed for the reference of further customer chat

.
Collect customer feedback so that you can know your customers better to drive business customer-centric and also measure customer satisfaction which is live chat functionality.

Provide instant replies to customers and make customer relationships stronger. Live Chat saves time and solves repeated queries faster than ever before.

You can embed your self-service portal for the customers so that they can always help themselves and get an idea of what they are looking for.

Live Chat Software gives relief to both your customers and live chat

agents.
Desku is considered to be the best live chat software for businesses that are constantly looking for customer engagement and want to improve customer interaction.
Pricing
How to use Live Chat in Desku?
Desku's live chat is easily embeddable in your website and there are just a few steps to consider. Let's have a look at how it works with your website.
Live chat for customer support service is one of the crucial features that will help in giving instant replies to customers. Do not let your customers wait for the replies instead give instant replies to your customers.
Go to the "browse all integration" panel from the settings.
Configure the "Live Chat" for moving further.
Copy the given URL for configuring the live chat on your business website.
Paste the Snippet code above the closing </body> tag of your website's source code
Kindly save the snippet code that you have added and you are good to go with the configuration of Live Chat on your website.
AI Automation in Live Chat
Live Chat is one of the most important engagement features that helps to make stronger engagement connections with customers. Live Chat helps in several ways and they are listed below;
Easy assignment of Live Chat to the relevant support agent
Easy conversion of live chat into tickets
Generate the chat summary using AI
Know how your customer sounds, generate the sentiment analysis and talk to them accordingly
Get suggested answers to give to your customers, and send them with one click. Easy and fast resolution for your customers.
Manage live chat by using the appropriate status for better organisation.
Desku lets you connect the live chat widget in your website which helps you with branding and customising. The automation can be experienced by simply activating and training your Chatbot. Easy human hand-off helps easily switch to a human support agent for precise support.
2. Drift
Drift your customer support service into the business
Drift is an AI-powered conversational platform designed to facilitate more effective customer interactions. The platform integrates chat, email, and video to provide personalized experiences at scale throughout the customer journey. Drift aims to help businesses connect with customers in the moments that matter most, driving more pipeline and less work.
Key Features
AI-Powered Chatbots: Offers human-like conversations 24/7.
Intel & Audiences: Provides hyper-targeted website experiences.
Conversational Landing Pages (CLPs): Allows for real-time conversations with visitors.
Pipeline Generation: Identifies website visitors and understands their intent to deliver personalized experiences that qualify and mature them down the funnel.
Sales and Marketing Alignment: Creates a deep alignment between marketing and sales, making it more than just a chat tool.
Pricing
3. LiveChat
Best ecommerce live chat for easy sales and marketing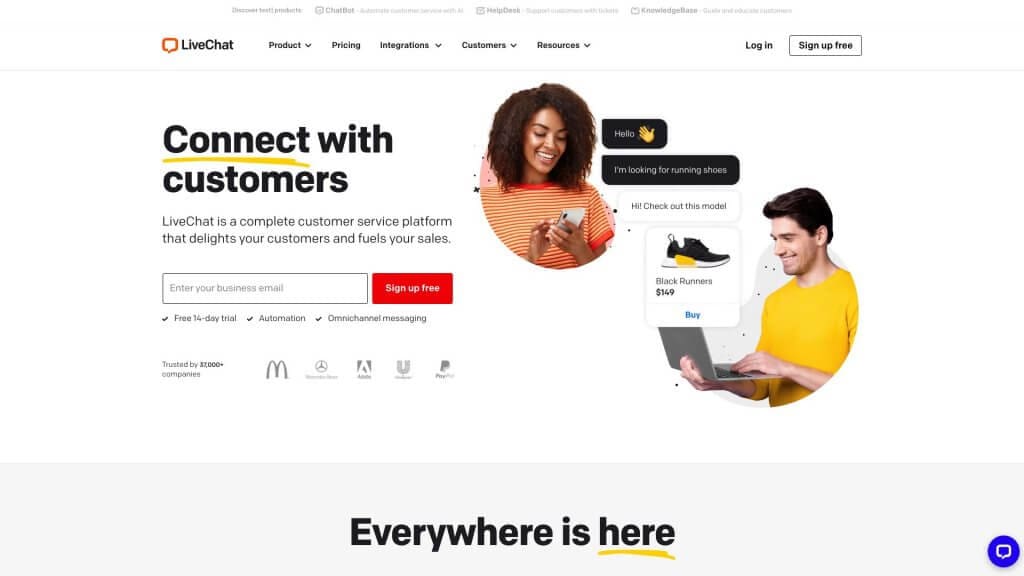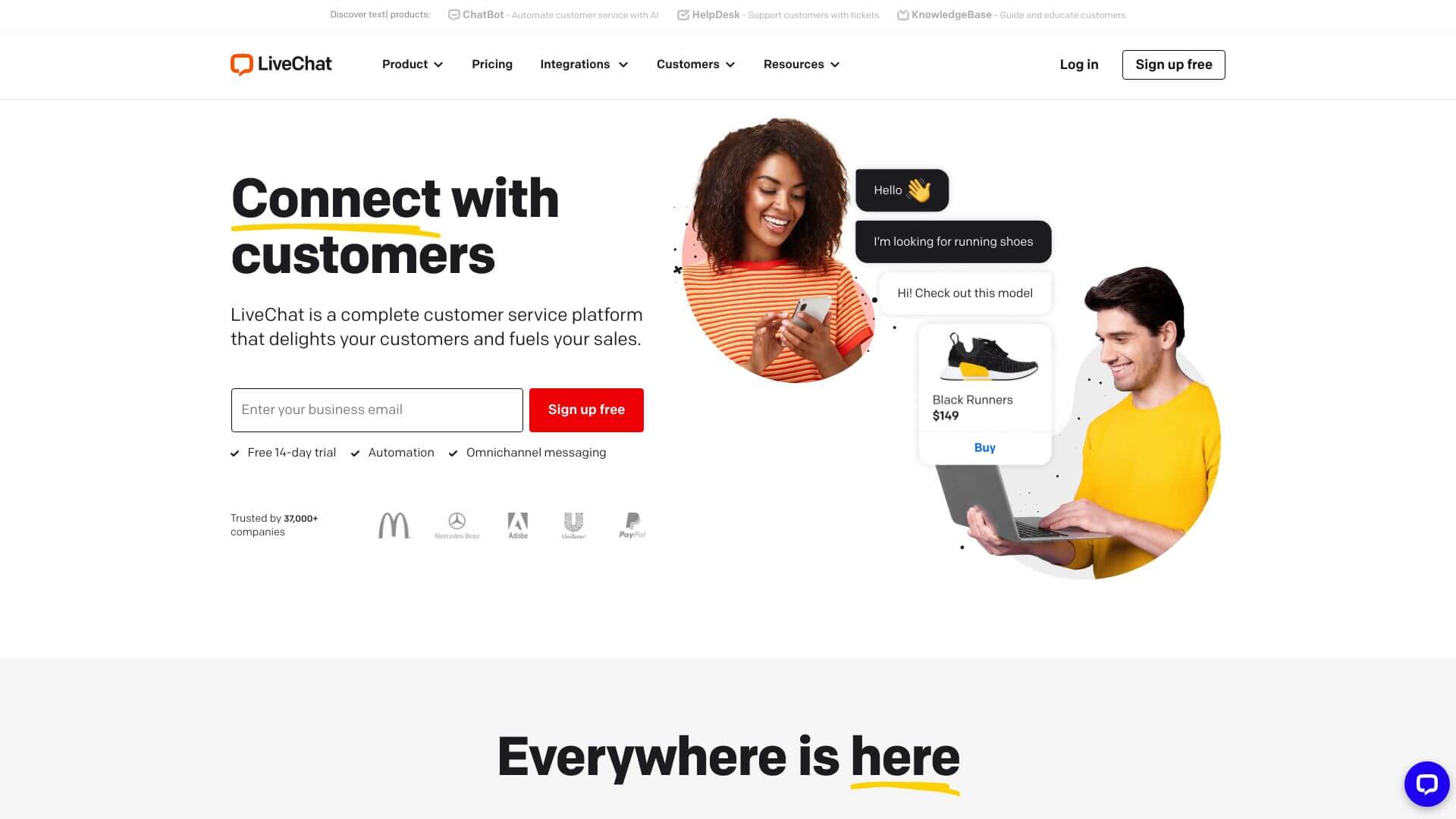 LiveChat is among the best live chat apps that serve as a complete customer service platform, designed to delight customers and fuel sales. It offers powerful live chat customer service, making it a top choice for ecommerce businesses to manage customer interactions.
The benefits of live chat with LiveChat include capturing leads, making buying easy, and offering a superb customer experience.
Key Features
Capture Leads and Make Buying Easy: LiveChat includes live chat features that allow you to show off your goods in elegant product cards, making it easier for visitors to chat and make purchases. This is particularly beneficial for ecommerce store owners.
Qualify Leads with Custom Forms and AI Chatbot Automations: Implementing live chat with LiveChat allows you to qualify leads online, making it a powerful chat software for ecommerce websites.
Track Sales and Business Goals: LiveChat's live agent capabilities help you track sales and business goals automatically, providing valuable ecommerce customer support.
Balance AI Automation and Human Touch: LiveChat allows you to use live chat to engage, nurture, qualify, and convert leads across different channels.
Easy Integration with 200+ Tools: This feature is a solution for your online business needs, allowing you to connect LiveChat software with apps like Shopify, making it one of the best live chat tools for ecommerce stores like Shopify.
Pricing
Read More:9 Best Livechat Alternatives For Customer Support Team in 2023
4. Zendesk
Zendesk ecommerce live chat unleashes the customer experience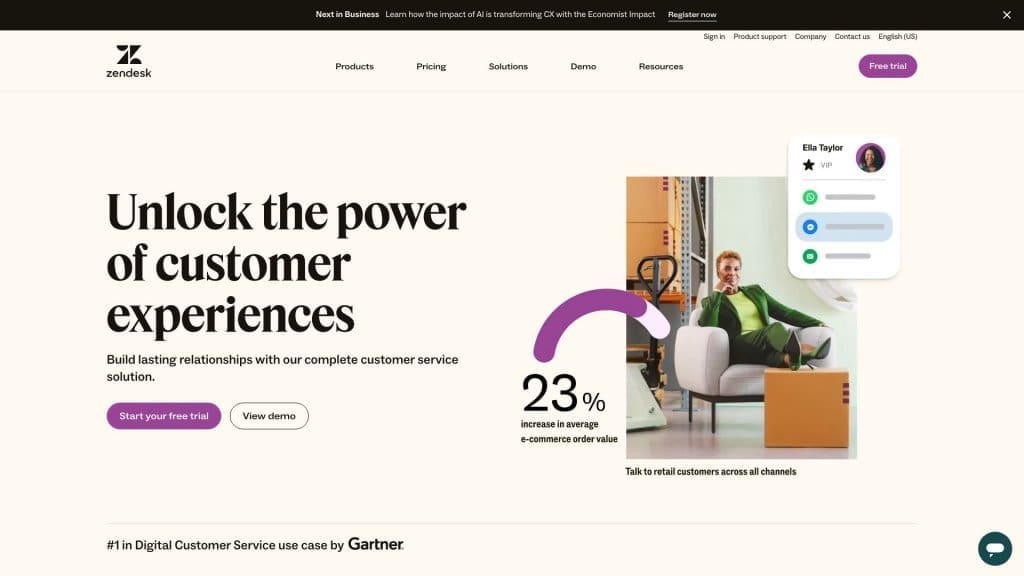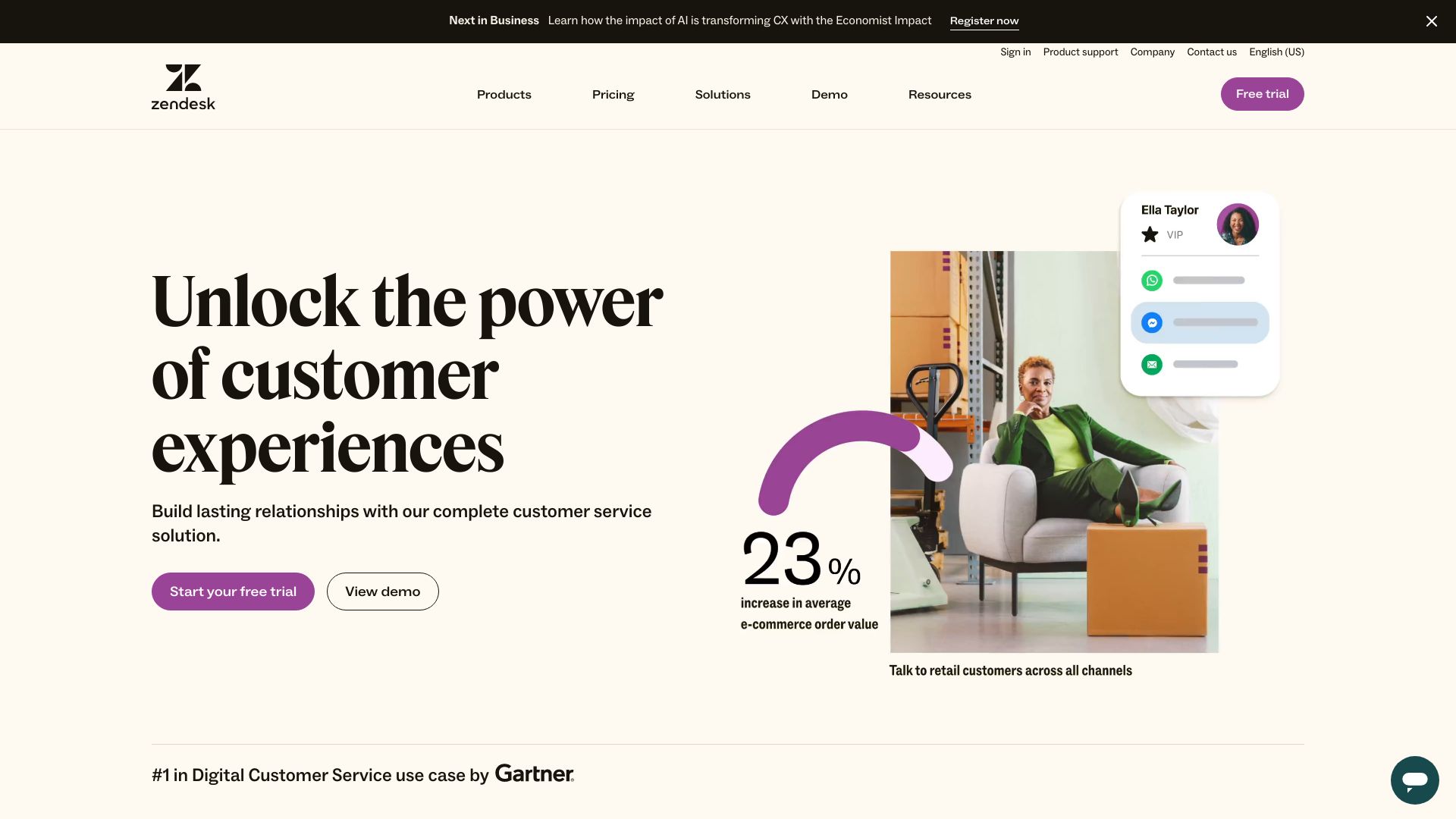 Zendesk is a top ecommerce live chat and customer service software trusted by over 200,000 customers worldwide.
Designed to unlock the power of customer experiences, Zendesk is built for ecommerce businesses looking to build lasting relationships with their customers.
The platform allows you to access live chat, email, text, and phone support, making it a comprehensive software for your business needs.
Key Features
Personalize All Conversations: Zendesk allows you to use the live chat to anticipate customer requests with AI, offering a more personalized experience. This is especially useful for ecommerce brands aiming to improve their customer service.
Adapt to Changing Needs: Zendesk's live chat application is flexible and easily modified to meet your unique business needs, making it ideal for ecommerce store owners who need live chat features that can adapt quickly.
Make Good Decisions with Data: Zendesk helps you know about ecommerce trends and customer behaviours through data analytics, enabling you to make informed decisions.
Efficiency and Automation: The platform includes features like self-service and automation, which can deflect up to 15% of agent contacts, thereby reducing effort per ticket.
Easy Integration: Zendesk offers easy integration with other platforms, including live chat apps for Shopify, to provide a seamless customer service experience.
Pricing
Read More:10 Best Zendesk Alternatives for Your Business in 2023
5. Intercom
Intercom best ecommerce live chat solution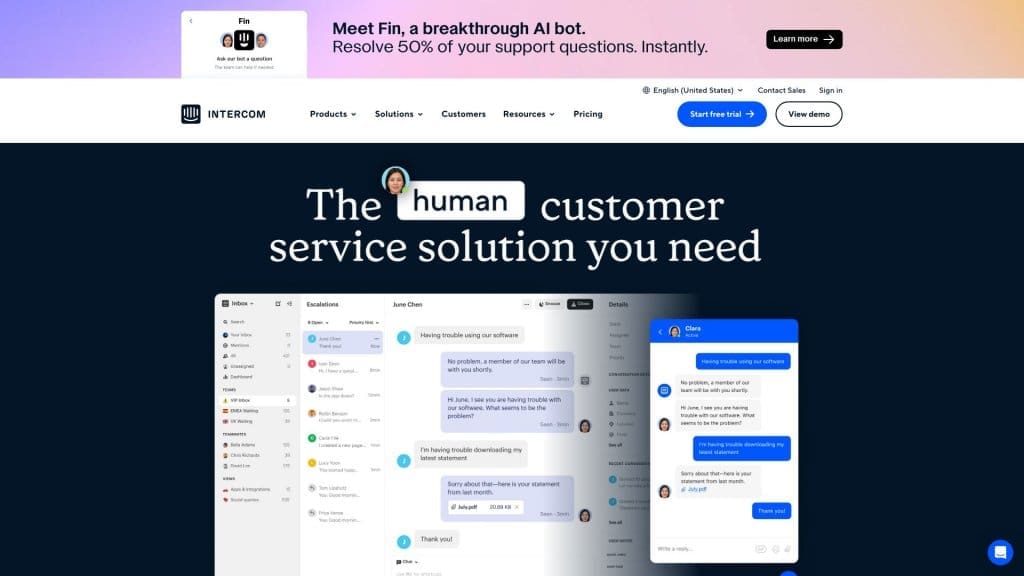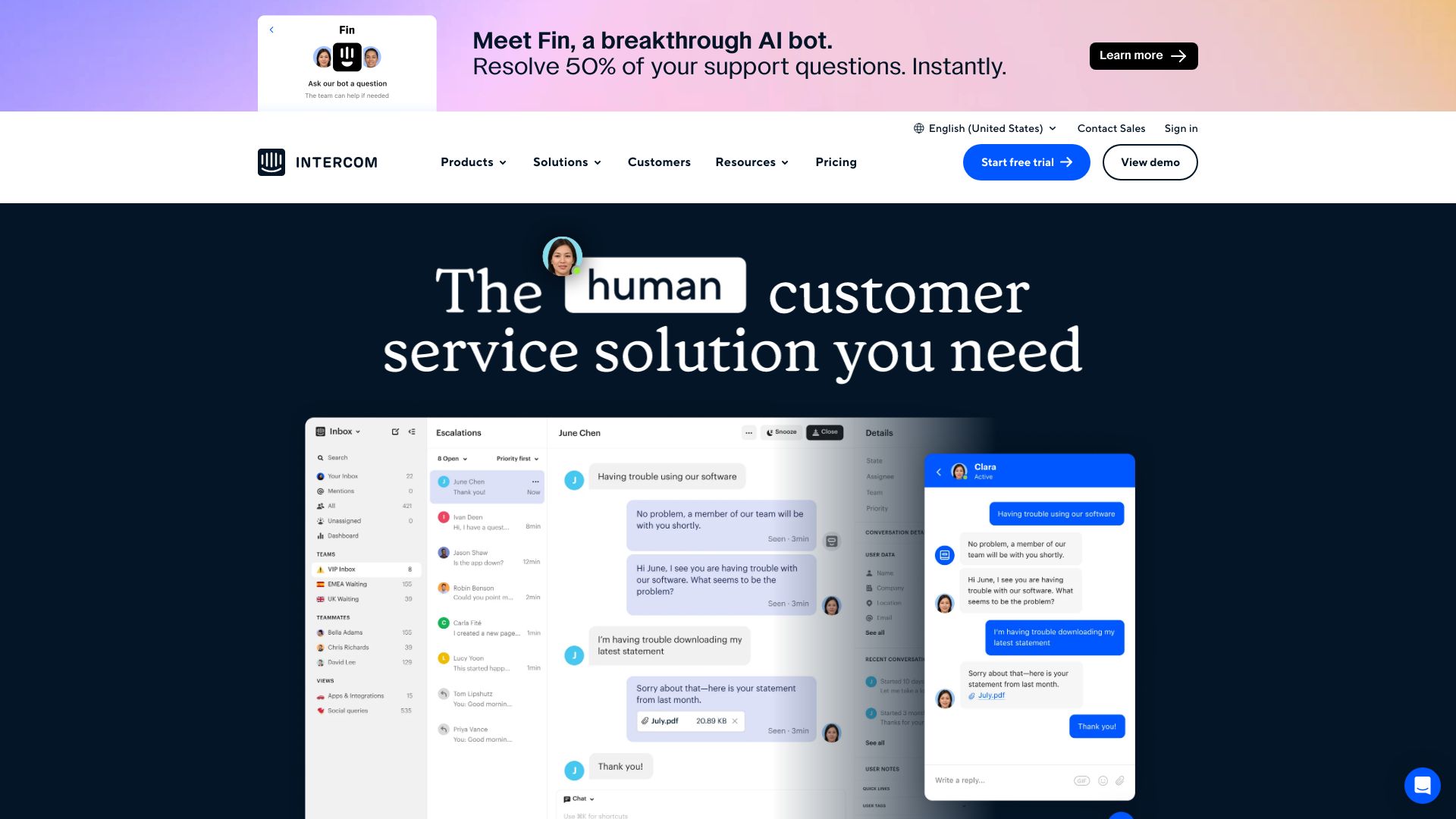 Intercom is a great live chat option that combines the best of automation and human customer service. It serves as a comprehensive live chat service, designed to provide faster resolutions, higher CSAT, and lighter support volumes. Intercom is particularly beneficial for ecommerce businesses looking to improve their customer support and engagement.
Key Features
AI Help Desk: Intercom's AI-enhanced workspace is designed for efficiency, making it a top choice for live chat for ecommerce websites. It maximizes productivity by connecting your Inbox, Tickets, and Help Center.
AI Bot: Known as Fin, this breakthrough AI bot can resolve 50% of customer questions instantly. It's a great feature if you need a live chat to reduce your team's ticket volume.
Proactive Support: This feature allows you to onboard, educate, and notify your customers with in-context, automated messages. It aims to cut support volume and keep customers satisfied, which can significantly improve your ecommerce operations.
Omnichannel Messaging: Intercom's Messenger supports customers in the moment they need help with your product. It also allows customers to pick whatever channel works best for them, like live chat, email, or SMS.
Pricing
6. Gorgias
Live Chat specialist for ecommerce store
Gorgias is a specialized ecommerce helpdesk designed to turn your customer service into a profit center. With a focus on providing exceptional customer service, Gorgias aims to answer customer questions in a minute, not days. It's an ideal solution for live chat for ecommerce businesses looking to centralize all their support tickets in one place.
Key Features
Centralized Support Tickets: Gorgias centralizes all your support tickets, allowing you to have all your customer's data displayed when you're talking to them. You can edit orders, modify subscriptions, and refund payments without leaving your helpdesk.
Enhanced Support: The platform gives you a holistic view of your customers, enabling you to provide fast and personalized help. This feature is particularly useful when you chat with a support agent.
Automated Support: Gorgias offers automation capabilities to enhance your support speed and efficiency.
Unlock Sales from Support: The platform allows you to track all sales generated by support agents over text messages, social media answers, and live chat conversations on your website. This feature shows how live chat increases customer engagement and sales.
Designed for Ecommerce: Gorgias is built specifically for ecommerce platforms like Shopify, Shopify Plus, BigCommerce, and Magento. It also offers unlimited chat history, making it a comprehensive solution for ecommerce businesses.
Pricing
Read More:Exploring Gorgias Alternatives and Competitors 2023
7. Olark
Best for standalone live chat user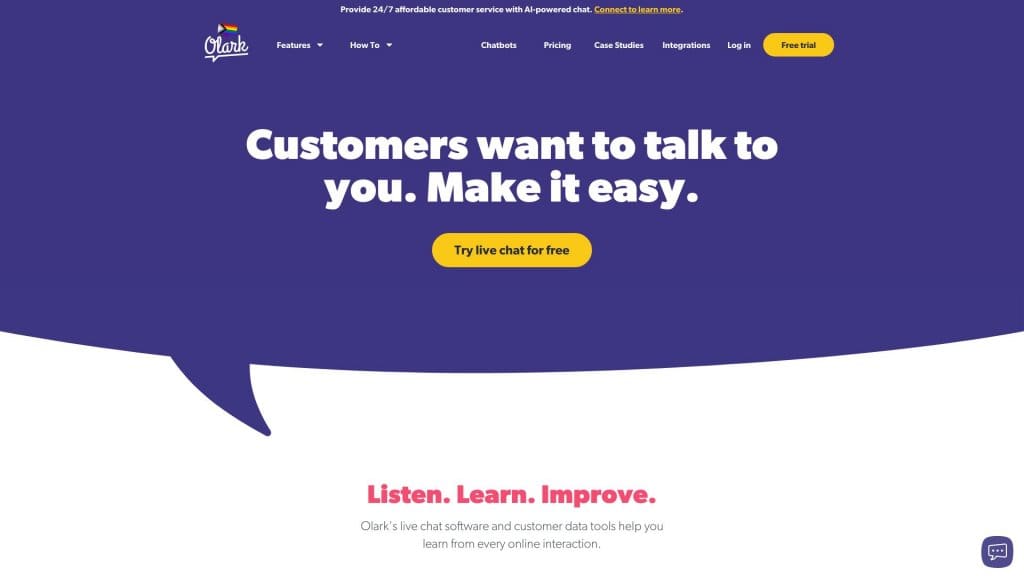 Olark is a live chat software designed to make your business more human-centric by providing real-time engagement with customers. It aims to offer 24/7 affordable customer service with AI-powered chat, making it a suitable choice for businesses that want to improve their customer interactions. Olark is particularly useful for live chat for ecommerce businesses, as it helps in increasing conversion rates and lowering call volumes.
Key Features
Real-Time Chat: Olark allows you to engage your customers in real time, answer their questions, and gather valuable feedback. This feature is essential when you need to chat with a support agent to resolve customer issues.
Organize Customer Data: The platform enables you to store structured notes and chat transcripts either in Olark or your CRM, providing a centralized repository for all customer interactions.
Live Chat Insights: Olark offers analytics and insights based on live chat data, helping you optimize your products and services. These insights show how live chat increases customer engagement and satisfaction.
Custom Pre-Chat Forms and Triggered Messages: These features help in jump-starting conversations by gathering context before a chat begins and sending automated suggestions or special offers at the right moment.
Unlimited Integrations and Offline Messaging: Olark offers unlimited integrations with other sales and support tools and allows customers to leave a message when you're not available, thereby offering an unlimited chat history.
Pricing
8. Tidio
Best ecommerce live chat for small business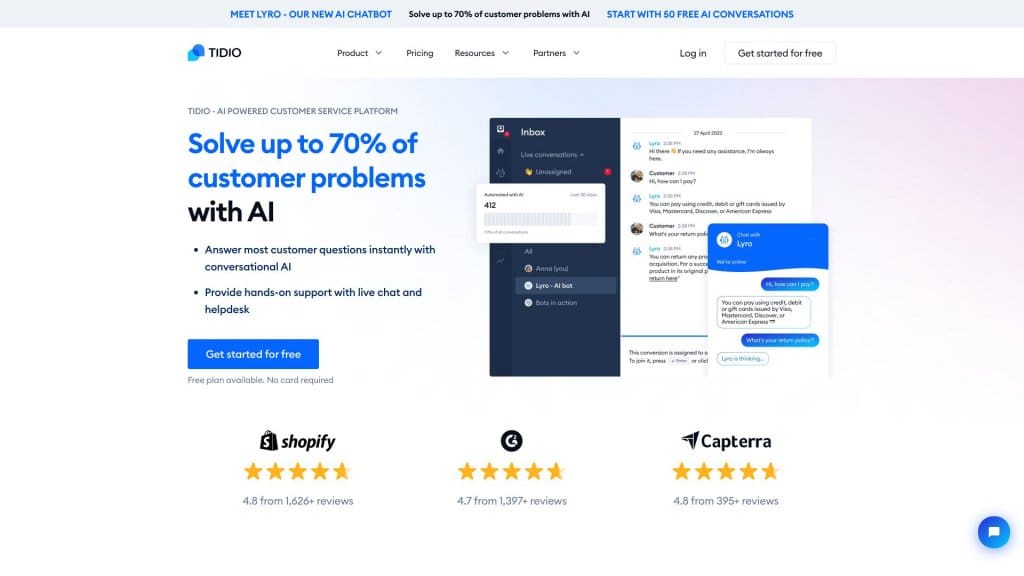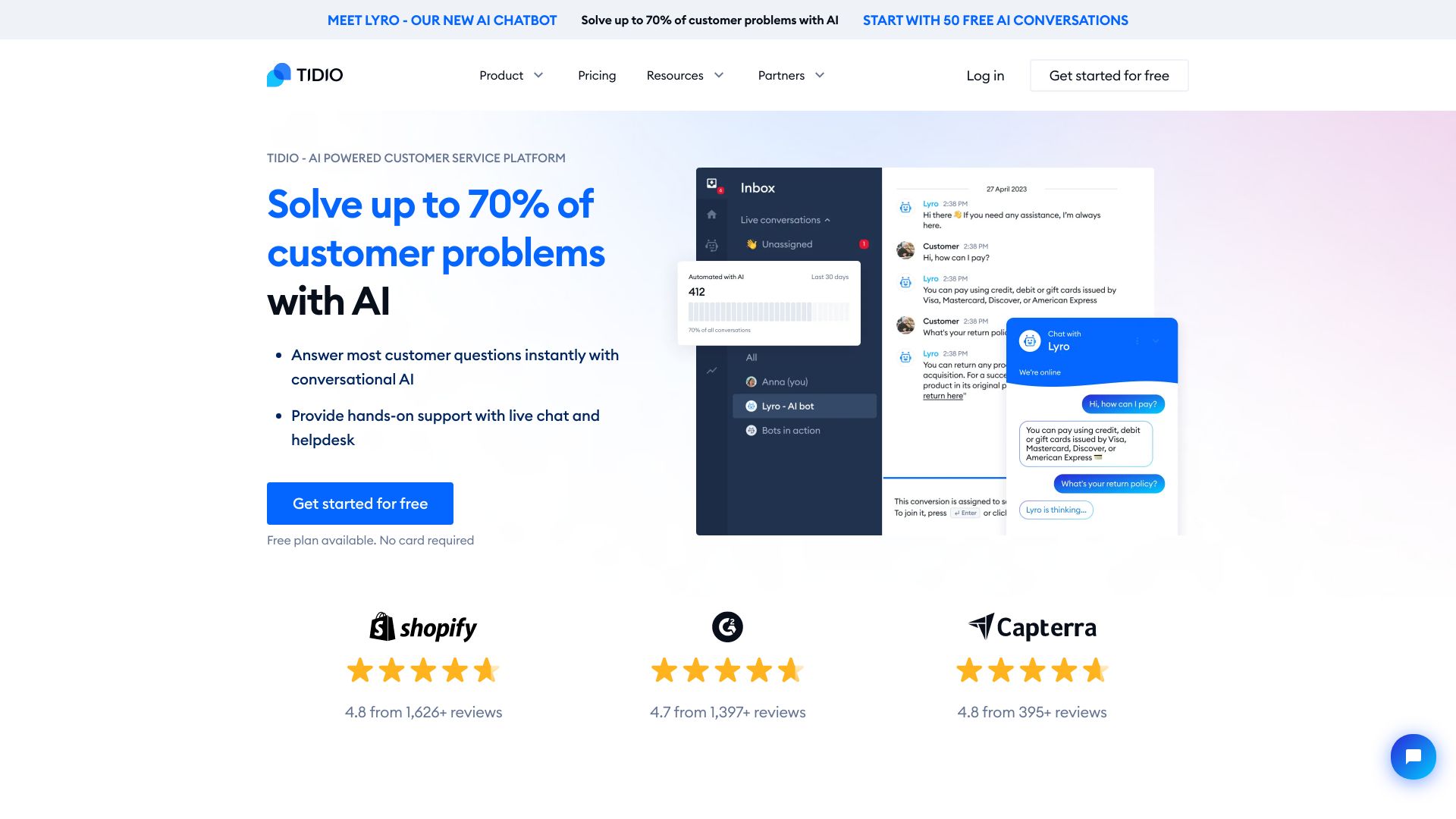 Tidio is a customer service platform that combines the power of live chat and chatbots to offer a seamless customer experience. It is particularly useful for live chat for ecommerce businesses, aiming to solve up to 70% of customer problems with conversational AI. Tidio provides a free plan and is trusted by over 300,000 businesses worldwide.
Key Features
Lyro AI: Tidio's new AI chatbot, Lyro, can solve up to 70% of customer problems, freeing your agents to focus on more complex issues. This feature is especially beneficial when you need to chat with a support agent.
Live Chat and Chatbots: Tidio allows you to engage website visitors through live chat and offer personalized discounts based on their activity. It also provides 35+ pre-defined chatbot templates to generate leads and reduce cart abandonment.
Multichannel Support: Connect your account to Tidio Multichannel to see all your WhatsApp, Messenger, Instagram, email, and live chat messages in one panel.
Ticketing and Analytics: Turn conversations into tickets and assign them to the right team members. The platform also offers analytics to assess your team's performance and make data-driven decisions.
Unlimited Chat History: Tidio offers unlimited chat history, allowing you to keep track of all customer interactions over time.
Pricing
9. Reamaze
Best Live Chat for Ecommerce Brands
Reamaze is an excellent live option for live chat software. It helps to provide seamless resolution of customer queries. It facilitates companies to cater to better customer engagement and customer service.
Reamaze excellently combines video calls, social media, VoIP, mobile SMS, and push notification communications seamlessly for the support team so that they can focus on providing phenomenal customer experiences. It also collaborates with teammates with the help of shared views, notes, and assignments.
Key Features:
Manage Multiple Business: Easily manages the conversations between the agent and customers from various websites or storefronts. This fully-featured help desk will help you in increasing your efficiency.
Personalize Customer Experience: The chatbot feature of Reamaze helps you to trigger messages based on URL, Shopify activities, time on site, etc, which pushes you towards a personalized customer experience at a deeper level.
Live Dashboard: Checks customer's shopping data, browsing activity, and geolocation on your site and directly messages them.
Customer Data Insights: You can view custom profile data regarding your customers when they are communicating with the team. Automatically take data from 3rd party applications or integrate your data application.
Satisfaction Surveys: Measure your team's effectiveness with automated quantitative and qualitative surveys.
Automate Workflows: It automates workflows on incoming messages with custom triggers.
Pricing:
Basic: $29/month
Pro: $49/month
Plus: $69/month
10. Richpanel
Live Chat Expert for Ecommerce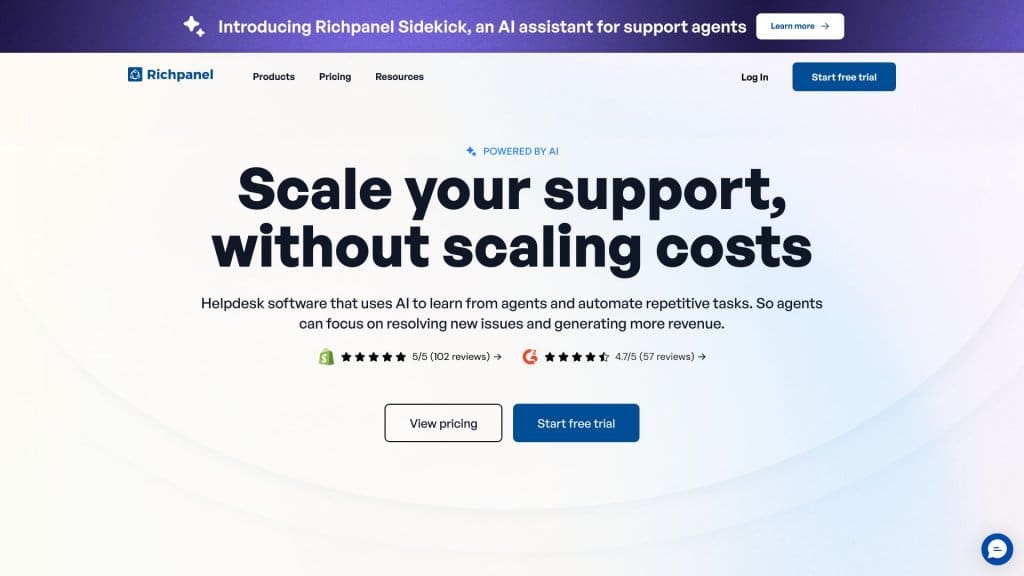 Richpanel facilitates ecommerce businesses to seamlessly manage their customer service. You can easily track, resolve, and manage queries with Richpanel.
You can manage multiple support channels including Instagram, Facebook, and WhatsApp, saving your time and benefiting the support agent in becoming more productive. 
Key Features:
Self-Service Workflows: You can create self-service workflows to resolve the common queries for your support team.
TIme-savy Dashboard: It saves your time by bringing the most leveraged support channels in one dashboard including Live chat, WhatsApp, Facebook, & Instagram.
Customer Management: The Live Chat messenger of Rihpanel will enable you to track packages, see orders, & browse FAQs.
Boost Agent Productivity With AI: It uses GPT-4 to look into your previous chats and generates accurate and trustworthy replies for support agents to respond to customers.
Seamless Collaboration: Leverages AI to add a short context and summary of the conversation, so you do not have to face difficulty to loop in other team members.
Pricing:
Start: $80/month
Regular: $250/month
Pro: $500/month
Enterprise: Price on request
11. Tawk.to
Free Live Chat App for Ecommerce
Tawk.to is a live chat application that allows you to monitor and chat with visitors who are coming to your websites to respond to their queries and build a help centre to allow customers to help themselves. It provides a complete solution to startups and small businesses. 
Moreover, it enables you to hire agents by the hour if you need fast customer support service. You can also leverage the Live chat on iOS and Android devices and mobile phones.
Key Features:
Monitor Customer Activity in Real-Time: Tawk.to looks for the pages on which your visitors click on in real time, how often they visit your website, and what they are looking for within your knowledge base.
Collaborate and Assign Conversations: Assign conversations to your team members and make sure the right person is replying at the right time.
Easily Share Your Knowledge Base: Align support with a free knowledge base that will be loved by both the parties (your team and your customers).
Apollo AI Bot: Quickly and accurately respond to customer queries based on the data.
Pricing:
12. FreshChat
Best Ecommerce Live Chat with CRM Features
This Ecommerce live chat offers sales enablement technology and CRM features. It provides automated and personalized email campaigns to boost customer satisfaction and conversion rates.
Freshchat helps you qualify customers and leads to look at whom you should focus more on. 
This cloud-based software also provides you with visitor-context tools, like social media, contact details, and event timelines, to have a better understanding of your shoppers. 
Key Features:
Ticket Management: Ticket assignment and ticket merging to particular support agents
Customized Dashboard: To fulfil your desired goals
Advanced Features: Such as forecasting, analytics, and insights.
Pricing:
Free version available
Growth: ($18/agent/month)
Pro: ($47/agent/month)
Enterprise: ($83/agent/month)
13. LivePerson
Best Live Chat & Chatbot Messaging Platform
Liveperson platform combines both live chat with chatbots, SMS, and frequent messaging applications.It is also compatible with main messaging platforms, such as WhatsApp, Messenger, Apple Business Chat, and Facebook.
Liveperson enables your customer to directly make payments in the chat widget. This will be beneficial for you in improving the shopping experience for your clients and overall sales.
Key Features:
Multichannel Communication: Via Twitter, Facebook, Messenger, WhatsApp, Apple Business Chat, and Google's Business Messages.
Sentiment Analysis: To know the customer behavior whether they are happy, sad, frustrated, or satisfied with the product and services to measure customer satisfaction with your brand.
AI Chatbots: Availability of AI chatbots to automate your workflows.
CRM Integrations: With NetSuite, Zendesk, Salesforce, SugarCRM, and Microsoft Dynamics
CMS Integrations: Via an API or with connectors for Contentful, Salesforce, and Zendek to use the present content in both human agent and bot conversations.
Pricing:
Contact sales for custom pricing
Things to Consider: Choosing The Best Live Chat for Ecommerce
When contemplating the implementation of an ecommerce live chat feature, several factors can guide your decision-making process to ensure you choose the best live chat software for your online store:
1. Website Traffic and Customer Volume
The volume of website traffic and the number of online shoppers you attract can significantly influence your choice of a live chat tool for ecommerce. If your ecommerce store experiences high traffic, you'll need a robust live chat solution capable of handling multiple chat requests simultaneously.
Almost 80% of companies say that live chat has increased sales, revenue, and customer loyalty for their business.
On the flip side, if your ecommerce website has lower traffic, a more straightforward and cost-effective live chat app may suffice.
2. Target Audience and Customer Preferences
Understanding your target audience is crucial for selecting the right live chat software for ecommerce stores. Different customer segments may have varying preferences for support channels.
Always remember, customers are always preferring the fastest replies to their questions and queries. Automate your customer live chat journey
Younger demographics, for example, might prefer quick and convenient interactions via live chat, while older customers might be more comfortable with traditional phone or email support. Tailoring your live chat experience to meet these preferences can result in higher customer satisfaction and increased sales.
3. Integration with Ecommerce Platforms
Seamless integration with your ecommerce platform is essential for a smooth live chat experience. Look for ecommerce live chat software that offers native integrations or compatible APIs with leading ecommerce platforms like Shopify, WooCommerce, or Magento.
This ensures that your support agents have real-time access to customer data, order histories, and other relevant information, enabling them to provide personalized and efficient support.
4. Features and Functionality
Evaluate the features and functionalities offered by different live chat tools. Key features to look for in a live chat solution include proactive chat capabilities, chatbot automation for handling routine queries, and multichannel support to maintain a consistent customer experience across various platforms.
5. Customization and Branding
Your live chat widget should align with your brand's look and feel to provide a cohesive ecommerce customer experience. Many live chat tools offer customization options, allowing you to adjust the chat window, chat button, and even the chat agent's greeting messages to match your brand identity.
6. Reporting and Analytics
Opt for ecommerce live chat software that provides comprehensive analytics and reporting features. Metrics such as response times, chat durations, customer satisfaction ratings, and agent performance can offer invaluable insights. These data points enable you to continually refine your customer support strategies and make data-driven decisions.
7. Budget and Pricing
Last but not least, consider your budget. Many live chat tools offer a free plan with basic features, but you may need to upgrade to a paid plan to access advanced functionalities. Compare the pricing and features of different tools to find a solution that offers the best value for your ecommerce business.
By carefully evaluating these factors and conducting thorough research, you can select a live chat solution that not only meets your specific needs but also aligns with your ecommerce business objectives.
Moving Forward
As discussed, Live Chat is one of the important aspects of having a conversation with your customers. Engagement becomes easier when there is the right live chat software embedded in your website.
Never miss out on any communication because each customer is important. With Desku, there is no chance of missing out on any queries from customers.
65% of the customers have claimed that websites with Live Chat are more trustworthy as they show the value of customer's urgency of resolving queries faster before making a purchase.
The best part is, that Desku provides a 7-Days Free Trial to explore and see if it is perfectly suitable for your business or not
Explore Desku Now!