Have you heard about Intercom? Intercom was founded in 2011 and since then it is providing the best customer support service to business owners.
Intercom is more than just a chat widget for websites. It is a potent toolset that can save the existence of online businesses. It provides a help desk ticketing system, chatbots, customer management tools, and more. Customer support platforms should always be cost-effective that is the perfect Intercom alternative.
But is the Intercom actually a good value? Applications for live chat and help desks are also readily available, claim companies like Capterra, with around 400 more options. Could your target audience be reached more affordably and successfully on another platform? Customer messaging becomes a task for the support team to cop up the real-time conversation for customers in small businesses. There is no need to instal the chat tool externally because it has Live Chat Software installed which is another alternative feature of Intercom. Some of the best set of features is compiled in the free version of a trial where you can check the working and functionality of free and paid features to compare the alternatives offered.
We've looked at and assessed a few consumer message programmes. And our search for the best Intercom replacement was our first priority. If you are looking for Intercom Alternatives, then your wait is finally over because we have some great Intercom Alternatives for 2022 to provide support to customers. Let's know more about affordable alternatives which are more efficient.
Know 7 Intercom Alternatives for better customer support
Desku is the best customer service software available for streamlining and speeding up customer service through automation and simple integration. Desku is as simple to use as an email inbox, allowing your entire staff to concentrate on what really matters: building relationships with customers. In order to ensure that your customers are properly looked after, customer service involves excellent coordination from several divisions.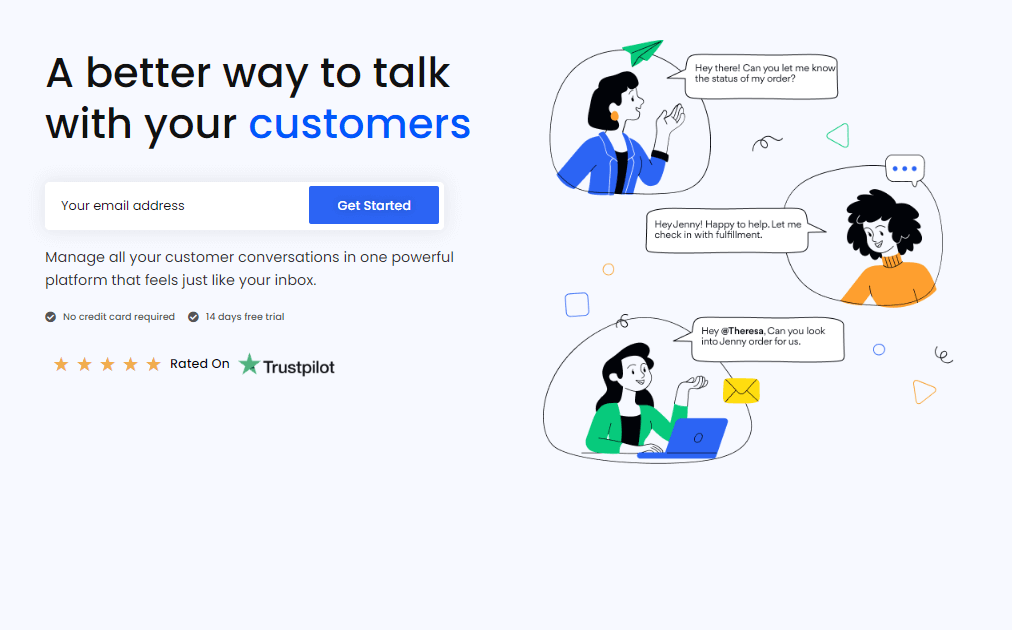 Features of Desku: Includes the Automation
Chat live. Customer service is made simple by including a support centre in the live chat widget itself. Let them know the tool can provide all they need.

Combined Inbox, Improve team collaboration through a shared inbox to improve productivity and speed up customer communication.

Customer support is a cheaper yet great alternative to Intercom considering seamless features and the most important automation tool like Chatbots and Macros.

Get the most pertinent client data from several eCommerce platforms on the sidebar.

Reports. Have access to all of your client data from a single dashboard on the Desku panel. avoid missing something
Desku is an all-in-one customer communication platform that helps to access customers under one roof. It is perfectly suitable for small and medium-scale businesses based on the customer base for your business. Desku is a customer service platform that has all the features such as Live Chat, Ticket
Management system, Chatbot for automation and knowledge base for self-service and much more. There is the availability of a completely free trial and it completely overcomes the features that Intercom has.
Tidio enables businesses to interact with customers via live chat, which is a rapid and effective solution to address any concerns that clients could be experiencing. In order for businesses to access them later if necessary, Tidio also tags customers and records all chat interactions. It is an inexpensive alternative to the Intercom that provides a lot of the same functionality. Businesses can quickly and for no cost put Tidio on their websites.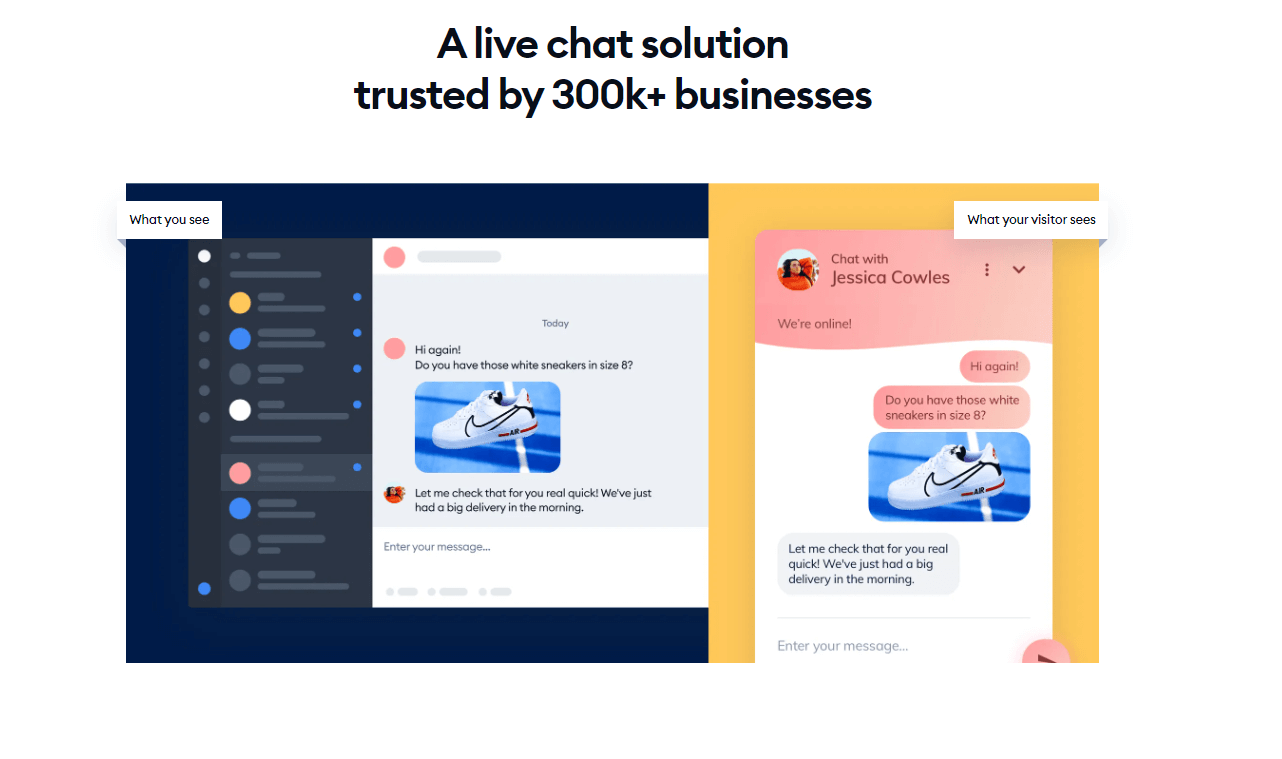 They can swiftly address consumer questions and complaints via live chat and chatbots, which can raise customer satisfaction. Tidio also provides a number of tools that can be utilised to assist website users and deliver automatic self-service resources whenever needed.
Features of Tidio
Simple installation Any website can manually install live chat that is powered by Tidio, but Tidio is also accessible as a plugin for systems like WordPress, Shopify, or Wix Unlimited chats. As long as you desire Integrations, you can use Tidio for free without any conversational time restrictions. With tools like Facebook Messenger, Instagram, Zapier, Google Analytics, or Slack Chatbot Builder, you can quickly connect to and use Tidio. You may create as many chatbot designs as you want with Tidio's drag-and-drop chatbot builder without spending a penny on the mobile app.

Get visitor and incoming conversation notifications on your phone to engage with clients while you're on the road. Live chat, email, and instant messaging are in one place for omnichannel communication.
An integrated, basic CRM. Ecommerce chatbot capabilities let you keep track of and manage your interactions with customers and gather customer data. Tidio can be used for order tracking, making the best product recommendations, and preventing shopping cart abandonment.

Free subscription for a better understanding of the tool. There might be many cheap alternatives in the market, but choosing one of the best Intercom alternatives is a task.
HelpCrunch is a platform for customer engagement that enables organisations to measure customer engagement, chat with customers, and record customer conversations. Additionally, it provides a set of tools to assist companies in creating and managing customer support requests.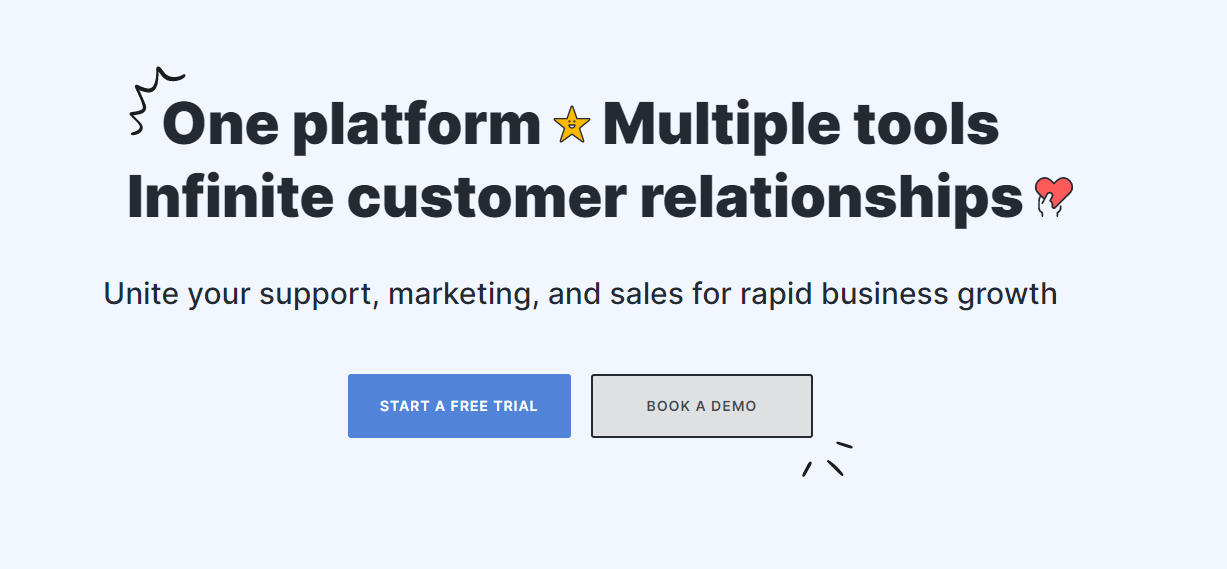 The open API, chat widget, and ticketing system of HelpCrunch are its best features. You may communicate with your consumers through them, give them support, and monitor their activity. HelpCrunch is one of the greatest alternatives to Intercom because it is also simple to start up.
Features of HelpCrunch
You can handle all of your customer communications in one location while using a variety of channels.

HelpCrunch offers thorough data that enables you to assess the effectiveness of your customer service staff and identify areas for improvement.

It has all the necessary features like Live Chat, Shared Inbox, Chatbot, knowledge base, and much more.
Zopim, another name for Zendesk Chat, enables customer service representatives to swiftly and simply offer support to clients. It has features like team collaboration, canned responses, and chat transcripts.

Similar to Intercom, Zendesk provides a variety of customer care solutions, such as a help desk, chat, and several marketing automation modules. Within the Zendesk Support Suite, you may choose the features you require and design your own arrangement.
Features of Zendesk
You may instantly examine new or outstanding requests, view your team's current workload, and change a ticket's status.

Any ticket may be promptly updated with a chat option, and clicking on a chat bubble in your dashboard immediately connects you to that customer's conversation.

An information base with articles, bots, and frequently asked questions to offer customer service and self-service options
For small teams looking to step up their efforts in customer engagement and assistance, Olark chat software is the ideal answer. Without any additional bells or whistles, it offers all the characteristics that make it one of our top Intercom competitors for 2022.

This user-friendly live chat application with good reporting dashboards and customisable widgets. Customer success metrics can be tracked to assess the effectiveness of your team. You can also archive chat transcripts so you can easily search through conversations from earlier customer interactions.
Features of Olark
The widget's responsive and minimalistic design looks great on a variety of devices and web pages.

Numerous aspects of Olark's help desk software include automated messaging, chats that are sent to the appropriate parties and team collaboration.

Easily integrates with the majority of widely-used CRM applications, including Salesforce and Pipedrive
One of the top competitors in the industry for conversational AI is Drift. It is intended to boost brand loyalty, reduce sales cycles, improve customer experiences, and increase income for your company. It accomplishes everything by emphasising the customer lifecycle through conversational marketing and sales.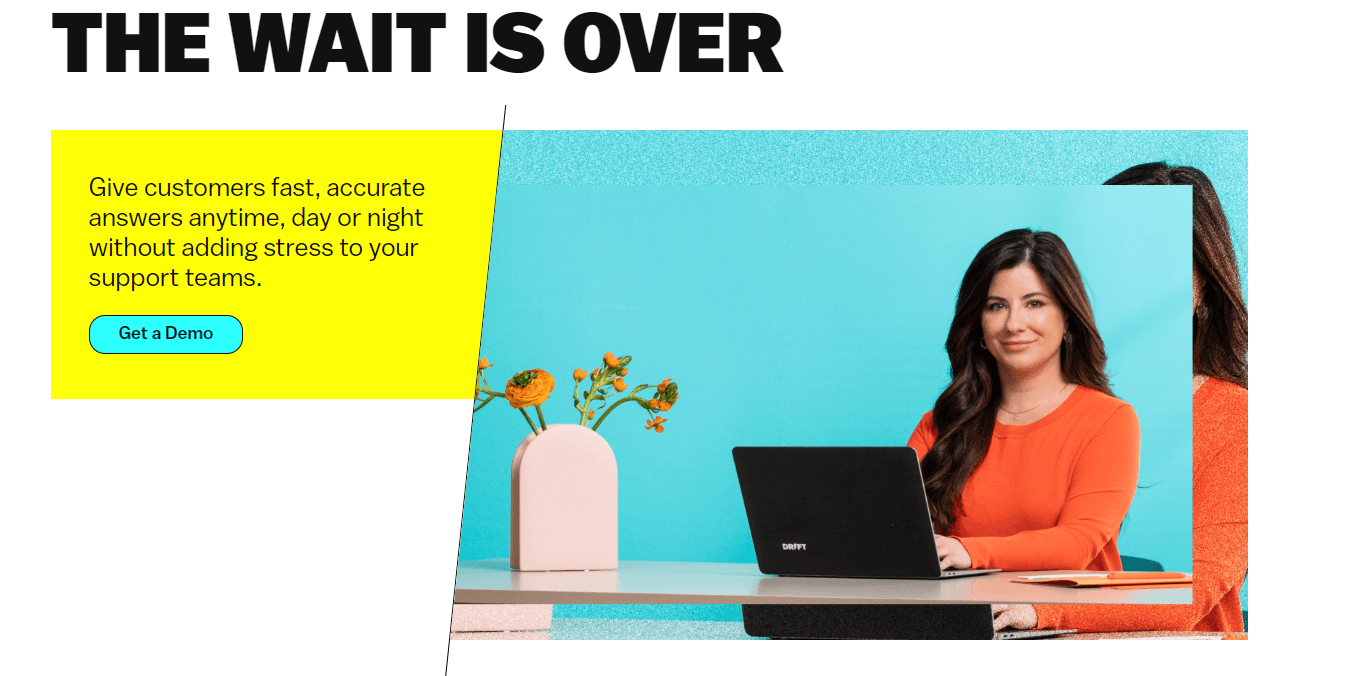 Additionally, it provides automated bots that can assist you with a variety of tasks, including question-answering and customer support. To provide individualised customer service and boost conversions, you can integrate Drift with your website and other apps.
Features of Drift
Drift lets you build personalized, branded bots that are consistent with the aesthetic of your company.

The system interfaces with additional programmes like HubSpot, Segment, MailChimp, and Pardot, which can automate your customer service.

Both iOS and Android smartphones can utilise the Drift app's mobile edition.

Visualizations of data points, such as conversion rates and income creation for specific communication channels, let you assess how you're doing.

HubSpot is a maker of marketing and sales software that aids in the expansion of organisations by bringing in website visits and turning them into clients. It provides tools, including a website builder, customer management, and marketing automation tools, to assist firms with inbound marketing.


HubSpot Service Hub is a fantastic choice if you're searching for a collection of tools to support the expansion of your organisation. It includes everything you need to serve customers and develop through their success since it is simple to use and built on top of HubSpot's industry-leading CRM. You can begin for nothing!
Features of Hubspot
It is simple to keep track of website visitors, examine where they come from, and determine which marketing methods are most successful.

being able to construct email marketing campaigns and choose the most impactful call-to-action buttons, subject lines, and content.

HubSpot is a good value for money for tiny enterprises because of its affordable pricing.

You may link Crisp live chat and get HubSpot as a support desk app, or use HubSpot live chat and set up Zoho as your customer database, for example. It can be a complete Intercom alternative or a blended solution.

It clearly laid the user interface out and was simple to use.

Conclusion: Choose the best alternative to Intercom
It's crucial to find the best fit for your business, therefore before choosing a live chat and help desk solution, we advise you to conduct your own study. Do they provide the integrations I require, ask yourself. Is it possible to move chats if necessary? How simple is it for me to use the interface after logging in? That there are so many possibilities offered in this comparison because no one software package can satisfy the requirements of every firm.
Looking for Intercom Alternatives? Well, Desku is considered to be the best Intercom Alternative for 2022 considering all its features and functionality. Not only that but it is also cost-effective and extremely suitable for small businesses.