Intercom Pricing is complicated, and small businesses would not go for it.
Yes, it is the bitter truth, Intercom is a popular customer communication platform, offering a wide range of features but the pricing structure is way too complicated to gulp down for small business owners. 
However, understanding the Intercom pricing structure and finding the right plan for your business can be a daunting task.
But anyways, let's understand and get through it. 
Of course, nobody can argue with the robust working and functionality of what Intercom serves and have compared to other helpdesk but what about the complicated prices that it holds up?
What is so complicated about Intercom Pricing?
With the too much-complicated plan, the ideal user would not get which plan to use for the business. 
It has so many hidden charges that will be charged according to the users, company or the demand of the company. Generally, it is not affordable for the small ecommerce business. 
Not only hidden charges, but starting prices are too high for small business owners to afford. 
When it comes to the other help desk customer support platform, it is not the case. Like Desku, it has a very normal price range along with it is very transparent. No hidden charges are charged though it serves the same kind of features, with an even better UI. 
The Desku price starts from $39/month, billed monthly and annual pricing is $29/month, billed annually. Where Intercom's normal pricing starts from $74/month excluding hidden charges.
Desku has some features that are totally unlimited no matter the price range and they are👇🏻
Unlimted Ticketing System
Knowledge Base (create unlimited articles and guidance for your customers)
Chatbot (No-code chatbot builder)
Live Chat (Real-time conversation with your customers, with no limits) 
Third-Party Integrations
and much more.
If you are a small business owner, or who knows the right value of the money spent on one customer support software, you would know what is worth the value.
The question is, why should I spend more if I get the same features and functionalities in at least a 40% lower range?
You should be spending more time growing your business and not thinking about the pricing to pay to customer support platforms. Desku provides a very clear and transparent pricing range that is affordable for any business range. 
Let's explore Intercom Features to see the worth-burning pockets.
Intercom Features: Is it worth the Intercom Pricing?
Long gone are the days when Intercom's Business Messenger (live chat) stole the spotlight as the most sought-after feature.
Yes, surely it is the same as before, but now you have to pay for customising it! 
Customize it with chatbots, apps, and knowledge-based articles for a personalized touch.
What's more, integration with your SaaS product allows targeted messages and automated chats, ensuring seamless customer communication.
But wait, there's more!
The intercom goes beyond messaging with a plethora of impressive features:
📩 Help Desk (Team Inbox)
📇 Basic CRM
📧 Email Marketing (Outbound Messages and Campaigns)
💡 Knowledge Base (Help Center Articles)
🚀 Product Tours
🤖 Bots 
Talking about the Automation that they are very proud of. Intercom recently introduced "Fin" which is AI and Virtual Assitant. 
The main functionality that it will help in are:
Seamlessly Natural Conversations
Flawless Human Handoff
Clearing Doubts from the Start
Fin Conversations: Your Dedicated Inbox
But, mostly some of the features are "coming soon". Meanwhile, let's break down the Intercom Pricing. 
Intercom Pricing: Saving you from Burning your Pocket
When you enter the Intercom Pricing page, you will see the big phrase-" Support. Like you've never seen it before". The phrase proves it very wrong when anyone will see the pricing plan and even better when hidden charges will be applied. 
It is not just our observation but we have asked Intercom Users, and this is what they have to say about the Intercom👇🏻
What do you dislike about Intercom?
Intercom is the overall best platform, but sometimes for new agents, it gets very confusing in terms of UI. It has given so much in one so it takes time to explore and work on it. The prices are too high to spare every month.
What do you dislike about Intercom?
Pricing can be lowered, it is the highest among every customer support platform in the market. It is a brand no doubt but really there are tons of help desk customer support who are serving the exact features and at half prices. 
Intercom is only raising its prices rather than lowering when we checked the last time, they served 4 pricing plans but right now it serves only 3 and that too they have only mentioned the pricing in the first plan and the rest are "Custom" 
Case Studies: What people have to say about Intercom
To give you a better idea of how Intercom pricing works in real-world scenarios, let's take a look at a few examples.
Startup X is a tech startup founded by a group of young entrepreneurs who are passionate about providing a unique software solution to their target market.
With their limited budget and a user base that is still growing, they carefully consider the pricing options available to them. After thorough research, they find that Intercom's Start pricing tier aligns perfectly with their needs.
By opting for the Start pricing tier, Startup X gains access to a wide range of features that are essential for its customer communication efforts.
They can now send targeted messages to their users, track user behaviour, and provide timely support through Intercom's chat functionality.
Business Y is a success story in the making. They started as a small business with a handful of customers but have now grown exponentially.
As its user base expands, Business Y realizes the need for more advanced features to effectively manage its growing customer communication needs.
By upgrading to the Grow pricing tier, Business Y gains access to powerful automation tools and custom bots.
These features automate repetitive tasks, freeing up their team's time to focus on more strategic initiatives.
With the ability to create personalized and targeted messages, Business Y can now engage with their customers in a more meaningful way, leading to increased customer satisfaction and retention.
Enterprise Z is a well-established company with a massive user base. They operate in a highly competitive industry and understand the importance of providing exceptional customer support and personalized experiences.
As they evaluate their customer communication needs, they find that the Scale pricing tier offered by Intercom Pricing is the perfect fit.
The Scale pricing tier is designed to cater to the unique requirements of large enterprises like Z.
With this tier, Enterprise Z gains access to a comprehensive suite of features that empower them to deliver top-notch customer experiences.
Whether you're a startup, a growing business, or an enterprise, Intercom Pricing is flexible and offers a variety of options that can fit into your business capability and needs.
How does Intercom Pricing Work?
Resolutions: Pay for the number of completed answers from Fin the chatbot (if installed).
People Reached: Pay based on the number of individual users who received at least one Outbound message from you.
Seats: Pay for each teammate and their seat.
Subscription Stage In Intercom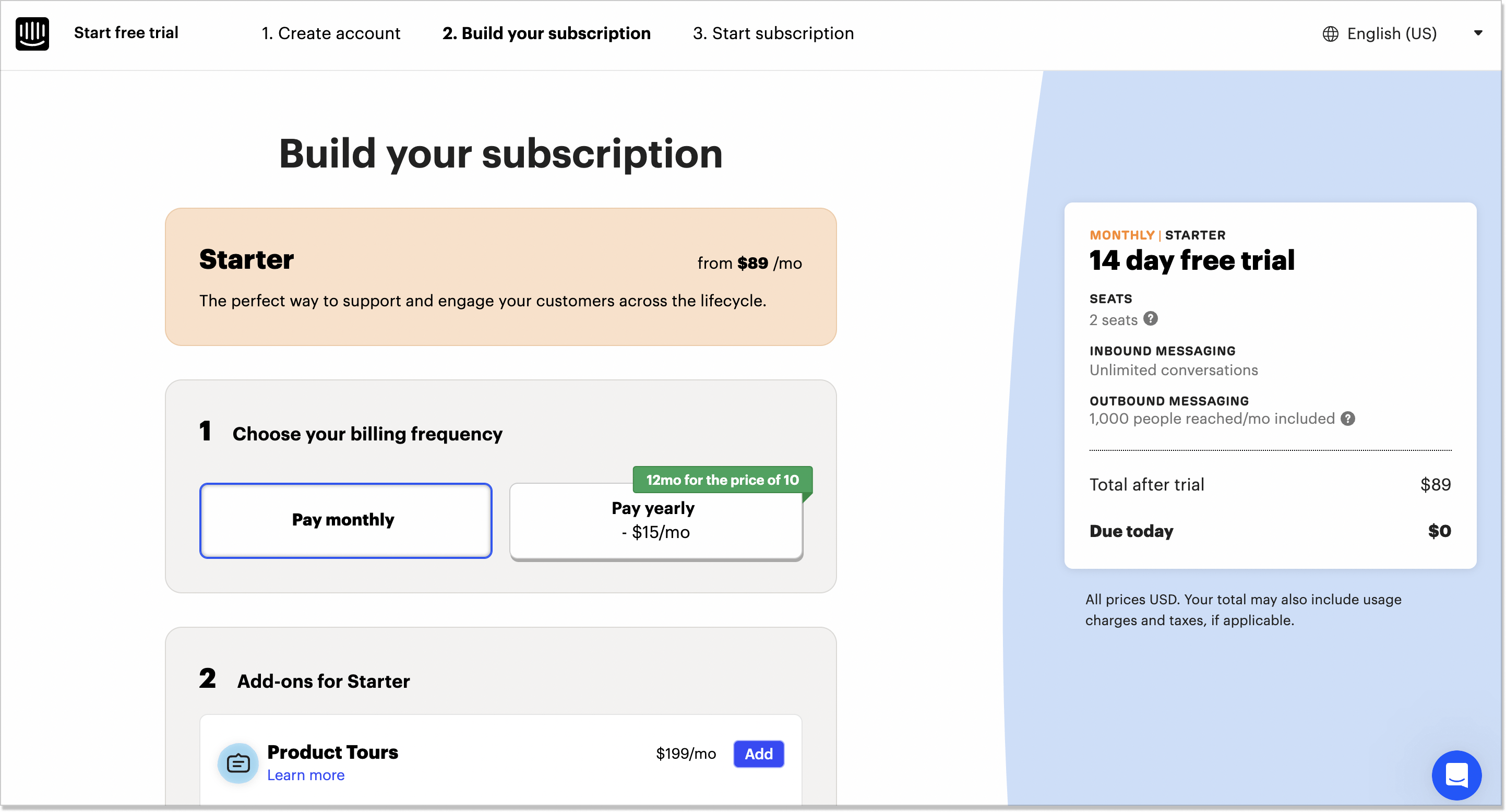 Talking about subscriptions, you have to pay for the subscription plan that you have chosen, of course. The started plan of $74/month is the minimum, so it can go with the small business. 
Fin includes the minimum of 2 seats that are billed for $89/month, billed monthly. For the annual subscription, it will be around $74/month.
"Credit Card details are a must, without that you won't be able to use the platform"; in a way, it is a task before you just go and start using. 
What is Fin Intercom Pricing?
Free Trial: Enjoy a complimentary 14-day trial of Fin's services.
Pricing: After the trial period, each Resolution will be charged $0.99.
Billing: You will only be charged when Fin successfully resolves a customer's query.
No upfront cost: There are no initial fees; you only pay based on actual resolutions.
Additional Seats:
Starter Plan:
Each additional agent seat costs $19/month.
Maximum of 25 seats allowed.
Support Pro Plan:
Each additional seat costs $79/month.
Resolution Bot (add-on):
Additional cost of $49/month.
People Reached:
Intercom billing is based on the number of unique users who received an Outbound message or engaged with Outbound Custom Bots.
Starter Plan:
A minimum of 1,000 people were reached.
Keep in mind that the pricing for additional seats and the number of people reached may cause fluctuations in your monthly subscription cost.
Make sure to consider these factors when calculating your total expenses.

Intercom Early Stage Subscription Plan
Early-Stage Startup Option:
Tailored for early-stage startups.
Offers a generous 95% discount.
Includes Support & Engage Pro and Product Tours.
Eligibility Requirements:
The Early Stage plan has stringent requirements for qualification.
Not all startups may meet these criteria.
Limited Duration:
If you qualify, you can enjoy the benefits for one year.
After the first year, you will be transferred to one of Intercom's more expensive subscription plans.
Intercom Alternative to Choose From 
Looking at Intercom Pricing, it is obvious that people will always look for an alternative and cost-effective option for the business.
People will always look for customer support software that provides the same features and functionalities but have lower pricing compared to Intercom.
The best tool that people will always come across is Desku, which has everything that Intercom have to serve that too in budget. 
Desku: Best Intercom Alternative for Customer Support 
Desku is the first option when it comes to Intercom Alternatives as it has almost similar tools that Intercom gives with the burning pocket. Features like Ticketing System, Live Chat Software, Knowledge Base, Chatbot, and AI-Virtual Assistant. 
Top Features of Desku:
Ticketing System and Shared Inbox 
Live Chat 
Knowledge Base
Chatbot 
AI-Virtual Assistant 
Third-Party Integration 
Social Inbox 
WhatsApp Commerce 
Customer Management 
Reports and Analytics 
and more…
Pricing of Desku: Simple and Affordable
The basic plan starts at $29/month, billed monthly which has its dedicated features available accordingly. There are no hidden charges for the features that are provided or mentioned in any plan. 
Addons of Desku are charges as shown in the image below where it has AI-Virtual Assistant and Proactive Chat. Which in turn, also has the minimum pricing. 
The simple pricing plan is an attractive plan that allows customers to get a clear idea of how the business can benefit from Desku and what will be the budget considering as Desku has no hidden charges. 
Get all the detailed pricing plans before you even register with Desku. The simple subscription helps in getting clear ideas. 
Bottom Line: Get over Intercom Pricing and Choose The Best
Choosing the right customer communication platform for your business is a significant decision. When it comes to Intercom Pricing, it is way high for every business to afford and that's not it. It has so many hidden charges to evaluate and pay for according to use which constrains the budget which is set. 
Going for the Intercom Alternative is the only way to afford the Customer Support Platform for the Business. The thing with Desku is, you only have to pay what price is stated to you and no hidden charges. You can always explore the Desku platform by taking the 7-Days Free Trail. and look for yourself.