For SaaS companies, it is becoming more challenging to convince someone for a one-time purchase. To come out of it, you need to do something different from what your competitors are doing. You should plan something like promotional discounts or an advertisement to outshine in the market.
But, simultaneously, this process can take a huge amount of time and effort and will result in false outcomes. To save your time, you should leverage a one-time tested solution that results better when it comes to delivering excellent customer support service.
It's not a piece of cake to serve your customers with outstanding customer support service, but it can be possible with the help of the right tool selection. Therefore, to put a full stop to your search with the right tool list, we have unfolded the 11 best SaaS help desk software.
Let's understand them briefly!
What is SaaS Help Desk Software?
A SaaS Help Desk Software is a basic platform that helps to streamline customer support queries with its powerful features and functionalities. A customer can contact you in any form like emails or through any communication platform. So it becomes much more important that we are there for customers when they need us, may it be any platform.
It can be difficult to track down and be in the loop to meet your customers' needs and track and update them timely. A help desk software can be the one that helps in tracking down the queries, streamlining from multiple platforms, and answering them timely.
You might be confused about so many help desk platforms to choose from, but we have listed some of the best 11 SaaS Help Desk Software which can suit your business.
Let's know them right away!
Best SaaS Help Desk Software for Your Businesses
1. Desku
Desku is the best SaaS help desk platform that serves a wide range of features to its customers. It helps to save time, streamline support processes and provide live-chat functionality.
The robust ticketing system of Desku allows you to track and manage customer inquiries efficiently. With automation capabilities, it helps align your support processes and save valuable time.
Desku seamlessly integrates with Shopify and WooCommerce to better serve its customers across different platforms.
With the availability of a comprehensive range of features, it helps to offer an all-around service hub for effectively resolving and managing support requests. From knowledge base creation to ticket management, Desku has all the important aspects of a modern help desk system.
Key Features:
Offers great features like CRM integration, ticketing system, Knowledge base, live chat, AI-powered shared inbox, and survey builder.
Unified ticketing system
Faster AI-assistance
Helps in collaboration among customers and support agents.
Agents can discuss issues, share information, and effectively collaborate.
All these features of Desku SaaS help desk software improve customer support efficiency, huge satisfaction, and enhanced collaboration.
Pricing:
7 days Free Trial
Startup: $29/month
Team: $59/month
Business: $89/month
2. Freshdesk
Freshdesk software is embedded with manifold powerful features. Its great ticketing system lets you assign, prioritize, and organize customer tickets that guarantees effective support.
The automation feature of Freshdesk helps to automate repetitive tasks, which decreases manual efforts and simultaneously increases efficiency. In addition, it also supports customer interactions across different communication channels, like social media, email, and phone.
The Self-service feature of Freshdesk empowers customers to look for solutions on their own via community forums or knowledge base.
Key Features:
Offers powerful help desk software designed to enhance customer support faster.
Features include a ticketing system, automation, multi-channel support, and self-service options.
Allows businesses to manage customer queries efficiently and requests from various communication channels.
Provides automation capabilities to streamline repetitive tasks and improve support team efficiency.
Offers self-service options such as a knowledge base to empower customers to find solutions independently.
Pricing:
Sprout: Free for unlimited agents with email and social ticketing
Blossom: $15/user/month
Garden: $35/user/month
Estate: $49/user/month
Forest: $99/user/month
3. Help Scout
Help Scout is also listed as the best SaaS help desk software and is well-known among
customers due to its intuitive and user-friendly interface. The ticketing system it offers allows you to manage customer inquiries, enabling personalized and prompt replies effectively.
The automation workflow of Help Scout helps in automating repetitive tasks and majorly focuses on customer interactions.
Moreover, a strong knowledge base feature allows customers to find answers to general questions and untangle issues by themselves.
Key Features:
Offers a user-friendly help desk software focused on customer satisfaction.
Features include a ticketing system, automation, a knowledge base, and customer satisfaction management.
Enables businesses to respond to customer inquiries and issues promptly and professionally.
Provides a centralized knowledge base to help customers find answers to common questions.
Includes features for managing customer satisfaction, such as gathering feedback and monitoring response times.
Pricing:
Standard: $20/month
Plus: $40/month
Pro: $65/month
4. Zoho Desk
Zoho Desk is amongst the excellent SaaS software for businesses that benefits you to craft smart automation to increase your workflow. For example, you can leverage the round-robin ticket assignment feature for uniform ticket distribution.
Zoho Desk provides an AI called Zia that helps identify customer sentiments via messages. It facilitates your support agents to understand the customer behaviour, whether they are happy, sad, angry, upset, or frustrated, so they can provide the best possible reply.
Key Features:
Provides a comprehensive help desk solution for businesses of all sizes.
Features include a ticketing system, automation, knowledge base, and multi-channel support.
Allows businesses to handle customer requests and provide timely support efficiently.
Offers automation capabilities to streamline workflows and improve response times.
Supports multiple communication channels, enabling businesses to engage with customers through their preferred method.
Pricing:
Free trial available
Paid plans start at $14/user/month
5. Intercom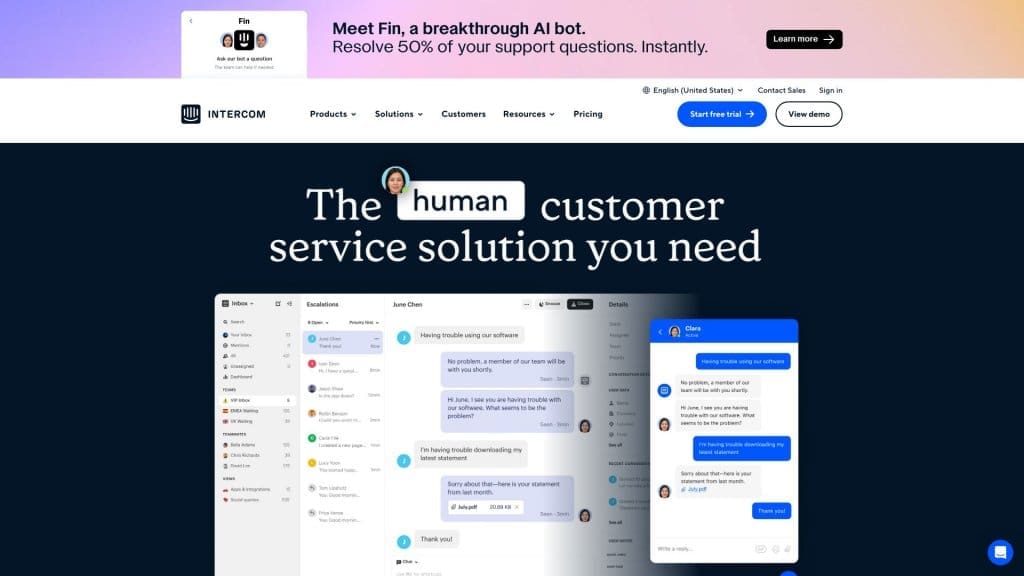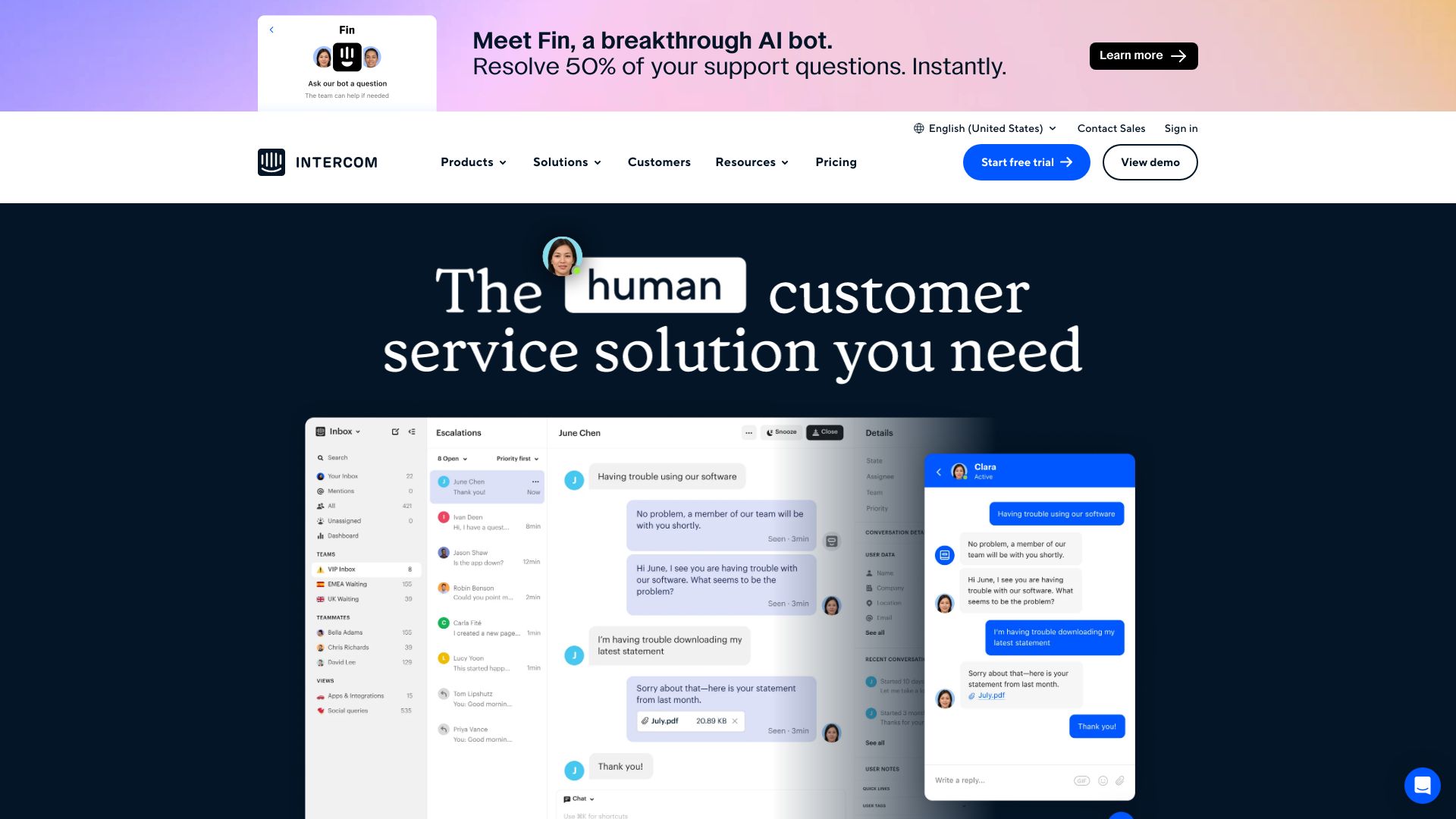 Intercom eases its customers with powerful automation and messaging features to enhance customer experiences. You can bring all your communication channels in one box to improve visibility and save agents' time.
The Resolution Bot feature of Intercom allows you to share help-center articles with customers, minimise teams' workload, and answer their queries. Moreover, you can craft canned responses to look after customer queries in no time.
Key Features:
Offers a customer messaging platform that enables personalized customer interactions.
Features include live chat, multi-channel support, and customer interaction management.
Allows businesses to engage with customers in real-time through live chat.
Supports communication across multiple channels, including email and in-app messaging.
It helps businesses build stronger customer relationships and provide personalized support.
Pricing:
Start: $59/month (1 seat)
Grow: $119/month (5 seats)
Accelerate: $499/month (10 seats)
Scale: $999/month (10 seats)
Read More:13 Budget-Friendly Best Intercom Alternatives in 2024
6. Zendesk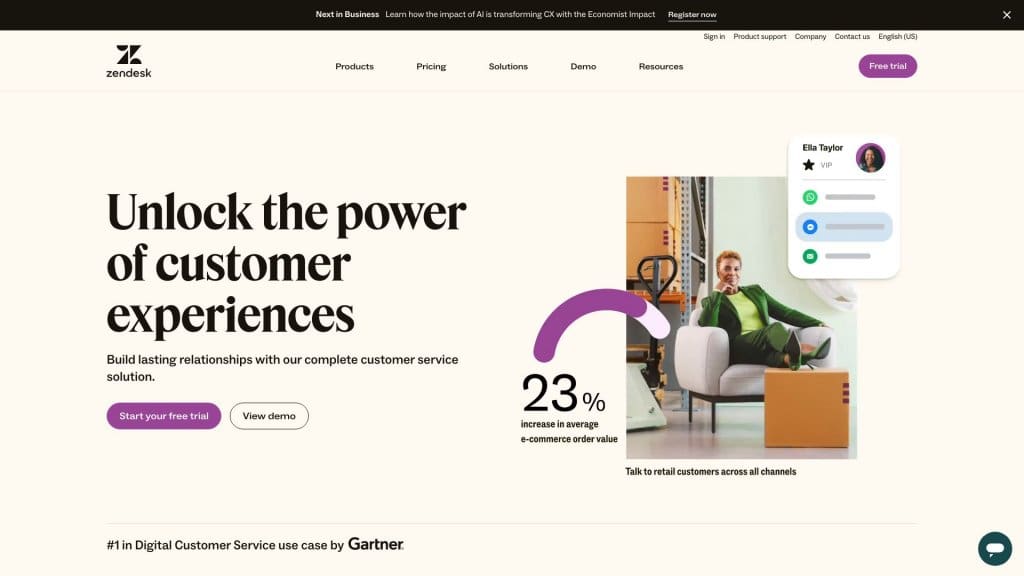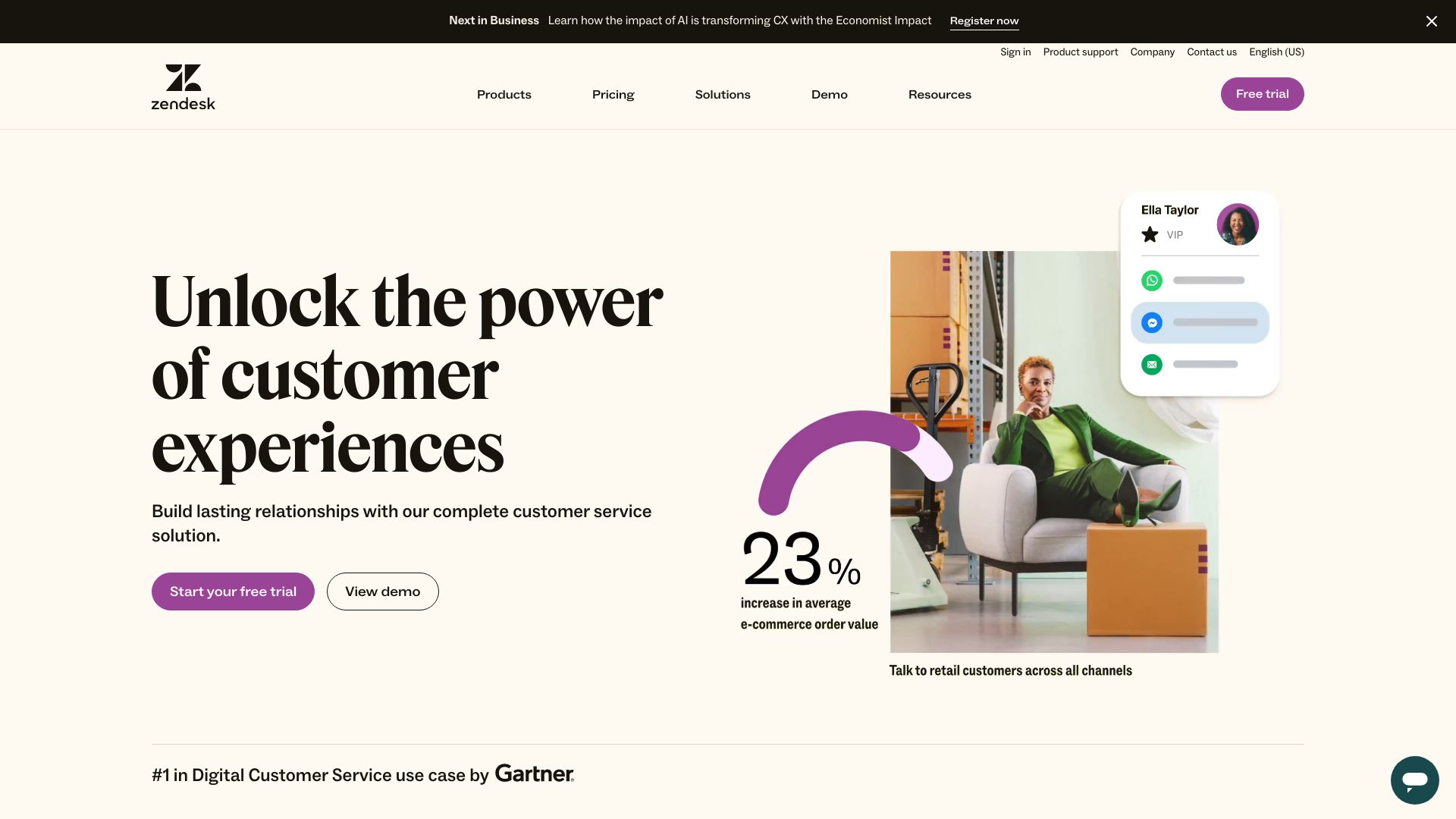 Zendesk is a great tool that always ranks high in popularity. It's a robust ticketing software that is being leveraged by businesses from different industries, starting from SaaS to Healthcare to automotive.
Whether customers reach you via live chat, social media, or messaging, you can ensure them with seamless high-quality support. Moreover, you can create AI-powered answer bots to automate your service process and provide more context to live chat agents.
Key Features:
Resolve customer issues through phone, social media, email, and chat.
Offers features that include customizable analytics and AI-powered dashboards and are available at a higher cost.
Generate detailed reports on customer trends and behaviour.
Pricing:
Suite Team: $49/agent/month
Suite Growth: $79/agent/month
Suite Professional: $99/agent/month
7. HubSpot Service Hub
HubSpot Service Hub is the popular software used by leading SaaS organisations. It benefits you to craft a safe customer portal to let customers track their current conversations and check the ticket progress.
The best thing about the SaaS ticketing system is that it easily connects with HubSpot's CRM software. Moreover, this powerful integration allows support agents to access customer information and provide personalised service.
Key Features:
Easy to use drag and drop chatbot builder
Connect with real-time visitors to close deals, convert leads, and provide support.
Nurture your business with the help of this customer relationship management tool.
Offers automated workflows, email analytics, social media management and integration, A/B testing, paid ad tracking, and more.
Pricing:
Free trial available
Basic: $20/month
Professional: $890/month
Enterprise: $3,600/month
8. HappyFox
Happyfox is a dual project management and SaaS help desk software that includes usual suspects such as knowledge base software, shared inbox, and some automation that reduces manual work and supports ticket routing capabilities.
All the plans that happyfox offers do have ticket limits and support features of in-app chat and live tools. However, both are separate tools, and you need to purchase them independently from their ticket management software.
Key Features:
Tailor support tickets in all forms as it helps in creating your own workflows and custom fields and customise the support experience
Create solid actions with the help of your support process data.
Tackle all inbound requests into one ticketing system as it converts phone, chat, web, and email requests into tickets and maintains them.
Track and manage issues and offer quick resolutions to its customers.
Pricing:
Basic: $26/agent per month.
Fantastic: $39/agent/month.
Enterprise: $52/agent/month.
9. TalkDesk
If you're the SaaS software that seeks a customer support solution, TalkDesk might be worth splurging for. They will better assist you with standard features such as self-service, analytics, and omnichannel support options.
However, they also provide some features mainly for the e-commerce space, like product recommendations and proactive notifications for shipping or return updates to loop-in customers.
Key Features:
Offers standard features like a self-service help centre, omnichannel support, and reporting and analytics.
Interactive voice response (IVR) system to ensure that each customer is directed to the right team, agent, or department
Seamlessly integrates with Shopify, Salesforce, and more.
Create events, tickets, conversations, and cases without leaving the user interface.
Workflows to easily automate tasks
Pricing:
Starts at $75/user per month.
10. LiveAgent
LiveAgent combines conversations from calls, social media, and emails, providing easy setup and smooth integration to help improve the team's productivity.
LiveAgent also assists its customers with a quirky gamification approach. Teams can get various rewards and points for completing tasks, which makes the support system more attractive.
Key Features:
Social media integrations for creating loyal and happy customers
Advanced features like workflow automation, analytics, live chat, knowledge base software, and more.
Supports multilingual language
Provides support across multiple channels like Facebook, Instagram, Whatsapp, and Twitter
Global ticket filters
Pricing:
Basic: $9/agent/month
Medium: $29/agent/month
Large: $49/agent/month
Enterprise: $69/agent/month
11. Kayako
Kayako was initially set out in 2001 to make a help desk ticketing system more usable. Since then, they have continuously initiated to add their product.
With the help of Kayako, users can provide customer support across different communication channels, like live chat, email, self-service, and email support; however, you'll get these features only at higher-cost plans.
Kayako is also known for providing collaborative features such as looking at when another support agent is working on a ticket and the ability to add internal notes to tickets to avoid the task's repetition.
Key Features:
Seamlessly integrates with Salesforce, Slack, and Zapier
Proactive messaging to customers based on their behaviour.
Easily customize multiple help centres with the help of unique branding and content
Analyse and identify gaps in the self-service portal and tailor the content as per the user's needs
Automate workflows
Quick and easy customisation of your live chat feature
Pricing:
Basic: Starts at $15 per user/month
Growth: $30 per user/month
Scale: $60 per user/month
Key Features of SaaS Help Desk Customer Support Software
There are various help desk tools available with similar feature sets; things such as reporting and shared inbox tend to be pretty standard.
However, there are four key aspects that we think every customer should look for in a SaaS help desk company:
Flexibility
We all know that help desk software is associated with customer support, and teams that include marketing, sales, and products usually leverage it, too.
Finding a flexible tool that covers those distinct use cases benefits you in digging the most out of your investment.
Ease-of-Use
If your team and customers are not able to navigate getting customer support with the usage of your help desk, the probability is less for this.
Always look for tools that consider the agents and the customer's experience as it plays an essential role in choosing the right software, still, you'll only find 50 per cent of websites doing the same thing.
If you want to know if the particular software is easy to use or not, you can look into the software's reviews and video content.
Interconnectivity
Interconnectivity is the ability of SaaS help desk tools to connect with a CRM, initiate seamless customer interactions, and reduce the burden for those involved in the activity.
When a tool has powerful third-party and native integrations, it keeps the information confidential and provides transparency.
Scalability
SaaS industries are changing rapidly, and so do the requirements. But with the changing and growing requirements, you do not need to change tools every year. Thus, it becomes essential for you to go for the tools that can fulfil your present as well as future requirements.
Conclusion
The major motive of the SaaS help desk software is to provide the customers with excellent customer service and software to operate that tool.
With the help of SaaS platforms, you can look into challenges that a customer is facing and can manage customer issues on multiple channels, provide 24*7 chatbot support, minimize repeat queries using a knowledge base, and make customers fall for your SaaS products.
When customers get timely and reliable assistance, your business will shower with high referrals, reviews, and ratings. So, if you're seeking the best all-in-one software, you can go with the Desku help desk to boost subscriptions and automate your process. It can greatly serve you with many helpdesk features that the competitors lack.
Play smart and choose accordingly!
Frequently Asked Questions
1. What is a SaaS Help Desk?
SaaS Help Desk Software is a customer support platform that helps businesses streamline their customer queries under one platform.
2. Does SaaS Help Desk software connect with other platforms?
Individual SaaS Help Desk allows integration and connection with third-party apps that are required to manage customer queries.
3. What are the benefits of using SaaS Help Desk Software?
The benefits of the SaaS help desk help streamline customer queries in one that holds an impact of centralising the queries under one platform.