A customer's experience is at the core of every effective marketing plan. As a result, it doesn't matter how big or small the company is, you may easily hit your sales targets if you can adequately engage customers online or via your app.
That's why chatbots have quickly become the preferred method of interaction between brands and their target audiences. 53% of customers are more inclined to buy from a company they can communicate with, therefore, having an AI bot is a smart strategy.
Incorporating AI-enabled bots into your business's operations may simplify marketing efforts and free up your time for more strategic endeavours. Organizations are increasingly turning to chatbot marketing to increase consumer interaction and lead qualification.
A brief explanation of What are Chatbots for Marketing
Chatbots are computer programs designed to converse in response to incoming chat requests. A chatbot's answer may be predetermined to be the same each time, to vary based on the presence or absence of keywords in the message, or to utilize machine learning to tailor its replies to the context in which it is used.
Chatbots use a variety of chat channels to receive and reply to messages, including SMS text, website chat windows, and social messaging services on many platforms, such as Facebook and Twitter.
What is Chatbot Marketing Marketing Strategy?
The use of chatbots in marketing is cutting-edge since it allows for the automation of interactions with potential customers, boosting sales. It's used to qualify leads and start conversations with potential customers whenever they choose, even if no one from marketing or sales is accessible.
Bot marketing's primary goal is to be there for website users whenever they need a solution to a query or to start a discussion. Businesses may use it to reach out to specific audiences with messages about their goods and services, increasing interest from those audiences and exposure for the brand.
How can chatbots be used in marketing?
There are various methods to take advantage of a chatbot marketing approach in your digital marketing. Bots have the potential to be immensely helpful in a variety of scenarios, including the automation of routine tasks, the resolution of frequently asked problems, and the closing of deals.
Six proven uses of chatbot marketing strategy
Chatbots may streamline marketing interactions and guarantee rapid replies to clients' inquiries. Incorporating conversational AI chatbots into marketing efforts allows businesses to move clients through the sales funnel and increase conversions.
Adding a chatbot in marketing for your consumer outreach plan is one of many options that might help your company succeed.
Also Read: What is live chat? A brief guide on Live Chat support
Automate the effective chatbot marketing
A lot of work goes into marketing since there are so many channels through which to reach consumers. Most companies need help to muster the time and assets necessary for effective marketing.
Conversational bots may greatly assist since they streamline and simplify the first phases of marketing by automating some of the manual work involved. Chatbots may be relied upon to manage first contact with clients and gather any pertinent data.
Raising the volume of lead generation through conversational marketing
Conversing is the key to successful marketing. Digital marketing is usually more fruitful for brands that are good at communicating with their customers.
You will be able to manage more interactions and finish more sales calls because chatbots can automate much of the marketing process. More consumers, interactions, and engagement are all-natural outcomes of using conversational bots.
Protect the captured leads through influencer marketing strategies
The conversational bots assist you in qualifying the high-intent leads but also help nurture the captured leads, giving you more opportunities to make new sales.
You may get to know your consumers better and increase conversions by using the data your lead-generating bots collect about their wants, habits, and preferences.
Once the chatbot in marketing identifies qualified leads, it may set up meetings or immediately forward those leads with high intent to the sales department so they can begin working on closing the deal.
Use chatbot marketing to schedule meetings and calls
Successful businesses generally get more leads because of their ability to book meetings with clients. Appointment management may seem simple, but it can take a lot of time if done manually, leaving your team with less time to focus on other, more complicated tasks.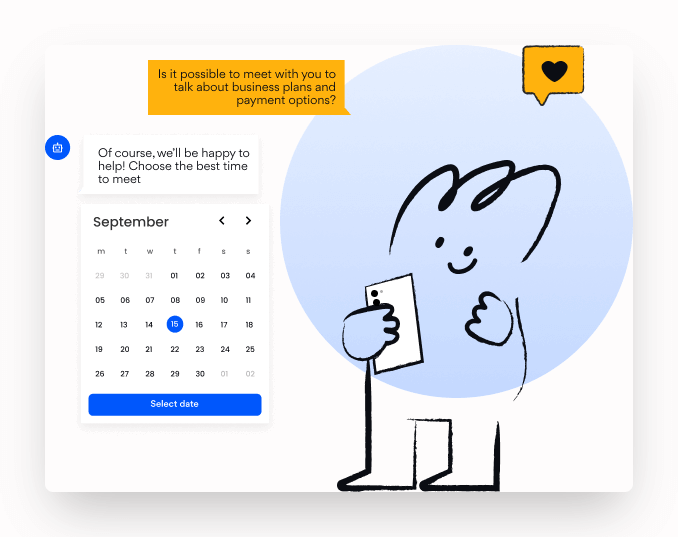 Chatbots are a fantastic way to reduce wasted time during meetings and should be used to prevent this situation. Meetings may be scheduled, changed, or cancelled easily using chatbot marketing, all without human assistance.
A bot programmed with your meeting preferences and calendar availability can send you the invite.
Maximize the exposure of brand reach through chatbots for digital marketing
Artificial intelligence is a fantastic tool for expanding your company's horizons without making any significant investments in new physical facilities.
Chatbots powered by AI deployed on social media messaging platforms simplify the process of expanding your company's customer base. You may expand your brand's potential clientele without spending much money by using chatbots.
Moreover, chatbot marketing may facilitate the development of leads in new regions, contributing to your company's expansion.
Give customers the ability to monitor their orders and see shipping information.
Offer order tracking with a chatbot marketing strategy
They get even more upset when they are not given any information about the order, including its progress or status. If you are willing to automate everything related to keeping tabs on product orders, you won't have to worry about this type of thing happening again.
In reality, logistics companies increasingly rely on AI-enhanced bots to boost productivity through the transportation value chain.
Chatbot Digital Marketing for boosting interaction
There's no denying the profound effect chatbot marketing has on every facet of a company, from customer care to advertising. For example, AI bots are helping firms improve their marketing efforts by automating repetitive tasks, enabling them to provide more personalized messages to clients, and, ultimately, fostering brand loyalty.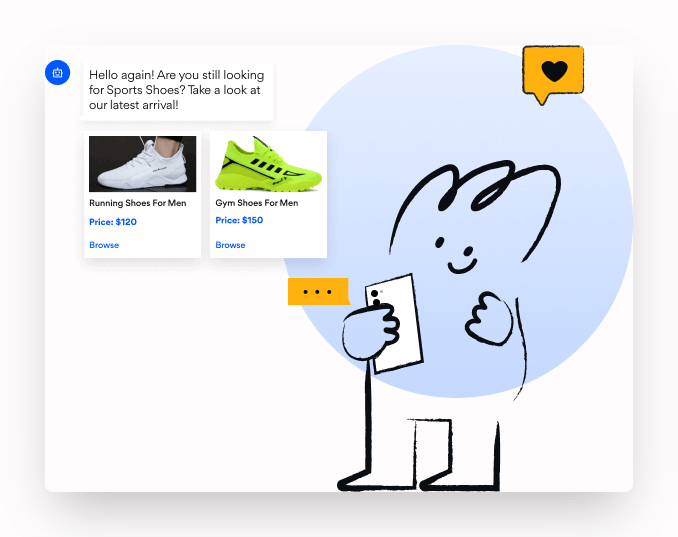 Bots may be helpful in all situations because they redefine client communication, even if the marketing goals of a firm are different, for example, lead generation vs. customer engagement. To expand your conversational marketing approach, you need to identify a clear goal and then design effective chatbots to achieve that goal.
One of the best Chatbot Marketing Examples that you should know
Every other company has installed a marketing bot to carry the marketing tactics making the customer process smoother. Marketing qualified leads helps in running the business smoothly with the help of a conversational marketing strategy. Chatbots on social media messaging can help with easily connecting with customers on social media. Make marketing easier by creating marketing campaigns and messenger chatbots. Powerful marketing brings enough visibility to the business since chatbots are the perfect fit for the tasks to carry further.
Use Marketing Chatbots to fulfil the marketing purposes in the business or convert them to marketing-qualified leads. Give a little reset to human agents where a Chatbot marketing campaign can easily work with email marketing or any other bot marketing. We all know the future of marketing is an effective use case of Chatbots and so use your chatbot to scale the performance-driven business.
Deskubots: One of the Chatbots to scale up the business
Deskubots are one of the most convenient ways of carrying the chatbot business and converting them to marketing-qualified leads where chatbots can help the marketing team to lower the tasks. Marketing with Chatbots becomes much easier when you know the right Chatbot Marketing Tactics. Create your first Chatbot with an easy drag-and-drop conversational interface.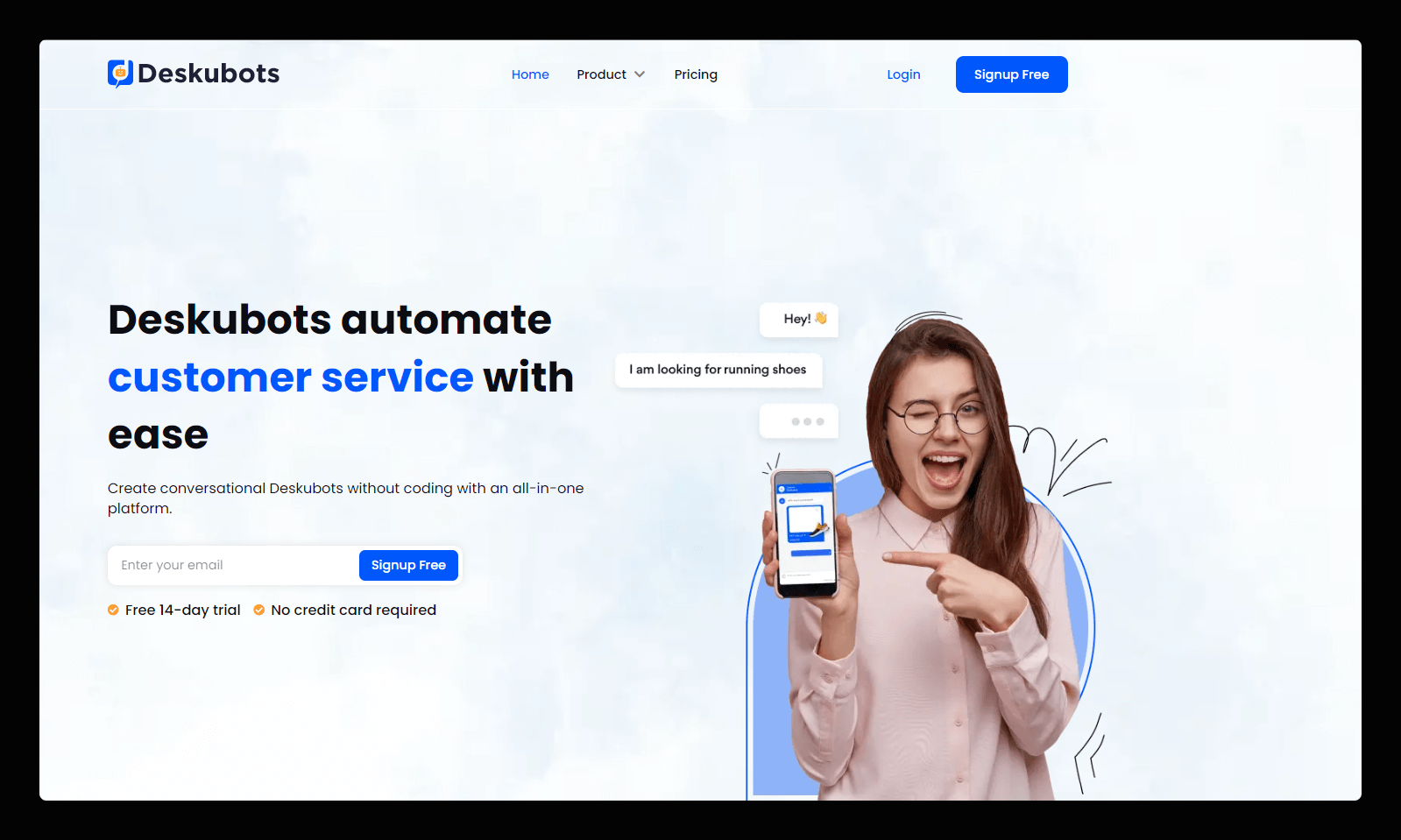 Also Read: How can you use Chatbot for social media platforms?
In the drag-and-drop recipe, easily create the marketing messages, list out frequently asked questions or affiliate the order tracking feature and this is how the chatbot can help you with the smooth message flow with customers.
Features of Deskubots: Marketing with Chatbots
-It has a no-code chatbot builder to create a chatbot for the messaging app or make a powerful marketing chatbot
-It provides a pre-made template and customizes it to help customers to get the exact answers they are looking for.
-Strong report and analytics to make the better customer experience or even know the website, and visitors.
-Allows to communicate across channels and helps in connecting the Facebook messenger chatbot and carrying messenger marketing, not only that but also connects other social media platforms.
Be the first brand to integrate chatbots in the business with the most powerful digital marketing strategies. Allow customers to gain the best experience from your agency and never let them feel like they are talking to a robot, bots can help in carrying the best conversation according to the human intervention set.
Use bots for a better and smooth business flow.
Pricing Plan of Deskubots: It consists of a free trial and the basic plan starts at $29 per month per user.
Conclusion
Deskubots is one of the no-code chatbot builders that helps in creating chatbots in which users just have to drag and drop a conversational interface which can be editable according to the business plans and strategies in your business. Drive the customer conversation automatically even in absence of the support agents. Easily hand off the conversation and talk to a human agent whenever you find queries that need to be solved through a specialised agent.
Get the best Chatbots for your business to carry the best functionality which is suitable for your business to carry the best marketing or even handle customer support. If you want to know more about Deskubots, you can always contact support.