Who does not want the strong customer engagement in their business? In one or the other way, business owners are keen on finding the right Customer Engagement Software to use with the product. 
We all can easily see the constant form of communication in today's world, and by looking at it you would contemplate connecting with customers would be a piece of cake.
As per the study, an average person receives 98 business emails daily, how are you supposed to create a healthy relationship with customers with huge competition to grab their attention?
You can text them, post on their favourable social media platform, email them, or even receive phone calls.
We are sure you are confused as well as too lazy to sort out some best customer engagement software in the market. 
So that is the reason we have shortlisted some of the best customer engagement software for you!
Let's have a look further and begin with it. 
What is Customer Engagement?
Customer engagement is the relationship or connection a customer maintains with a brand or company. Customer Engagement asks for more than just communicating with their customers, and these are: 
Customer support: the assistance provided by companies to customers that aids in getting the most out of a service or product.

Customer success: accelerating a customer's satisfaction with a product and its success through outreach, education, and advocacy.

Customer experience: the touchpoints and communications between a brand and a customer throughout the customer success journey.
While all the above modes of interaction play an essential role in customer engagement, it's not necessary that you are satisfied enough to be a loyal customer towards that particular company too.
Just like, you can be satisfied with the product, it does not mean that you follow the company that has it on social media or feel loyal to a particular brand.
However, taking time to contrive a strong relationship with your customers and earn that loyalty is linked to more optimistic business results.
As per Gallop, "a customer who keeps themselves engaged in representing an average of23 per cent premium in terms of revenue, wallet share, relationship growth, profitability than the average customer."
So, how do we support customer engagement?
A thriving customer engagement planning centre offers value to your customers via interactions and personalized experiences.
Personalization needs to have knowledge about your customers like:
How they want to interact

Who they are

The most preferable methods to interact with your company via product

What are their motivation points and values?
Read More:Customer Support vs Customer Success: Explained Everything
What is Customer Engagement Software?
Customer Engagement Software for businesses is a tool or an application leveraged to interact with customers and analyze customer interactions to optimize the customer journey.
As per the eCommerce statistics, the key to customer engagement software is a personalized shopping experience. 
Moreover, it is a far-reaching experience that includes e-commerce sites, advertising campaigns, blogs, customer support, brick-and-mortar shops, upsells, social media, checkout flows, and more.
Customer Loyalty automatically increases with strong customer engagement and how?
Customer Engagement software facilitates your business to analyze, track, and record every interaction seamlessly. Considering automation, Chatbot helps to improve customer engagement and it is proven to be the most efficient way.
Some common customer engagement tools are:
Live chat products

Social media management software

Chatbots

Knowledge base

Email marketing software

Web and In-app messaging platform

Help desks and shared inboxes

Feedback and survey app
Top 10 Customer Engagement Tools in 2023
1. Desku
All-in-one customer support platform for seamless customer engagement.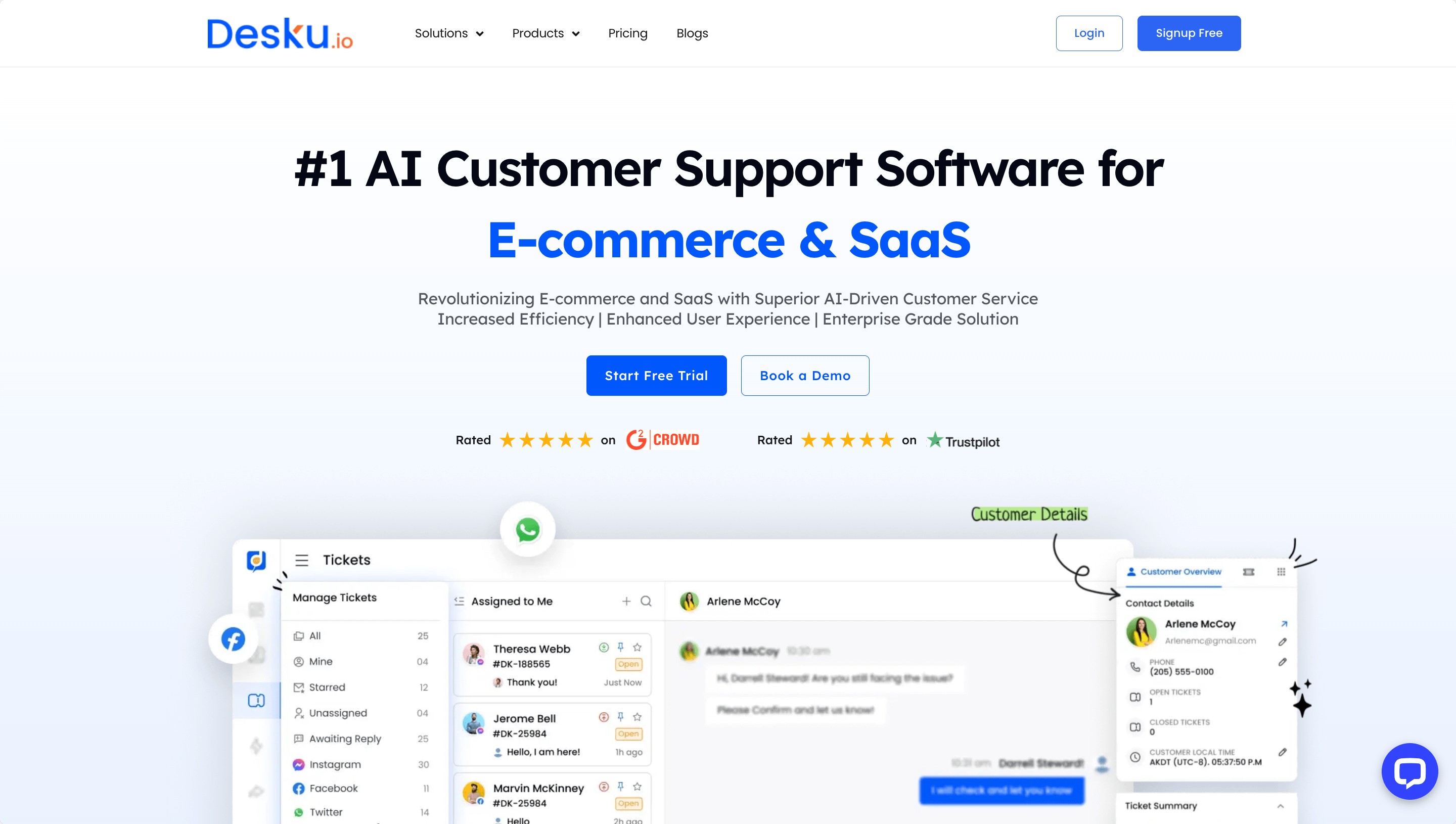 Desku is amongst the best customer engagement software Tools that help automate conversations with AI's power.
Desku not only enhances the team's efficiency and communications in real-time with customers through the live chat feature but also empowers users with the easy creation of a knowledge base.
It offers a drag-and-drop chatbot builder for effortless automation interaction. One can easily rely on Desku as 350+ businesses and 1000+ support agents trust it.
Top Features of Desku:
AI-driven customer support solution:

Enhance customer happiness and minimize support workload with the help of Desku's automation utilities and AI-driven chatbots.

Great ticketing system:

AI-powered ticket summaries, streamline the customer support process for quick response 

Enhance team efficiency:

With the use of an AI-enhanced inbox optimized for efficiency, easy to use, and good for modern software support teams.

Live chat:

allows users to connect with real-time customers, and easily rectify problems if any. 

Messaging platform: allows easy customer communication with a great customer experience, customer retention, improved sales, and customer experience.
AI-powered inbox:

easily

recap conversations, write replies, and make new answers for customer support.

Omnichannel support: is the ability to see all the customer Support communication in one place. Unified Shared Inbox is one of the sorted features that will help to streamline customer engagement. 
Price: Desku Plan Starts from US$ 29 per user/month.
2. Help Scout
Customer engagement platform for small and mid-size business organizations.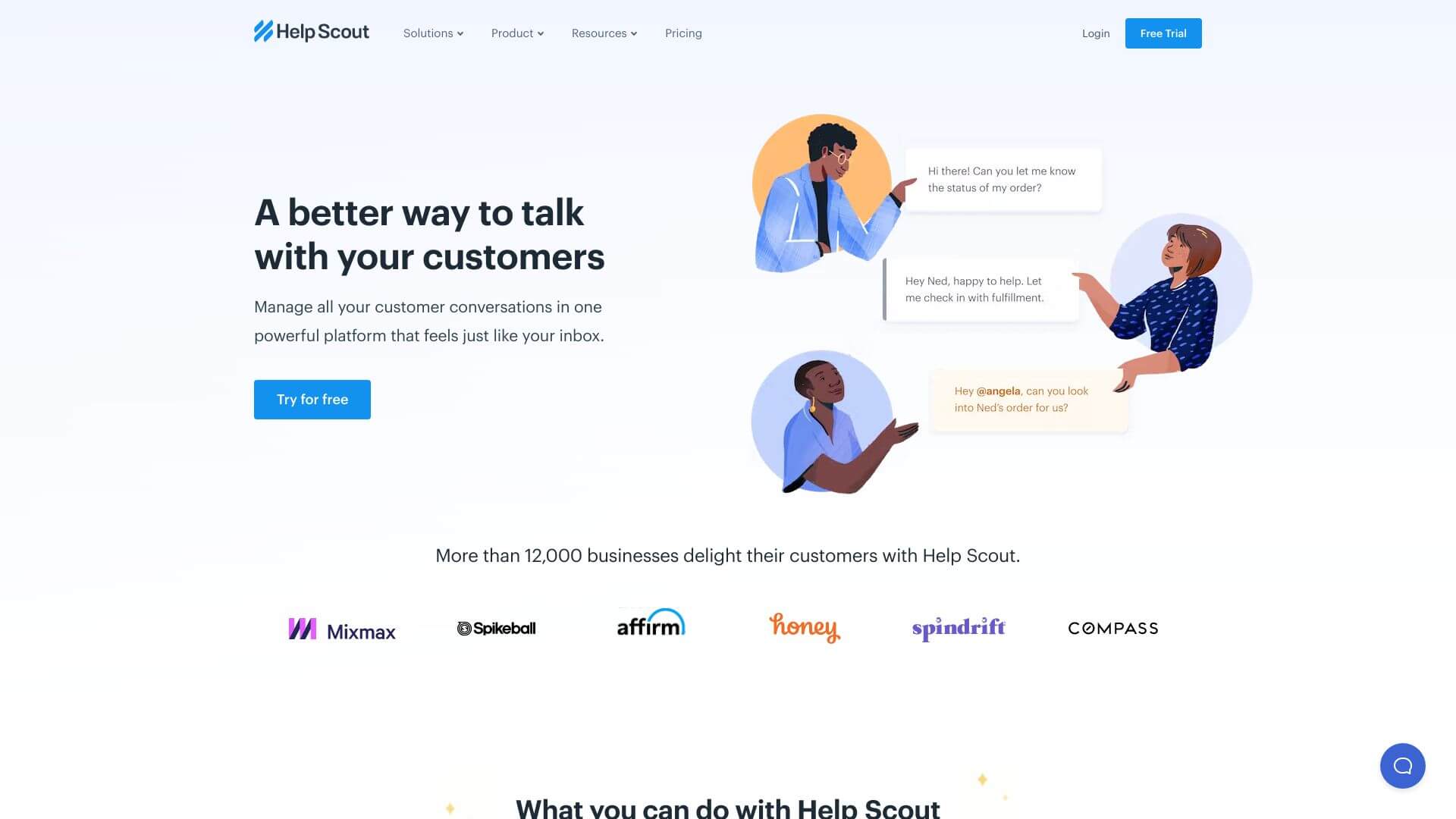 Help Scout is an interactive platform that aids teams in creating an excellent customer experience. This powerful software comes with tools that make easy engagement with your audience, irrespective of where they are in the customer success journey.
Features:
Create strong relationships with customers through contextual communications

Better customer experience via proactive messaging

Meaningful feedback

Enhance customer engagement through a self-service feature

Data-driven decisions
Price:
Starts at US$ 20 per user/month.
3. HubSpot
Best free customer engagement software.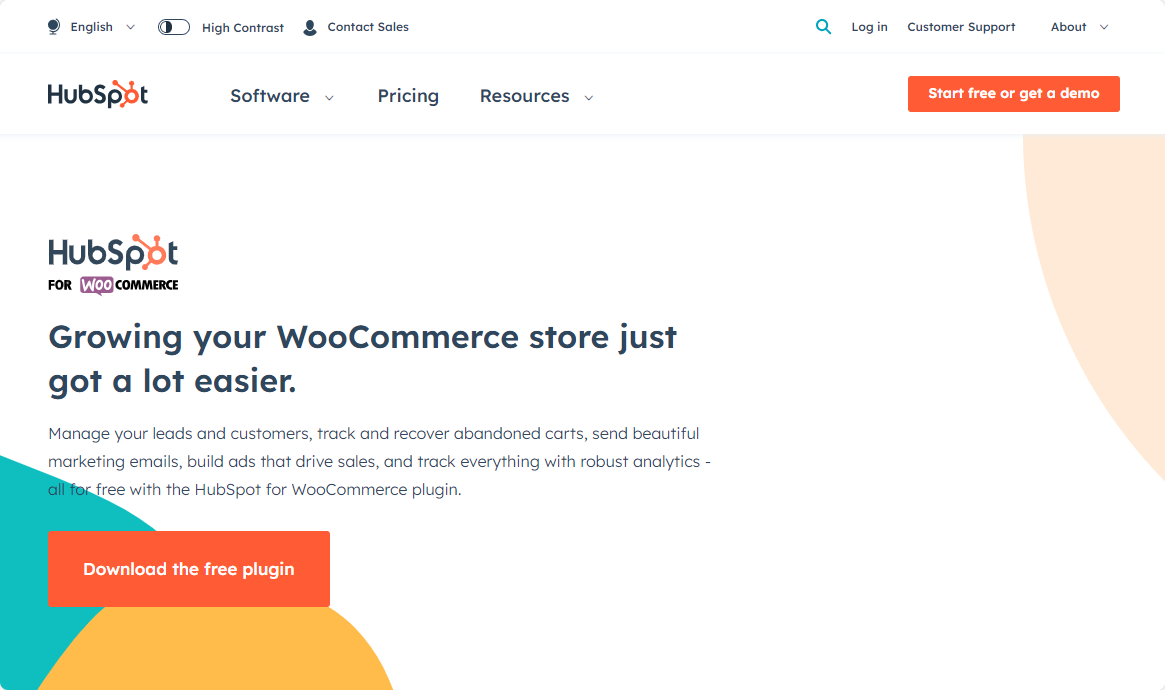 A popular marketing and CRM platform that is versatile. Provide content management, operations, sales, service, and marketing features.
Beyond the functionality of CRM, HubSpot is an excellent option for businesses that have lead-generation tools and require marketing automation. 
You can gather all the customer data in one place. HubSpot CRM connects with contact centre platforms so agents can spend more time with their customers and prospects. 
Features:
Customizable and easy automation of marketing inflows

Connect with site visitors in real-time via live chat

Full tracking and management of every lead with lead scoring and automatic data gathering

Landing page builder to launch mobile-optimized pages

Tremendous functionality of email marketing that includes A/B testing and personalised content

Priorities and examine conversations

Management and Ad-tracking for LinkedIn, Google, Instagram, and Facebook Ads all from one place

Improve Web page, blog content, and social media with the help of video 
Price:
 Starts at US$ 45/month.
4. Zendesk
Zendsek was created to facilitate customer support teams working remotely away from their desks.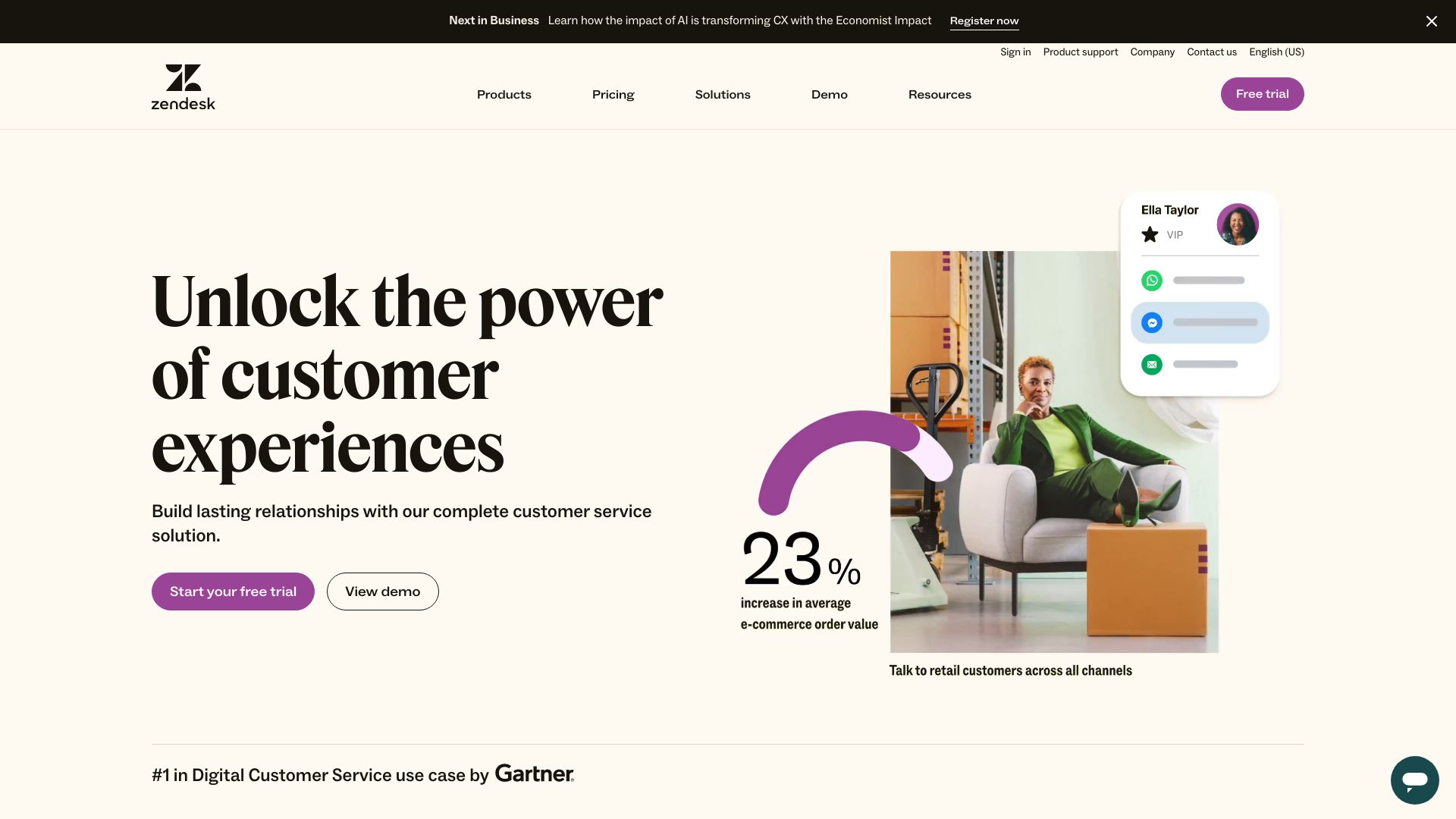 Zendesk has an integration that allows you to make phone calls from your Zendesk screen.
This is why Zendesk is a popular customer engagement software tool to support teams, with omnichannel customer support showing rich experiences across the social, web, and mobile.
Speaking of the facts, the only communication channel that needs to be added to Zendesk is the phone, but one can quickly fill that gap with the Desku integration.
We took out deep research, and we have sorted the direct comparison of Desku and Zendesk for you so that you do not have to try it. 
Features:
Seamless ticketing system including Twitter, Facebook, and emails

Omnichannel customer interactions across mobile and web devices

SMS messaging, live web chat, voice, and email chat support

Supports 1000+ integrations and apps

Custom tags and fields to classify tickets for easy archiving and tracking 

Robust APIs

Customized workflow automation 
Price:
Four pricing plans, starting at US$ 5 per agent/month (Essential pack).
Read More:10 Best Zendesk Alternatives for Your Business in 2023
5. Happyfox
Helpdesk Software for seamless customer engagement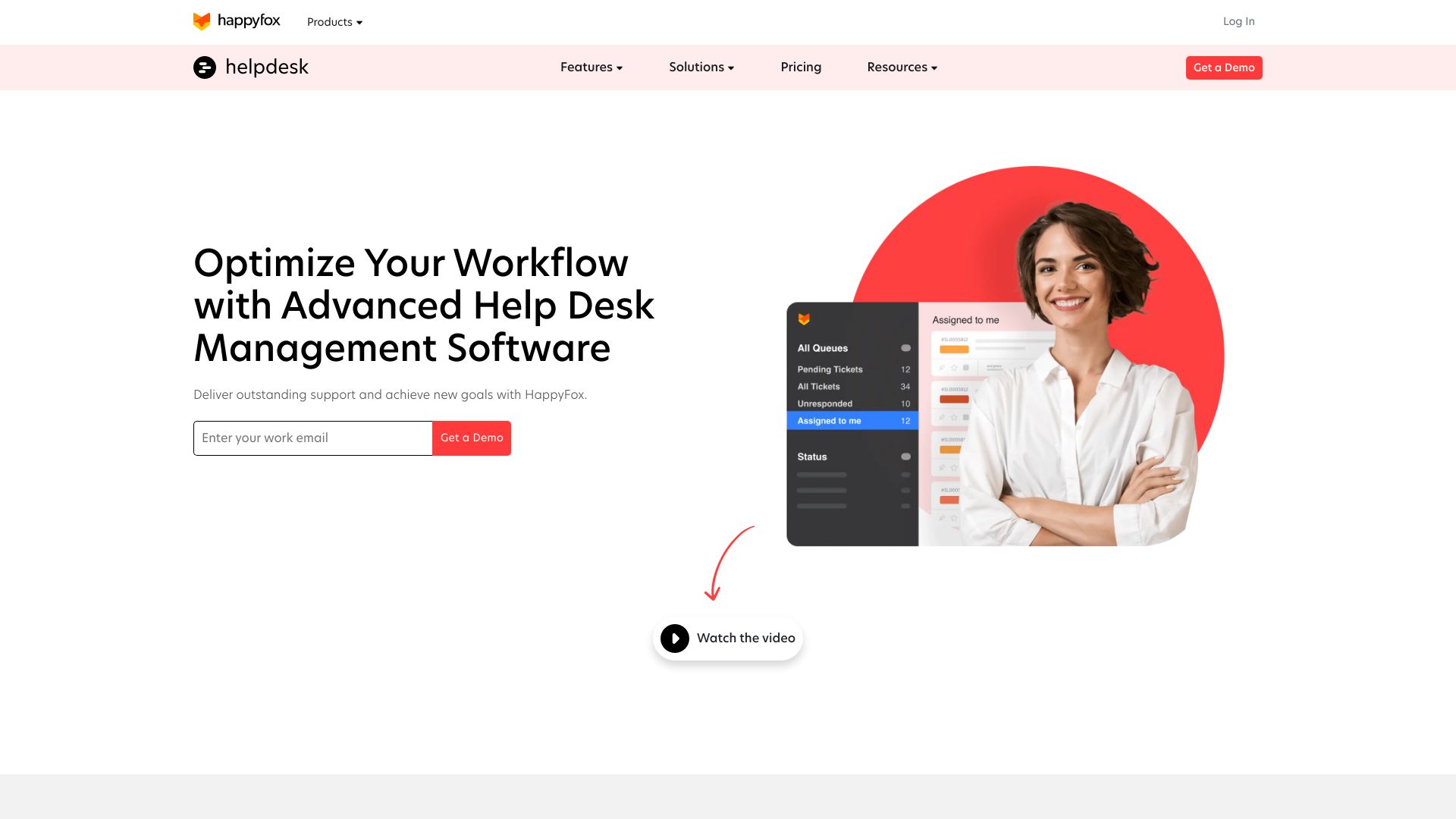 Happyfox is an excellent help desk software for customer engagement for small, large, and mid-size businesses and offers omnichannel support for contact centres.
However, to enjoy full omnichannel support with phone calls, you must blend Happyfox with Desku for complete customer solutions.
In the same way, your team members will be able to make and answer phone calls from Happyfox, and all the calls from Desku will automatically be recorded and ticketed in one place.
Consequently, all these processes will make it easier for the customer support team to search for information and triage tickets impressively.
Features:
Seamless customer support in multiple languages

Measure and analyze customer support real-time metrics

Omnichannel ticketing

Workflow automation has customized smart rules that include ticket reassignment and growth

Directly make and receive calls 

Integrations with Wrike, Aircall, Salesforces, and other messaging tools

Customizable reporting for performance, CSAT, inflow, agent activity, and much more
Price:
Affordable monthly plans starting from US$ 39.00 per user/month.
Read More:Top 7 Happyfox Alternatives shortlisted for your business in 2023
6. Outreach
Outreach is top-notch for sales-focused organizations, managing reps, and customer interactions.
Outreach's strengths are its ability to perform in team reporting, outreach sequence design, sales automation, and more.
The Outreach integration allows sales reps to start a call to any prospect with just one click. Moreover, they also get real-time call transcriptions with Desku to review how distinctly sales pitches are performing and enhance their Outreach planning.
Features:
Outreach success strategy offers real-time visibility of the customer journey

About 109 integrations, including G2, Outlook, Gmail, Salesforce, and 6sense

Deal escalation tools aid in standardizing best practices across all reps

Social activity, meeting scheduler, and CRM sync tracking 

Buyer sentiment analysis to precisely understand customer reactions 
Price:
No platform fees. Includes premium Support
7. Intercom
Intercom is a well-known customer engagement software among various customers.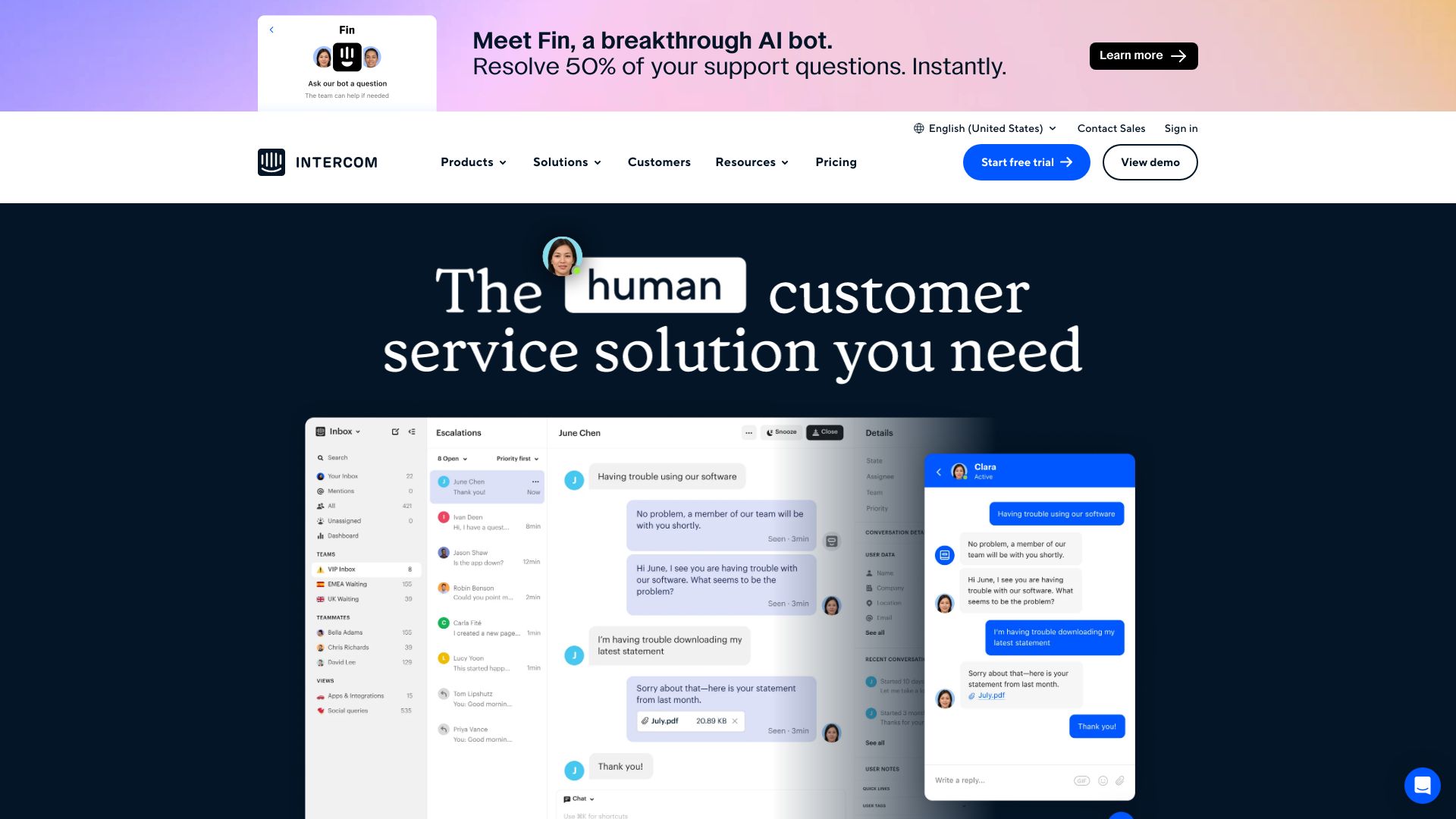 It merely showcases live chat, chatbots, conversational conversational experiences, or messenger-based, and the platform is packed with workflow automation tools that aid in marketing teams, sales, and customer support.
Your agents can quickly start a voice or video call from the Intercom application. They can start a meeting with one click, and with the other click, they can share the screens.
It lets your customer support and sales team facilitate customers in the best way.
Features:
Send automated and personalized emails

Workflow management tools

Robust live chat platform with advanced automation for customer onboarding and lead nurturing

Hundreds of CRM, calendar, video, and phone integrations for applications such as Outlook and Jira Cloud

Management and customization of push notifications and mobile carousels for your business applications

Automation of scheduling, routing, and messaging with chatbots

Chatbot greets website visitors with personalized messages
Price:
Starts from US$ 74/ month.
8. Front
Front is the most efficient help desk for email management
Front primarily focuses on empowering your customer-facing support team by allowing them to handle a shared email inbox for the entire team.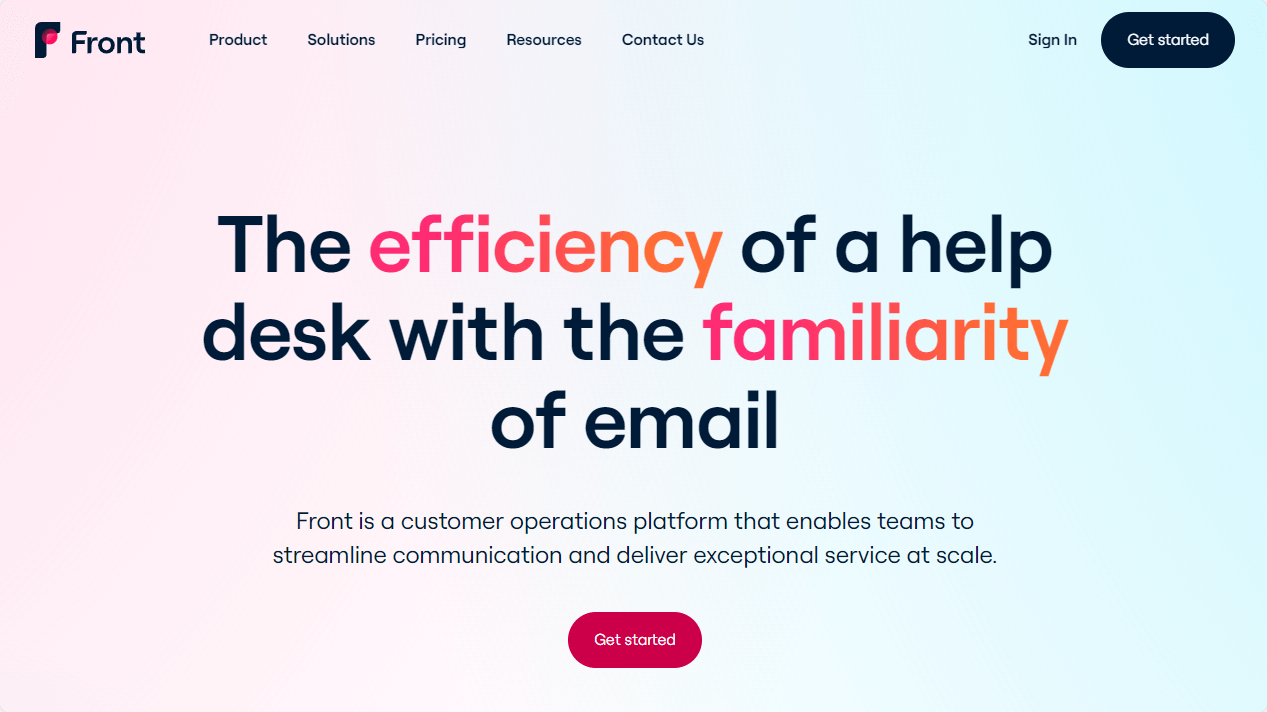 If you are searching for automation that aids in deleting tedious and repetitive tasks such as post-call wrap-up time for agents. 
With the support of multichannel messaging and analytics tools, your team members can quickly untangle all your woes and offer a better customer experience.
Features:
Analytics tools for customer messaging, agents, and team

Team inboxes, email threads, and shared drafts for easy collaboration

Automatic sorting of messages and prioritization

Superb internal discussion functionality 

Personalized message templates to automate mundane stuff

Omnichannel support for email, live chat, and social media

Integrations with Asana, Salesforce, and 50+ more

API connections to collect customer database

Organize tasks with team member assignment 
Price:
Three pricing plans
.
Starts from US$ 59/ month.
9. Mixmax
One of the sales engagement platforms in the business
With the help of Mixmax, you'll get a sales engagement platform designed specifically for Gmail and is about getting more meetings to fix.
It lets you share your calendar with prospects, with a link allowing you to book meetings without any hassles easily.
Suppose calling prospects and customers is a crucial motion for your sales team. In that case, you must look into the Desku integration, which provides you with one-click calling capabilities from the Mixmax web application.
Features:
CRM and LinkedIn integrations for massive campaigns and personalized messages

One-click scheduling from emails to remove customer friction

Full tracking for email marketing campaigns from your inbox: opens, downloads, clicks, and RSVPs by message and person

Beast mode tool to accelerate sale rep productivity with one-click scheduling from Mixmax Salesforce or sidebar

Embed surveys and polls in emails 

Reporting and analytics in enterprise packages and growth

Automation of task creation and data entry
Price:
Starts from US$ 29 per user/month.
10. ServiceNow
Popular customer engagement platform and ticketing software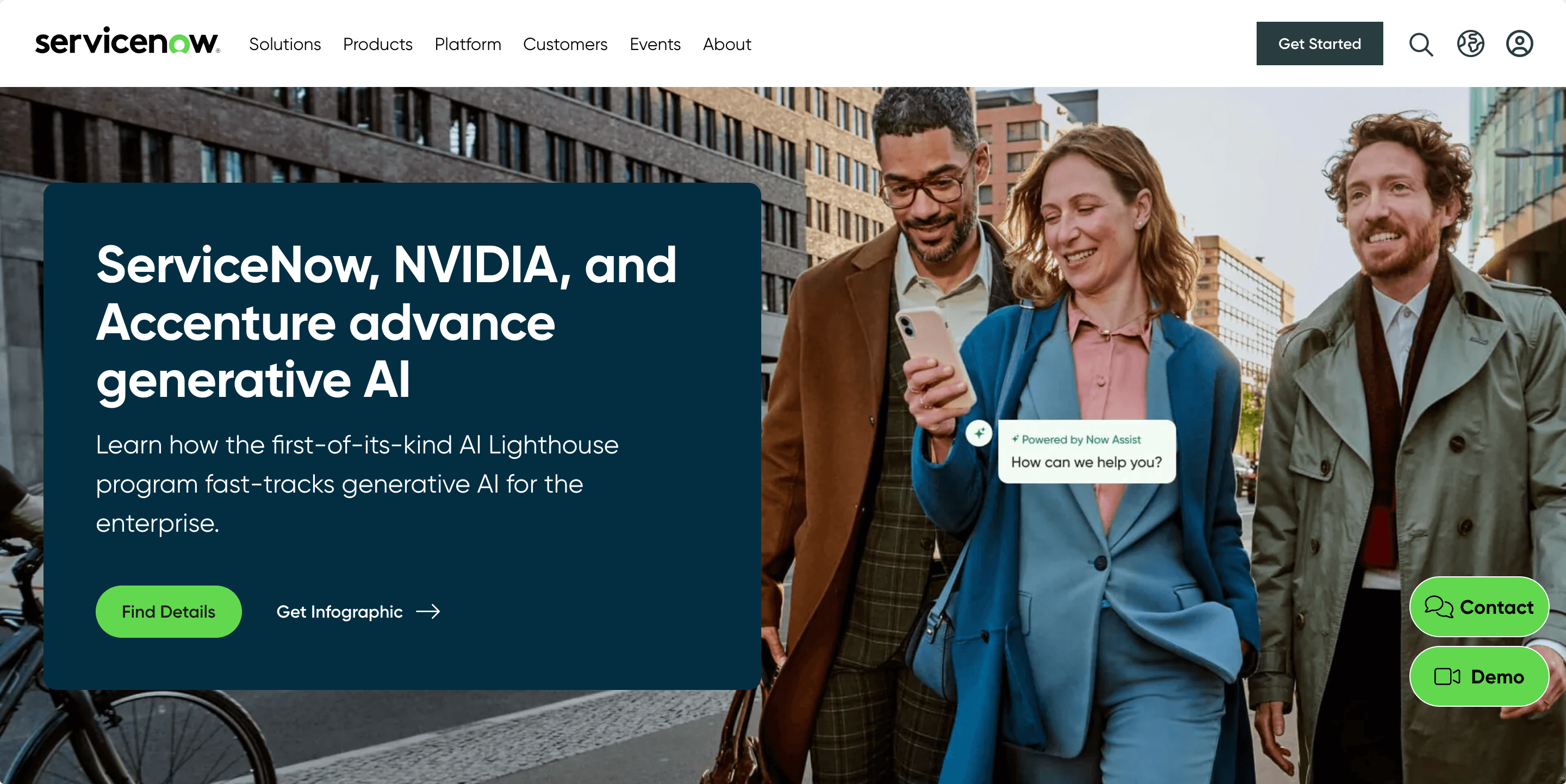 The ServiceNow customer engagement platform is a ticketing tool mainly leveraged for managing T services. Significantly, it allows IT teams to catalogue and process requests and deal with changes, incidents, and other issues.
Features:
Self-service functionality having knowledge base communities, management, and much more 

"Customer Central" shows all the touchpoints of customers in the form of information cards

Integrations with third-party apps, like CTI telephone and software platforms or computer telephony integrations 

Mobile agent interface for agents to untangle, address, and triage requests on the go 

Agent workspace with omnichannel support and case management
Price:
Starts from US$ 70/ user/month.
Conclusion: Choose The Best Customer Engagement Platform
Building a healthy relationship with your customers can only be feasible through the best customer engagement software.
Choose the right tool that offers a customer-centric mindset and a personalized approach. A company can earn a place in the hearts of its customers and at the top of crowded inboxes. If you plan to try customer engagement software tools, look no further!
Try Desku, which offers various resources to help you get started because it gives 7- days free trial!