Bringing new customers to your business is one thing, and developing loyal customers is another. Loyalty of customers begin to build when they are happiest with your business.
Shopify customer service software makes it easy to gather customer data, design a base of committed customers, and boost customer satisfaction.
With the possibility of selling to a current customer at 60-70 per cent, it's pretty easy to convert a profit with a vast customer base compared to chasing a new customer.
But with the help of the best Shopify Help Desk Apps in the market, you must look for the impression of customer service software to look into your store's success.
Stay tuned with us to explore what the Shopify help desk app is, why you need it and the list of best apps for Shopify in 2023.
You'll get answers to all your questions in this guide!
So, let's get started with it!
What are [Best] Shopify Help Desk Apps?
We understand that being an ecommerce business owner is not an easy task, especially when it comes to customer management.
Shopify help desk apps offer features such as automated responses, integration with the ticketing system, live chat, and a centralised messages platform for your Shopify Customers.
Some provide features such as the ability to track order status and look into the returns and a self-service widget. The main objective of these features is to ease customers to get friendlier, speedier, and better solutions to issues.
Here is the table for you to have a glance at which tool suits the best for what category. Scroll down and understand it in detail.
| Category | App | Why choose this app? | Starting Price |
| --- | --- | --- | --- |
| Helpdesk and AI automation | Desku | All-in-one helpdesk platform | $29/month |
| Helpdesk | Zendesk | Profound helpdesk | $55/per agent/month |
| Helpdesk | Gorigas | Best Shopify Helpdesk | $50/300 tickets/month |
| AI Automation | Freshdesk | Customer and employee management | $27.63/month |
| Live Chat and Chatbot | Shopify Inbox | Free live chat app | $0 |
| Helpdesk | Reamaze | Ticket Management app | $29/month |
| Helpdesk and AI Automation | Richpanel | Scaling customer queries | $80/month |
| Helpdesk | UVDesk | Ticketing system | $22/month |
| Live Chat and Chatbot | Tidio | Standalone chat app | $0 |
9 Best Shopify Help Desk Apps To Look Forward in 2023
1. Desku
Desku is one of the best help desk apps to integrate the Shopify Platform to offer complete customer support in a simple and integrated form.
Shopify Business owners can connect with Desku to carry better customer services. Shopify customers can be managed and organised with the help of Ticket Generation and other features such as live chat, no-code chatbot builder, knowledge base, and much more.
With the help of Desku's Shopify integration, you do not need to open the Shopify app store differently to see the details of your orders, like returns, refunds, exchanges or cancellations, in one place.
Key Features of Shopify Integration that Desku Offers:
✅ Customised Sidebar
One of the great features of Shopify integration is its flexibility, and one can customise it as per business convenience.
✅ Customer Details/Information
Customer details, like name, address, email ID, Phone number, account number, etc, provide support agents with great ease to reach the customer and start a conversation with them. Customers must enter their valid email ID so our support agents can reach them.
✅ Order History & Details
Desku's Shopify integration allows support agents to track customer's order history & details of the order, like the order number, tracking ID, expected delivery date, and much more.
✅ Easy Cancellation
Support agents can see the details, like cancellation/return, refund, or exchange so that they will learn about the customer's behaviour, whether they like a particular product that is being delivered to them or not.
✅ Ticket Prioritisation
With the prioritisation feature, support agents can set the ticket priority by marking them as Critical, High, Medium, and Low to provide customers with faster query resolution.
✅ Change Status
Considering the customer queries, one of the best ways to manage is to organise tickets according to the "status" like open, closed, pending, spam, etc. The amazing thing about it is, that you can customise these status names according to your requirements.
Pricing Plan of Desku
One of the best things about Desku pricing is that it does not have hidden charges. The pricing plan is fixed and transparent at the same time. It is considered to be one of the most flexible and affordable pricing plans.
Startup Plan: $29/month
Team Plan: $59/month
Business Plan: $89/month
NOTE: Desku is also available for Ecommerce Platforms like WooCommerce, and Ecwid.
2. Zendesk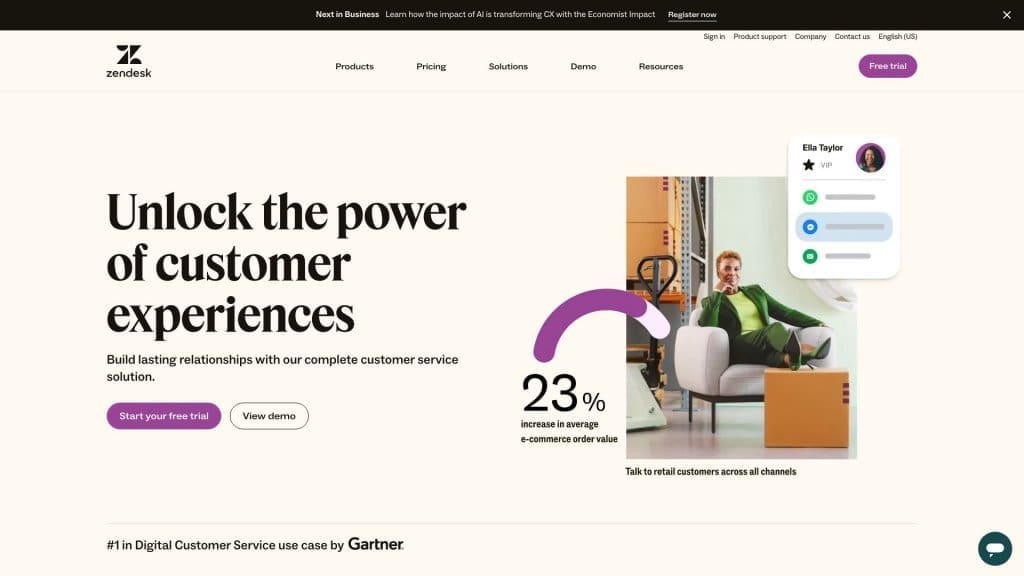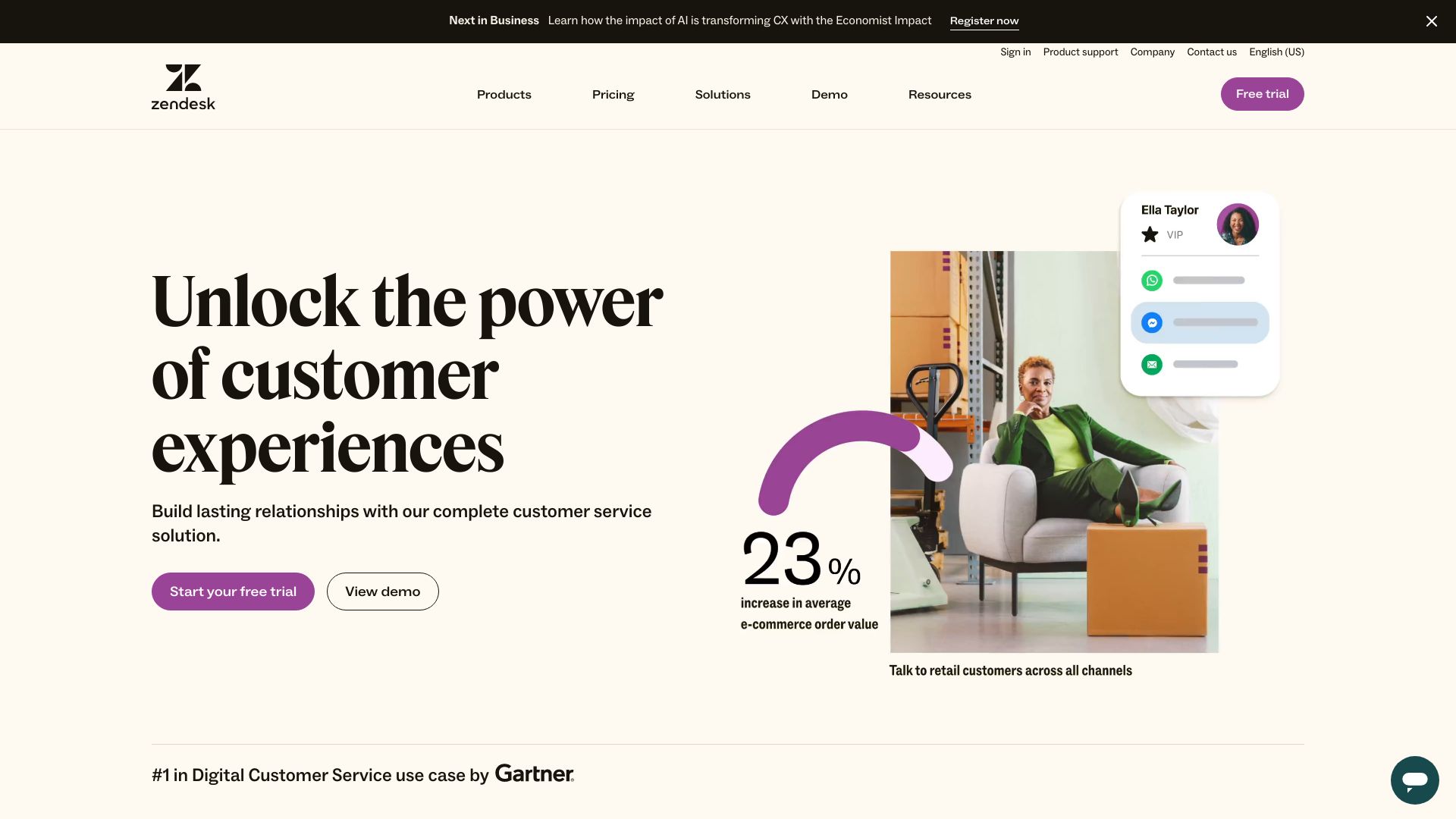 Zendesk is a customer service helpdesk built specifically to serve customers with advanced features for customers of any industry.
Zendesk could need third-party tools and benefit in the way. You need it.
Zendesk is complex, and you may end up paying for many features you don't need and will never use. You might find yourself splurging for add-ons to connect it with your systems.
You may also require additional help, which might take months to complete.
What is Zendesk known for?
Plans for small and mid-sized businesses
Manage several marketplaces and stores
Built explicitly for ecommerce industries
Analytics and Reporting
AI assistance and automation
Price:
Suite Team: $49/agent/month
Suite Growth: $79/agent/month
Suite Professional: $99/agent/month

Considering Zendesk is the help desk app for Shopify customers it lacks accurate ecommerce functionality and features. It also states the difficult on-boarding, poor and delayed customer service and much more. Considering the customer ratings for Ecommerce Business, it is only 3.5/5
3. Gorgias
Gorgias is listed under the best Shopify customer support apps in 2023, built especially for ecommerce stores to improve customer satisfaction.
Gorgias enables you to centralise all the customer queries and tickets at one location. It encouraged omnichannel messages; hence, it does not matter whether you receive messages through the ticketing system, Facebook, emails, social media, or multiple channels. You can manage all of them from one dashboard.
What is Gorgias Known for?
Gorgias integrates with Shopify to create Customer profiles to make it easy for the support team agents to access and pull customer data in one place.
Customised sidebar
Email and live chat
Order management
Price:
Starts at $10 per user/month.
Read More:10 Best Gorgias Alternatives for Ecommerce Success in 2023
4. Freshdesk
Freshdesk is also one of the best Shopify help desk apps whose primary aim is to help companies minimise the time spent on manual tasks and respond to support tickets and queries.
It offers omnichannel Support via a centralised platform, saving you from continuously clicking between windows and tabs and minimising the time spent on tasks.
What is Freshdesk Known for?
Freshdesk is best for businesses of all sizes and those using omnichannel messaging.
Advanced automation rules
Customised reports and analytics
Price:
Sprout: Free for unlimited agents with email and social ticketing
Blossom: $15/user/month
Garden: $35/user/month
Estate: $49/user/month
Forest: $99/user/month
5. Shopify Inbox
Shopify Inbox is a free application by the help desk for Shopify. It is an excellent choice for businesses willing to offer standard customer support via live chat on their website.
The Shopify Inbox is not fully featured compared to a customer ticketing system. Thus, it can't tackle multi-channel support, but users still consider it a great choice for start-up businesses.
Shopify Inbox is Known for?
Ability to share coupons
Easy to use mobile application to handle all the customer queries.
Create automated messages
Supports Live chat and Facebook Messenger as main support channels.
Multi-channel support
Price:
6. ReAmaze
ReAmaze has a deep integration with Shopify, which combines great customer service and live chat features to design a help desk to resolve the issues faced by customer Support agents.
It majorly integrates with Shopify, WooCommerce, and BigCommerce and enables you to bring all the support channels to one location.
With the help of this, you can automate basic customer support and tasks with the help of machine learning, which helps your team save time.
With the help of its Shopify application, you can pin an order to a conversation, view order status, and refund and cancel orders.
What is ReAmaze known for?
Best for mid & small-sized organisations
AI automation
Live chat & chatbots
Shared Inbox for support channels
Price:
Free trial available
Primary: $29/month
Pro: $49/ month
Plus: $69/month
7. Richpanel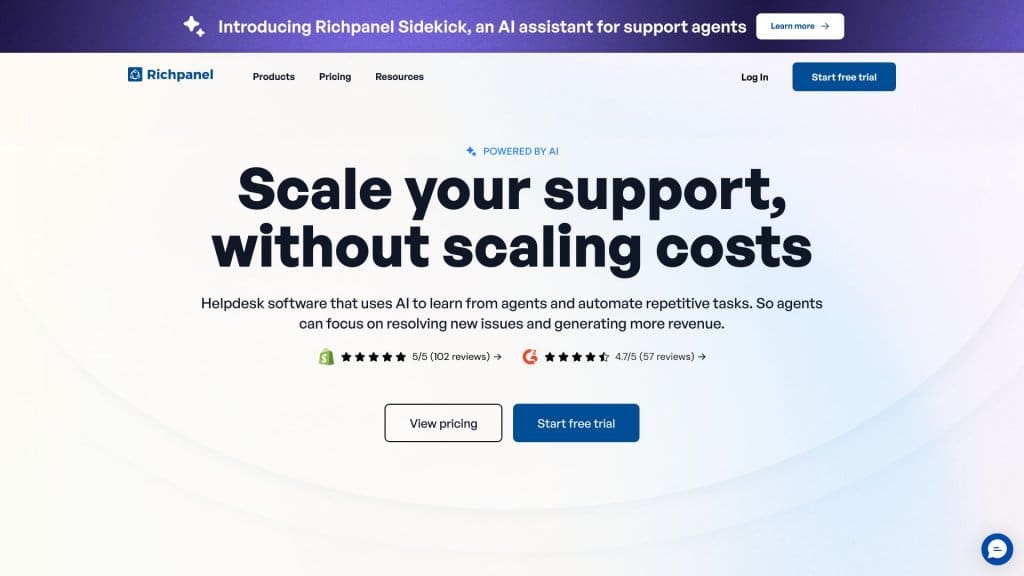 Richpanel is one of the best customer support apps to consider today. Its Shopify integration will allow you to manage customer data and interactions from one place, with the details of customer orders appearing on the dashboard.
You can update addresses, accounts, and refunds- there's no need to leave the dashboard.
The live chat feature of Richpanel incorporates personalisation functionality, so you can make your customers happy that they are more valuable to you.
Moreover, the self-service help centre option allows users to search for answers independently when they do not want to chat with a support agent.
What is Richpanel Known for?
Advanced features to improve customer service
Self-service options
Multichannel messaging
Reporting and analytics
Automation
Price:
Free trial available
Basic: starts at $29/month
Regular plan: starts $49/month
Pro plan: starts at $99/month
8. UVdesk
UVdesk is a free-to-use help desk that integrates with Shopify to ease you with great customer support and impeccable customer experience.
Its Shopify integration enables you to fetch Shopify order information on customer tickets with the help of an order ID and keep all the related information in one place.
You'll be more surprised to know that it even offers fraudulent features, allowing agents to verify whether the support ticket is valid or to avoid time wasters.
What is UVdesk Known for?
Best for tech-savvy ecommerce customer service businesses
Ticket administration
Email management
Ability to examine agent performance
Multi-channel support
Price:
Pro plan: starts at $22/month
9. Tidio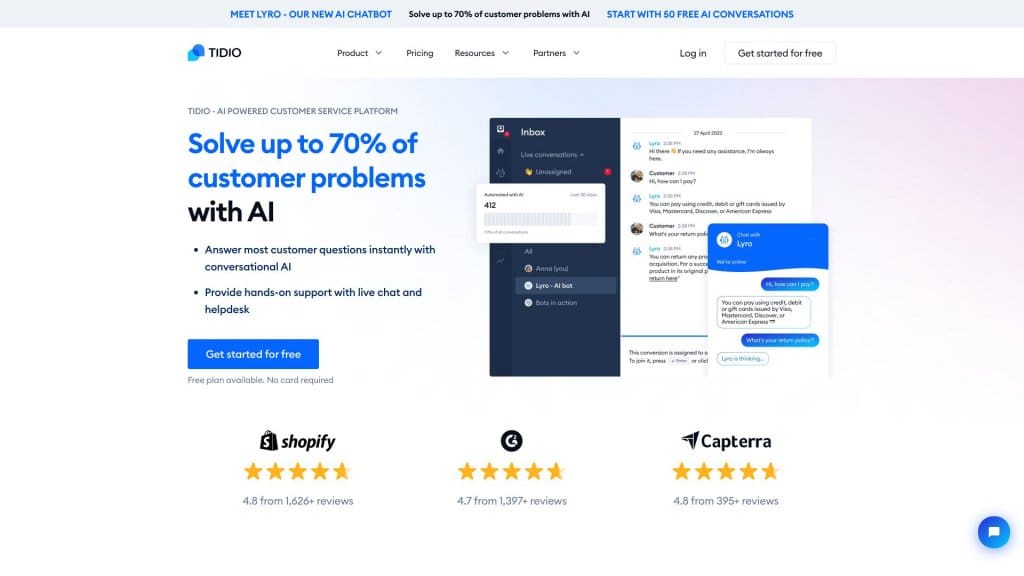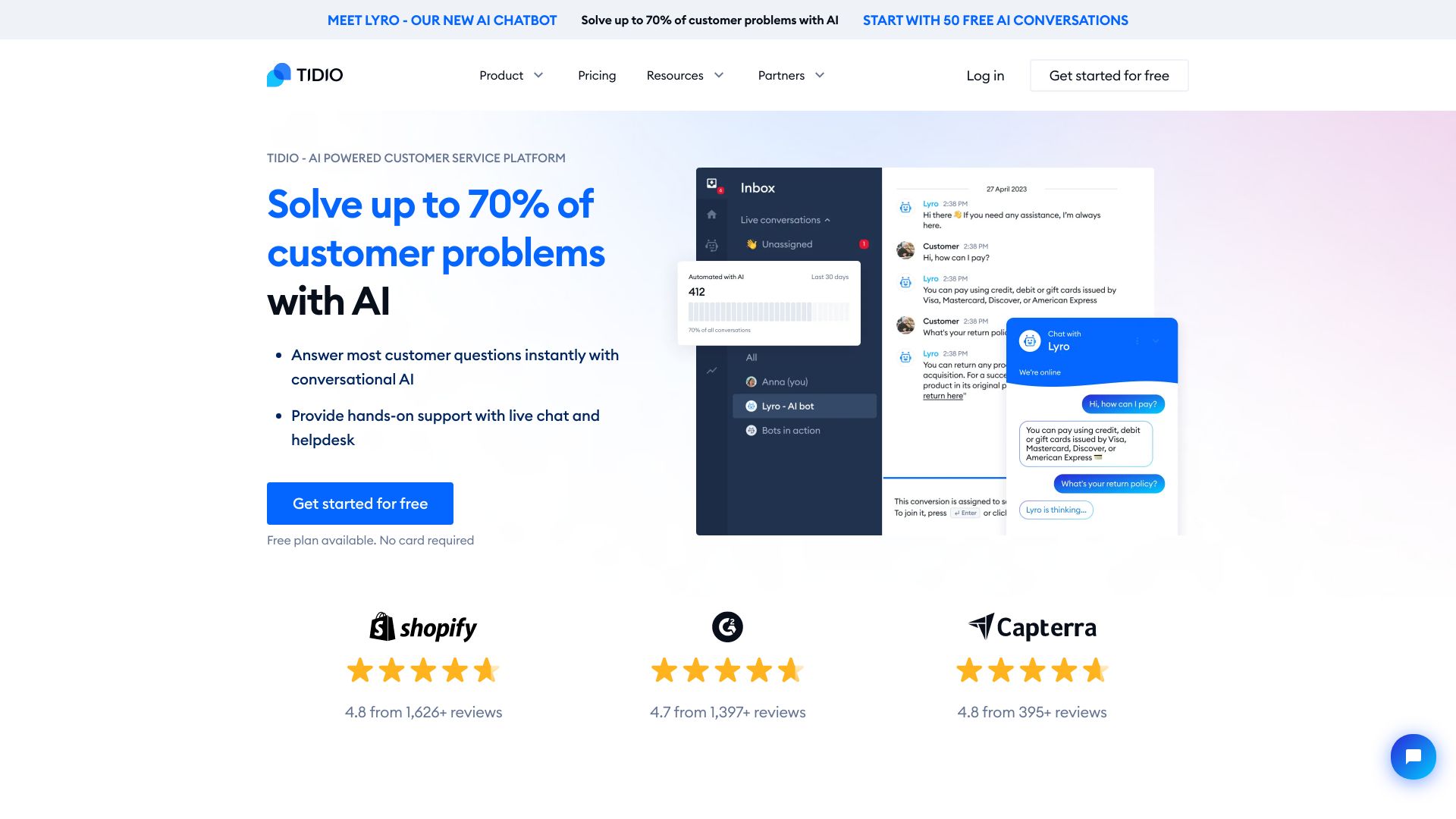 Tidio is a Shopify customer chat support created to offer effective real-time customer support through its chatbot and live chat features.
The main goal of Tidio is to improve customer communication, which serves retailers looking to address customer inquiries and demands.
The live chat feature of Tidio allows customers to send real-time inquiries and get immediate replies. Its chatbot is designed to answer all the customer queries automatically.
What is Tidio Known for?
Personalized product recommendation
Improve the customer experience
Personalise chatbot messages and chat window
Respond to customer inquiries quickly
Price:
Free trial available.
Plans, including Shopify support, start at $29/seat per month.
Why Do We Need a Shopify Help Desk App?
1. Business Growth
Every business seeks scalable growth by hiring more staff, increasing profits, or going beyond the boundaries (international).
If your customer service system is not up to the mark, it becomes more problematic to boost your business.
You will get more queries if you have many Shopify customers. Consequently, you'll require new customer apps that can serve many customers.
In such a case, you'll require the best Shopify help desk app that can eliminate this problem and will lead to the growth of your business.
Here, Desku plays a significant role by providing great Shopify integration features which can lead to business growth.
2. Money and Time-Savvy
You might be oblivious that your customer support team receives loads of queries and your support agents are finding it hard to keep the tickets on the top, and then comes the time when you start getting frustrated messages from customers, being upset regarding the delay in query resolution.
By this, you are not only burning your pockets by hiring support agents, but you're wasting the valuable time that you could have spent on your business.
The help desk apps can minimise your workload by automating most tasks. Also, you can save labour costs plus avoid investing in hiring a customer support team every time.
Nevertheless, if you are interested in building and matching customer relationships with applications to help you offer customer support, get on to Desku's best Shopify HelpDesk app that will not only save time in providing you quick responses but money as well.
You will not be saddened or frustrated with the time and money you invested in the Shopify app for purchasing a product or taking up any of our services.
3. Decreases the Response Time
Customers always expect faster responses in every communication as no one wants to wait long hours. You'll always choose a place or method where your queries are resolved quickly and efficiently.
Complex customer service made it challenging to respond to tickets quickly.
Desku plays a major role in better assisting you by quickly resolving customer queries with the help of support agents as we always prioritise our customers. This not only reduces the response time but will also improve customer satisfaction.
4. Let your Customer Market your Brand
You can see a huge chunk of any business costs that go towards marketing, be it PPC ads or social media posts, the biggest outgoing apart from e-commerce platforms.
And what if your customers can do the work for you? Offering excellent customer service support apps is not only about better testimonials and online reviews but also word-of-mouth marketing.
If you go beyond essential customer support, shoppers will surely provide positive reviews to their loved ones.
The remaining 90 per cent rely on friends and family recommendations besides ads and promotions.
Always check these 9 "Must Have Features" in Shopify HelpDesk
We are listing some of the must-have features that you should be looking for before choosing the Shopify Helpdesk App.
Let's have a look!
1. Multiple Communication Channels
You don't know where your customers are from, it is essential that you be there where your customers are to reply to them or to attend to their queries. Having integration with multiple communication channels like Email, Live Chat, Messenger, or WhatsApp, it becomes easier for your team to attend to all your customer queries under one roof.
2. Proactive Live Chat
Live Chat is considered to be the ray of hope for instant communication with the support team. It will help your support team to reply to common questions within a few chats and messages, in a way that helps in solving the queries in real-time and faster.
3. No Code Chatbot Builder
Chatbot is very important if you have some hectic repeated queries from customers. These will take away most of your boring and repeated tasks and you can focus on more important things in your business considering the growth. Chatbot should be just drag and drag-and-drop conversational process which will help to create the whole chatbot, extremely customisable according to your business.
Read More About Chatbots,
11 Best AI Chatbot for your Business in 2023
How Can You Solve Customer Queries Using The Chatbot Platform in 2023?
5. Shopify Integration [Must]
If any help desk app, does not have Shopify Integration, it would be much more difficult to cope with your Shopify customer queries. As there will be no use having the software. Shopify Integration with Helpdesk apps will help to connect your store and manage everything under one roof.
6. AI and Automation
AI and automation will automate the workflow. Small tasks like routing conversations, applying macros and rules, auto-replies to customers, and canned and saved replies are some of the best features that will simplify the workload of your daily tasks.
7. Self-Service [Knowledge Base]
Customers always want to help themselves first before they contact the support team. Having an accurate informational knowledge base helps to have a reference to customers or visitors before raising any queries. Make sure there is a proper knowledge base system that will help you to cover most of the information that you want your customers to manage by themselves. Ultimately decrease your workload, and have a stress-free team.
8. CSAT
Customer satisfaction surveys are very important when it comes to knowing your customers fondly. What are the "business" benefits of knowing your customers well? Well, it will help in giving the direction to your business strategies and some aspects that your business can be driven. Basically, CSAT tells you directly what your customers expect from you.
Read More:Measure Customer Satisfaction With These Best 7 Ways
9. Advance reports and analysis
Advanced reports and analytics help you to have your business at a glance. Easily track the response time of your team to your customers which will help in managing as well as keeping the record on what basis the improvement is needed.
Wrapping Up
From the manifold help desk software available for your Shopify store, we have compiled the list of the best Shopify customer service apps for a better customer experience. Now, you need to go for the best.
Here, we suggest you start with Shopify inbox if there is a lower ticket volume at your Shopify store to avoid any hassles.
So, if you're looking for the best customer support tool, take a free trial of apps. From the various apps, you can use Desku, the best customer support software app for 2023 that looks after support ticket management.
Desku is an excellent Shopify app store for you if you want seamless customer communication and experience that you should never compromise with.
Frequently Asked Questions
1️⃣ How to choose the right customer support app for your Shopify store?
One should follow these steps to get the right Shopify customer support app: Check reviews, go for an app trial, take a demo with the app you like, and compare pricing.
2️⃣ What are the features that Shopify customer support apps should have?
Some essential features are Live chat, multiple support, Shopify integration, automation flows, self-service options, customer satisfaction surveys, reporting, and integration with other Shopify apps.
3️⃣ What is the need for Shopify customer support apps?
Shopify customer support apps are used to maintain healthy conversations with customers or leads.