Choosing a customer service software can be a bewildering task. After all, there is so much to consider – let it be customer support, features, reputation, value for money, and a bunch of other things.
You're going to pay attention to all of those, the reason being that taking chances while choosing a CRM may directly play a role in decreasing your ROI!
Now, let's say you tick-marked all of those considerations and chose Zendesk, but then things don't roll on as smoothly as you expected. Did you encounter a situation where customer support wasn't able to answer your questions? Are you unhappy with the interface? Or are you dissatisfied with the value you're getting in return for your hard-earned money?
Yeah, there are chances, and we've mentioned all those factors after cherishing customer reviews only. Now, you may search for an alternative even if you've never experienced using Zendesk.
Whatever the case is, you deserve the best. We've spent 258 hours researching and comparing over 35 CRMs and formulated a tremendous list of the best Zendesk competitors to help you compare them up and finally choose the most suitable CRM.
Remember, if you choose the wrong customer support software, you may end up losing your precious customer which can certainly hinder your business's overall growth. So, pay close attention to this expert guide.
But Why may you search for Zendesk competitors?
No matter, Zendesk is a huge name in the world of customer service software, but that doesn't mean there are no flaws. Yes, you find some tremendous customer reviews, but we need to flip the coin, too! Yes, we're talking about the factors that may bother you. After analyzing over 3200 customer reviews, we've pulled out some facts of concern about Zendesk:
The price point is very high and seems unjustified, especially when you compare the pricing with competitors like Desku.
You may feel confused with the number of tools integrated. Also, their integration with each other is pretty poor.
The live chat widget seems outdated.
Customer support is in question sometimes.
In-app messages are absent for SaaS products.
Aren't you feeling bothered now? You do get a lot of solutions with Zendesk, but sometimes, it feels overwhelming. You may not need around half of those features, and this actually hurts as you're paying for those features.
Do you really feel these negatives are hidden from Zendesk competitors? Certainly not! Whole teams are sitting there to explore these loopholes and offer services free from those negatives.
If you're a small or medium-level enterprise, we're sure you'd love the Zendesk competitors we've listed down there!
1). Desku
There are certainly great reasons why you're able to see Desku as the crown of this list of the best Zendesk competitors. If you're a small or medium-level enterprise looking to pay maximum heed to upscaling your business, then don't ignore the importance of customer satisfaction. For that, you don't need Aladdin's lamp – you just need Desku!
Desku.io is the most compelling alternative to Zendesk as it offers several advantages that Zendesk misses out on. The customer support game was much smoother and easier with Desku – many ex-Zendesk users have said that!
You'll be a fan of the user-friendly interface. Support agents can effortlessly navigate and use all features (you've got a lot of them for the price). There is a lesser learning curve in contrast to other dominating Zendesk competitors out there.
It offers support via multiple communication channels, helping you to reach your customers where they are. You enjoy powerful automation features which streamline routine tasks, set up triggers, and manage tickets clutter-free. Don't you think all that is going to boost your team's productivity?
Here's another great factor behind Desku.io's success – Pocket-pleasing pricing. There are flexible options for businesses of all sizes. Why don't you please your eyes by clicking the link below?
Pros:
Top-notch AI-driven customer support solution
AI feature promptly suggests intelligent responses
Effortlessly create potent automations without coding
Zero training required for AI powered bot to answer queries
All your customer support interactions present in one location
Option for effortlessly teaming up with coworkers for solving tough issues.
Integrated service level agreement feature
Mobile optimized for easy accessibility via all devices.
Adaptable and personalized reports
Over 30+ integrated apps
Cons:
Not as popular as a few other alternatives for now.
2). Intercom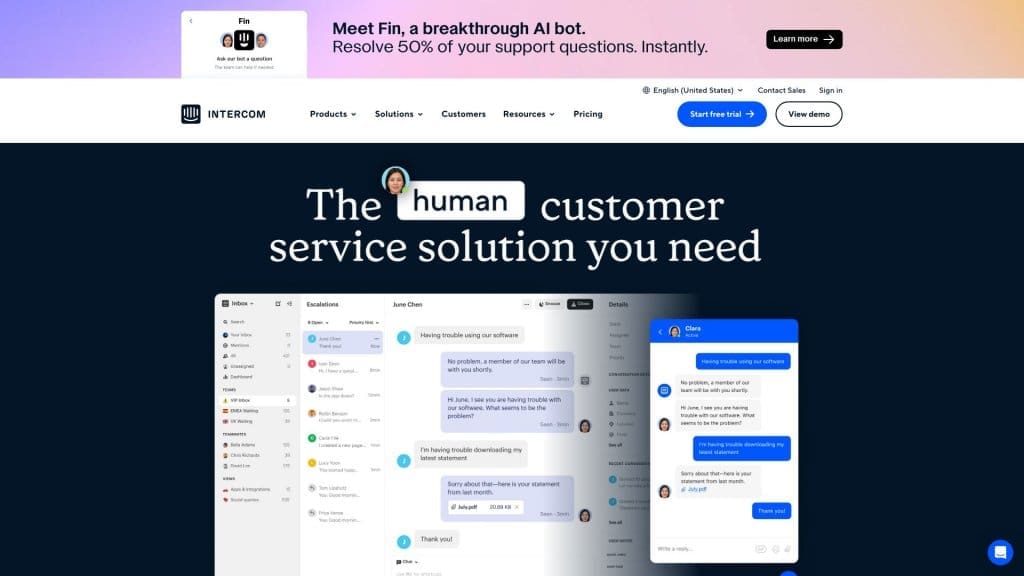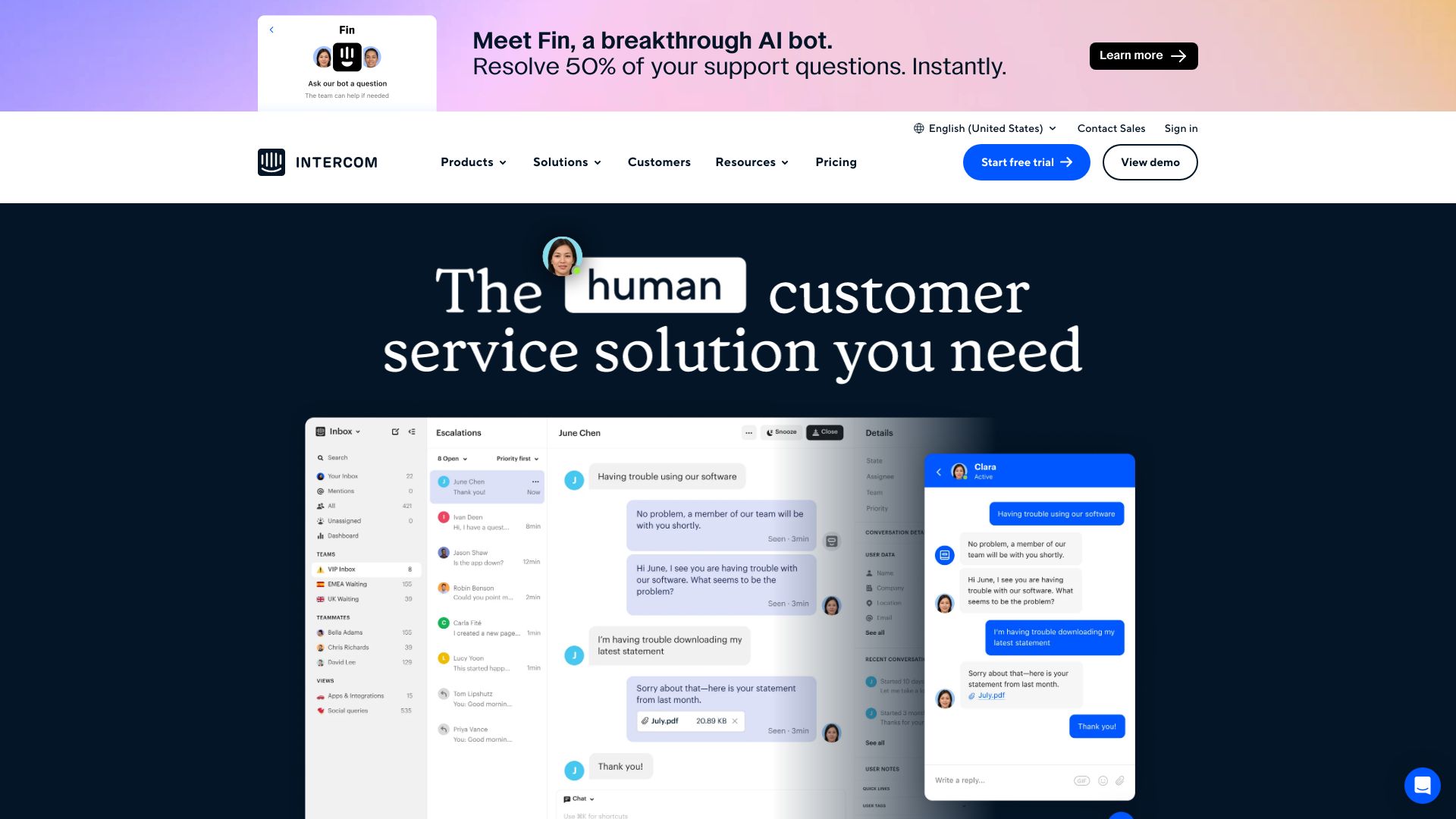 If you're searching for highly supportive CRM software that offers email marketing, an extensive knowledge base, in-app messenger, and, obviously, live chat, then you need to learn about Intercom. This customer interaction tool allows your business to please your customers with on-demand assistance. You can't just answer questions with Intercom; you get great help for closing deals, too.
Your enterprise can use the software's chatbot to offer instant assistance to your customers. Its AI understands language questions. We tried a few pretty complex ones, and the results were good. Besides that, the chatbot can access and process information from your help centre articles and generate accurate and up-to-date answers.
However, there are concerns for smaller teams and small-scale startups. If your business falls in either category, you may not find Intercom to be that convenient. Another factor that makes you think twice before paying for Intercom is its high pricing. You'll need to pay $199/month extra if you want to get product tours (interactive onboarding guides for your customers).
Moreover, Intercom pricing brings complications to your mind, and you will need to pay charges for active contacts. Overall, Intercom is a great competitor to Zendesk but fails to tick as many boxes as Desku does.
Pros:
Tremendous range of marketing tools.
Easy-to-use interface.
Integrates numerous channels of communication into one.
Eye-pleasing interface.
Cons:
Customer service needs some improvement.
Expensive for small businesses.
The final cost is affected by multiple factors, making the estimation of final pricing very complex.
Read More:13 Budget-Friendly Best Intercom Alternatives in 2023
3). Freshdesk
If you're looking for highly convenient all-in-one help desk software, consider Freshdesk to be the closest alternative to Zendesk. You can offer quick customer solutions with its self-service options. This software allows you to convert your incoming support emails into tickets.
It's also possible to split, merge, and monitor your incoming support emails. Do you want any event to hit your inbox? Worry not; you'll get automatic notifications.
You can thrive your business using this platform's customizable plans. The 'Growth' plan is the most generous one, costing you $18/mo per agent, while later, you can go for the 'Pro' plan, which costs $59/month per agent. When your business grows big, grab the biggest plan, which costs you $95/mo per just one member. Yes, that's somewhat expensive. If you've got special requirements, you can contact Freshdesk to create a custom plan for you.
Freshdesk is a tremendous help desk solution that provides your business with almost equal features as Zendesk does. It makes the two tools appear almost equal. The best thing about Freshdesk? It's a decent set of key features they offer in their free plan. You'd also love the intuitive design. Now, the question arises: is it as good a Zendesk alternative as Desku overall? Well, no! Desku is still a winner.
Pros:
The long free trial time.
Supports numerous SLA policies.
Suitable for multiple types of businesses.
The Freshdesk community is ready to advise and offer ideas.
Cons:
The Enterprise plan is the only one that offers AI and chatbots.
Limited integrations— a developer might be needed.
Ai and chatbots are available only with the Enterprise plan.
4). Zoho Desk
Zoho Desk is perfect for those searching for a universal customer support tool offering excellent value for money and providing tremendous integration capabilities. With this one, you enjoy a huge range of features, and you can offer your customers tremendous support across multiple channels. Your customer support team's life undoubtedly becomes easier.
With Zoho Desk, you can track and handle customer requests across departments, brands, channels, etc. Omnichannel support ensures easy accessibility through live chat, social media, email, phone, web forms, self-service portals, and feedback widgets.
Talking about the customization options, you've got custom rules, macros, SLAs, escalations, blueprints, and notifications to automate workflows and tasks. Integration with Zoho products is never confusing. These products include CRM, Cliq, and Analytics.
Zoho Desk employs Zia, which is a very intelligent assistant that makes life easy for both agents and customers by sharing relevant knowledge base solutions. On the Advanced ticket management features side, you get work modes for prioritizing tickets, teams for agent collaboration, automation to streamline processes, reply assistance, etc. However, on the negative side, UX can be questionable. Customer service doesn't match the excellence of the top 3 customer service software on this list.
Pros:
Multiple easy integrations.
The pricing is more pocket-friendly than Zendesk.
A great number of features for the money.
Simple to implement and use.
Cons:
UX needs improvement.
Customer service doesn't satisfy that well.
5). HelpCrunch
Do you want to convert everything from in-app messaging to live chat and email marketing? Here comes HelpCrunch for you, a solid competitor to Zendesk. Many people love communicating with you via HelpCrunch when they see their widget on the screen. This smooth software offers a unified customer experience. Your web visitors find it very easy to locate the HelpCrunch widget right away and communicate with you. They can choose any channel they want for real-time communication.
You get an advanced chatbot for quick assistance 24×7. The admin panel is also perfectly organized, so support agents find it easy to manage conversations with customers. You can see a sidebar in each chat window comprising all the customer profiles.
Another factor that makes HelpCrunch a decent Zendesk alternative is its affordability. However, if you want to send proactive messages, HelpCrunch will not please you. Some problems have been reported with push notifications. In short, if you want a good enough set of features and are willing to compromise on a few things, you can go with HelpCrunch.
Pros:
Intuitive Interface.
Highly flexible customer service data interactions.
High affordability
Numerous customization options.
Great customer-facing knowledge base.
24/7 customer support with human agents.
Cons:
Additional training resources are needed.
Reports miss on in-depth info.
End-user support is questionable.
6). LiveChat
Some experts may disagree with the fact that LiveChat is a cool replacement for Zendesk, but after in-depth analysis and comparison, our experts found that LiveChat is certainly a good enough alternative to Zendesk. Customer service representatives can use it to chat with website visitors. This software also helps sales and marketing teams in generating more leads. If you're a SaaS company or fall in the category of FinTech, EdTech, or eCommerce, LiveChat has a lot to please you.
Customer behaviour tracking, chat reports, centralizing customer data, chatbot tools, tailored messages, and ticket management are the master features on offer. You'll be amazed to know you've got support for more than 45 languages. UI is also interesting. On the flip side, there's no free plan on offer (and that's harsh). Also, you can't view Information about website visitors without clicking on it. If you forgive LiveChat for these drawbacks, LiveChat is a sweet replacement for Zendesk.
Pros:
45+ supported languages on offer.
Automated greetings.
User-friendly UI.
Cons:
There is no free plan.
The service frequently works slowly.
No option to view the Information about website visitors without clicking on it.
Read More:9 Best Livechat Alternatives For Customer Support Team in 2023
7). HubSpot Service Hub
HubSpot Service Hub highly simplifies the processes for managing customer queries. It's a great tool to enhance client engagement for businesses of various sizes. It is no way tough for the clients to easily connect to your support team. User engagement certainly goes better with HubSpot Service Hub, and many sales team members across the globe have appreciated this tool. The transition of leads throughout the sales funnel gets smooth.
By using HubSpot Service Hub, the task of nurturing and converting leads into loyal customers gets wings. Your teams get valuable insights into customer interactions, which helps them respond proactively to customer queries and requirements.
Real-time data and analytics empower businesses to construct strong decision-making processes for their customer service efforts. This increases the responsiveness in real-time, which elevates the quality of services, and ultimately, your business builds a good online reputation.
Pros:
One platform includes multiple helpful tools.
The free plan is available.
Many processes are automated to save a lot of time.
Chatbot and AI.
Cons:
Reporting is limited.
The installation process is tough.
Pricing could be more generous.
Some reports are pretty difficult to understand.
8). Front
If you want to make the life of your service teams easy by organizing requests in a single interface besides helping them collaborate with other support agents via the direct tagging option rather than request forwarding, consider Front to be your customer support pal.
You get around 70 integration options with Front. However, we wish its app marketplace included ratings. So, knowing how an integration might or might not work to match your business needs is challenging.
You enjoy live chat and chatbot capabilities besides seamless automation for chat assignments. Massage escalation is another thing we loved. What else – you can use multi-chat messaging features and enjoy responding to customer enquiries across social media, SMS, and emails via a single admin panel. CRM integration is possible with platforms like HubSpot and Salesforce. Hence, customer data management becomes perfectly streamlined and smooth, and we need to thank customized analytics reports, too, for helping in the same direction.
On the negative side, Front depends on third-party integrations to load its platform with various channels. The free plan is absent. Also, there are fewer communication channels than most of the Zendesk competitors, which sometimes prove to be roadblocks for your customers who want to choose their preferred communication to link up with your support team.
Pros:
Ability to work with teammates on emails.
Tremendous support staff.
Tagging and filtering system.
Cons:
No free plan or trial.
You can't edit sent messages.
Lesser number of integrations than competitors.
9). Help Scout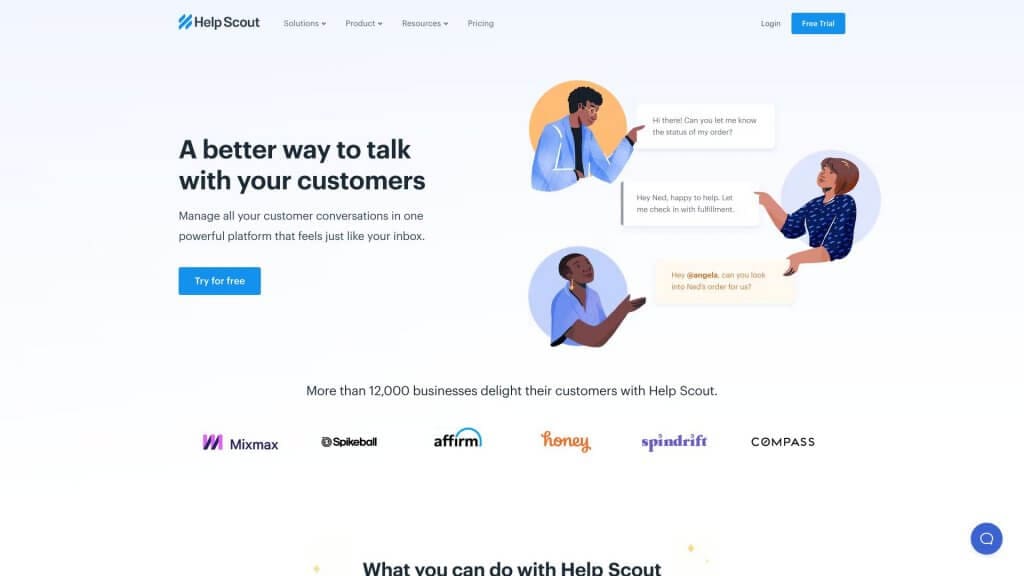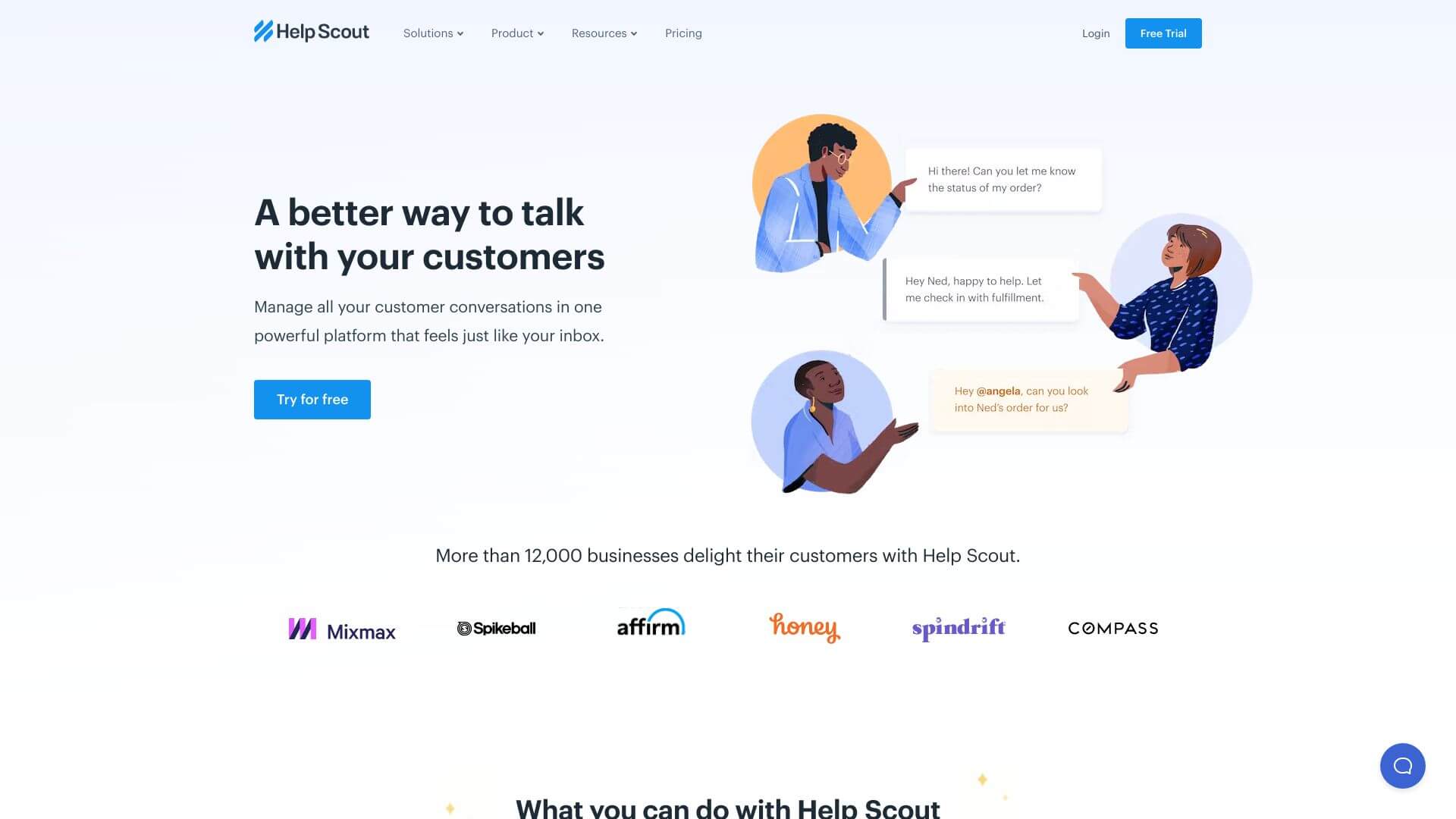 If you want nice and generous customer support software for your small team, Help Scout can be a great fit instead of Zendesk. The software's customer support is limited to 12,000 businesses. It provides multi-channel support through a shared inbox. You're going to love it if you prefer the Gmail sort of interface.
With Help Scout, your support team can reach customers authentically and organically via email. Tracking engagement with certain customers from the time an internal ticket is till the solution is achieved isn't tough by any means. So, all internal teams stay on the same page while working through a certain customer's problem.
Your teams will be able to create perfect customer-facing self-service portals, which include knowledge bases and various types of content that help customers find solutions to their queries without needing to get in touch with customer support.
Now, exposing the negatives, Help Scout offers limited social channels. You just get less than a hundred integrations. Some users even explained the interface as being somewhat confusing. Also, some reports may have incorrect data.
Pros:
Very responsive customer service team.
Highly appreciable UX.
New agent onboarding is simple.
Cons:
No tools for proactive customer service.
No message scheduling.
Misses on some advanced features
It is not a perfect choice for large enterprises.
10). LiveAgent
Ticket intake and service offering becomes pretty easy with LP desk software like LiveAgent. Basically, LiveAgent offers a highly appreciable all-in-one solution for organizations seeking to build a call centre or offer live chat through website or social media channels and create a highly helpful knowledge base for its customers.
LiveAgent gamifies the process of offering customer service, letting the customer support agents earn "badges" for completing various customer-related tasks as required. So, it highly helps fine-tuning the team, and you as a company know where extra training is needed for a few support agents. Also, you can identify top performers and reward them to keep them motivated.
LiveAgent offers forum tools and a knowledge base for self-service functionality; the knowledge base can be internal or public, while forum tools are meant for public discussions.
Pros:
Real-time chat and ticketing system.
Powerful premium features.
Good separation of modules allows you to thrive into greater use of the system
Offers a complete free tier
Friendly customer service.
Easy to set up.
Customizable design.
Extensive integrations.
Cons:
Customer data needs clicking for viewing.
Issues with some images and fonts
Occasional slow performance.
11). Groove
Here comes another tremendous alternative to Zendesk that streamlines the process of gathering customer inquiries and offering the necessary support. It's possible to offer customer services via text message, Facebook, live chat, phone, Twitter, and email.
Besides that, it's possible for multiple agents to collaborate efficiently on a single support instance with Groove in real-time via both private internal means and customer-facing channels.
You can create a customer portal and knowledge base using Groove and present information via text and/or multimedia and help your customers find vital information instantly
Your support team can also create a support widget that displays on the website to make web visitors feel you're always there to help out. So, the process of first engaging with the knowledge base becomes easy. Besides that, it allows clients to open support tickets at necessary times.
Pros:
Good online repo.
Scheduler for meetings.
Marketing automation with various steps for engagement.
Revenue workflows and reports.
Live chat, email, activity tracking, and calendar are synced with Salesforce.
Cons:
No precise pricing on the website.
Sometimes, various bugs trouble – difficulties with templates and broken integration being the most common ones).
12). Kayako
Kayako is a highly appreciable omnichannel help desk tool, meaning that all chat, email, social media requests, and SMS will land in the same dashboard. The biggest convenience here is that you get a full overview of the client's whole journey, including purchases, interactions, shipping history and all they did with your product, all in a single window.
There are just a couple of subscription plans – Kayako Cloud is for small teams, while the Classic On-Prem is for large teams and businesses. Scalable and customizable plans are also there to help expand your business. There are 215 customer reviews on G2, where it has collectively scored 4.0 out of 5 stars. However, the big concern we recognized over here was that there were many concerns still seeking feedback.
We can't say Kayako is a top choice as a Zendesk alternative, but we can't exclude it from our list either. It stands nowhere in front of Zendesk competitors like Desku in terms of functionality, features, or even pricing, though. Several clients report that their customer support is a real headache.
Pros:
Folders for email.
The automated assignment of tickets to support agents.
Nice UX and design
Easy to use.
700+ Zapier integrations
Customer cards with customized fields.
Cons:
The plan is expensive for companies having just 1-2 agents.
No option of formatting text in Emails.
The long period between vital platform updates.
Conclusion
Stopping on Zendesk doesn't seem to be the best solution, as Zendesk isn't the only excellent customer support software out there.
Competitors like Desku aren't just giving a decent head-to-head competition but actually prove to be better as an overall package. There were several alternatives on this list which actually ended up costing you arm and leg, but if you go with Desku, you can relax in terms of pricing.
Choose an all-in-one solution like Desku to efficiently streamline your customer service and offer an unbelievably comfortable experience to your customers.
If you're a Desku user, you'll hardly ever face issues with any task, let it be – providing instant assistance, managing customer feedback, resolving queries, etc. It's time to cherish the magical UI and features of Desku without spending a minute more!